Statista studies show that in 2013, the U.S. furniture and home furnishings e-commerce revenue reached no less than 20 billion dollars. That is quite impressive as is, but it is only when you consider the fact that these numbers are expected to almost double by the end of 2018, that you begin to understand the full scale of the furniture and home furnishings industry in online media.
Under these circumstances, standing out from the crowd becomes an absolute must. Furthermore, as this article will explain, it is not only a matter of offering the best price to quality ratio, but also a matter of how users experience your entire website and the products on it.
That is precisely where the omnichannel concept comes into play, and where new and exciting technologies like VR (Virtual Reality), and AR (Augmented Reality) can be incorporated. These technologies not only set the furniture retailers who have embraced omnichannel thinking apart from their competitors, but they also help users experience the products at a whole different level - one that can truly boost your store's conversion rate.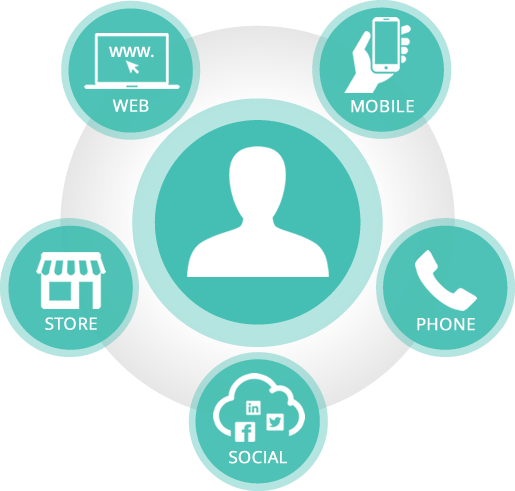 Successful retailers understand that viewing and orchestrating the customer experience across all channels is the new marketing norm
Put in shorter terms, omnichannel marketing sustains the idea that every channel you use can contribute to increasing your sales. Micromoments are the path to purchase and every interaction that your prospects and customers make across your website, emails, mobile, Instagram stories, push notifications and with in-store promotions together shape the buyer's journey.
Omnichannel marketing is a difficult game, but those who play it well will most likely rise to be the real e-commerce winners. Today, we decided to focus on two aspects of a product page experience, where key customer interactions can happen as part of the buyer journey.
Read on and discover how high-quality imagery and 360 product views can help you increase conversions.
Living in a World of Pure Imagery
People like to rely on their senses when making a purchase. Regardless of whether they're buying a burger or a new bed, they want to see, smell and feel it.
When shopping online, many customers do not have the same experience as that of walking into a physical store. Therefore, as an e-commerce business, your job is to replace the offline sensory experience with a 100% visual one. Given that images are all that you can rely on to make the visitors feel comfortable in your online store, you will definitely want to invest in imagery as much as possible.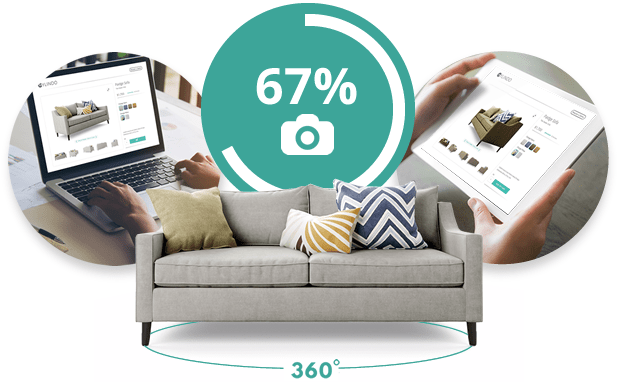 67% of consumers say the quality of the product image is "very important" in selecting and purchasing the product.
Source: MDG Advertising - It's All About the Images
This is not just a mere theory. Studies show that images actually increase the profitability of an online business. According to research from MDGadvertising, most online customers consider image quality to be far more important than product-specific information (63%), long descriptions (54%), or even ratings and reviews (53%). Those numbers reveal how big of a role imagery plays in the current e-commerce landscape.
From social media news giants to your local bakery with a website, everyone is very particular about the pictures they share online and rightfully so, especially since Millennials keep a wide-open eye on everything visual happening in the digital world. Given that they are now the largest buyers' market, you definitely want to satisfy their thirst for omnichannel experiences.
Remember, though: it's not just any type of image that will have the customer knocking on your store's door. You need to invest in quality visuals, and stock images are certainly not included in that category. In fact, you have to avoid them at all costs since most Internet users have developed a near-allergy to stock images that have been used, reused, and overused.
How 360 Views Platforms Increase Conversions and Deliver a Richer Shopping Experience
Given the current e-commerce landscape, and given that you have a very digital generation of buyers to impress, taking your online furniture business to the next level is essential if you want to step ahead of your competition.
Allowing your visitors to view your product from different angles can actually help you with this as there are multiple benefits associated with implementing a 360-degree platform, such as:
Enhanced experience. Touching and feeling a sofa is not possible online. To mimic the experience of touching and playing around with the product on your e-commerce page and webshop, you must enable 360 spin and product views. This is the closest similar customer involvement that you can get online. Combining rotating imagery with 4K (high definition) zoom functionality is an even more powerful way to give your visitors a sense of control, making it seem more like an interactive in-store experience.
Increased trust factor. It should go without saying, there are many product categories with a high-involvement purchase decision that customers simply prefer to examine the details up close in a physical store. Multi-angle imagery and 360 views provide that level of detail and realism to enrich your e-commerce product photos. In fact, Nielsen conducted a study and found that visitors like alternate views.
2x improved engagement. 360 spins and image rotation functionality can significantly improve your web session duration by offering interactivity. Introducing these features on your E-commerce site will get your prospective buyers more involved in the online shopping experience, resulting in customer satisfaction, positive engagement and return shoppers (impacting loyalty). According to a source cited in Science Direct 360 rotation also positively affects consumer mood and reduces perceptions of purchase risk.
Multi-imagery
Customers should be able to view all of your products from every possible angle, in all variations (color, textures, shapes, and so on). Therefore, you will provide visitors with a multitude of images to enhance their experience and convince them of the quality of your product.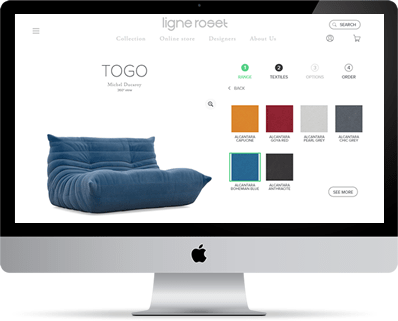 Showcase: Ligne Roset | Product Page
For example, as part of their product configurator, Ligne Roset has implemented a 360 view allowing users to experience the product in a very realistic way.
As a different example, Due Maternity is a niche clothing retailer which boosted their conversions by 27% using 360 images.
Dynamic Мedia
Whereas images are static, the 360 view is dynamic, enriching user experience and making the audience truly connect with your products. The spin effects can make shopping in your online store feel more real and almost as sensory-focused as in a brick-and-mortar store.
Golfsmith.com (a retailer specializing in golf equipment) claims that products with a special rotation view show conversion rates from 10-40% higher than products without the same feature. Moreover, in another example, Jerome's reported a 25% uptick in conversions after implementing a 360 HD Viewer on their website.
In conclusion
The e-commerce world is going through very exciting times that are bound to redefine what "online shopping" means for everyone. Of course, your business needs to keep up with the times as well, and now you know why enabling 360 views is one of the best ways to do it!