2020 was the year that brought many changes in the furniture industry. Retailers and company owners shifted their businesses from their brick-and-mortar stores to the digital world, thus creating immense competition in the online furniture e-commerce industry. And suddenly, retailers had to start reinventing their digital experience to attract new customers and also introduce new ways of serving their loyal but more traditional buyers.
What started as a necessity in online shopping, due to the lockdown, has slowly transformed into a behavioral shift. If you're one of those furniture retailers waiting for the storm to pass so everything goes back to the way it was, it's time to rethink your approach. McKinsey predicts a 30% expected growth in customers purchasing furnishings and appliances online, even after the pandemic. Ask yourself what you can do today to set your business up for success in the upcoming years.
Unlike previous years when we talked about trends that will make you one of the early adopters, this time, we want to highlight the technologies that will be essential for all furniture retailers and DTC (direct-to-consumer) brands that want to stay afloat and build the basis for a future-proof furniture business. Let's delve into the eight trends for furniture e-commerce success in 2021 and find out more details about each one of them.
1. 3D Product visualization
The digital transformation that happened within this past year increased the online competition of furniture companies and made it more difficult than ever before. The measurement of being successful as a company depends on your ability to build your experience around the customer.
When it comes to the furniture industry, customers have always been accustomed to touching and examining furniture items before purchasing them. But, as retailers and furniture companies switched to online e-commerce stores, they had to try and find new ways to present the furnishing items through a digital format. One of the biggest challenges in furniture e-commerce is finding a way to compensate for the lack of tactile sense and in-store furniture experience.
Using traditional product photography to present furniture items in your e-commerce store is not enough to gain customers. Remember: their online shopping experience should follow the same pattern as the engagement of brick-and-mortar retail. Start using 3D furniture visualization to provide a photorealistic display of products to your customers.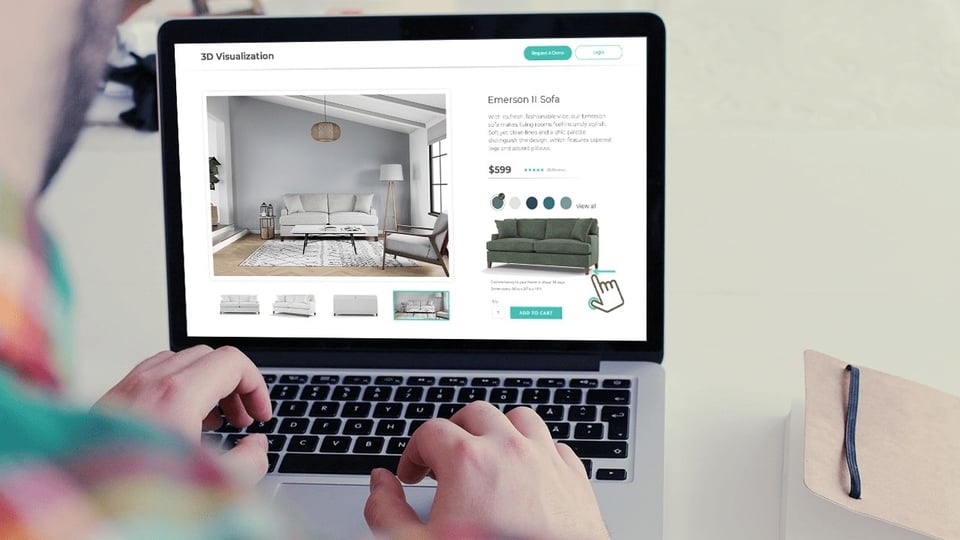 The 2020s is the decade of 3D commerce. Having high-quality 3D visualization on your product detail page is table stakes nowadays — but 3D visualization goes way beyond that, and we'll see a large increase in the number of use cases where retailers and brands leverage 3D visualization to create a better customer experience and ultimately better conversions. What will set apart the great from the good is the cohesiveness and longevity of their 3D visualization strategy: make sure you can leverage your 3D assets across many different use cases — and make sure they're high fidelity and built for the future. — Janus Jagd, CEO of Cylindo
2. Mobile-first approach
The usage of smartphones has completely transformed the society we live in and is impacting the daily lives of more than three billion users worldwide. When the pandemic started, it was expected that people would use their personal computers to browse and shop online items. However, it turned out that customers still used their smartphones.
Thanks to the ease and convenience that mobile devices bring to online shopping, e-commerce is seeing huge growth. The businesses that were able to understand the importance of mobile are reaping the rewards. In contrast, those that haven't yet invested in this area are inevitably missing out on a growing customer base segment.
As reported by eMarketer, by 2021, mobile e-commerce sales are expected to account for 54% of total e-commerce sales. While it's true that now everyone will buy a home furnishing piece on a smartphone, the fact that mobile is the first touchpoint is a good-enough reason to prioritize the mobile-first approach.
According to Google Shopping Insights, 72% of searches in the furniture category in 2020 came from mobile devices. As a result, mobile users will expect an impeccable user experience on their smartphones, especially when purchasing furniture items from online shops.
3. Virtual consultations
With the pandemic outbreak, furniture companies realized that adopting the trend of virtual consultations is vital for their e-commerce businesses. Providing online design consultations to the customers enabled retailers to understand the purchasers better and to try and create a unique shopping experience for each of them.
According to our research, 36% of the Top 100 furniture retailers in the USA offer virtual consultations. This number goes up to 68% when it comes to the Top 50 DTC furniture brands.
In other words, companies that are willing to offer online expert advice to their customers are the ones that close more sales. The innovative furniture retailer Design Within Reach used HERO's messaging app to enable online conversations with their customers, thus increasing their online sales.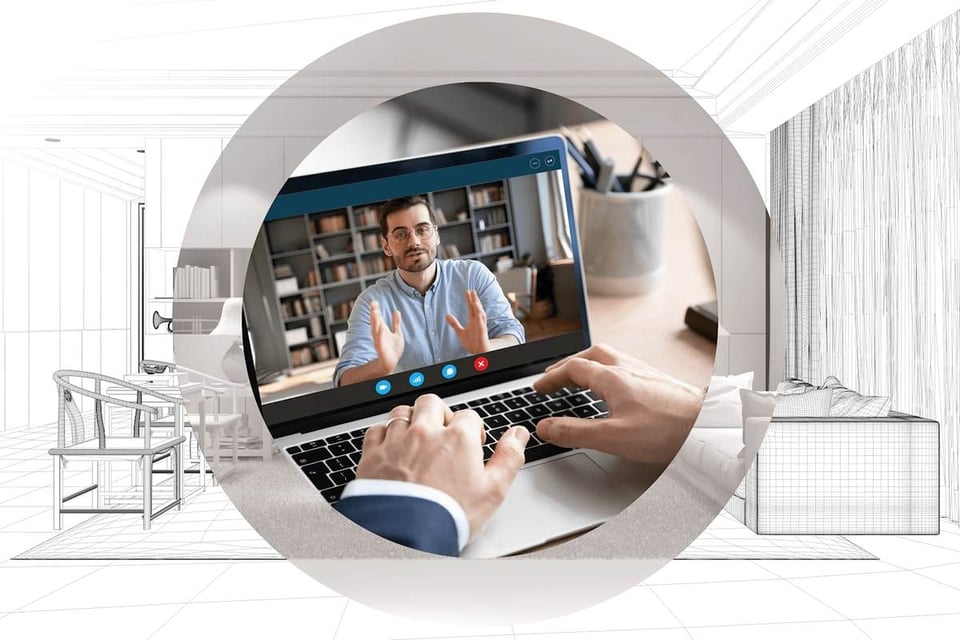 In 20 years, the e-commerce experience hasn't evolved all that much beyond static photos on a web page. In 2021, every retail brand has to unlock its human edge and provide a point of differentiation online. Being able to stay in touch with customers even in small ways ... can go a long way. When it's not a mass message and it's personal, people are more likely to buy. That element of personalisation and being able to do it at scale through virtual consultations is more powerful than automated blasts and will transform any business's online sales. — Adam Levene, Founder of HERO
4. Customer service
The continuous battle for the customer's attention has shifted from physical shops to online e-commerce stores throughout the last year.
The rapid surge of online furniture sales has shown that retailers and companies have numerous weaknesses and inefficiencies in customer service. And there is nothing more frustrating than getting poor customer service. Data from Zendesk shows that 84% of consumers consider customer service a key factor when deciding whether to make a purchase.
Though attracting new customers is important, the rising competition in the e-commerce space has emphasized the value of keeping existing customers.
According to a survey from Salesforce, 62% of customers share unpleasant customer service experiences. This means that bad customer service may easily lead to negative reviews that can ultimately wreak havoc on your business.
Essentially, furniture companies that want to thrive in the digital world should listen to their customers, be more proactive when it comes to customer service, place more emphasis on customer engagement tools to drive customer loyalty, and manage talent in today's business environment when remote work is very common.
5. Shipping fabric samples
When working in the furniture industry, you need to ensure a pleasant end-to-end shopping experience for your customers; otherwise, they can feel confused or frustrated. Since the furniture companies and retailers shifted their focus to online shopping, they had to pay even more attention to their customers' confidence and trust.
To address one of the basic customer concerns and make them feel confident throughout the entire online shopping experience, you can offer fabric swatches. By providing samples of the product material to your purchasers, you increase the chances of boosting your sales and driving interest toward your products. Customers will more likely purchase your products if they know beforehand what they will get.
Interior Define is a furniture brand founded on the premise of delivering the best online shopping experience. When it comes to shipping fabric samples, ThoroughBred Fulfillment helps Interior Define create a scalable process that completes the puzzle of an overall pleasant shopping experience.
"Our digital-friendly model and online swatch ordering process give us the flexibility to meet them virtually and adapt to their shopping preferences. Not only do free swatches provide a tactical way for our customers to see and feel the quality, durability, and depth of color in our fabrics, but they allow us to learn more about them. When ordering swatches, customers can take a quiz that hones in on their design aesthetic and how our pieces will fit in their space, so our design specialists can provide a more personalized experience that's tailored to how they live and what they love." — Jill John, Chief Customer Officer at Interior Define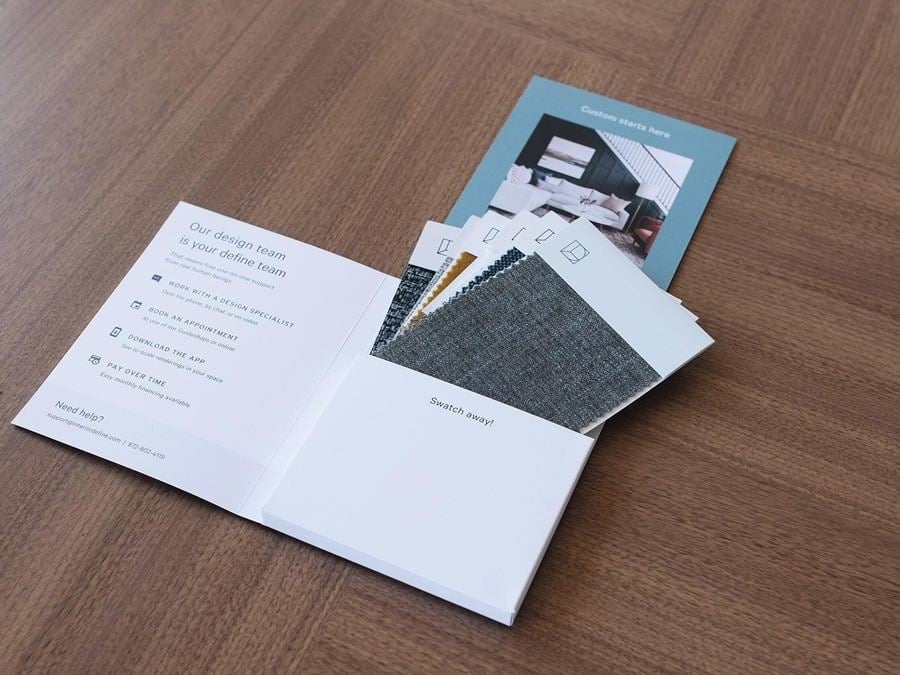 Fabrics samples from Interior Define
The swatch is the first, and sometimes only, "touchpoint" between the furniture company and the customer. Delivering the correct swatch in the shortest amount of time is critical to the sales process … We bring the same level of attention and sophistication to the swatching, fulfillment, and inventory management of samples as our clients bring to the manufacturing/selling of furniture. Ultimately, we do what we do very well so that our clients can continue to focus on what they do very well. — Ray Sayers, President of Thoroughbred Fulfillment
6. Personalization
Customers desire a personalized and humane shopping experience across all channels and buying stages. Furniture companies are well aware of the importance of personalization in their e-commerce stores. More than 90% of retailers say personalization is a top priority. But data from McKinsey shows that only 15% of these companies believe they are actually doing a good job at it.
The first and best way to create effective personalization is to get to know your customers. The end result is increased conversion rates and revenue.
Using data to customize the timing, content, and design of every experience you serve to customers can put you ahead of the competition. According to Accenture, 91% of consumers say they are more likely to shop with brands that provide offers and recommendations that are relevant to them.
There's a common misconception about the meaning of customization and personalization. While they're both customer-centric, personalization is done by the company for the customers, while customization is done by the customers for themselves.
So the customer can use a 3D product configurator to customize a product, while the company may use data to personalize product recommendations.
Room & Board is an American modern furniture and home furnishings retailer, built with a simple idea that good design should be modern, beautiful, affordable, and long-lasting. Before partnering with Kibo, they had the challenge to create individual messaging across their 17 different customer segments. The cumbersome process required manual work that wasn't scalable at all. The AI-driven program helped Room & Board make the most of their rich customer data and a large library of creative assets, ultimately resulting in 80% higher conversion rates.
AI-driven personalization should top the list of technology investments in 2021 for all furniture e-commerce firms. Heightened customer expectations and an unprecedented upswing in online shopping will make scaling personalized experiences paramount, leading to improved conversion rates and business results in turn. — Brian Wilson, Chief Operating Officer, Kibo.
7. Digital marketing analytics
Digital marketing analytics tools can be the key to understanding what the customers want, need, and how they feel about a certain product. Data is the main element of every digital marketing circle. Before each campaign, companies have to prepare a complete customer profile based on consumer behavior, as well as find the right way to reach their target audience.
At the end of each campaign, you have a huge amount of data that can unveil significant conclusions about your customers. Instead of letting it collect digital dust, leverage the data you have as a benchmark to constantly improve your digital marketing.
A recent study by Catalyst and Kantar shows that 56% of e-commerce professionals are allocating funds to data and analytics, making it the top e-commerce service to budget for.
The Canadian furniture retailer EQ3 offers modern, refined furniture made for urban living. They put data at the heart of their business decisions. EQ3 partnered with Tribbute Digital to develop a data-driven digital marketing strategy to raise awareness about their brand and dramatically expand their e-commerce performance. By developing a custom integration of Tribbute's Business Intelligence technology and Google Analytics, EQ3 was able to realize critical value-action tracking and attribution goals.
EQ3 is also using the Cylindo Platform for high-quality 3D product visualization and web-AR, and they leverage data insights to measure the success of their 360 & AR experiences in Google Analytics.
EQ3 found out that a shopper who uses AR has a 123% bigger conversion compared to someone who doesn't use AR. Seeing great results, Dan's team managed to increase AR adoption among their shoppers by updating the product detail page (PDP) featuring a QR code that pops up when customers click the "View in AR" button.
As we develop our e-commerce practice, we rely on our instrumentation, and we understand that while we don't see everything, we see enough to proceed with confidence. If we remain curious, the instruments will help us see more each day. It requires discipline and commitment to use all the data and analytical rigor you can access. But if you stay focused, the instruments will inform your best marketing and business decisions. — Dan Gange, Director of E-Commerce at EQ3
8. UGC - User Generated Content
The best stories are the ones told by satisfied customers. That's why product reviews and user-generated content (UGC) are more important than ever.
As reported by eMarketer, when researching an expensive item, online ratings and reviews are the most common sources respondents consulted, more than word of mouth, in-store sales associates, or social networks.
Bob's Discount Furniture is a booming omnichannel business with a significant geographical footprint and a thriving e-commerce presence.
Aware of the importance of product reviews and UGC, they partnered with Yotpo to help shoppers make confident purchasing decisions. Only six months after implementing Yotpo, Bob's had already collected over 25,000 product reviews.
Focus on quality in addition to quantity when it comes to reviews and UGC. In 2021, with more furniture brands deploying this influential social proof in their e-commerce experience, more informative and detailed reviews aren't just helpful; they'll drive higher conversion. — Tracy Strauss, VP Marketing, Yotpo
If you want to discover more about these eight trends for furniture e-commerce success in 2021, get our e-book. In it, you will receive information not only about the trends but also tips and tricks about how the retailers and their partners provide these technologies to the customers.