Following the success of the previous product launches and the increase in customer demand, Cylindo continues to deliver product releases with new features and improvements. The latest version of 360 HD Viewer includes new zoom approach with a single-click easy navigation for even more stunning product visualization and optimized user experience.
"Over the last period of time we've collected data on the end-user usage of the 360 HD Viewer and one significant insight is that many users don't understand how to fully utilize the magnificent high resolution of our 4K zoom functionality" - explained Per Lohmann, VP of Engineering.
Unlimited Product Variations
With the groundbreaking real-time technology the newest version 3.0 offers photoreal visualization of any configuration. Now it is possible to visualize an unlimited number of product combinations without compromising the user experience.
With the new feature brands and retailers can visualize all available product variations instead of focusing only on specific products and potentially miss new trends or consumer buying preferences.
New Zoom Approach
With carefully analyzed data from numerous customers about the usage of 360 HD Viewer, Cylindo found that many users were rarely using the zoom button for the stunning 4K photos from every angle with photoreal details.
Now with the new update 3.0 users can zoom the image faster than ever.
With a single click the fully zoomed image is loaded within few seconds and afterwards users can pan around the image with the 360 HD Viewer container to see every detail of the product and its variations.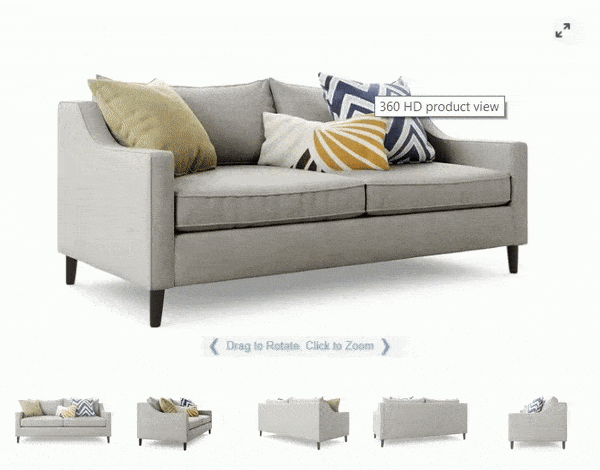 Experience the New Powerful Zoom of 360 HD Viewer 3.0
Optimized Content API
The Image Service API (ISAPI) is a service of Cylindo which enables users to obtain resized images of products and product variations for specific needs and purposes like: image sizes for the shopping cart, product listing or catalogue.This service can be used to create a synchronization between the clients' ecommerce platform or other digital platform with the Cylindo Imagery, which saves precious time and resources.
Existing 360 HD Viewer users can contact Cylindo via support@cylindo.com for support and update to the new version 3.0.
If you are interested in 360 HD Viewer 3.0 you can fill the contact form on the following link and schedule a 30 minute demo of the product for a quick introduction to its new features.