As a global retailer of configurable office furniture Steelcase has long since learned that there's a direct correlation between the richness of your product visualization and completed sales: if customers can personalize products, and view any possible combination from any angle, it has a direct positive impact on conversion rates.
With more than 38.000 SKUs online, many of them highly configurable, an important question for Steelcase was how they could photograph all these options in a cost-effective manner? The answer was to not photograph the products - but to use 3D rendering technology instead.
Cylindo is proud to announce that Steelcase, a Fortune 500 Company, has replaced Adobe Scene7 with the Cylindo 360 HD Furniture Viewer to help boost their online sales. Here are the 3 main reasons why - and more importantly; how the Cylindo 360 HD Viewer is generating a measurable ROI.
Richer experience
360 spin, unlimited configurations and variations, incredibly fast load time and rich HD zoom are just some of the main features that makes Cylindo 360 HD Viewer offer an unparalleled product page experience. Don't take our word for it - take the Viewer for a test drive yourself.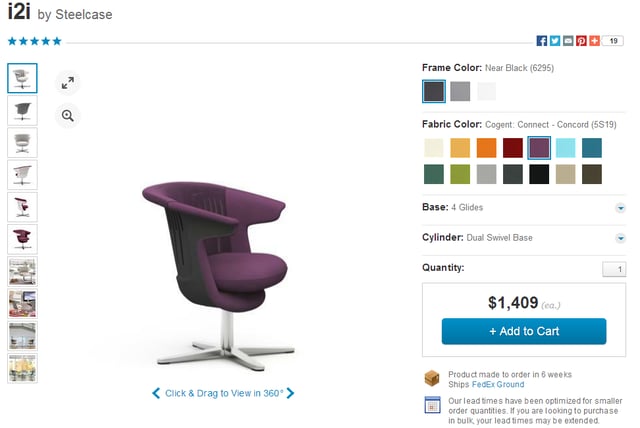 "Cylindo demystifies the process of buying furniture online"
Lekan Bashua, Digital Manager, Turnstone - A Steelcase Brand
Eliminating content creation & content management pains
Great technology is worthless if it isn't easy to implement and manage. Getting the Viewer up and running is a breeze. Sit back and relax while Cylindo creates the content and your developers spend no more than a couple of hours implementing the Viewer on your site. Once content is approved by you, it's live in the Viewer. Use the Cylindo CMS to easily manage content. Easy Plug and Play that works.
One platform for all your visualization needs
The Cylindo Platform is specialized in covering all the visualization needs you have as a furniture retailer or manufacturer - from visualization and configuration to room planning and purchase. Once you've partnered with Cylindo you can easily activate 3D content in other Cylindo Products - one platform that covers all your visualization needs so you can spend less time managing technology providers and more time on what you do best: selling furniture.
The ROI
Our passion for product development extends to our laser focus on creating a measurable effect on the bottom line. Here are the main financial gains from using the Viewer;

Huge cost savings on product photography
A key advantage with the Furniture Viewer is the opportunity to significantly cut costs on product photography. Take the Steelcase Leap Chair as an example: 72 different product variations. Ask yourself: is there ever a time when those 72 configurations are lined up for a photoshoot? And imagine what the cost would be for this - then multiply it by your entire product portfolio: you are way off budget. Enabling Cylindo's 3D rendering technology you don't have to take a single photograph.
Uplift in conversions
When you show more, you sell more. It's not rocket science. If consumers can see what they buy, before they buy, they are much more comfortable with transacting. Online… and in stores. Engagement, Purchase Intent and Transactional Value all show significant increase when furniture retailers activate the Viewer.
"The Viewer effect speaks for itself - 41% uplift in conversions across our customer's sites"
Janus Jagd, CEO, Cylindo
Reduced return rates
Seeing what you buy, before you buy, not only increases conversions but also reduce return rates. No more guesswork - consumers can study every single product detail before you ship the product. Eliminate those returns with the 360 HD Furniture Viewer.