Since COVID-19 started, furniture brands witnessed increased website traffic from both end customers and business buyers. As a result, many brands decided to put website experience at the top of their priority list.
To understand the elements of an effective furniture website experience, we dissect the websites of the three companies from our Top 100 U.S. Furniture Brands report that have the highest ranking based on the number of adopted features and quality of product visuals.
1. Knoll
Knoll uses modern design to connect people with their work, lives, and world. This design firm produces office systems, seating, files and storage, tables and desks, textiles, and accessories for the office, home, and higher education settings.
In our Top 100 U.S. Furniture Brands report, Knoll is ranking first, with the highest website experience index (94). When you open Knoll's website, you notice two sections: Shop & Browse and Design & Plan. The first section is for online shopping, and the second is for products and resources for planning a workplace for a commercial, education, healthcare, or government organization.
Once you select a category, you see a product feed with high-quality thumbnail visuals. When you open the product detail page (PDP) at the top, you can see a product visual, product information details, and a "how to purchase" button.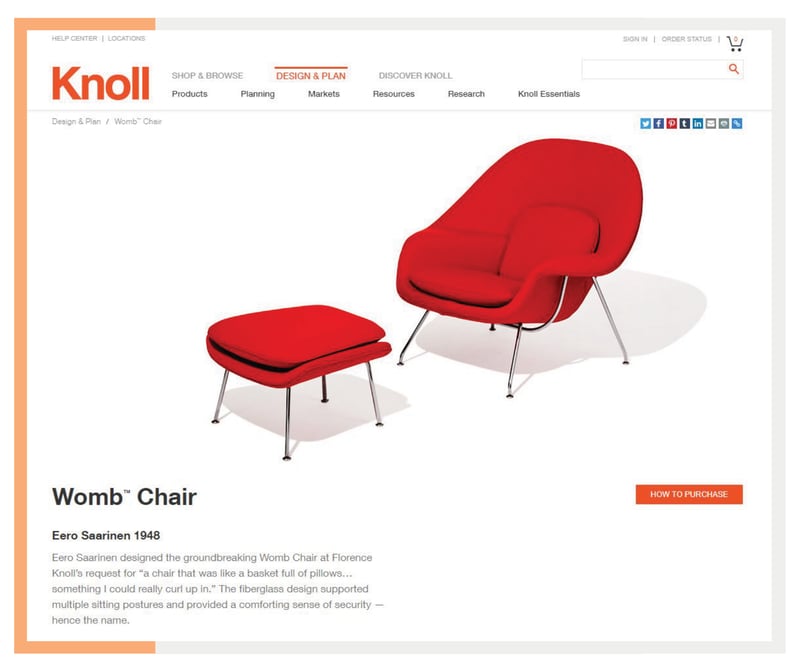 By clicking the button, visitors can get all the information they need about showrooms, dealer locations, home design locations, or online shopping.
Below, there's a product library where you can download general information such as a brochure, cutsheet, and upholstery materials. In the planning tools section, you can find 2D and 3D models that can be downloaded with a click.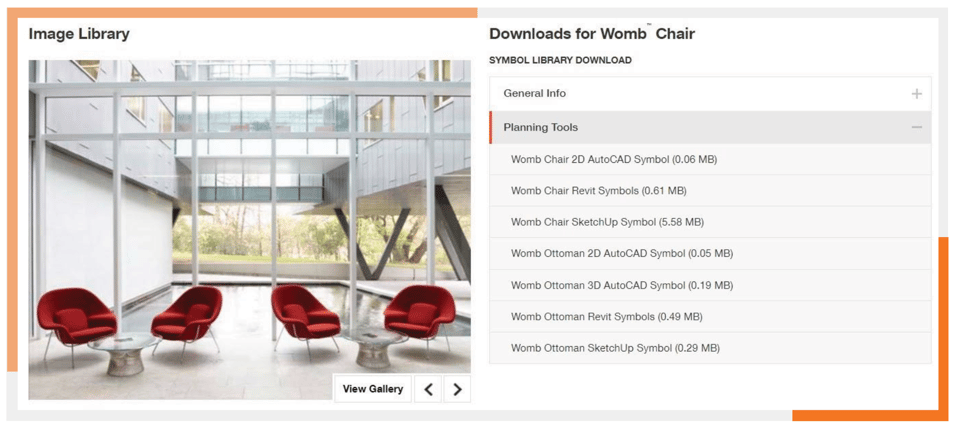 Besides the information for dimensions and finishes, by using the product configurator, you can customize the product with different finishes, upholstery types, and colors. Thanks to the high-quality product visualization, visitors can get a 360-degree view of the selected product and zoom in to scrutinize details. Besides the click-to-zoom feature, Knoll has a full-screen mode where users can again zoom in on the details.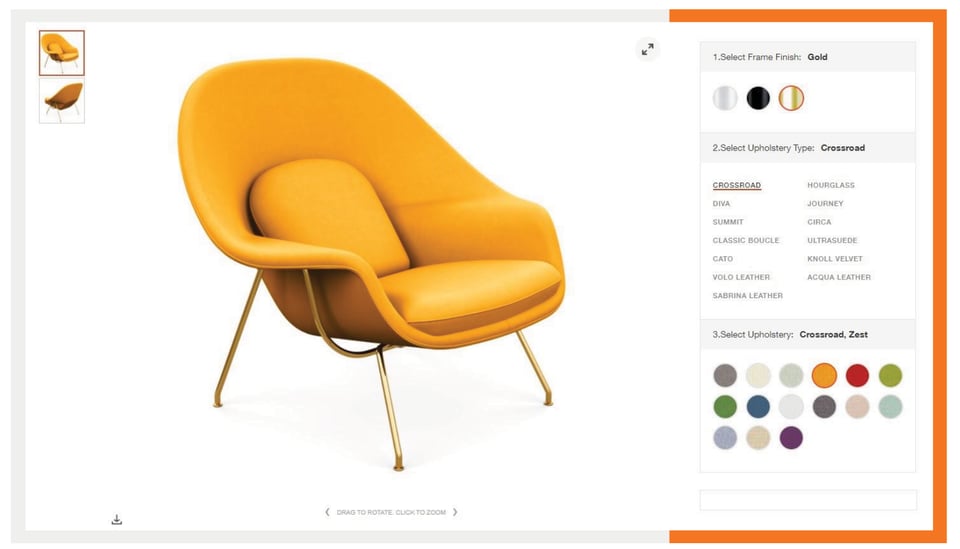 At the bottom of the product page, they have product recommendations from the same collections and related products.
Knoll is a great example that a furniture brand can create a pleasant website experience for different audiences — from design enthusiasts and residential interior design trade professionals to contract and design professionals. With great design and seamless user experience, Knoll's website creates a great flow and fully optimized user journey from start to finish.
2.Haworth
Haworth is a family-owned office furniture manufacturer headquartered in Holland, Michigan, United States. The company designs and manufactures adaptable workspaces, including movable walls, systems furniture, seating, storage, and wood case goods.
In our Top 100 U.S. Furniture Brands report, Haworth has the second-highest website experience index (88.5). The results from our research show that Haworth has all the analyzed features except augmented reality.
When you enter the home page, you notice a navigation bar with a drop-down menu that opens on hover. For each product category, there are top product recommendations.
When browsing on mobile, you'll notice a hamburger menu on the top right corner where you can choose product categories.
After selecting a product category, you will notice straightforward filtering options where customers can pick a brand, features, product type, designer, and application. There is a "quick view" option on each thumbnail image that shows basic product information in a pop-up. For more details, customers can visit the product page.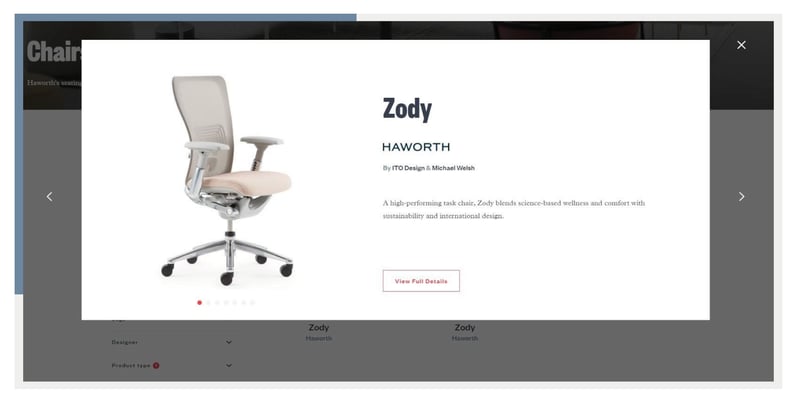 When you open the product detail page (PDP), you can see product information and a visual. If you click the "design your own" button, you can scroll to zoom and scrutinize the 3D model of the selected product. On the right side, there are numerous features that let users customize the product. On this page, visitors can also see dimensions and download images or 3D models.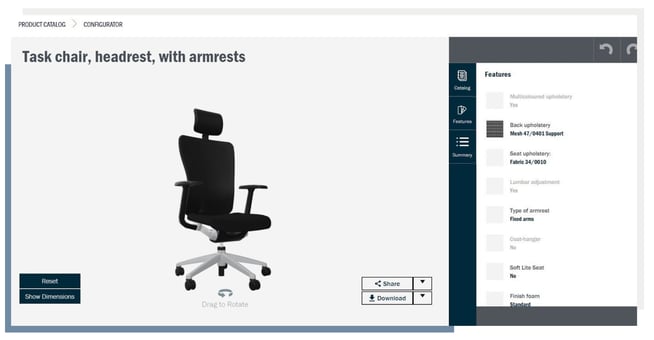 The overall website experience on Haworth's website is clean and pleasant. There is room for improvement by adding call-to-action buttons such as a showroom or dealer locator on the product page instead of having them at the bottom of the page in the footer. This would decrease the friction in the browsing experience.
3. Steelcase
Steelcase is a U.S.-based furniture company that produces office furniture, architectural, and technology products for office environments and the education, health care, and retail industries.
In our Top 100 U.S. Furniture Brands report, Steelcase has the third-highest website experience index (88). The results from our research show that Steelcase has all the analyzed features except augmented reality.
On the home page, there is a navigation bar with a drop-down menu. When you enter a product feed, you can see thumbnail images for different products with price information.
Besides category filters, there are many other filtering options like price, lead time, brands, features, surface materials, warranty, etc. On the right side, you can choose whether you want to see the most relevant products or filter them depending on the price.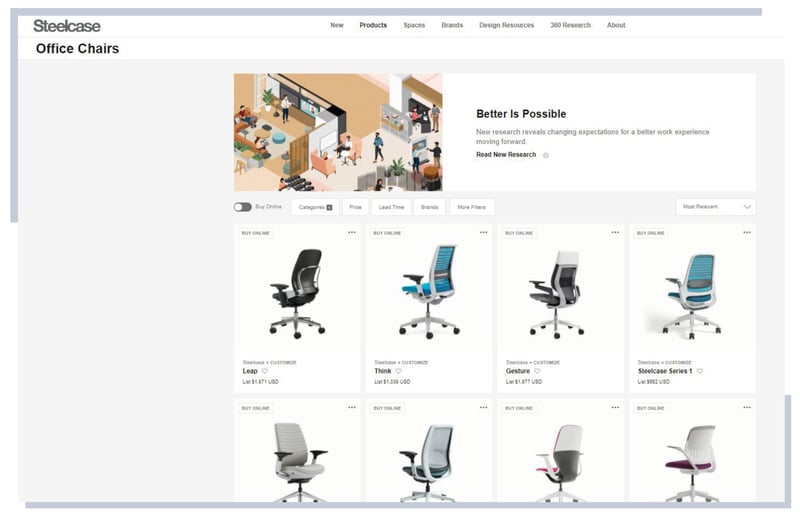 When you open the product detail page, there is a manually controlled carousel with different product and lifestyle images that you can download.
Besides these images, customers can download a wide range of product visuals, detail shots, specifications, 3D models, brochures, lookbooks, and certificates.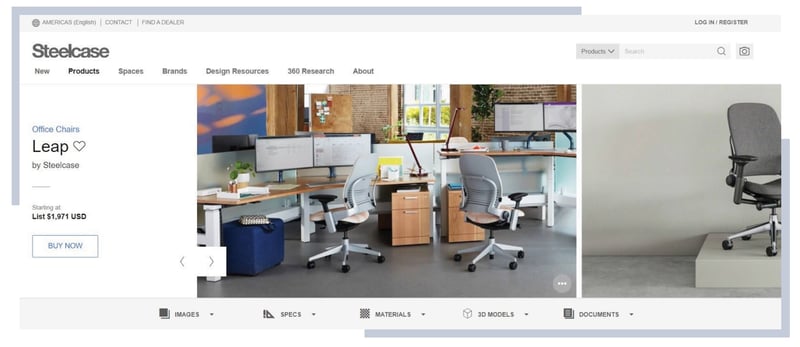 Below the product images, a product configurator enables customers to choose different upholstery types, colors, frames, and bases. If you click the customize button, you can further customize the product with additional features.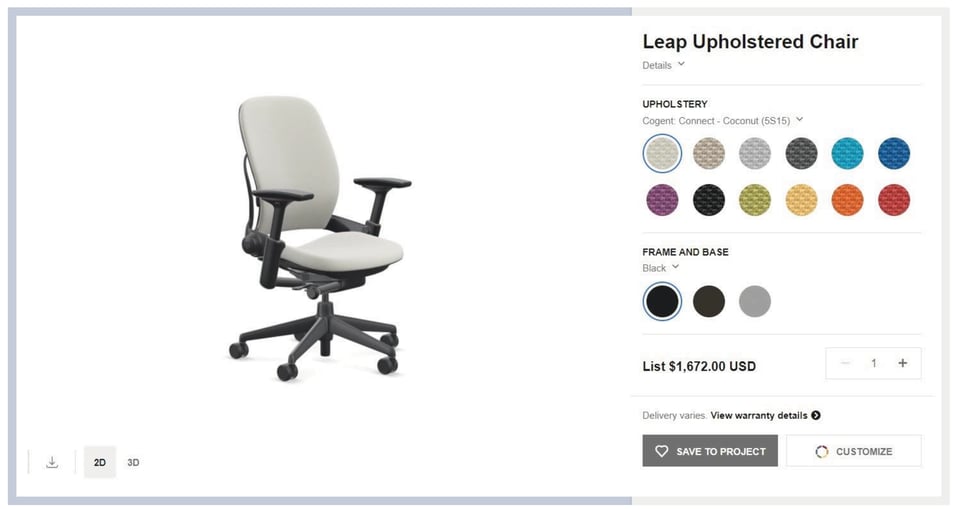 The product page contains additional product information related to movement, orientation, adjustability, fit, sustainability, dimensions, and features. Customers can select different purchasing options at the bottom of the page by finding a Steelcase store or local dealer.
The overall experience on Steelcase's website is pleasant. Despite having most of the features that we analyze, there is room for improvement in the mobile experience. Even though the mobile design is well-thought-out, the page load speed is slow, especially when interacting with the product configurator.
Next step
To find out the final ranking of Top 100 U.S. Furniture Brands for 2021, download our report. Packed with analysis of the must-have website features, assessment of product visuals quality, best practices, and expert opinions, you're going to love this one.
Ready to explore the benefits of 3D product visualization technology and how it can help you create an engaging furniture website experience?