Anyone who has ever sold furniture knows it can be difficult to give useful advice to customers because you do not know what the customer's home looks like.
It is not like selling a dress where you can see it on the customer and based on what you see give advice on cut, length, color etc.
Not knowing the size and look of the room are barriers to delivering exceptional sales service. The right furniture for the right space is important for most customers, as veteran industry consultant Joe Capillo says, "Simply knowing and showing technical things about construction, materials, fabrics, color, pricing, delivery – won't get you connected to the one thing you know nothing about: The Room!".
Your customer will not be happy with you pushing the sofa on the floor that you want gone. If you want her as a loyal customer who refers your store to her friends, you have to deliver an experience that is all about her. You must understand what look and feel she wants to create, what colors she is working with and what signals she wants to send to people entering her home. Remember she is not buying furniture, she is creating a home.
Not knowing the room also limits the sales associate's ability to maximize the sale, because he or she has no idea if the space available is fully utilized. Without eyes in the room, you wouldn't know if it was glaringly obvious that an extra armchair would fit the space perfectly; providing a better look for your customer while increasing the sale.
I sold furniture for 10 years, I know the challenges. I no longer sell furniture, but I haven't let go of the furniture industry. Today I help furniture retailers deliver better sales experiences using interactive visualization software. It is technology I didn't even know existed when I was in the furniture business. I wish I had known because it gives salespeople a completely new way to interact with customers.
A particularly useful sales tool is the Room Planner. As the name suggests it lets you plan a room - and not the way you would by drawing a sketch on a piece of paper. It lets you do it in a realistic 3D environment, and allows you to insert 3D model replications of your furniture into the space.
Let me give you an idea of what I am talking about. This picture is from the Room Planner used by one of our clients.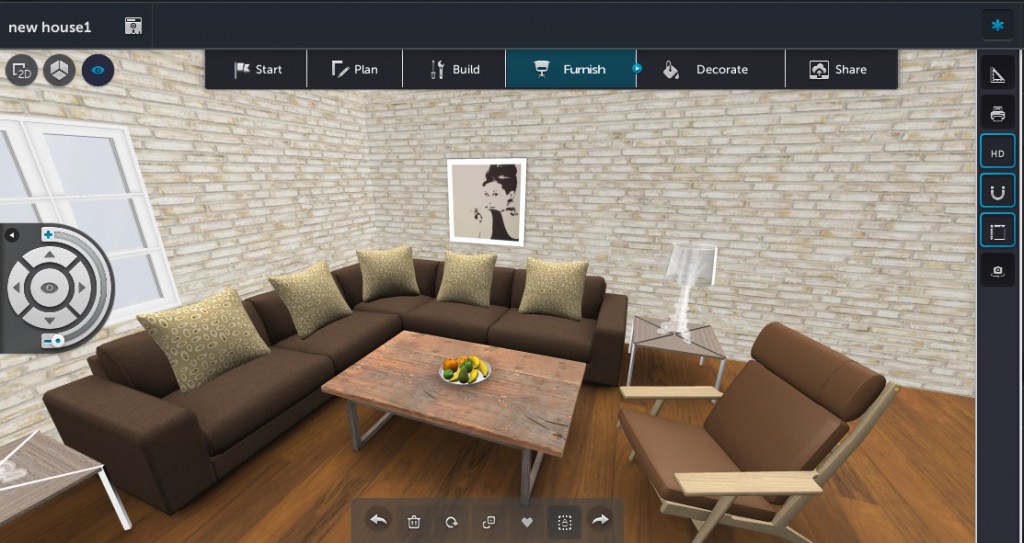 What you see here is a representation of a living room outfitted with the client's own products. Customers walk the store with a sales associate who uses the Room Planner on an iPad. They are able to try out different furniture and get a good idea of what works and what doesn't.
This adds an interesting dimension to the sales process because both customer and sales associate know the space they are working with. The sales associate is in a better position to give advice and optimize the sale. For example, the customer's first interest might only have been the sofa setting. But a clever sales associate will quickly suggest adding the coffee table and the armchair, because he or she can see that it both fits the space and other decor. Increasing your sales numbers this way is much easier.
The Room Planner lets you view the room both in 2D, 3D and Free Walk - which is like a person's own point of view, as if you were walking around in your own 3D home. So there are plenty of opportunities to ensure the overall design is correct.

Be-backs are a fact of life when you sell furniture, which makes building a relationship and staying in touch with your customers all the more important. Here the Room Planner is a handy helper as well. You can save designs and mail them to customers, the link in the email lets them open the Room Planner so they can review and make changes from their home. That way you stay top-of-mind with them.
Imagine an item was out of stock when the customer was in your store, but 3 days later it is back in stock. You insert the item into the design and send it to the customer so they can see what it looks like. Now that is valuable customer contact!
Selling furniture is fun, but it is not always easy. Today there are tools available that adds to the fun and makes it easier. If you are a furniture retailer and you would like to hear more about using Room Planner to improve your store's performance I would be thrilled to help you.
You are welcome to contact me by email on lisbet@cylindo.com.