Lots of things have changed in the last couple of weeks. The outbreak has transformed life as we know it. It has forced many manufacturers to pause operations and retailers to close their brick-and-mortar stores and move their businesses online. We face a new reality: companies are adapting their business models, and people are shifting their purchasing habits to cope.
In the past decade, there were thousands of articles about the retail apocalypse. No one expected that it would happen due to a pandemic. However, the businesses that focused on their e-commerce stores and their online customer experience have been significantly less affected than retailers with a big physical footprint, that rely heavily on their in-store sales.
The good news is that technology today is so advanced that it makes everything a lot easier during these difficult times. The new situation has debunked the myth that you can't sell every product online. Numbers show that people buy essential products, like hand sanitizers and canned food, but they also purchase gym equipment (up 307%), computer monitors (up 172%), office chairs (up 104%), and desks (up 89%).
However, closing the online-offline gap with high-quality product visualization remains one of the biggest challenges for many furniture brands and retailers.
In the last month and a half, Apple rolled out a few updates to the ARKit for more enjoyable user experiences. What does that mean? Will these updates bring AR one step closer to becoming mainstream?
Let's go back to the basics first, to better understand the new features and their importance in making AR an integral part of the online shopping experience.
What Is Web-Native AR?
Web-native AR allows customers to place 3D models of selected products in the real world, without downloading a mobile app.
AR Quick Look is a feature of ARKit, Apple's augmented reality development platform, that lets users place 3D content in a real-world environment. Users can interact with the virtual content by moving it and scaling it with touch gestures.
The equivalent for Android is the Scene Viewer, Google's ARCore feature for web-based augmented reality.
Why Do Both Retailers and Customers Love It?
For a long time, retailers struggled with low adoption of their AR apps. If we consider that furniture is not a frequently bought item, it becomes clear that there is a big chance that customers won't bother downloading an AR app. The disjointed user experience of having to leave the product page, download an app, then install the app, use augmented reality, and then go back to the product page if you decide to buy the product was the key reason why AR has had a low adoption rate.
Today, we are finally seeing the new generation of AR experiences – web-native, meaningful, relevant, with a frictionless and delightful user experience – the last stepping stone toward the mass adoption of augmented reality in furniture.
Web-native AR has adoption rates that are 33 times higher than traditional AR mobile apps. According to Interior Define, the majority of customers use AR toward the end of the buying journey to help propel them toward making a purchasing decision. Customers that engage with AR are eight times more likely to convert than customers that choose not to engage.
On top of this, web-native AR decreases the number of returns. Build.com found that people who checked out an item in AR were 22% less likely to return it.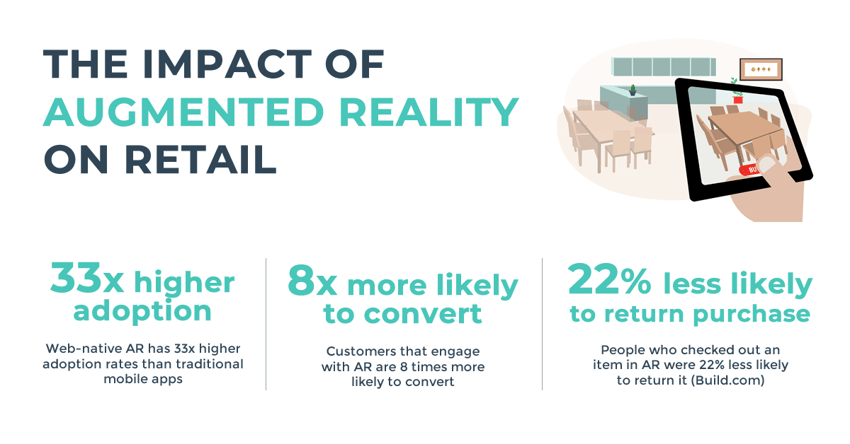 What Are the Latest ARKit Updates?
In the last couple of months, Apple released some of the features announced last June at WWDC 2019. They are all focused on improving the user experience and bringing AR closer to widespread adoption. Let's dive deeper into the updates.
Apple Pay Button or a Custom Action in AR Quick Look
Until now, the web-native AR enabled users to see 3D objects in a real-life setting. So basically, customers could choose a sofa and see how it fits in their homes. With the new update from Apple, users can make a purchase or perform a custom action in AR experience. This decreases friction and boosts the probability of purchasing.
Thanks to the latest update from Apple, users can buy while visualizing objects in AR using Apple Pay. Alternatively, retailers can use an "add to cart" button that will lead customers to their e-commerce store where they can buy the product. Other custom actions can be links to a store locator or customer support. This way, Apple aims to transform the AR experience from browsing to buying.
Home Depot, Wayfair, Bang & Olufsen, and 1-800-Flowers were among the first companies to use Apple's updates for an improved AR shopping experience.
Instant AR With Scene Geometry and LiDAR Scanner
At the end of March, Apple rolled out ARKit 3.5 with a new Scene Geometry API that uses a breakthrough LiDAR scanner with a more detailed understanding of scenes. This feature lets users create a 3D map of a space, identifying floors, walls, ceilings, windows, doors, and seats.
The advanced LiDAR scanner enables instant AR placement, so there is no need to scan the space, which was formerly the case. This feature opens up new opportunities and AR use cases.
The Scene Geometry with LiDAR scanner is automatically enabled on the newly released iPad Pro for all apps built with ARKit, without any code changes. It's expected in some of this autumn's new iPhone models as well.
Improved Motion Capture and People Occlusion
Another feature available in ARKit 3.5 for iPad Pro users is improved motion capture and people occlusion. As a result of the more accurate depth estimation in people occlusion and height estimation in motion capture, the new version of the ARKit lets AR objects pass behind and in front of people, making AR experiences more immersive.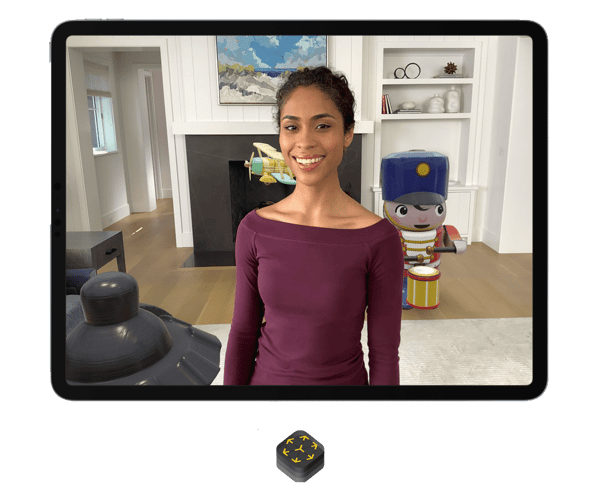 Cylindo's Web-Native AR Technology
Cylindo works with some of the well-known furniture retailers from all around the world to help them create app-less AR experiences that boost furniture sales. Retailers like Interior Define, Sofacompany, Heal's, and Fantastic Furniture are already witnessing the power of web-native AR and its advantages compared to traditional mobile apps.
Heal's
Last year, the British furniture retailer, Heal's, partnered with Cylindo, to introduce web-native augmented reality in the UK market for the first time.
"Our partnership with Cylindo already enables us to offer photo-realistic 360˚ images of our products; with AR, we've taken it a step further, helping our customers to see what it would look like in their space. We're pleased to be one of the first retailers to offer this and will look to develop our visualization capabilities further in the next few months." - David Kohn, customer & e-commerce director, Heal's
Through its partnership with Cylindo, Heal's is redefining the furniture buyer journey by offering interactive experiences like 360 views, 4K HD zoom, and now, web-native augmented reality, thus staying ahead of the curve.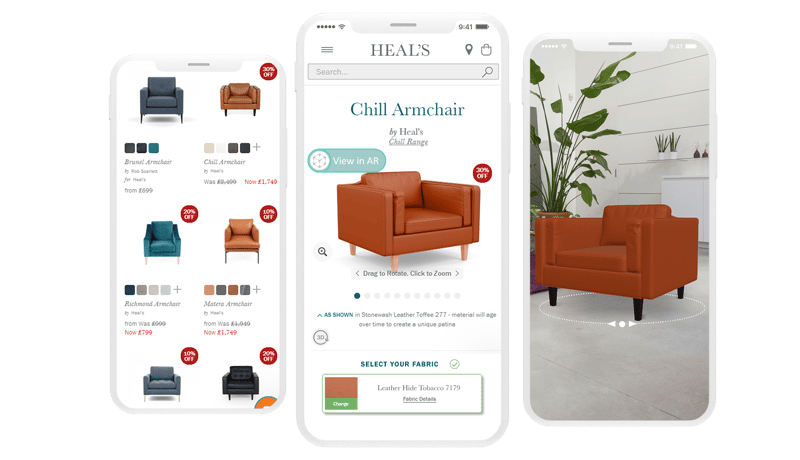 Fantastic Furniture
Australia's best-value furniture and bedding retailer, Fantastic Furniture, lets customers visualize furniture in their own space using app-less augmented reality. With a few taps, customers can easily place their chosen piece into their space. They can see the sizing, details, and texture, thus feeling more confident knowing they've selected a piece that will match the dimensions, style, and colors of their home.
"The Fantastic Furniture AR feature will give shoppers that extra confidence in their decision making when purchasing new furniture items, as well as allow them to compare how different colored fabrics will work within their home" - Adam Powell, interior stylist and ambassador for Fantastic Furniture for an interview on Realestate.com.au.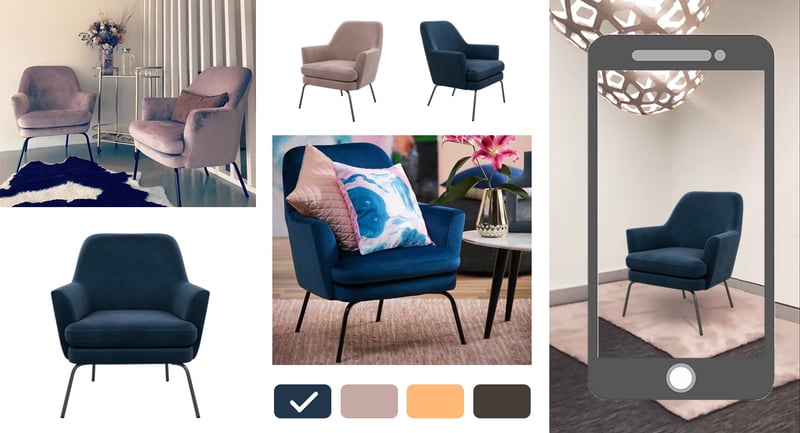 What's Next?
There is no doubt that AR enhances the online shopping experience, and it's slowly becoming an inevitable part of the buying process.
According to research by Oracle, 61% of companies using augmented reality have increased customer satisfaction metrics as a result. What's more, 84% of companies agreed that the augmented reality experiences their companies offer over the next five years will have a bigger impact on customer experience metrics than experiences in the physical world.
AR technology is developing at a breakneck speed. The latest ARKit updates from Apple raise the bar in AR user experience. Recently, IKEA acquired a tech start-up whose technology allows users to remove all the furniture from a room and then add in new items.
It's clear that Apple and Google are moving in this direction, so we can soon expect new features and AR use cases for the furniture industry.
We closely monitor every AR update from Apple and Google, thus making sure that Cylindo's web-native augmented reality technology has the most advanced features. Our main goal is to create more immersive experiences for both iOS and Android users and help furniture brands and retailers sell more.
In the constant pursuit of delivering a superior e-commerce shopping experience, making sure that your latest products can be explored in AR is of utmost importance to inspiring bigger confidence. Cylindo's 3D technology, focused on future-proof asset library creation, now allows for easier and even faster delivery of AR files and experiences.
Ready to see the benefits of web-native AR?