Even for an industry like furniture, accustomed to dealing with big challenges, the COVID-19 pandemic is unique. In our first outlook, we talked about how this outbreak may affect the furniture industry, and we also published a mini-guide to a better customer experience at the time of coronavirus.
Meeting the demands of customers, controlling costs, and managing suppliers is a daily focus in furniture retail. However, in today's uncertain environment, business continuity in the face of disruption is top of mind.
While businesses are grappling with the challenges presented by the coronavirus, the question remains: what will the furniture landscape look like once the dust has settled?
Businesses will have more robust supply chain diversification; that's for sure. Maybe trade shows will explore different formats. However, probably the most important thing that many predicted, but no one expected that it would happen so soon, is the key role of online presence and e-commerce. This goes for both furniture brands and retailers.
Today's consumer has proven they will buy just about anything online, from $100,000 automobiles to the most luxurious of luxury products. There is no longer a category that doesn't belong online - Warren Shoulberg, Forbes
The sooner businesses realize that digital is not just part of the furniture business during this pandemic, but rather an integral must-have part of any sustainable business go-to-market strategy, the bigger their chances are to stay in the game.
As consumers avoid spending time in public and almost all stores are closed, the coronavirus drives a shift toward more e-commerce. According to Criteo, U.S. sales of home improvement, gardening, and interior design products - which include office furniture - increased 13% in early March and are rising, compared with January 2019.
With COVID-19 putting stress on industries around the world, now is the time for companies to consider the technologies that will make business more resilient in the future. One of those technologies is 3D product visualization.
I think people (customers) get a real sense of security when shopping online and they can look all around the product without just making a decision based on an image. Pictures are worth 1,000 words for sure, but 3D and virtualized AR are worth 1,000 pictures when it comes to large purchase decision making in an e-tailer space - Aaron Levine, VP of IT and Digital Commerce at EQ3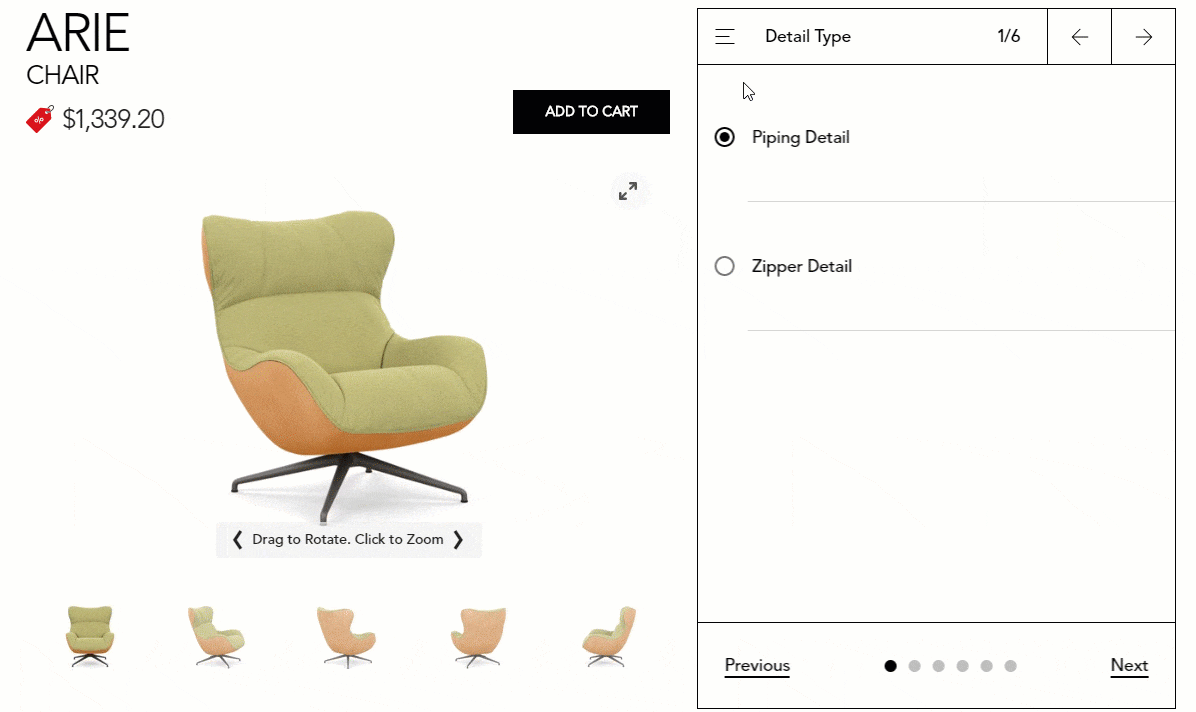 Traditional product photography versus 3D product visualization
For many years, traditional photography has been the favorite product visualization option for furniture companies. However, digital disruption has brought a more flexible and cost-effective alternative with better output quality. Today, a lot of companies have replaced traditional product photography with 3D visuals.
The coronavirus outbreak has pointed out even more inefficiencies and weaknesses of traditional product photography. Organizing a product photoshoot is very costly and almost impossible due to recent events.
Thanks to advanced technology, computer-generated imagery (CGI) often shows colors more correctly than photography. Moreover, 3D renderings can do things that photography just can't do – 360-degree spin, product cutouts, or interactive room scenes. This is just the tip of the iceberg.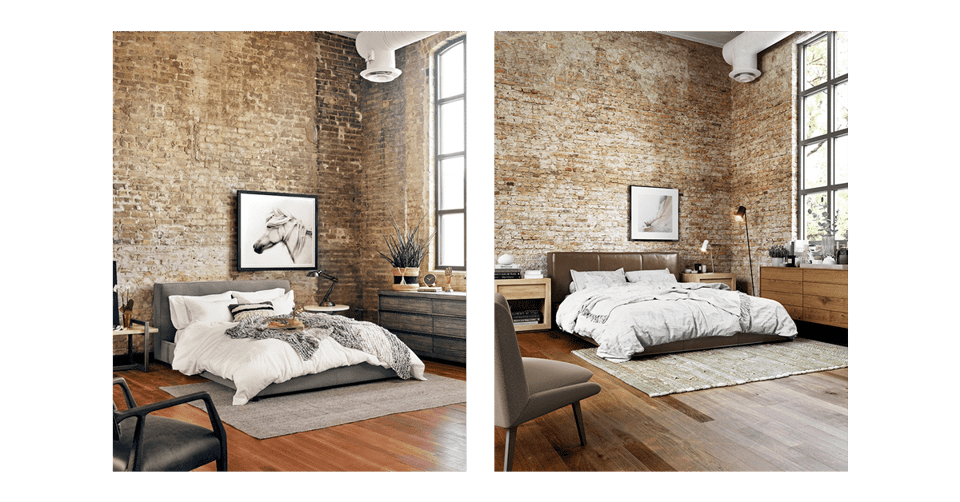 You can't tell the difference between a photo and CGI nowadays
In this article, we'll go through the main benefits of 3D product visualization that can help furniture companies get back on track and recover from the coronavirus outbreak but also prepare them to thrive in the future.
Cost and time efficiency
During these uncertain times, being able to save costs without jeopardizing the business is crucial. Keeping in mind that online is the only way to reach customers and business buyers at the moment, product visualization is an invaluable tool in bridging the online-offline gap.
On top of that, producing an unlimited number of configurations (different colors, fabrics, and textures) with 3D visualization is far less costly than organizing photoshoots for every single variation.
Another aspect which is vital in the furniture business is speed to market. In times like this, it becomes a table stake. No matter if you want to launch your latest collection, or you want to add more product on your website and get ready for selling online, 3D product visualization should be your choice, as it takes less time to visualize bigger batches compared to using product photography. On top of that, the new situation adds additional limits to organizing product photoshoots, making CGI the best way to produce content and promote new collections.
Logistics
Everyone who has organized a photoshoot for a campaign knows the struggle and the effort needed to get appealing visuals, from transport and equipment to expensive decorations and location constraints. Now, multiply that with the obstacles caused by the coronavirus outbreak. It's clear that CGI outweighs traditional product photography. The latest supply chain challenges also reflect on the process of product visualization. Flying sofas across the globe just for a product photoshoot is expensive and inefficient. Looking at the long term, adopting CGI will give you stability and a predictable time frame, taking logistic issues out of the equation.
Product customization
Customers crave personalized experiences, which is why product customization is important. What's more, they are also willing to pay higher prices. According to Deloitte, 71% of consumers who customized a product stated that they would be prepared to pay a premium price for it; 48% also said that they would be willing to wait longer for a personalized product or service.
Furniture is one of the three product categories where customers make the most personalized purchases (18%), together with holidays (25%) and clothing (19%).
Having a product configurator is especially important for complex products because it's much more convenient than having to list each and every permutation on a product page or in a vast product catalog. Not to mention that it's way less expensive than to take photos of each product variation.
Today, technology makes it easier to enable product customization and to offer a personalized experience to your customers straight from your product pages. Giving consumers and business buyers the ability to combine colors, fabrics, finishes, and other details in a few clicks with a simple product configurator can enhance their experience and increase your conversions.
In the last couple of years, we've seen the trend of downsizing the physical footprint and opening smaller, experiential stores. Thanks to 3D product visualization, you can add kiosks and tablets to create an endless aisle, thus reducing overhead expenses.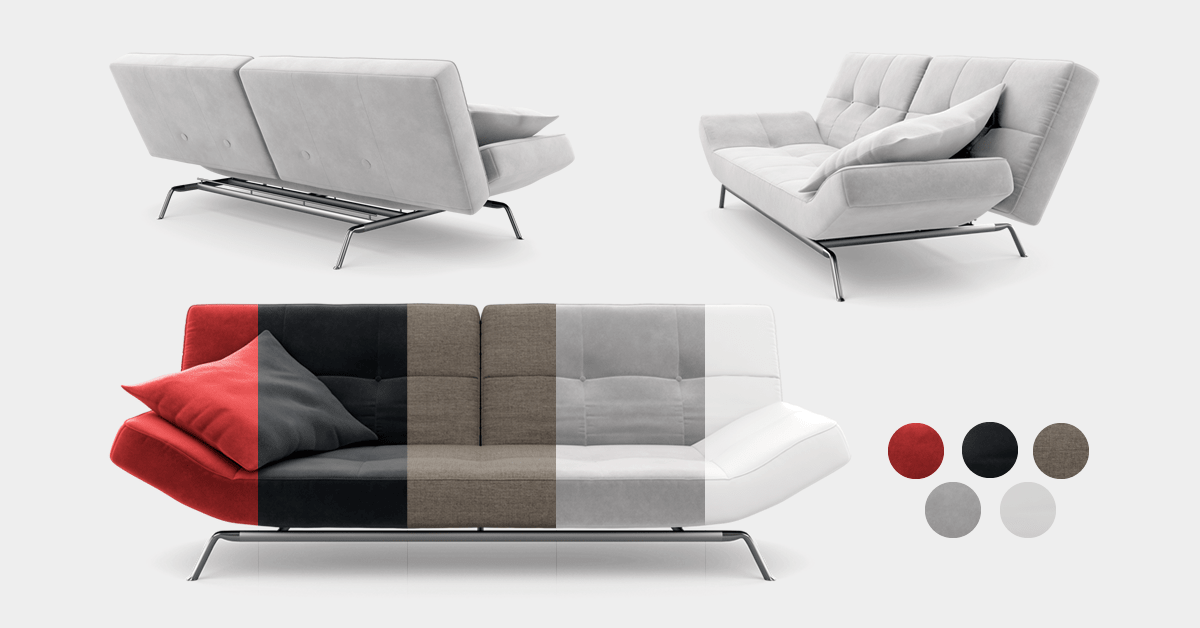 Quality and realism
There's no doubt that top-notch product visuals are essential for furniture companies, no matter if you are a brand or a retailer, and whether you sell more online or in-store. The fact is that, in most cases, your website is the first touchpoint that customers and business buyers have with your brand. This is even more so during these unusual times when stores are closed, and trade shows are postponed or canceled.
A decade ago, the biggest concern when it came to 3D was connected with the quality and the realism of the renderings. Now, however, we are witnessing photorealistic CGI visuals that are indistinguishable from actual photos. Nowadays, some of the furniture companies use more than 75% CGI in their furniture catalogs, and the level of quality is so high that you won't be able to recognize the difference between a rendering and an actual photograph.
Image and asset flexibility
Once a photoshoot is over, furniture companies can't change details, lighting, or the layout. Instead, they have to organize a new photoshoot. With 3D visualization, revisions are a breeze. You can make changes at any stage and get the perfect visuals. This also allows you to make corrections after a project is finished and reuse the visuals with small adjustments.
At this point, 3D is the only product visualization technology that produces high-quality assets that can be leveraged across channels. Repurposing and reusing visuals can be a game-changer for every business. In a world where rich content is the new imperative, being able to reuse content with small adjustments can make a significant difference. At these times, when you need content for your website, social media, and email campaigns to compensate for the closed stores and showrooms, the flexibility of 3D assets can take you a long way.
Besides this, one of the top priorities for furniture brands is supporting retailers with assets to help them sell more products. The ability to download 3D files is one of the main drivers of engaging website experiences. Check out our Top 100 furniture brands reports for the United States and Europe to see its current adoption.
Retailers naturally make demands and request product visuals from the manufacturers they are representing, and the quality of these images directly impacts their online and in-store sales. Clever brands understand that investing here would translate to higher sales for both parts. This is one of the biggest hurdles for brands that still use traditional product photography, as they don't have 3D files that they can share with their networks. Tech-savvy brands that use 3D product visualization can maximize the ROI by distributing them to the retailers.
High-quality 3D visuals can also be reused for AR/VR applications. Today, given the circumstances, using augmented reality to help customers visualize furniture in their own space, or bridge the gap between business buyers and showrooms can be the wind in your sails, and help you get through these turbulent times, but also adapt for the future. Don't forget that customers that engage with AR are eight times more likely to convert than customers that choose not to engage with AR.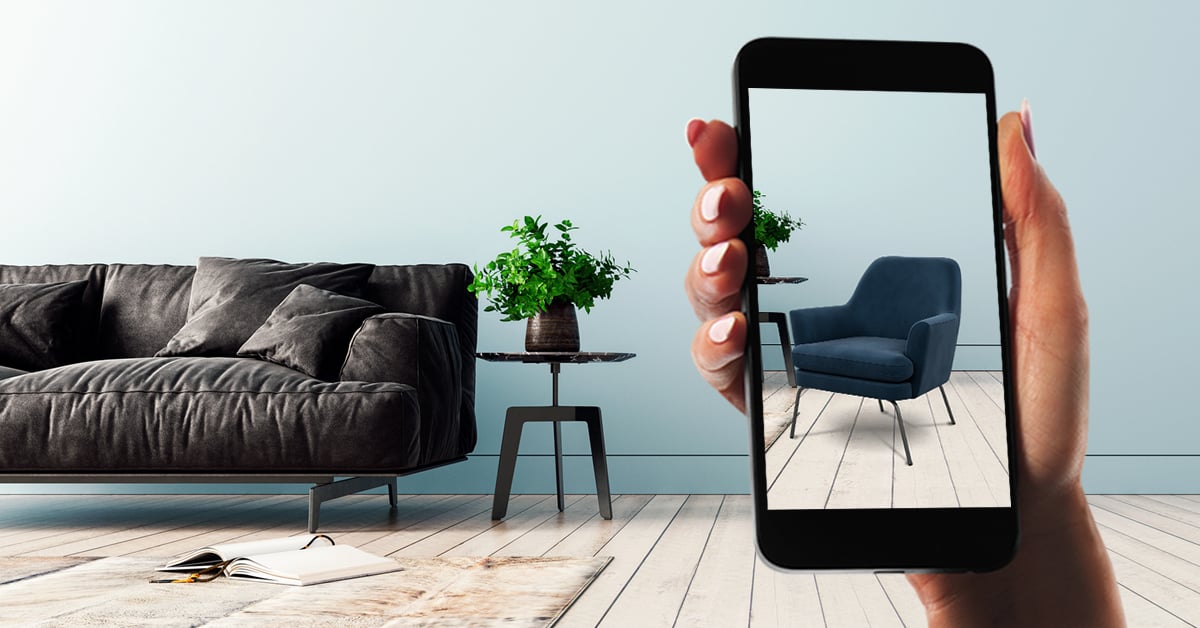 Future-proof your business with 3D product visualization
The status quo has been shattered. Doing "business as usual" is no longer an option. But there is a silver lining in every negative situation. Tough times make us stronger. It's the same for companies. Businesses that are ready to adapt now are the ones that will have a smooth shift and embrace the new reality once the storm passes.
Advanced technologies, like 3D product visualization, can help you future-proof your business by going digital, and make you more resilient in similar crisis scenarios in the future.