To say that COVID-19 is a virus that infects only humans would be an understatement. If we look at the full scope of its impact (to date) on the world as we knew it before the pandemic, I'd rather say that the virus does not only infect humans, but it infects businesses, societies, habits, lifestyles, patterns of behavior … you name it. In summary, it infects our everyday life by bringing uncertainty and by forcing us to change the way we live and operate.
While for most leaders of companies across the globe, the priority over the last couple of weeks was to make sure their people are safe and that they have ways to operate remotely and online, an equal worry has also been the thought of what will happen to their business and how will they survive through the coronavirus crisis. Malls, stores, showrooms, and entire production facilities were forced to close. Some people were faced with working from home for the first time ever, while others were laid off, temporarily or permanently.
Let's look at this from the other side of the story: the perspective of the average person, the consumer. People suddenly got stuck at home. Some had to quickly adapt to work from their homes, while at the same time, they had to take care of their children. Some lost their jobs. Others turned to buying things online or even stocking up on basic items in a mild panic. Some explored new ways to entertain themselves from their homes, to keep their exercise routine, to stay in touch with their friends, or to try to keep going with their home rearrangement project they planned for this season. A good indicator of that is the fact that, besides the increased demand for cleaning items and coffee pods, office furniture sales experienced explosive growth over the last few weeks due to the work-from-home shift.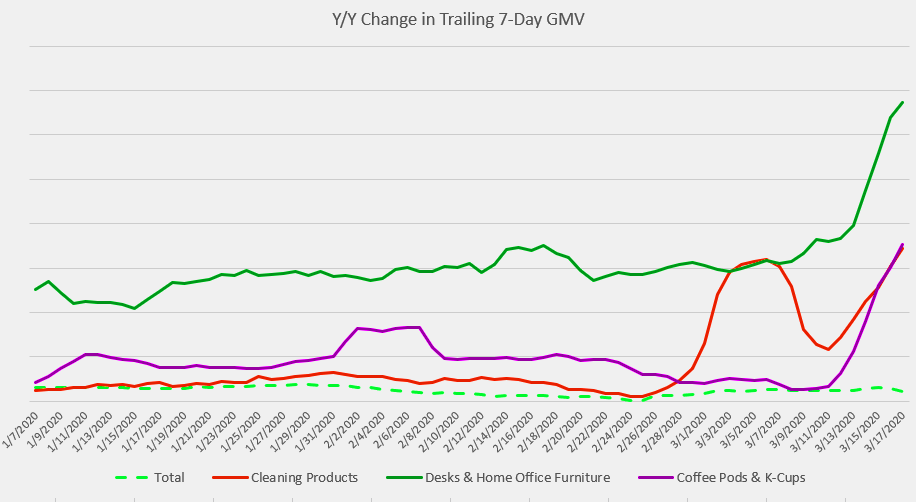 Source: ChannelAdvisor
In essence, the last couple of weeks were a period of adjustment to the new reality, both for businesses and individuals.
What we already see is happening next
Furniture brands and retailers are rapidly adjusting and looking for ways to be present online more than ever. It is evident that the current situation will not be resolved in a matter of days, or even weeks, but the business must keep going. Brands and retailers now realize that offering a strong online customer experience can be the main differentiator between who survives and who falls after the pandemic is over, and the world normalizes again.
On the other side, the expectation is also that the average consumer, the normal person who is currently spending most of their time at home, is increasingly looking at ways to mimic their previous "normal," the reality they were used to, from their homes, with the help of the internet. According to Chain Store Age, "E-commerce retailers based in the U.S. experienced a 52% growth rate in online spending during the 5th to 8th weeks of 2020 (the period when the virus began rapidly spreading outside of Asia) compared to the same weeks of 2019. These weeks span January 27–February 23, 2020." Moreover, "Online conversion rates rose 8.8% year-over-year during those same weeks in 2020."
This is true for the furniture industry as well. Based on this Criteo research, "In the U.S., sales of home improvement, gardening, and interior design products—which includes things like office furniture, lamps, and area rugs—were up +13% in early March and still up by +8% last week, compared to January 2019." Some of our customers are experiencing spikes in office chair sales. Others say it feels like Black Friday with online sales, and some feel worried and are trying to find the right solution.
To summarize, after the period of adjustment to new ways of living and working, as well as running a business at the time of COVID-19, what we are now seeing is a major consumer behavior shift toward online retail, which is inclusive of the furniture industry.
How to stay relevant online, even if e-commerce was not the core of your business before coronavirus
Over the last few weeks, we spoke with almost all of our customers about the current situation, how they are dealing with the crisis, and some of the immediate tactics they are implementing to keep their businesses thriving, even during this difficult time. Hard decisions were made all over the place. Many had to let go of some of their people. A common case is also the topic of trying to cut costs as much as possible while focusing on how not to stop revenue flow.
If you have your product visualization in place, you are already a few steps ahead of others. Here are a few strategies that are fairly easy to implement and can help you boost your online presence, offer better customer experience, and help increase your conversions.
1. Online, personalized style consultancy
As stores are closed, this opens many possibilities to be creative with your designers or sales personnel. Just enable a system where your consumers can schedule an online appointment with a real person and consult with them as if they were in the store.

Sofacompany came up with creative ways to guide their buyers during the COVID period.
2. Quick enablement of B2B online orders
Many companies in the furniture industry, especially brands, may not have fully developed online B2B platforms. However, to be able to offer an opportunity for your retailers to make purchases through your website, you can achieve this even with a simple online form or a PDF export of a wishlist, product selection, favorites section ... you name it.
3. Challenge your buyers via social media as they stay at home
Everyone is using social media more than ever these days. And while most news relates to counting new cases or new deaths due to COVID-19, we all could do with something refreshing in our newsfeed. This is your time to go wild with marketing campaigns. Ask your fans to send you a picture of their home arrangements in exchange for a gift, give away discount coupons, or give them a way to win the office chair of their dreams for their new home office.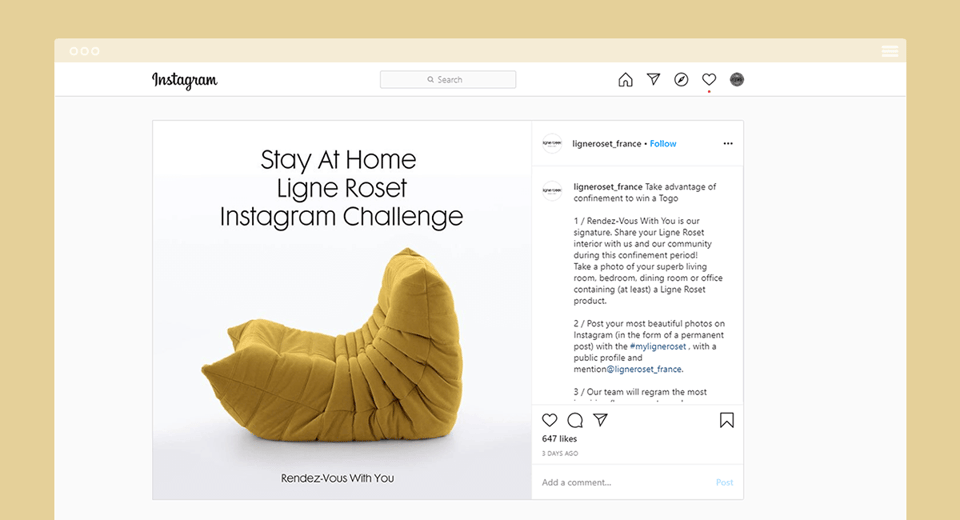 Ligne Roset is challenging their Instagram fans and offers them a gift in exchange for their participation.
4. Bring your showroom to people's homes with Augmented Reality
This can go a long way and can help you stay top of mind when people make furniture buying decisions. It's a great time to bring your showroom items to people's homes with web-native AR. It's fun, engaging, and comes with a flair of entertainment. Customers that engage with AR are eight times more likely to convert than customers that choose not to engage with AR.
5. Simple UX product page adjustments to maximize conversions
If e-commerce wasn't your primary business model before COVID-19, I'm sure you are now thinking of ways you can maximize your revenue coming from online purchases. Many times, little tweaks and changes to your product page can have a tenfold increase in engagement, thus increasing your chances of getting more conversions. And if you are not sure how to approach this, feel free to reach out to us.
6. Got a stock of last season's items or sample products? It's the perfect time for discount sales!
As people are thinking of ways to save money while they are still trying to stick to normal routines, this might be a win-win option to think about. Now might be the perfect time to discount and sell your last season items, showroom pieces, samples you've used for photography, etc.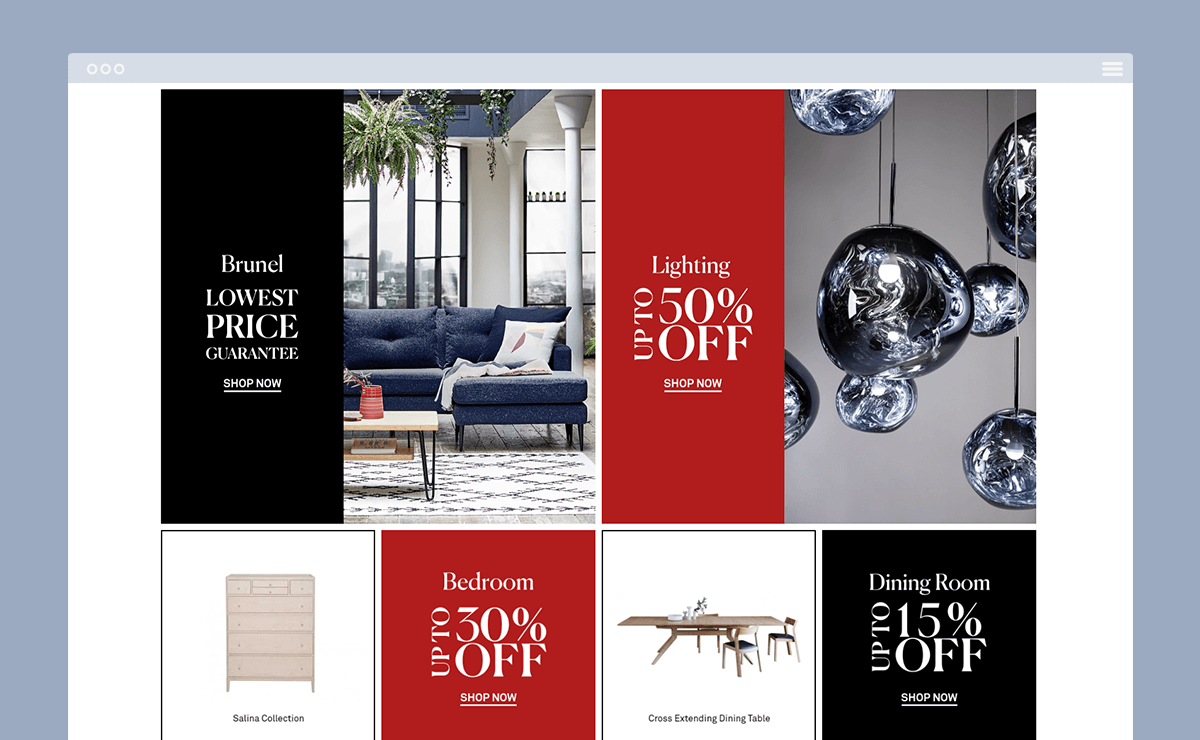 Heal's is promoting a big COVID-inspired sale on the majority of their offerings.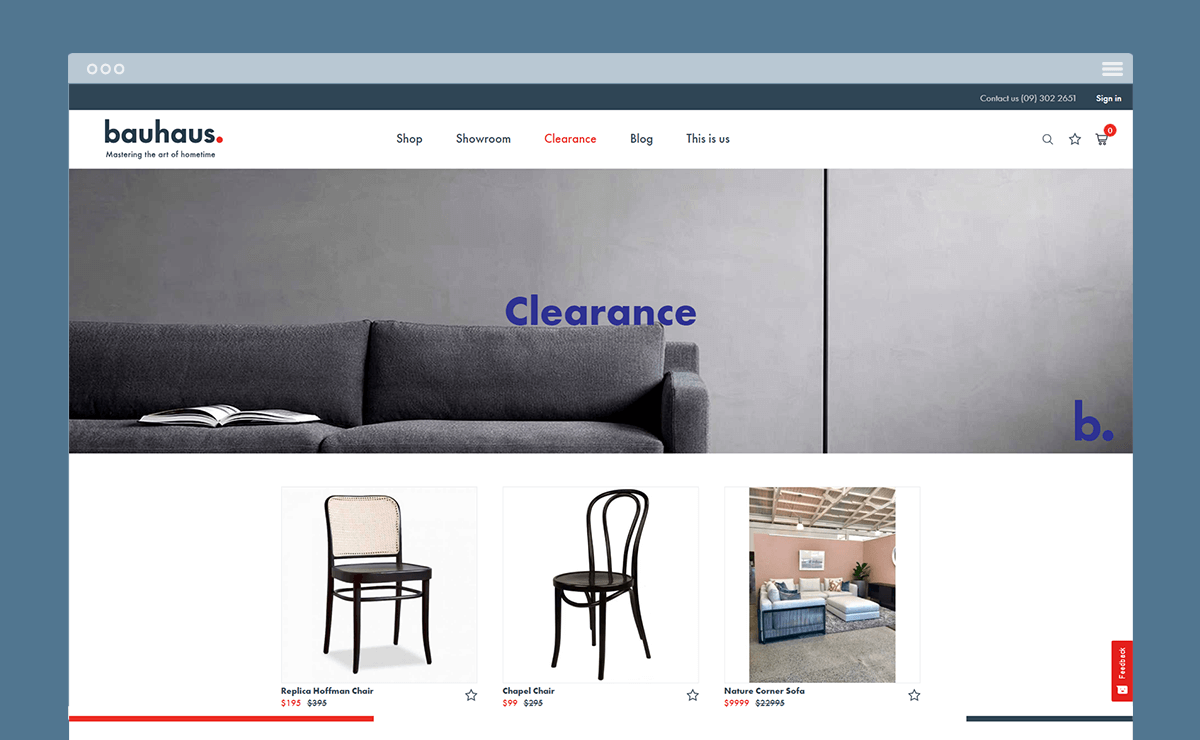 Bauhaus is promoting clearance sales during COVID-19.
7. Offer extra flexibility around product returns
Stores are closed, and people are deprived of the opportunity to sit on that sofa they were thinking of buying, to try it out, and to get that extra reassurance that they made the right choice. Why don't you consider allowing them to return it if they end up truly disappointed once it's delivered? A bit of extra flexibility on returns could go a long way during such times.

Interior Define has a 60-day return period.
8. Offer free swatches to help your sales
This might help you win the hesitant buyers. If you send them free swatches so they can get the "touch and feel" experience, which for many people might be the ultimate decision point, then you are eliminating one more reason not to buy now from the convenience of home.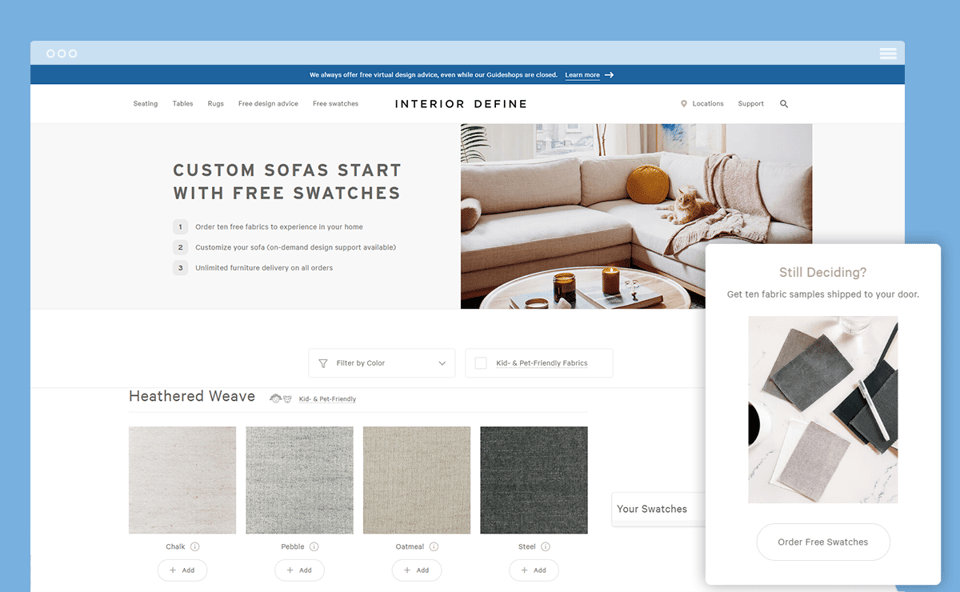 Interior Define is offering free swatches.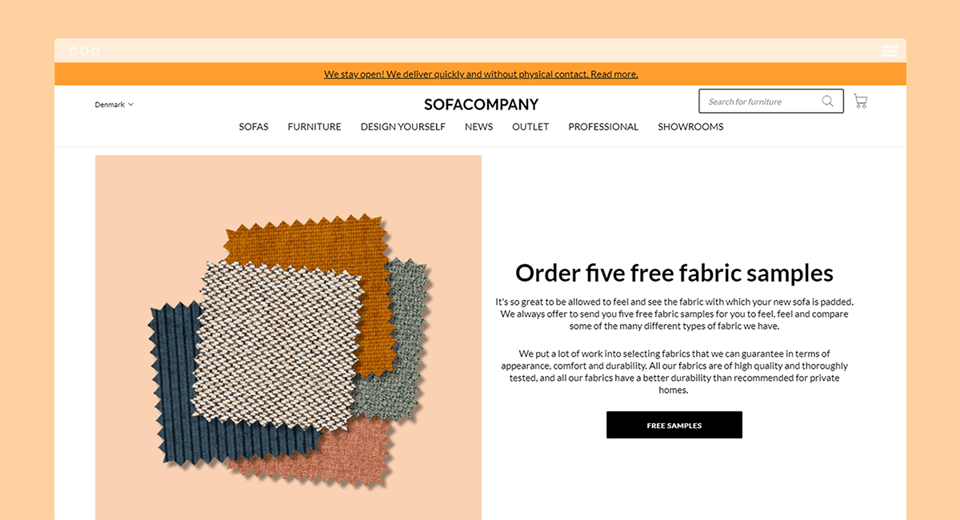 Sofacompany is offering free samples and has an increased demand.
The entire Customer Success team at Cylindo has been closely working with our customers to help them find ways to get through the crisis with as little impact as possible. We've done things we never thought we'd do before. Together with our customers, we brainstormed, thought, prototyped, and brought to life various use cases that are tailored to their specific online needs at the moment. We are a part of your team, and we want you to know that. If you haven't reached out already, but you feel like you might benefit from bouncing a few ideas off of someone, any one of us would be happy to be that person. We are here to help you grow and be successful when times are good and business is flourishing, but we are even more here to help you get through when the world goes into a state of emergency. Look at it this way: if doctors are the first line of help for infected patients, then Customer Success is the first line of help for an infected business.
We feel lucky to work with such wonderful people like you. We hope that you, your family, friends, dear ones, and colleagues are doing well and will continue to do so. We are committed to helping your business get through this unprecedented situation and come out stronger.