Over a few days, everything changed. Coronavirus (COVID-19) is officially a global pandemic. People are staying home, and brands are reallocating resources and figuring out the best way to overcome this situation.
COVID-19 can disrupt the way we work, socialize, interact, shop, exercise, educate, and take care of our families.
Since the middle of last week, retailers have been announcing temporary closures of their brick-and-mortar locations in an attempt to prevent the spreading of the coronavirus.
To keep you up-to-date on how this may affect the furniture industry, we've put together this first outlook of the situation and the predictions for the upcoming months.
Challenging times for the furniture industry
The two countries that the furniture industry relies on most have been heavily affected by the coronavirus. Many well-known brands have furniture production factories in China, and they've experienced difficulties in the production process. On top of this, most high-end leathers come from Italy, creating additional strains on the supply chain.
Luckily, things are starting to look up, and China is slowly recovering from the crisis. For instance, Ikea said that its suppliers in China are largely operational again, but they will keep monitoring developments to ensure that health and safety remain a priority at all times.
However, it will take some time to flatten the coronavirus growth curve. In other words, if people practice "social distancing" by avoiding public spaces and generally limiting their movement, the spread can be slowed. This, of course, will have significant consequences on the brick-and-mortar businesses.
E-commerce in the time of coronavirus
E-commerce is a blessing, especially during the outbreak. Companies that have invested in their online presence are now coping more easily. It's no surprise that Direct-to-consumer (DTC) brands were among the first to close their shops because they already have a robust online presence. Besides the fact that their physical footprint is smaller compared to the major legacy retailers, the DTC business model as a whole was built online through e-commerce.
According to Coresight Research, around 33% of respondents said they were avoiding physical stores, and more than half said they'll avoid them if COVID-19 spreads. The numbers are even higher for shopping centers.
Last week, Digital Commerce 360 conducted a survey to understand the worries and expectations retailers have concerning their business and the coronavirus. Results from the survey showed that:
47% of retailers expect some downside revenue implications;
80% of retailers believe the coronavirus will have at least some impact on consumer confidence;
8% of retailers expect their online business will go up significantly, while 30% expect that the coronavirus will cause their e-commerce business to be slightly up;
64% of retailers are being proactive with actions related to the coronavirus, and only 36% are taking a "wait-and-see" approach;
Production delays are a top concern for 44% of retailers, followed by the strength of customers' confidence and the impact of revenue (42%).

Based on the information that emerged last week, as well as our industry expertise and constant communication with furniture brands and retailers, this is our perspective on the current situation. An important thing to note is that news changes daily, and this is just the first outlook of the coronavirus crisis. We'll monitor the status and update you as the outbreak evolves.
Online marketplaces expect a surge in demand
This new situation that urges people to stay home leads to increased online sales. According to Robert W. Baird analyst, Colin Sebastian, there will be a boost in e-commerce growth rates medium-term, and online marketplaces should be somewhat less impacted than online retailers or DTC brands due to their diversity of suppliers and/or seller base.
A few days ago, in a company blog post, Amazon announced that they are opening 100,000 new full and part-time positions across the U.S. in their fulfillment centers and delivery network to meet the surge in demand.
Last month, Wayfair's CFO, Michael Fleisher, said that their business model would be fairly resilient because customers will have different alternatives.
"The spread of the coronavirus and how impactful it might prove, if at all, is something we are keenly focused on. Our current guidance does not factor in any significant potential disruption due to the virus. We believe our marketplace model, where we offer a vast selection to our customers, is an important mitigating factor for us. So, just over half of our suppliers' product is now manufactured in China." - Michael Fleisher, CFO at Wayfair.
Reuters reported that Ikea will sell products on the Chinese e-commerce platform Tmall. This is the first time the company has sold through a third party in its 77-year history. The Swedish retailer sees this as a good opportunity to become accessible for shoppers who prefer multiline e-commerce platforms.
The impact on supply chain
The furniture industry is dependent on supply chains, and many big-name companies rely on China for supply and manufacturing. Even though China is recovering from the crisis, there are some inevitable disruptions that businesses will face. Forward-thinking companies made clever decisions about placing orders early and relying on different suppliers to mitigate the risk.
In a recent Pymnts article, the co-founder and CEO of Branch (formerly known as Bureau), Greg Hayes said that they hadn't seen any negative effects from the coronavirus yet.
"We won't see a hit in the short term," he said. "If this turns into a long-term issue, then we'll certainly see a hit. Only in one or two cases have I seen an order that we haven't been able to fill on time, which is why we have a showroom in Manhattan, and we're about to launch one in Toronto, Canada." - Greg Hayes, CEO of Branch
Furniture brands and retailers need to develop an effective supply chain response plan in order to mitigate risk and prepare for any interruptions that the coronavirus outbreak can cause. This can involve, among other things, aspects like supplier engagement response with cross-tier risk transparency, inventory critical part identification, production-capacity optimization, demand management, logistics-capacity prebooking, and route optimization (McKinsey COVID-19 Implications for businesses).
Also, because of delays in supply chain and specific shipping and transportation conditions, be aware of possible delayed deliveries. The best thing to do is to be transparent and set realistic expectations.
Online presence and website experience is more important than ever
We enter an uncharted new world over the next few weeks. Predictions are that there will be a spike in online shopping. According to SaaS platform provider, Quantum Metric, online sales increased 52% compared with the same time frame a year ago, and the number of online shoppers has increased 8.8% since the coronavirus began. This means that online presence is now key to get more shoppers to click the "add to cart" button. This is true for B2B as well. In this era of 'social distancing,' B2B companies that can't adjust to the new reality and still swear by the face-to-face approach as the only formula for success will eventually suffer.
First things first, no matter if you are a furniture brand or retailer, make sure that your website is equipped with features that can help you bridge the online-offline gap. Here, we're referring to features like product customization, 360-views, high-quality zoom, alternate angles and detailed shots, room scenes, and much more.
A recent NY Times article addressed the importance of furniture customization. The latest events with the coronavirus will emphasize this even more. Companies are shutting down stores and focusing on their website experience to serve their customers (both B2B and B2C).
Technology brings us closer
The new "stay at home, work from home, shop from home" paradigm we are experiencing in the last couple of days has only confirmed that technology's role in coping with coronavirus is huge.
Not only does it make work from home possible and enable us to communicate with teammates and family, but it also becomes an integral part of online shopping.
One of these technologies is augmented reality (AR). It's slowly becoming an inevitable part of the online buying process. AR will simplify the decision-making process by helping consumers make informed decisions in the comfort of their homes. This is especially important now for people to evaluate options for a big-ticket purchase like furniture.
However, a Bloomreach article talks about how emerging digital technologies may have even more impact on B2B than in the consumer market. "That includes augmented reality or visual search in a repair scenario where you want to do it yourself versus call in a technician - or they don't want to come or are not available because they can't travel or are on quarantine." - Brian Walker, CSO at Bloomreach.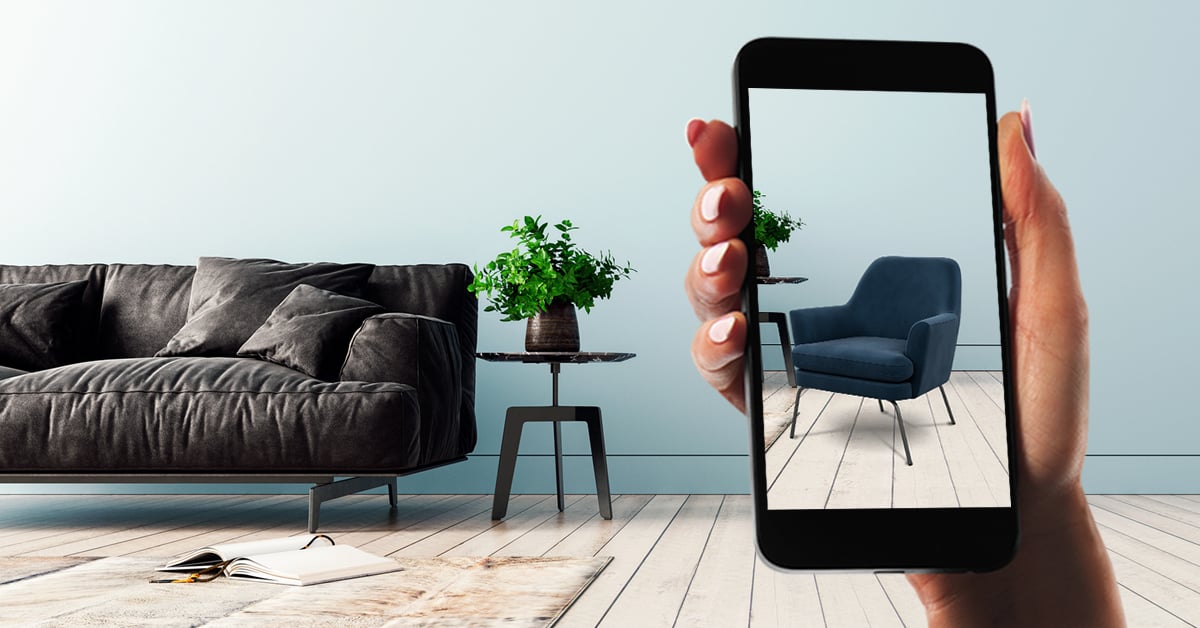 Furniture fairs and shows are being canceled. What is the alternative?

All furniture shows planned for spring have been canceled or postponed. High Point Market (HPM) and Salone del Mobile were canceled. China International Furniture Fair (CIFF) was initially scheduled for March 18-21, but due to the coronavirus outbreak, it was postponed for June 18-21.
One week ago, before HPM announced that they are postponing the show, American Leather released an announcement informing their customers that they decided to withdraw from their attendance at the Spring 2020 High Point Market in response to the growing coronavirus (COVID-19) concerns in the United States and around the world.
They announced that the companies will still offer a full High Point Market experience for their customers and will have new collections to showcase through a virtual format. The digital activities will include a series of podcasts or webinars, virtual product tours, 360-view showroom presentations, and more.
During a crisis, companies are getting creative and looking for ways to offer the best experience to the customers without jeopardizing their health. This opens up the question of whether traditional furniture fairs as we know them have an alternative using technology. In the last couple of days, we've learned that technology will make people's lives easier during this challenging time.
Will Coronavirus Change the Way We Shop?
During the phase of panic, customers are focused on buying food and hygiene essentials. After this phase passes, as they spend more time at home, they are more likely to feel the shortcomings of their home environment, in the short-term. This will lead to a surge in demand for decorative home purchases, like a new rug, chair, or pillows. Longer-term, it may lead consumers to consider significant home improvement or redecorating projects.
Even though it's too early to make any predictions, what we know at this point is that people will be spending more time at home, avoiding stores and crowded shopping centers. This will lead to more online purchases. Furniture retailers and DTC brands have to offer meaningful online experiences to engage with customers. On the other hand, as communication shifts online and furniture fairs are being canceled, the online presence will be crucial for furniture brands as well. Will this coronavirus outbreak make more brands embrace the new B2B e-commerce reality? We'll find out soon.
The Furniture COVID-19 Playbook
As part of our efforts in supporting furniture brands and retailers rebound from COVID-19, we've published a series of blog posts that might give you a new perspective on what you can do today to achieve sustained growth and performance after the pandemic.
What's Next?
The COVID-19 crisis will have a substantial impact on the global economy. Businesses all over the world will have to evolve to accommodate this fluid situation. Your website will become your business card, your store, and your showroom. Prioritizing digital merchandising and online presence can help you navigate through this difficult time.
During these times of uncertainty, our team is working remotely, at full capacity. We'd like to hear your thoughts on the situation, so if you want to chat, drop us a message at hello@cylindo.com. We wish good health to you and your loved ones. Stay safe!
This article is the first outlook of the coronavirus outbreak. There's still so much to be learned about local transmission dynamics, and many outcomes are possible. We'll continue monitoring the situation and update you as things unfold.