Here is the monthly round-up of all important news and articles in the world of furniture, e-commerce, and technology.
FURNITURE TECH
6 Trends For Furniture E-Commerce Success In 2019
The furniture industry is on the cusp of a big disruption. The digital natives consider technology as an integral part of their lives, and they expect a seamless omnichannel shopping experience.
In our latest e-book you can find out:
6 trends that will spice up the furniture e-commerce industry in 2019

How to use technology to create engaging shopping experiences

How other furniture companies do it

What will the digital disruption bring for furniture retailers and brands

Expert advice from E-commerce and Digital Marketing veterans.
The rise of the direct-to-consumer home
The direct-to-consumer format began with eyeglasses a few years ago and spread to other industries as well. Now, furniture brands have caught on. Direct-to-consumer companies claim that by selling direct online and eliminating retailers, they offer lower prices, higher quality goods and better communication with end customers. Thus, they learn from them, so future product updates are better targeted to what shoppers need and desire.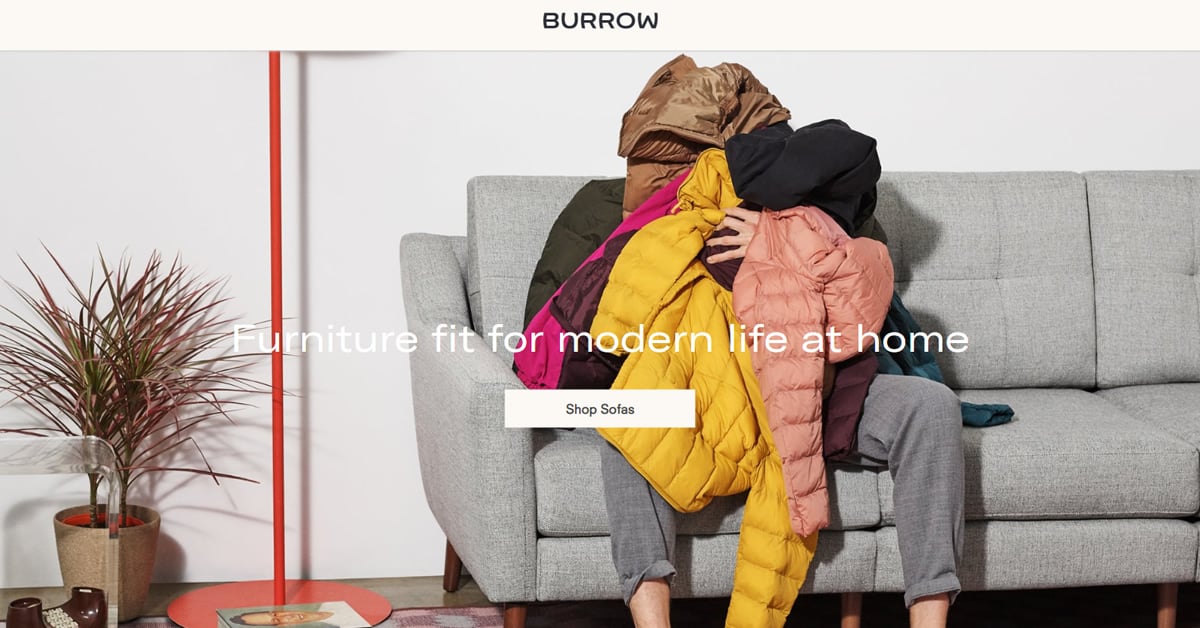 Burrow - One of the most innovative direct-to-consumer furniture companies
Walmart is testing its own, in-house visual search technology
Hayneedle, the home furnishings retailer that joined Walmart by way of acquisition by Jet back in 2016, is now serving as the testing grounds for Walmart 's own in-house visual search technology. Walmart says it sees the potential in visual search because of how it can better guide customers to products, even when they don't know what they're looking for by name.
E-COMMERCE NEWS
The Ultimate E-commerce SEO Checklist for Brands in 2019
In most cases, the customer journey begins with a search engine, and if you're not on the first page for your main keywords, then you miss a lot of traffic and potential customers. Optimizing your website to rank organically can be a low-hanging fruit that can help you increase your conversion rate. Here is the ultimate e-commerce SEO checklist to start the year on a high note.
Retail is having its best holiday season in 6 years
According to Mastercard SpendingPulse, retail sales in the U.S. from Nov. 1 through Christmas Eve were up 5.1 percent to more than $850 billion. That makes this the best holiday shopping season in six years. Online shopping also saw large gains of 19.1 percent compared to 2017.
CUSTOMER EXPERIENCE AND DIGITAL UPDATES
Retail's Amazon antidote: Buy online, pickup in store
Brick-and-mortar retailers like Walmart, Target and Best Buy found an advantage over Amazon this holiday: store pickups on online orders. Customers seem to love this concept, as pickup-in-store spending increased 47% from November 1 to December 19 compared to a year ago. Analysts say this is an increasingly popular model as it appeals to shoppers who want to skip checkout lines and pick up what they bought online.
4 Social Media Strategies That Can Take Your E-Commerce Business To The Next Level
Brands that engage with customers via social media gain 20-40% more revenue per customer relative to companies that do not. If you want to utilize social media in the best possible manner, make sure to apply effective strategies that will take your online store to the next level. Analytics tools like Facebook Pixel, engaging content like live videos, technology for A/B testing and social proofing to boost customers' confidence are some of the most effective strategies that can help you increase sales.
INFOGRAPHIC OF THE MONTH
The rise of mobile shopping and its impact on business
As shoppers spend more time and money on mobile, they will expect better experiences. We are witnessing the steady growth of mobile shopping, and while it has not yet entirely replaced the desktop, it has become a natural part of consumer shopping behavior.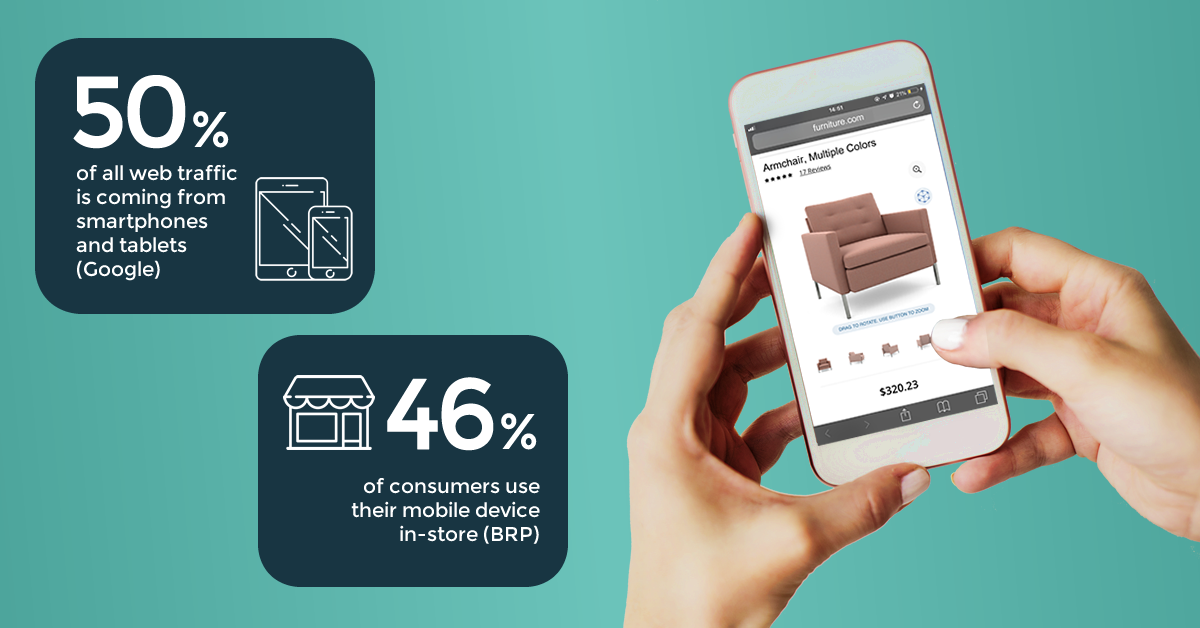 UPDATES FROM CYLINDO
[On-demand webinar] 3D Furniture Visualization Technologies
Are you still struggling to decide what the right 3D visualization technology for your business is? 3D, Augmented reality, Virtual reality or Space planning?
Access our 45 minutes webinar, where our CEO Janus Jagd talks about ways to use 3D Furniture Visualization Technologies to create interactive, content-rich websites and delightful shopping experience.
In this on-demand webinar you will learn about:
Importance of visualization strategy

Different product visualization technologies (pros, cons and use cases)

Why building a future-proof 3D library of high-poly assets becomes imperative

A game plan for each visualization technology (3D, AR, VR, and Space planning)
This is your chance to reinvent your product visualization and significantly increase sales.
Watch the webinar and learn how.