Here is the monthly round-up of all important news and articles in the world of furniture e-commerce and technology.
FURNITURE TECH
UX Research on Product Page Videos and 360 Views: Where and How to Embed Them
The digital revolution is reinventing shopping behavior. As e-commerce grows, customers are becoming increasingly comfortable with online shopping. Superior product visualization will continue to be a driving factor for e-commerce success in 2019. The biggest challenge of bridging the gap between online and offline shopping is the possibility to visualize products. Customers want to know exactly what they are going to get. However, investing in engaging content is not enough. Effective content placement on your website is crucial. According to Baymard, users generally expect images, videos, 360 views, and similar visual content to be placed together at the product page because they perceive this type of content as supplements to the product images. Make sure to place your videos and 360 views at the top of the product page, mixed with or next to the product image gallery.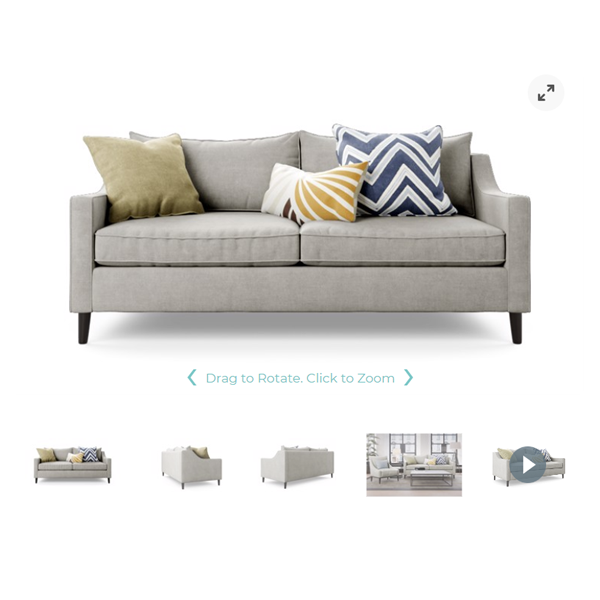 IKEA's New App Has a Feature to Rival Amazon, Target, and Wayfair
Ikea is introducing a new app that enables users to shop for furniture without leaving the app. The app will be launched first in France and the Netherlands, and by the end of the year, it will be rolled out in Ikea's top 8 markets including the USA, Germany, and China. However, recent Google research shows that 87% of people say they can be loyal to a brand without having its app on their phone. In fact, 53% of smartphone users say they do not have their favorite brand's app installed on their phone. So as expected, the rise of web-native augmented reality has already started disrupting the furniture buyer journey, with 33x higher adoption rates than traditional mobile AR apps. What will this mean for the furniture industry? We'll wait and see.
E-COMMERCE NEWS
The Ultimate Guide To Amazon Home & Garden
Home and kitchen is a particularly strong category on Amazon, according to CPC Strategy. As of 2017, 60% of the top sellers on Amazon focused primarily on this category. Amazon's Home & Kitchen uses AR and machine learning to provide a more interactive shopping experience. They also have a "Discover your style" feature that gives visitors tailored product recommendations based on likes and dislikes. You can also check the list of "bestsellers" that they update regularly. The fact that Amazon has 4 private label brands in the home & kitchen category is one more proof that this remains one of its most important revenue streams.
For more insights about furniture, marketplaces download our whitepaper "Selling Furniture Through Online Marketplaces".
Making It Easier To Shop Across Google - Google Shopping Redesign
Google is expanding its shopping experience, letting users shop directly from Search, Images, and YouTube. During the Google Marketing Live event, the search company announced an entirely redesigned and personalized Google Shopping experience, where shoppers can add items to a universal shopping cart from several of its services and then checkout instantly using their Google account. This is another effort to close the gap between Amazon and the legacy Google Shopping experience. Retailers that want to use this new feature from Google must use Shopping Actions. Is Google slowly becoming a marketplace? Some of their latest updates certainly make it look like one.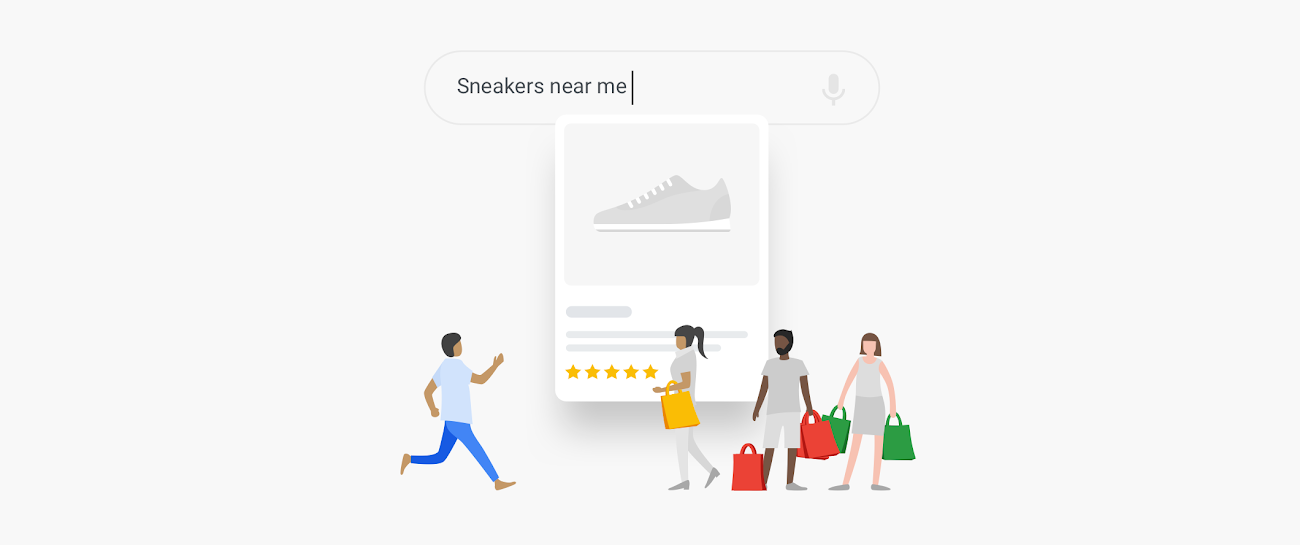 Source: Google
CUSTOMER EXPERIENCE AND DIGITAL UPDATES
Redesigning Your Website? 5 Reasons Why This Is The Right Time To Consider Furniture Visualization
At a time when e-commerce sales make up nearly one-fifth of total retail sales, with an annual growth rate of 15%, retailers can't afford to have a bad website. No matter if you are a furniture brand or retailer, your goal should be reaching customers at the moments that most influence their decisions. Unlike ten years ago, when customers would come to the store to find what they need and to ask for more information, today the first thing they do is grab their phone or their laptop and search for the products or information they need. If you are planning website redesign, or it has crossed your mind, now it's the right time to consider furniture visualization as well, and some of the main reasons include: increased conversion rates, reduced visualization costs, engaging product pages, online/offline synergy, and a future-proof strategy. How? Read the full article to find out more.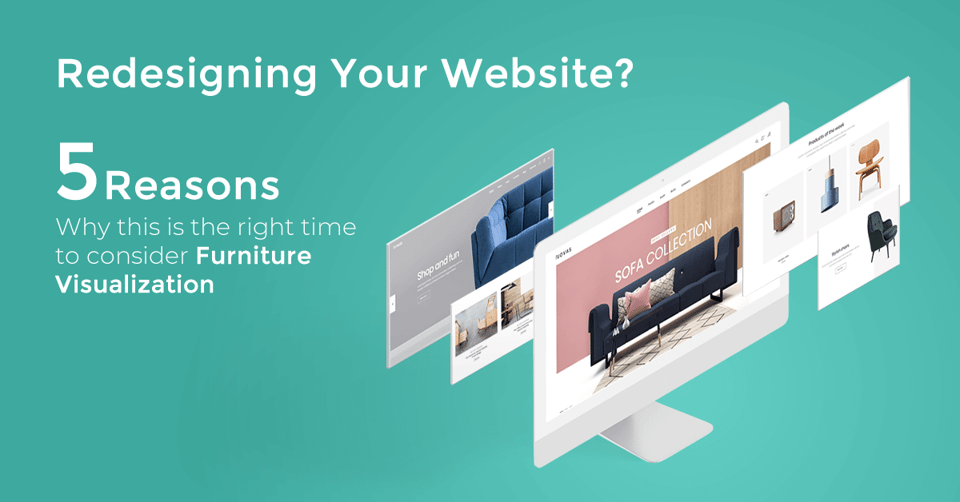 INFOGRAPHIC OF THE MONTH
A snapshot of the furniture industry
As customers' expectations for the ideal online shopping experience increase, e-commerce furniture merchandising becomes essential to thrive in this competitive landscape. The furniture industry is in the throes of digitization, so it is vital to look at the current situation, and each business must consider what they need to enable the next generation of technologies that will improve the online shopping experience.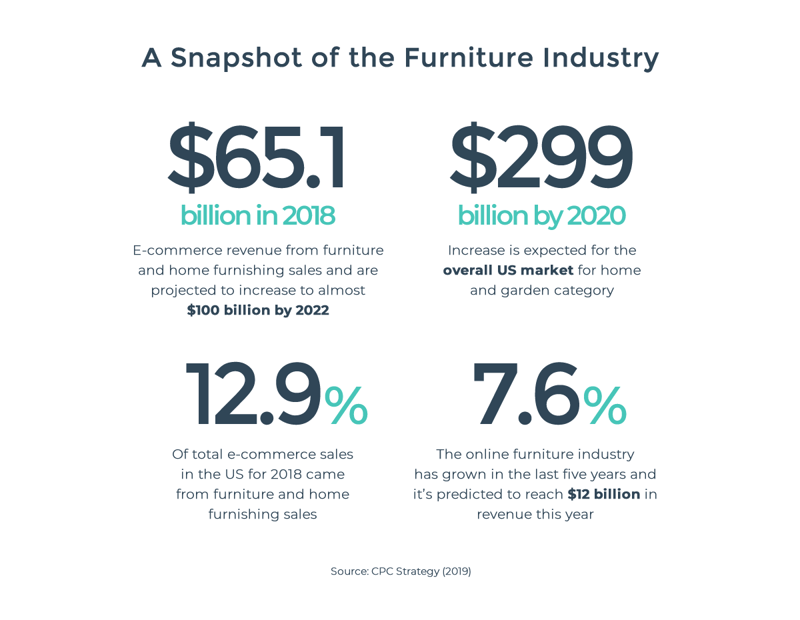 UPDATES FROM CYLINDO
Cylindo ready to power web-native AR for Android
Google is bringing AR to more services, including Google Search and Google Lens, and they've also introduced updates to Augmented Images and Light Estimation for more interactive and realistic AR experiences. One of the most exciting announcements for retailers is the introduction of Scene Viewer - a new tool which lets users view 3D objects in AR right from a website. In other words, web-native AR will soon be available for Android users as well.
Cylindo is ready to power web-native AR for Android as soon as Google rolls out the Scene Viewer.
"As we're moving from a 2D to a 3D era, it's essential for retailers and brands to build a future proof visualization strategy. It's certain we'll see more and more use cases for 3D assets over time - and retailers' and brands' success will be measured by how fast, and efficiently they can power these new experiences with existing 3D assets. We're excited to be spearheading the Khronos initiative and setting the standards in 3D e-commerce. We regard the support for web-native AR for Android a natural step in partnering with our clients to build a future-proof visualization strategy" - Janus Jagd, Founder and CEO of Cylindo.