Here is the monthly round-up of all important news and articles in the world of furniture e-commerce and technology.
FURNITURE TECH
Top 100 European Furniture Retailers E-commerce Merchandising Report [FREE E-BOOK]
Back in March 2019, we published the Top 100 U.S. Furniture Retailers E-commerce Merchandising Report with some exclusive findings from top furniture players. Now we're moving forward to analyze some of the biggest European furniture companies and draw some conclusions about the state of the furniture industry on the Old continent.
In this report you'll find:
The analysis of 100 European furniture retailers' websites and the adoption of e-commerce merchandising features
Action checklist: Things to consider when implementing each feature in your retail business
Comparison with the results from our Top 100 U.S. Furniture Retailers Report
Benchmarks, best practices and "Best-in-Class" industry players by features
As the industry is in the throes of digitization, it is vital to look at the current situation, and each furniture retailer must consider what they need to enable the next generation of technologies that will improve the online shopping experience.
See how retailers like Heal's, Sofacompany, Ligne Roset, IKEA, and DFS are winning the e-commerce game with an all-new approach to the furniture shopping experience.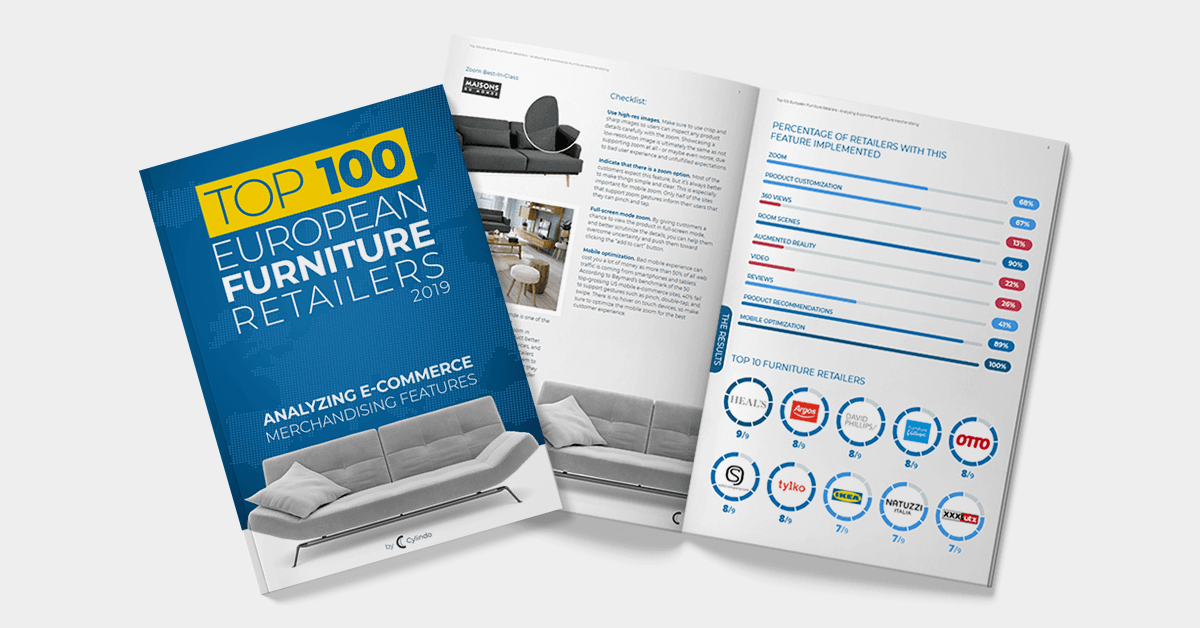 Web-Native AR - On The Cusp Of Reinventing Furniture Shopping
According to Fortune, 75% of apps are used once after being downloaded, and then never used again. If we consider that furniture is not a frequently bought item, it becomes clear that there is a big chance that customers won't bother downloading an AR app.
Just imagine the effort needed to visualize a sofa using an AR app. Most often, the users start by opening a product page. They see a product they like, and they configure it. If they want to see it in their space, they have to leave the product page, open an app store, and download an AR app. Then, they have to load the product and configure it again. After that, they have to go back to the product page to buy the product.
It's clear that the disjointed user experience was the key reason why AR has had a low adoption rate.
E-COMMERCE NEWS
Consumer Trust Relies Heavily On Reviews And Brand Honesty
Research from Trustpilot found that consumers would lose trust in a brand not only if they saw negative reviews—but also if the brand went one step further and deleted them.
For a majority (95.0%) of the digital shoppers surveyed worldwide, that type of behavior played a big role in their distrust of a company, as did not having any reviews at all (cited by 81.0%).
When asked what factors would lead to an increase in brand trust, three of the top 10 factors centered around reviews. Nearly all respondents said positive customer reviews increased their trust in a brand, while 80.1% said they trusted companies that have a lot of customers reviews. Interestingly, if a company responded to negative customer comments, that would drive up trust for 79.9% of those surveyed.
CUSTOMER EXPERIENCE AND DIGITAL UPDATES
The future of foot traffic
Brands with limited store footprints invest in sophisticated online merchandising to try and mimic the benefits of an in-store experience. Furniture disruptor Interior Define continues to enhance product pages. In 2019, it launched a How It Sits feature showing videos of individuals of varying heights sitting down on products. Both innovative and remarkably simple, this allows customers to easily understand seat height and depth without visiting a store. In contrast, brands with larger store footprints prioritize pushing online consumers toward store locations with features that increase foot traffic. Two-thirds of brands with over 250 stores offer in-store pickup.
INFOGRAPHIC OF THE MONTH
U.S. vs. European Furniture Retailers
We live in a global village. It's very interesting to note that there aren't huge differences between the findings from our European and U.S. reports. Most of the features have a similar adoption rate among retailers. There is a slight difference in the zoom feature that is more widely adopted among U.S. retailers - 83%, compared with only 68% among European retailers. On the other hand, product customization is adopted by 67 out of the Top 100 European retailers, compared with only 42 out of Top 100 U.S. retailers. For more insights download our free report.

UPDATES FROM CYLINDO
Heal's Pioneers app-less AR with Cylindo
Heal's has partnered with 3D product visualization platform for commerce, Cylindo, to bring the retailer's customers product through web-native augmented reality (AR). Introducing app-less AR will help Heal's remain at the forefront of retail, enabling customers to visualize how furniture items will look in their homes, without downloading an app.
Cylindo's web-native AR has proven to provide adoption rates that are 33 times higher than traditional AR mobile applications, thanks to the reduced friction. Read more on Furniture News.