The largest furniture industry trade show in the world is just around the corner! A few more days until furniture brands and retailers head to High Point Market.
Looking from a technology perspective, so much has changed in the past year. Traditional retailers have realized the importance of digital merchandising and the power of first digital impression. More furniture brands are waking up to the opportunities from utilizing visualization technology.
On the other hand, 3D visualization solutions are getting better and easy to use, offering engaging shopping experiences for the customers.
In a digital-driven world, where both B2B and B2C customers make informed buying decisions and expect instant gratification, immersive product visualization features like 360 spin, product configuration, and AR have become table stakes.
3D Product Visualization Empowering the Omnichannel Buyer Journey
Many companies have already replaced traditional product photography with 3D visuals. Nowadays, some of the furniture leaders use more than 75% CGI in their catalogs, and the level of quality is so high, that you won't be able to recognize the difference between a rendering and an actual photograph.
Thanks to advanced technology, renderings often show more colors more correctly than photography. Moreover, 3D renderings can do things that photography just can't do – 360-degree spin, product cutouts, or interactive room scenes. Today, we are not only talking about realistic 3D renderings but rather renderings with features that empower engaging shopping experiences that can increase conversions by up to 40%.
This product visualization technology helps companies save time, money, and resources while showcasing an unlimited number of product configurations - different colors, textures, and fabrics. At this point, 3D is the only product visualization technology that produces high-quality assets that can be leveraged across channels and touchpoints like product feeds, cart thumbs, augmented reality apps, marketplaces, endless aisle technology and much more.
Web-native AR is Changing the Way People Shop for Furniture
What was once only hype is now slowly becoming a reality. According to Gartner, by 2020, 100 million consumers will shop using AR online and in-store. This is yet another confirmation that AR has huge potential to disrupt the way people shop and to ease the decision-making process.
The furniture industry has been slow to adapt to these new realities, but traditional brands and retailers are finally starting to catch up with digitally native brands. They've begun experimenting with new forms of engagement, both online and in-store, to deliver more compelling customer experiences.
AR was struggling with low adoption rates for quite a long time. Things are finally starting to change with the rise of web-native augmented reality.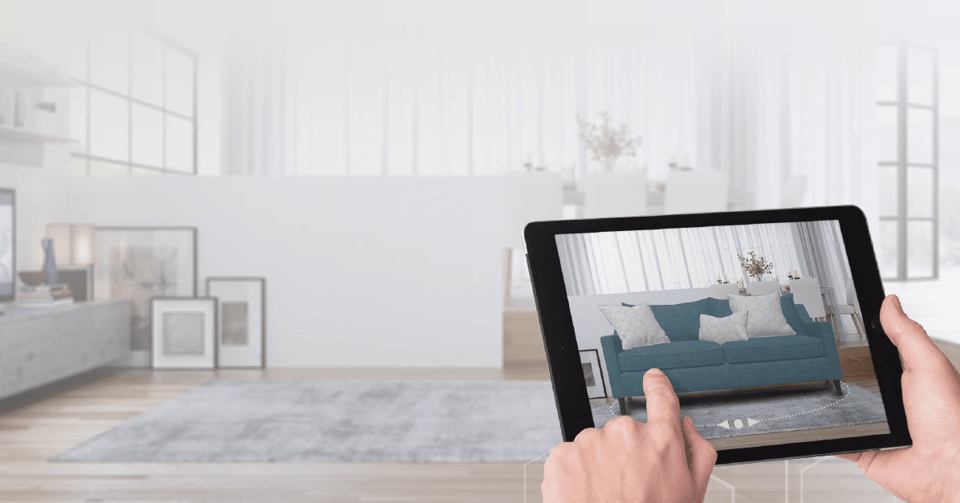 Web-native AR allows customers to place 3D models of selected products in the real world, without downloading a mobile app. The general rule of thumb when choosing the right technology for your business is that you should focus on technology with tangible ROI and a high adoption rate.

App-less AR has proven to provide adoption rates that are 33 times higher than traditional Augmented Reality mobile applications, thanks to the reduced friction. In the future, as we see increased usage of AR in everyday life, the ability to access AR instantly without the need to install an app will become vital.
Some of the main advantages of web-native AR, when compared to traditional AR apps, include instant access, high adoption rate, a broader audience, and lower development costs.
It's interesting to note that despite the fact that AR seems like a logical tool for end-users, to see how a piece of furniture looks in their home, we also see B2B use cases where interior designers, and B2B buyers are using AR to research products and make a purchase decision.
The State of Digital Merchandising in the Furniture Industry
Back in March 2019, we published the Top 100 U.S. Furniture Retailers E-commerce Merchandising Report with some exclusive findings from top furniture players. Last month we analyzed some of the biggest European furniture companies to check the state of the furniture industry on the Old continent.
It's interesting to note that there aren't huge differences between the findings from our European and U.S. reports. Most of the features have a similar adoption rate among retailers. There is a slight difference in the zoom feature that is more widely adopted among U.S. retailers - 83%, compared with only 68% among European retailers. On the other hand, product customization is adopted by 67 out of the Top 100 European retailers, compared with only 42 out of Top 100 U.S. retailers.
If there is one thing we should emphasize from both reports that is: Online presence matters! Investing in product visualization pays serious dividends for both brands and retailers.
In a world full of visuals and rich content, having a product visualization strategy is a must. Furniture brands and retailers should be aware that building a high-quality, future-proof asset library will make the difference between success and failure. We also have an e-book covering this topic, so if you want to learn more, you can download it here.
Going to High Point Market?
Let's meet! Our team is eager to help you learn how to create immersive 3D experiences at scale and discuss your product visualization goals.