In the past decade, we've witnessed a myriad of changes in the world of technology that have had a strong impact on every sphere of life. The number of devices owned by the average consumer has exploded.
With the rapid spread of the coronavirus, retailers have realized the power of mobile devices and started implementing a mobile strategy in the customer journey.
Today, we can't imagine our lives without our smartphones - phone, alarm clock, music player, social media, all our favorite apps — our life in our pocket.
According to Statista, the number of smartphone users is forecast to grow from 3.6 billion in 2020 to around 4.3 billion in 2023, with a potential for smartphone penetration rates to increase as well.
More than 50% of all web traffic is coming from smartphones and tablets. According to Leftronic, 72% of internet users will access the web solely via smartphones by 2025. With these numbers in mind, it becomes clear that focus on mobile can be a significant competitive advantage.
However, today when we talk about mobile devices, we are not just talking about responsive web design and mobile apps. Businesses are constantly looking for ways to utilize the power that these devices hold.
AR and smartphones - a match made in heaven
The term "augmented reality" was born in the early '90s, but that doesn't mean that the idea wasn't around previously. Despite the fact that there were many experiments with AR that started in the late '50s, it was more of a scientists' toy until smartphones arrived.
In 2013, Google launched smart glasses, but they weren't broadly adopted due to the high price, safety concerns, and unattractive design. Even though the expectations were high, Google Glass didn't live up to the hype. But tech companies are not giving up on AR glasses. As time passes by, we are reading more about the Google Glass AR headset, Facebook's plans to build Smart Glasses, and Amazon's Alexa smart glasses, which are their own version of wearable tech.
With all this information in perspective, we can definitely say that AR's future is quite exciting. Tech companies are experimenting with other means of introducing augmented reality experiences, but for now, when we talk about AR, brands and retailers are focused on leveraging the potential of smartphones to help them enhance the shopping experience.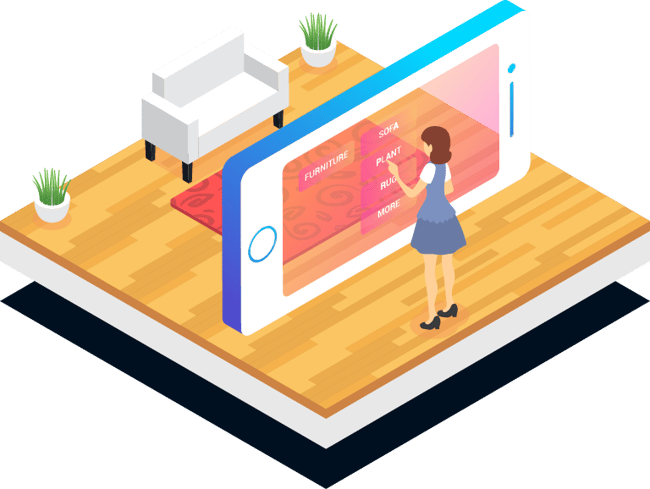 What is augmented reality?
Augmented reality overlays digitally created content into the real world. So when interacting with virtual content, users are not excluded from normal reality. Augmented reality and virtual reality have different use cases, technologies, and market opportunities in retail.
The main difference between VR and AR is that augmented reality users can see the real world as well as virtual objects. This is opposed to virtual reality, where users enter into a 3D, computer-generated environment that people can explore.
This technology creates an entirely artificial world where people can manipulate objects or perform a series of other actions. For this kind of virtual experience, customers must have special headsets, which are still quite expensive.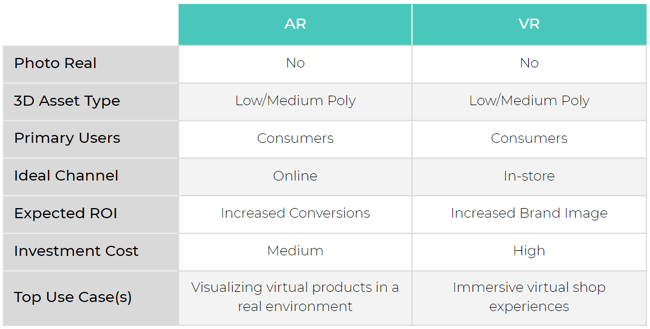 Although the idea of AR has been around for quite some time, the vast majority of people heard about this new reality after the Pokemon Go madness. Luckily, the misconception that people can only use AR in games is now behind us. Today, we see more companies discovering the commercial potential of this technology.
Perkins Coie's report shows that retail is one of the top 10 industries where respondents expect to see the most disruption by immersive technologies.
It turns out people love using augmented reality — over 90% of Americans are using or would use AR for shopping.
Research from Interactions Consumer Experience Marketing shows that furniture is the most popular item to shop for with augmented reality (60%), followed by clothing (55%) and groceries (39%).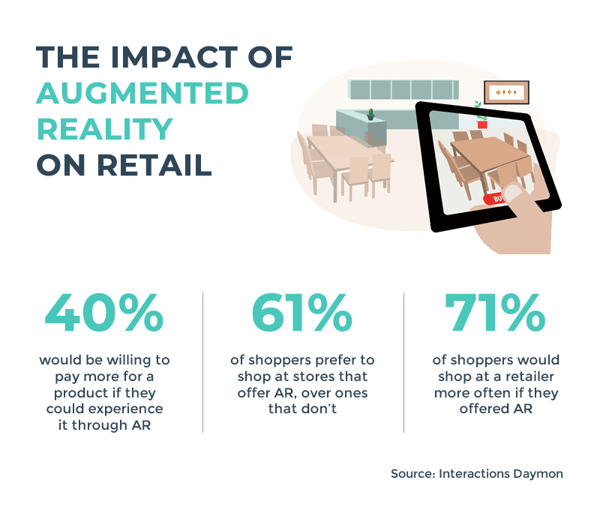 This is no surprise. Furniture is an incredibly visual industry, and customers welcome every effort to bridge the gap between the online and in-store shopping experience. With this in mind, it's clear that AR has significant potential to reinvent the furniture industry and to ease the decision-making process.
How can AR change the way we shop for furniture?
Ever since the coronavirus pandemic began, physical stores have become the second choice for purchasing products because businesses started shifting their operations online due to the lockdowns. However, physical stores will not disappear anytime soon.
The predictions that retail will be dead soon are … well, dead. Instead of an apocalypse, we've witnessed a renaissance. Technology has played the leading role in the retail transformation, and the progress we've seen so far is just a short trailer for what we are about to see in the future.
Here are the three main advantages of using AR in furniture:
Try before you buy. AR enhances physical objects with digital content, so customers can see how a new sofa would look in their apartment in real time and without any risk that they are paying for something that doesn't fit. The possibility to "try before you buy" is very important, especially for big-ticket items. This way, customers can virtually try out furniture, not worrying about bad decisions, which removes a huge weight from their shoulders before the big purchase.
Product customization.

Users can visualize and modify the size, color, and placement of the furniture prior to purchasing. This way, furniture companies can help cut down on the anxiety customers face while shopping for furniture, giving them a plethora of choices to test and allowing them to buy their favorite item with one click. According to

Think Mobiles

, 77% of shoppers want to use augmented reality to see product differences, such as a change in color or style.
In-store engagement. Around 80% of shoppers look up product information, reviews, and prices on their mobile phones while in-store (OuterBox Design). With AR, companies can use digital imagery throughout the store to share information, tips, tricks, and how-tos. AR is also convenient for in-store navigation and loyalty rewards that customers can save to their wallets and redeem at their convenience.
Mobile app vs. web AR
The furniture industry is not so conservative and rigid as we used to think. The tech-savvy direct-to-consumer brands and retailers are continually experimenting with new forms of engagement, both online and in-store, to deliver compelling customer experiences.
Despite all this, user experience and low adoption rates are still the main hurdles that companies need to figure out before AR goes mainstream. When choosing the right technology for your business, the general rule of thumb is that you should focus on technology with tangible ROI and a high adoption rate.
Mobile is an integral part of the way consumers shop nowadays, from browsing and research to comparison and purchase. To remain competitive, retailers need to do more than create a mobile-responsive website. This is why having an exceptional mobile experience is a must for every furniture retailer, no matter if they are traditional or digital-first.
It's no secret that people are getting addicted to their mobile phones. According to an eMarketer forecast, U.S. adults will spend four hours and 26 minutes daily on their mobile phones in 2022. That's one-fourth of the total active time (16 hours awake, eight hours sleep).
There's no doubt that mobile-first will become the norm. That's why it's no surprise that 99% of the U.S. Top 100 retailers we analyzed in our report have a mobile-optimized website.
If we put aside the user experience, another big challenge is the usage of mobile apps. It's hard to break through the noise these days. According to Statista, in 2020, consumers downloaded 218 billion mobile apps to their devices, up from 141 billion app downloads in 2016. The most downloaded apps are still social networks and messaging apps.
Another interesting result from the CleverTap research shows that almost 40% of people delete an app because they aren't using it or it doesn't meet their needs. What's more, a surprising number of people (19%) remove an app due to a lack of storage space on their phones.
It's hard to convince customers to download an app that they won't use often. Furniture is not a frequently bought item, so there is a big chance that customers won't bother downloading an AR app.
Tech-savvy furniture companies are betting on web AR
To avoid wasting time on downloading an AR app, it is better to have a web AR option that will enable a preview in augmented reality directly from the browser. One excellent example of the power of web AR is the implementation of this feature by EQ3.
EQ3 is a Canadian furniture retailer that wanted to enrich the online shopping experience of its customers. To do so, they introduced web-native augmented reality, allowing their customers to examine AR without a mobile application.
EQ3 increased AR adoption by updating their desktop product page and creating a pop-up with a QR code that shows when shoppers click the AR view button. EQ3 discovered that customers who use augmented reality have a 112% bigger conversion rate than those who don't use it. What's more, AR users have two times higher average order values. This implementation showed an increased AR adoption which has resulted in 429% more customers using AR.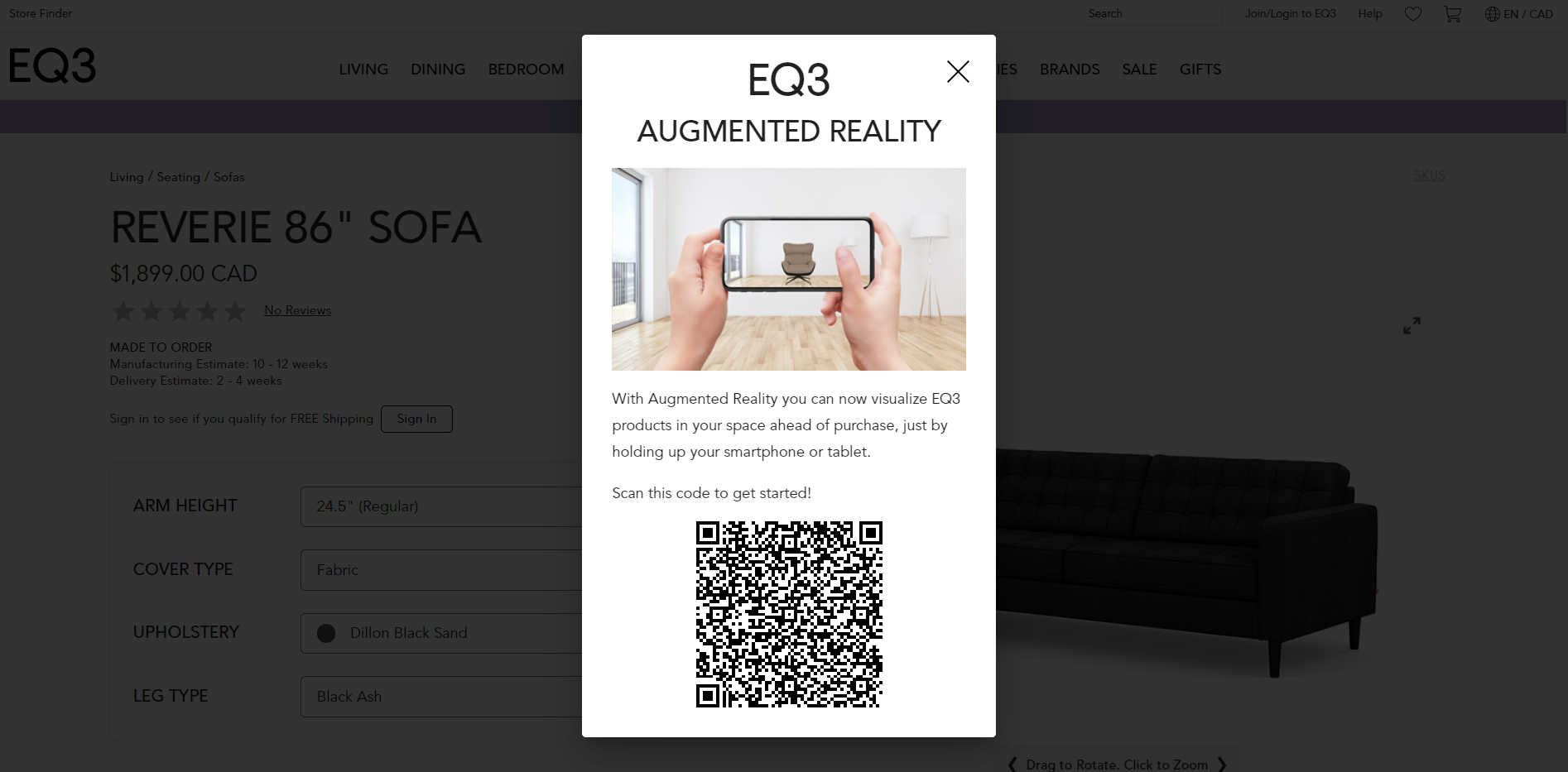 EQ3's product page with QR code that leads to web-AR on a mobile device
Web AR is the future of furniture shopping, according to Heal's. The British heritage retailer has always invested in offering a superior customer experience, especially because e-commerce is a significant part of their business and accounted for around 50% of their total sales in 2020.
"No question for me that AR will have to be web-native. Most furniture retailers will struggle to persuade enough customers to load their specific room-planning app, so they will have to rely on their web presence." - David Kohn, Customer and E-commerce Director, Heal's
Tech-savvy furniture companies have already experienced the benefit of having web-AR. According to Interior Define, customers that engage with AR are eight times more likely to convert than customers that don't engage with AR.
"We understand that our customers are busy and do a lot of their shopping while on the go. Offering web-native AR means our customers can easily visualize our products without the barrier of leaving our site to go to the App Store and download our mobile app." - Julie Shulman, Director of Product Management, Interior Define
Interior Define's Web-native Augmented Reality
Why web AR is a table stake today
Making it easy for customers to use AR with no app needed will positively influence the adoption rate. Retailers will have the tool they need to complement a visit to the showroom, and customers will have the right amount of information to make more informed decisions.
In the future, as we see increased usage of AR in everyday life, the ability to access AR instantly without the need to install an app will become imperative. Tech giants are getting ready for the new era with AR "on the go."
Companies such as Apple and Google are very bullish on the future of web AR. With the LiDAR Scanner technology for iPhones and Google's 3D Swirl ads, significant changes are afoot in the usage of augmented reality in our everyday lives.
Are you ready to experience the full potential of web-native AR and convert more customers?
---