In today's connected world, consumers move across channels to research, purchase and review products, more informed than ever before.
The customer journey continues to evolve, and forward-thinking retailers know that offering an exceptional omnichannel experience can be a gold mine.
The latest Retail TouchPoints Omnichannel Survey shows that 87% of retailers say creating a seamless customer experience across all channels is the most important business goal of their company's omnichannel strategy.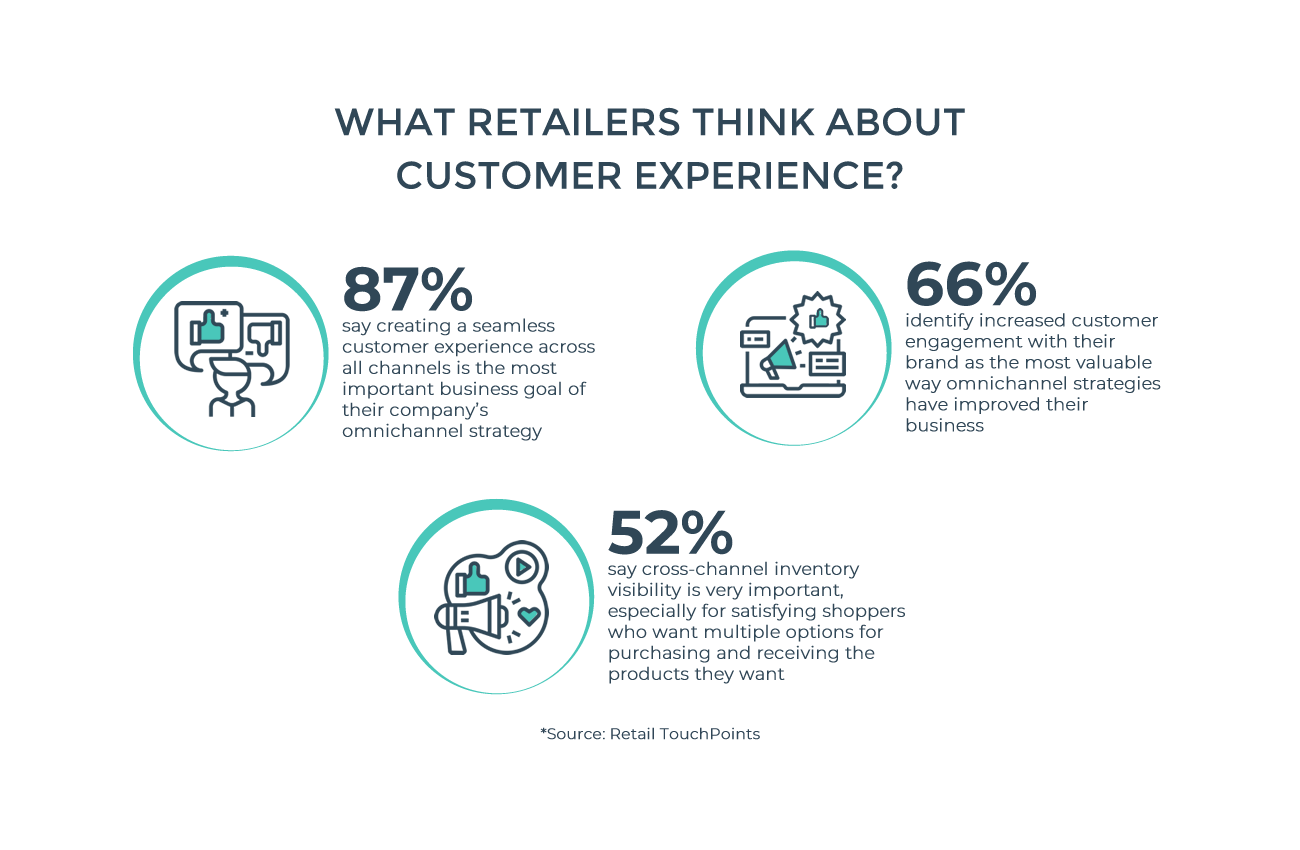 Connected customers are more focused on experience than ever - they expect personalized offer and engaging shopping experiences. More often than not they don't think in terms of channels and they expect seamless experience at every touchpoint.
The fact that some of the biggest pure plays on the market have dipped their toes into the world of brick and mortar is one more proof that retail is not dead. However, the store of the future will be a blend of digital and physical world, combining the convenience benefits of e-commerce with the haptic product exploration benefits of brick-and-mortar.
Traditional retailers have realized the importance of digital merchandising and the power of first digital impression, while pure-plays found out that even having a small, gallery-like store can have a significant impact on the business (i.e., earlier this year retail giant La-Z boy acquired the pure-play Joybird, and online-first furniture retailer Interior Define expanded with more showrooms).
The main question here is how to showcase your broad product portfolio with a limited footprint? The answer is simple: technology!
What is Endless Aisle?
An endless aisle is a retail concept of using kiosks and tablets in-store to allow customers to browse and order products that are not showcased in-store, even products that are out of stock.
Why it's important for both customers and retailers?
One of the most important benefits of an endless aisle strategy to customers is product personalization, the ability to get the product they want and when they need it, no matter whether the store has it in stock. They can also get faster service, and if the sales associates are busy, and there is nobody immediately available to help, the endless aisle is a good alternative, so customers can look through the products and variations while waiting for assistance.
It's not an either-or thing
An endless aisle is not a replacement for sales associates. No matter how friendly the tool is, it's best when combined with sales associate skills and knowledge. So it's more an enhancement, then a replacement.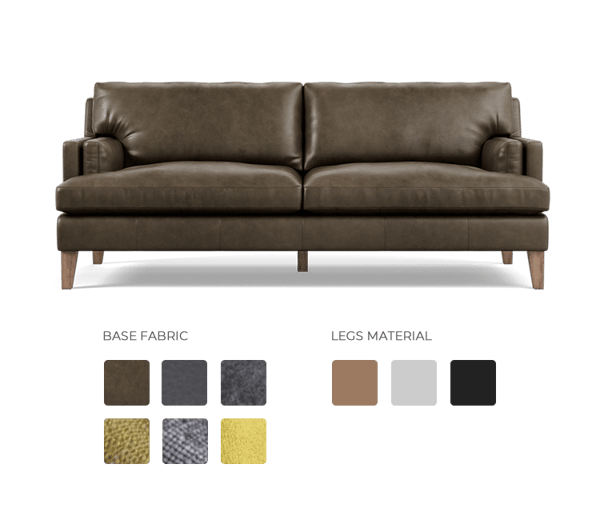 On the other hand, an endless aisle can make a retailer's life much easier. Besides the fact that they can create engaging shopping experience in-store, endless aisle can help retailers prevent customers from leaving their store unhappy because they couldn't find what they were looking for. It basically means that you are giving your sales associates a tool to sell even the products they don't have at disposal at the moment. That puts retailers in a good position, creating a feeling that they are never out of stock.
According to Forrester Research, Inc. retailers who have put endless aisle strategies to work, noticed that deploying this strategy accounts for up to 10% of their revenue.
The best thing about endless aisle is the fact that it blurs online-offline boundaries, enabling retailers to create an endless product assortment.
Some of the Biggest Challenges Endless Aisle is addressing
Disruptive furniture companies are already using endless aisle to address different challenges - everything ranging from stocks and location to sales reps challenges.
Infrastructure and location. An endless aisle makes it easy for furniture brands and retailers to showcase their product assortment without having thousands of square feet showrooms per location. Instead, they can choose attractive locations and open small, gallery-like stores where they will offer engaging shopping experience.
Inventory challenges. One of the biggest challenges for furniture brands and retailers is stock management. With endless aisle, they can implement a dropshipping model and showcase every possible variation, but actually order a product only when there is interest in it.
Sales representative challenges. One of the main reasons why people go in-store is to see how a product looks like. Having only a limited number of pieces of furniture in-store makes it hard for sales reps to sell a product. In this case, an endless aisle is a perfect tool to show more and sell more products. The combination of sales reps know-how and an endless aisle technology can boost your sales.
Main Advantages of Endless Aisle
1| Prevent stockouts
Stockouts can hurt your business. According to IHL Group retailers are missing out nearly $1 trillion in sales because they don't have on hand what customers want to buy in their stores. Retailers found out that they can reduce lost sales by placing in-store kiosks, offering customers a possibility to browse and order products that are not available in the store.
2| Dropshipping and endless aisle - a match made in heaven
Dropshipping is a supply chain management model where a store doesn't keep the products it sells in stock. Instead, it purchases the item from a third party and has it shipped directly to the customer. By deploying an endless aisle technology, retailers can promote their whole assortment. These interactive touch screens allow your customers to browse through the virtual inventory and check different product options available.
3| Leverage a limited in-store footprint
Get the most out of the limited in-store space, by offering experiential retail journey. Furniture retailers are aware of the importance of the first impression, which in most cases happens online. However, furniture stores are still the favorite channel for buying furniture. Research from Furniture Today shows that the number of purchases in-store drops, as we see a shift in generations: 82% of Baby Boomers said that they bought upholstery furniture in-store, as opposed to 74% of Millenials. But this is still a very high percentage of purchases.
Knowing these facts, experts predict that showrooms will become smaller and more tailored to the customer's needs. And instead of being sales-focused as in the past, stores will become shopper-centric, focused on creating valuable in-store experiences and personalized messaging for their customers. Endless aisle can help furniture retailers turn their stores into destinations with engaging experiences.
4| Empower sales reps to sell more
No matter how big your showroom is, you can never showcase all your product variations due to limited space. Furniture is an incredibly visual industry and showing only colors and fabrics might not be enough for the customers. By deploying an endless aisle strategy, you can empower your sales reps to sell more with less effort. Having your sales staff equipped with laptops, tablets and in-store kiosks makes it easy for them to quickly show customers what the specific piece of furniture looks like. Endless aisle technology becomes a powerful in-store tool in the hands of a smart associate. Their knowledge, combined with superior visualization of every product variation can do wonders for your revenue.
5| Translate online experience in-store
Retailers that think in terms of channels will be surpassed by customer-centric retailers that work on designing the ultimate omnichannel experience.
With today's technology advancements, furniture brands and retailers can create engaging online shopping experiences and showcase every piece of furniture they offer in different colors, fabrics, and materials with superior quality visuals, 360-views, and 4K HD zoom.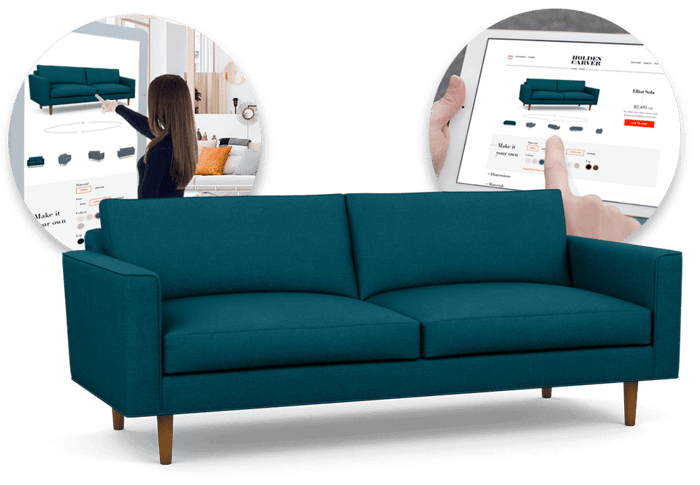 What if you can translate that experience in-store as well?
Endless aisle is a perfect response to the evolving customer behavior and their high expectations no matter if they are shopping online or in-store. Customers perceive time as one of their most valuable resources, so make sure that the experience you offer in-store is worthwhile.
Replace waiting in line with a pleasant shopping experience. Forget about lost sales due to out-of-stock products that you can't showcase. Give your customers a reason to visit your store and make the purchase.
The Future of Furniture Retail - in stores NOW
Interior Define Sets New Standards for Online and In-store Furniture Visualization
Direct-to-consumer disruptor Interior Define goes above and beyond what other furniture companies offer, providing engaging furniture shopping experience both online and in-store. Despite the fact they are primarily focused on selling online, last year they've opened a few new showrooms. However, these are nothing like the furniture store stereotype. They are more like quideshops where customers can try out various sofas and chairs, choose the fabric and other options, and then place the order through their website. They make sure that the superior product visualization they offer on their website is also replicated in-store, by equipping their sales assistants with laptops and tablets, which makes it easy to quickly show customers what the furniture looks like, even if it's not in-store.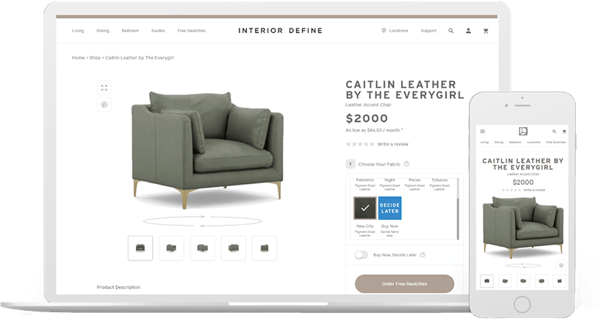 Interior Define relies on superior furniture visualization to sell more
Plush Increases Online and In-store Sale with Superior Product Visualization
A few years ago one of the biggest Australian retailers, Plush had some challenges with online sales and abandoned purchases because customers were not able to visualize precisely what they are getting. Having in mind that the buyer journey start online most of the time, it was clear that finding a solution for this challenge would increase both online and in-store sales. After Plush implemented 360 HD Viewer, their business experienced a complete makeover. They transitioned towards a high-quality experience, and they also leveraged superior product visualization in-store as well, creating an endless aisle and giving their sales associates a great tool to increase sales.
Plush upgraded the complete customer experience and increased sales both online and in-store
Support Omnichannel Strategy With Endless Aisle
Many brands and retailers offer broad product assortment but only carry a few variations in-store due to the limited physical space. That can be a real pain point because of customers' high expectations for a seamless experience across channels. Being aware of this, retailers are harnessing the benefits of advanced technologies to bridge the gap between bricks and clicks. One of these concepts is the endless aisle that lets retailers display a wide range of SKU variations thus meeting customers' needs at the moment when they are ready to buy.
Companies with strong omnichannel customer engagement retain an average of 89% of their customers, compared to only 33% for companies with weak omnichannel customer engagement. The connection between omnichannel experiences and loyalty is obvious, which is why omnichannel is the ultimate battlefield in today's world.
The biggest challenge of selling furniture online is that people often want to get a better sense of what the furniture looks like. On the other hand, it's hard to showcase every piece of furniture with a limited physical footprint. The bottom line is, the more product variations and options a retailer has, the more it makes sense to implement an endless aisle strategy.
Ready to move ahead of the wave? The Cylindo Platform solves furniture visualization pain points and empowers brands and retailers to show unlimited product variations both online and in-store. Want to learn more?