Before buying anything, either online or offline, customers want to analyze the product in every detail. Brick-and-mortar stores offer customers a direct and tactile experience with the products. However, when it comes to online shopping, customers can only rely on the e-commerce product detail pages (PDP).
That is why PDPs are of utmost importance when it comes to creating an e-commerce website. Furniture businesses need to ensure that their product pages represent their products in a digital format. Having a good presentation of your products will set your business for success and increase your online sales.
Key components of furniture e-commerce product pages
Have you ever wondered what makes an e-commerce product page effective? Here are seven best practices and examples from top furniture players to help you create a PDP that converts.
1. Display products with a 360-degree view
Using 360-degree visuals on your product pages will replicate the tactile experience that your customers get in real life when they are examining products. Google's metrics have shown that consumers like to interact with 360-degree views four times longer than with conventional product photos. This means that implementing a 360-degree configurator on your product pages will keep your customers on the website longer and persuade them to make a purchase.
Furniture businesses that implement 360 views on their product pages witness an increased conversion rate of up to 49% and average order value (AOV) by 47%.
According to our report on the Top 50 DTC furniture brands, only 24% of the DTC brands use a 360-degree product configurator, which leaves room for improvement for many companies. This number is even lower for furniture retailers, as only 17% of the Top 100 U.S. furniture retailers have 360-degree product configurators on their websites.
Loaf is one of the DTC brands that wanted to redefine its online shopping experience with a 360-degree product configurator. They noticed a doubling of their Year Over Year (YoY) online sales after introducing 360-degree views and a 4K HD zoom, thus allowing their customers to pick the exact color, material, and finish they wanted.
"Loaf's mission is to make the customers' experience amazing. We treat our customers how we want to be treated." — Louis Adamou, E-commerce and Technology Strategist at Loaf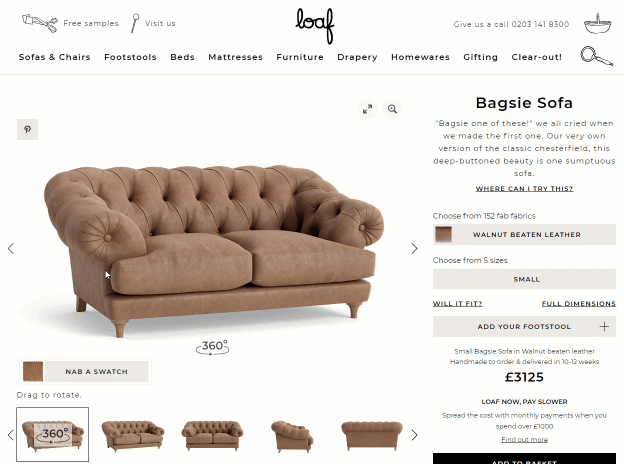 Loaf's 360 HD Viewer: Bagsie Sofa
2. Offer alternate angle images of the product
In addition to 360-degree views, you need to provide alternate angle images on your product pages. This type of image can help your customers better understand how your product looks from different perspectives.
According to our Top 100 U.S. furniture retailers report, 82% of the U.S. retailers have alternate angle images on their product pages. Alternate angle images add to the overall shopping experience and satisfy purchasers' needs for a comprehensive overview of the product.
Ethan Allen is a furniture retailer that has decided to complement the 360-degree viewer with alternate angle images of its products. Doing so provides customers with the ability to examine products from different angles and get an idea of what they are buying. Using high-quality visuals for each product has enhanced Ethan Allen's online shopping experience and added value to its PDPs.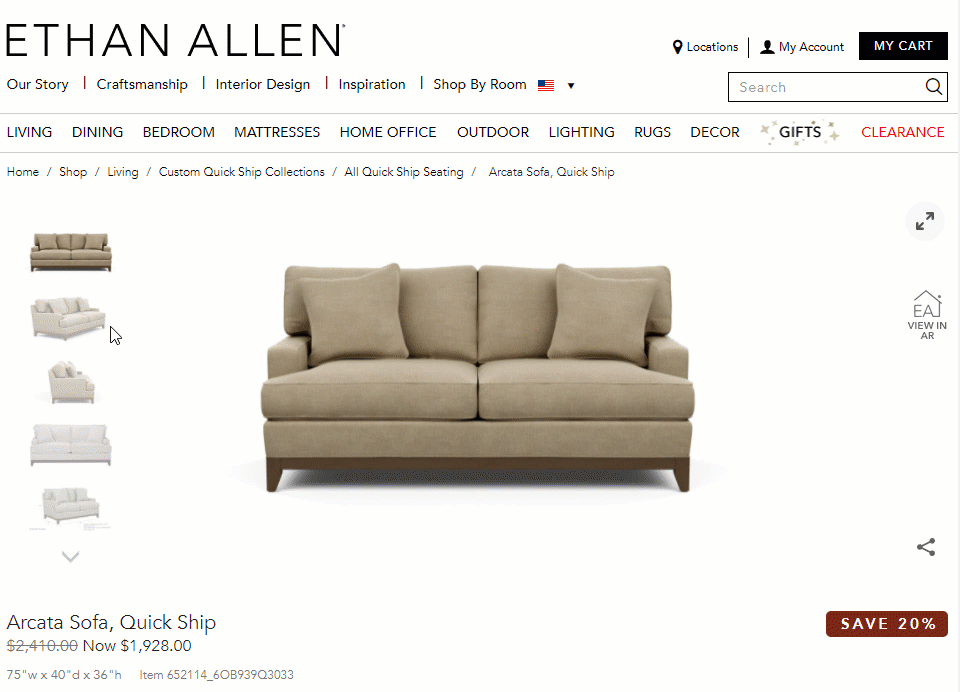 Ethan Allen's Alternate Angles: Arcata Sofa
3. Focus on the product details
When creating an enjoyable product page experience for your consumers, you need to focus on using high-quality visuals with a 4K zoom option. You can't hope to increase online sales if you don't display your products in great detail. A UPS report states that 70% of customers consider the zoom feature as a primary factor in their purchasing decision.
Customers enjoy shopping in person because of the ability to scrutinize a product before completing the purchase. The 4K zoom feature lets them virtually examine the product in detail, similar to what they would do in a brick-and-mortar store. According to Baymard, 56% of consumers start by exploring product images right away when they arrive at the product page.
One important thing to note: Pay attention to the quality. Showcasing a low-resolution image is ultimately the same as not supporting zoom at all or maybe even worse due to bad user experience and unfulfilled expectations.
Interior Define is a DTC brand that has applied all the best practices of the zoom option on its product pages. In addition to the click-to-zoom feature, Interior Define has a full-screen mode where customers can zoom in on the details again. They also offer the zoom option on the PDPs.
One of the pain points that Interior Define had in the past was the fact that its customers wanted to interact with the products by zooming in on all the details of the product. This was not possible with static images. That is why they decided to introduce 3D product visualization with a 4K zoom feature and enable customers to scrutinize the product details up close.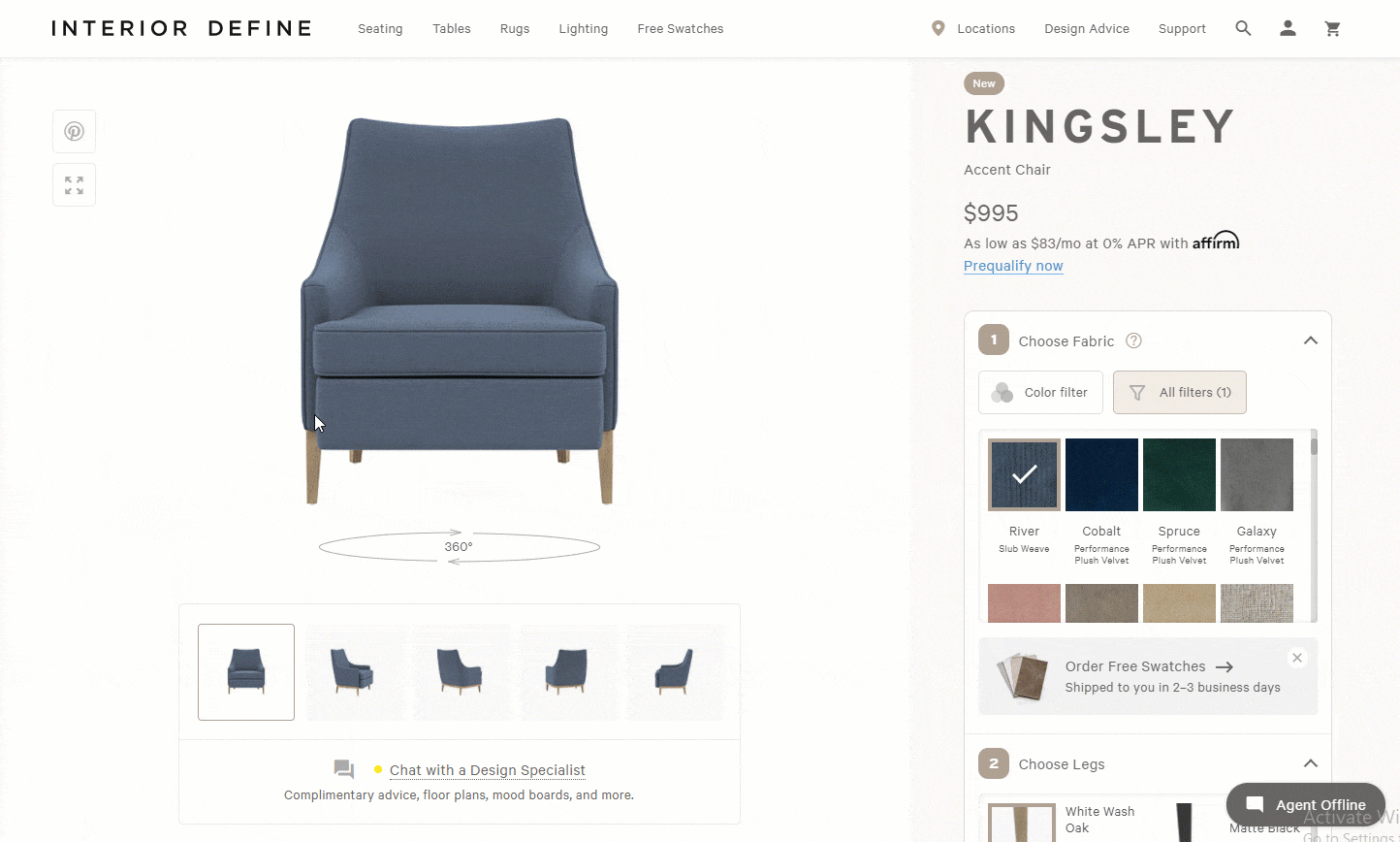 Interior Define's 4K HD Zoom: Kingsley Accent Chair
4. Show multiple product configurations
Product options play a significant role in the customer's purchasing decision in the furniture industry. Enabling consumers to combine colors, fabrics, finishes, and other details with a simple product configurator can easily guide them toward the "add to cart" button, thus increasing your conversions.
People have a strong desire for individuality, and they want to express their personalities through the products they choose for their homes. As a result, product customization became one of the essential features — especially for furniture retailers.
Consumers who love customized products are also ready to pay more. Furniture Today stated that nine out of 10 customers would spend more money on a customized sofa.
According to our research, 53% of the Top 100 U.S. furniture retailers have product customization configurators on their product pages.
Heal's is one of the furniture retailers that empowers customers to enter the designers' world and create their custom-made furniture. They can choose from various styles, fabrics, and finishes in a few clicks and get a sense of the product they are buying.
"We've seen great results online with sofa sales increasing 100% over the past two years and sales of beds increasing by 50%. We also know that store associates use the website to demonstrate fabric choices to in-store customers. In fact, in 2021, despite our stores being shut for large stretches of the year, our in-store sales of sofas have actually increased year over year." — David Kohn, Customer and E-commerce Director at Heal's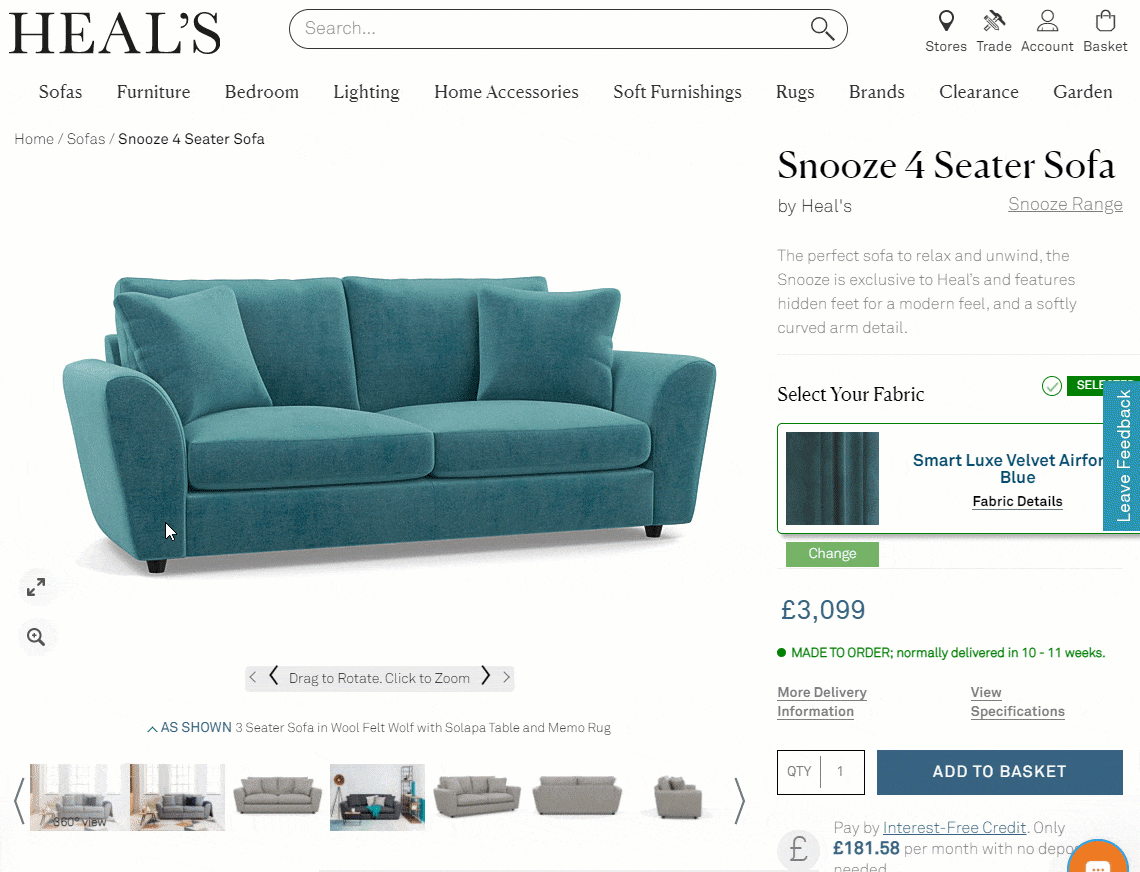 Heal's Product Customization: Snooze 4 Seater Sofa
5. Include lifestyle images
You can easily sell products when showing them with lifestyle images because customers want to visualize how they look in a real-life setting. According to BigCommerce, 78% of online purchasers wish to see the products brought to life with images.
Room scenes help increase the customers' emotional engagement, ultimately leading to higher conversion rates.
Baymard states that 42% of consumers browsing through product pages attempt to estimate the overall size and scale of the product from the available lifestyle images.
Creating in-context images used to be very costly and time-consuming in the past, but nowadays, thanks to 3D, creating room scenes imagery is much more cost-effective because you don't need to organize an entire photoshoot. By using 3D technology, you can create photorealistic images that are indistinguishable from traditional product photography.
Data from our Top 100 U.S. furniture retailers report shows that 95% have room scenes on their product pages.
Plush is an Australian retailer that uses room scenes to help customers grasp how the product would fit in combination with other furniture products in a realistic room setting. Plush also uses room scenes visuals in email campaigns to engage customers and increase conversion rates.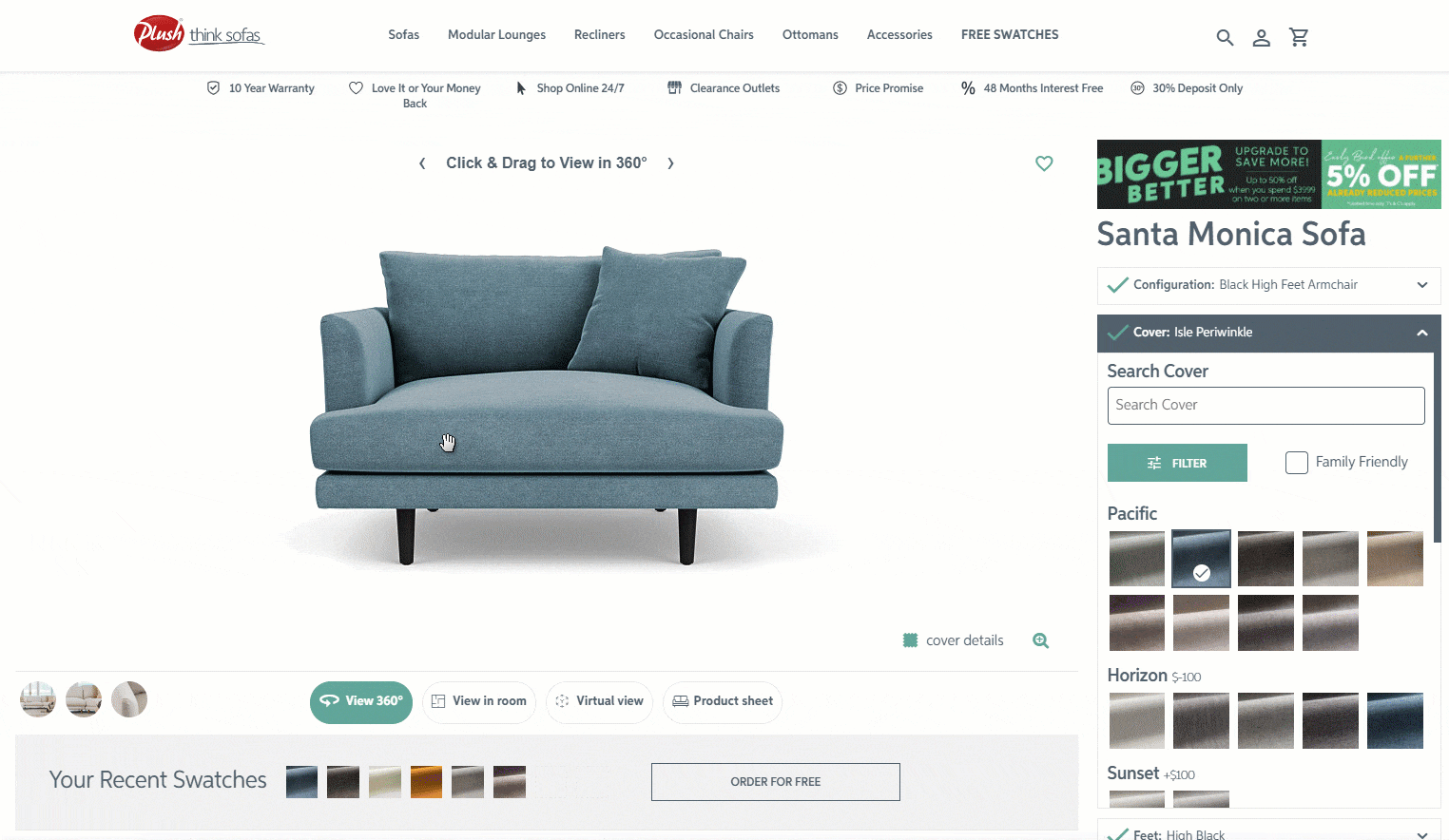 6. Leverage the power of augmented reality
Customer experience has changed a lot in the last few years, and so has technology. The pandemic has expedited online shopping and the adoption of augmented reality in retail.
According to Google, two-thirds of consumers say they are interested in using AR to help them with online shopping. This further emphasizes the importance of augmented reality in the upcoming years. It is clear that customers are excited to use AR when purchasing online.
To stay ahead of the competition, you need to explore the potential of augmented reality.
Monte is one of the tech-savvy furniture players that has dedicated time and effort to meet and exceed customer expectations. Their goal was to boost buyers' confidence when shopping online. To achieve this, they created an AR experience that lets customers imagine how a product will look in their living spaces before purchasing.
* On iOS devices: Safari and Chrome, on Android devices: Chrome.
Monte's Augmented Reality with QR Code: Rockwell Bassinet
7. Use product videos
When it comes to online shopping, customers have high expectations. According to Litmus, 91% of consumers prefer more interactive and visual content over traditional, text-based, or static media.
Customers love watching videos because they instill confidence that they are making the right decisions.
The video concept is becoming more present on each platform and channel. According to Wyzowl's research, 84% of people stated that they had been persuaded to purchase a product after watching a brand's video. The same research showed that 78% of the video marketers claimed that using video has increased their sales.
Jerome's is a furniture retailer that has implemented videos on its product pages. They offer short videos displaying the product in a room setting, shot from different angles. These videos also provide product details and information about the material quality.
"We take the approach of giving it all to the customer: 3D experiences, 360 product spins, product videos, AR, room planners, easy financing with monthly payments shown on everything, a virtual stylist to complete the room, user-generated content, and more. That's the future of omnichannel, and we are delivering it right now." — Scott Perry, Executive Vice President of Digital Marketing at Jerome's
Jerome's Product Videos: Aria Sofa
That sums it up! These are the seven best practices for engaging e-commerce product pages. Remember: furniture is all about context and presentation. If you need help making a first step toward creating a PDP that converts, we're here to guide you through the process.