With the adoption of web-native AR growing wider and wider, Cylindo's excited to release the latest update to its web-native AR solution: a simple QR code that can be enabled to open up a world of possibilities.
In this post, you'll find out more about the idea of the QR code, what this new functionality means for you and your team, and find some inspiration for various QR code use cases.
Keep reading to find out more -- and don't hesitate to get in touch with any questions at product@cylindo.com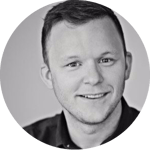 "The Cylindo QR code solution means that our clients can now provide their customers on non-mobile devices a convenient way of seeing products live in their own environment. The Cylindo QR code is optimized for fast model loading and a delightful user experience. The best part is that the QR code can also be leveraged outside the Cylindo HD 360 Viewer, opening up many different usage possibilities"
- Jostein Pedersen, VP of Product at Cylindo
What's the idea behind the QR code?
Web-native AR technology allows buyers to see real-size furniture products in real time on their mobile devices without downloading an app. That shortens the buyer journey and instills buyers with more confidence regarding the chosen product.
Offering the AR feature app-free is a big perk for customers buying home furnishing, considering that furniture is not a high-frequency purchase item.
But until now, there hasn't been a way to move buyers from desktop to mobile without interruptions.
The new QR code is here to change that.
Specifically designed for shoppers visiting from their desktop/laptop, it encourages web-native AR adoption, as buyers can now seamlessly transition from desktop to mobile with a simple code scan.
Bridge multiple gaps with web-native AR technology
Until now, buyers needed to load the desired product page on mobile or tablet first to view a product in AR; but quite often, the checkout process is completed on desktop, especially on big-ticket items.
This leaves a large crack between mobile and desktop -- a crack that's large enough for potential buyers to fall through!

The QR code update promises to bridge the gap between mobile and desktop, online and offline… and purchases that end in checkout vs. ones that don't.
A single QR code, multiple usage opportunities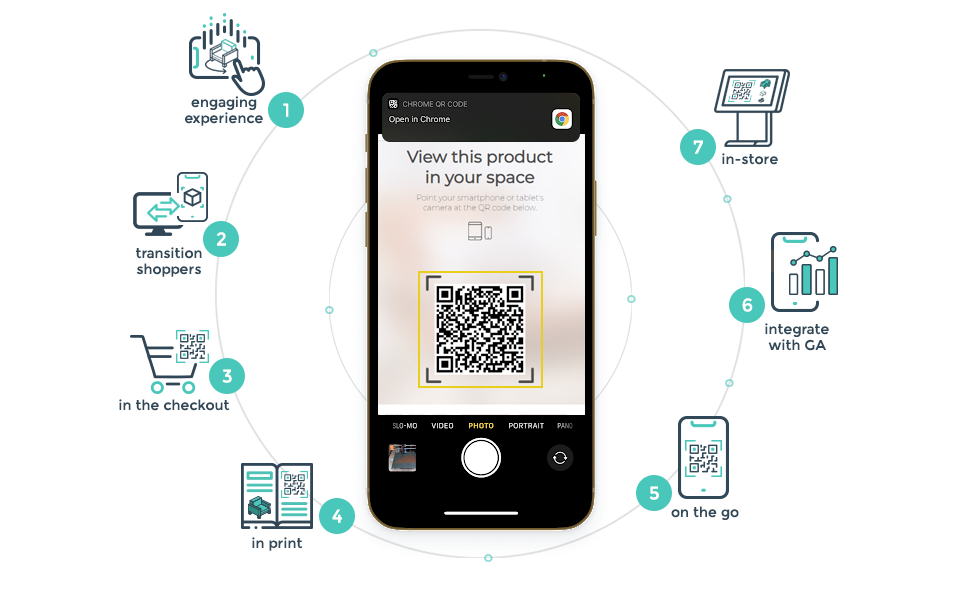 1. Create an
engaging experience

for buyers at every stage

Cylindo clients report that visitors engage more with products that have web-native AR enabled on the PDP -- web-native AR is fun, engaging, and even easier to use with the QR code!
2.
Transition shoppers

from desktop to mobile with ease

Buyers use multiple devices to browse and research furniture pieces before buying -- and web-native AR allows for a smooth transition with less friction!
3. Offer a glimpse into the final product [
In the checkout

]

Include the web-native AR QR code in the checkout process and in their order confirmation email and offer customers a glance at the final (customized) product.
4. Repurpose the QR code
in print
Use the web-native AR QR code in print and on business cards, in catalogs, on specs sheets, on the product packaging -- and everywhere else you see fit!
5. Take web-native AR on furniture markets with you!
Support business retail partners with technology that helps end buyers interact with your brand long before they make the purchase.
6.
Integrate with GA

(Google Analytics)

Integrate the web-native AR QR code and track, measure, and optimize with ease.
7. Use
in-store

for digital kiosks

Give shoppers a nudge and complete orders faster by allowing them a peek into the final product -- even before the purchase is complete!
---
Are you already using web-native AR? Talk to your assigned CSM to learn how to enable the AR QR code on the Cylindo platform. Still not sure whether web-native AR is for you? Schedule a meeting with your CSM to learn more about how AR can benefit you!