At the start of every year, Cologne is the epicenter of the international furnishing and design world. With 1233 exhibitors from all over the world and 150,000 visitors from 145 countries, imm Cologne is one of the most important dates on the furniture industry calendar. It's where the entire industry gathers to present and discover new launches, to experience the major future design and technology trends, and make a successful start to the new season.
Three Busy Days
The trade fair took place from 13th to 19th January 2020, and our team was there during the first three days. This was the perfect occasion to catch up with our partners, but also to meet other furniture brands and retailers, talk about their hurdles related to product visualization and what's the easiest way to overcome them.
Emerging technologies, new business models, and changing market needs require a tech-savvy approach that will help companies move the needle.
Of the many conversations Cylindo had during imm Cologne, the takeaways can be summed up in the following 3 points:
1| Product visualization matters
2| Brands are looking for ways to support their dealer network with assets
3| Forward-thinking brands are using technology to create "The Endless Aisle"
Product Visualization Matters
Furniture brands are well aware of the importance of product visualization. We live in a visual world, and furniture is an incredibly visual industry. However, many brands still struggle with expensive product photography.
Although this is an important branding tactic for some brands, certain limitations arise if you rely exclusively on product photography. For example, repurposing or leveraging that content across different channels and platforms is not feasible. Also, providing product customization for the buyer is almost impossible. These are just some of the pain points related to product photography.
Luckily, things are starting to look up. Brands are waking up to the reality that having stunning product photographs is not enough. Today's business buyers are comparing you to the best digital experiences they've ever had, constantly raising their expectations. If you want to remain competitive, you have to provide top-notch experience throughout the whole buying journey.
Tech-savvy brands are already using 3D product visualization, thus creating a future-proof assets library that they can use in the long run.
On top of that, it's no secret that B2B buyers reflect their consumer habits in the way they research for business purchases. They want to see high-quality visuals, engage with 360-spin, configure products, and zoom in on the details. In other words, they expect engaging experiences and valuable information that will make their decision-making (and their lives) easier.
What we want to do with our website experience is to put together the visualization in a way that makes it playful, because that is one of our brand's values - Trine Roed, Marketing and Brand Director at Montana Furniture.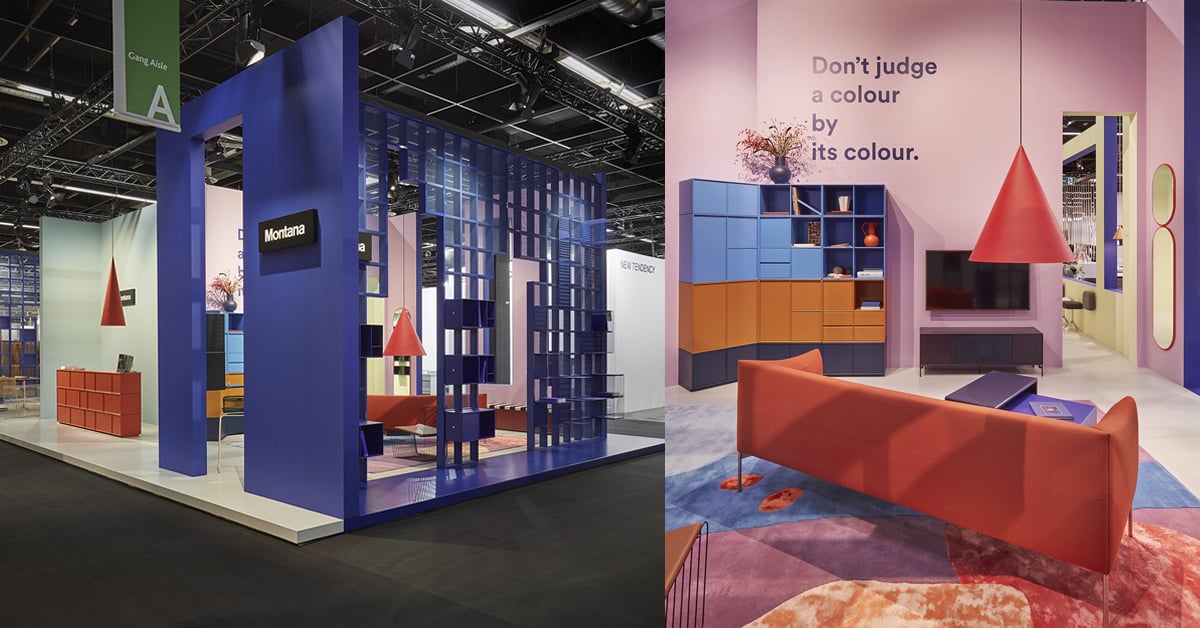 Montana's stand at imm Cologne 2020
Brands are Looking for Ways to Support Their Dealer Network with Assets
Out of the conversations we had at imm Cologne, it's clear that supporting retailers with assets to help them sell more products remains one of the top priorities for brands.
Digital-native shoppers consider technology as an integral part of their lives, and they expect a seamless omnichannel shopping experience. Now the pressure is on for brands to support their retailer network with visuals and assets that will fuel more conversions or inspire in-store visits.
Our ambition is to be able to offer to our dealer network a platform where the 3D visuals and the product information is fed automatically across different retailers websites, thus creating a unified brand experience and helping our network sell more products - Morten Lind Mølgaard, Chief Commercial Officer at Innovation Living.
The business logic in supporting your network with high-quality, versatile product visuals is pretty clear. If you empower your network to sell more, you will sell more as well, while strengthening relationships with your dealers and building a strong brand at the same time.
Forward-thinking brands are using technology to create an Endless Aisle experience
For many years brands were struggling to show their broad product portfolio. The struggle was real both online and in-store. The limited showroom footprint didn't allow them to showcase a lot of products. On the other hand, even though it seemed easier to showcase your products online, the fact that you need to produce variations with different colors, fabrics, and materials only to take photos of them was one of the biggest pain points for furniture brands.
Today, we are witnessing how brands are using 3D product configurators to create an endless aisle experience both online and in-store.
Brands that think in terms of channels will be surpassed by customer-centric brands that work on designing the ultimate omnichannel experience. Besides adding a product configurator on their product pages, they leverage the technology in-store, creating an endless aisle.
We want to unify and strengthen the brand presence in the shops. One of the ideas is to do that using touch screens so the customer can engage with our brand, especially in situations when they can't get in touch with the salesperson, thus preventing customers from leaving the store - Trine Roed, Marketing and Brand Director at Montana Furniture.
Brands are also using a similar strategy during trade shows, so they can showcase their complete product portfolio without limiting themselves to the products they brought to the fair.
One of them was Innovation Living that used a TV touch screen, where buyers could explore their product offerings, engage with 360 views of their products, and play with different colors and fabrics.
Innovation Living at imm Cologne 2020
---
To sum up, imm Cologne is a must-attend event for furniture players that want to keep up with the latest design and technology trends. Until we meet again next year, here is a report with exclusive findings from the Top 100 European Brands, where we analyzed must-have website features for furniture brands.