The battleground for consumer attention has shifted online. If you fail to deliver an engaging product page experience, you will never turn visitors into customers.
The good news: This article will help you understand the anatomy of a perfect product page and how to optimize your product pages to deliver the best experience and increase conversions.
Today's Shopping Journey Starts Online
When was the last time you went directly to the store when you wanted to make a big-ticket purchase? Hard to say, right? That's because the way we discover, compare, and purchase products has changed. The moment we think of a need, we turn to our devices, and seek information that can help us make the right decision.
According to Salesforce, 87% of consumers begin their shopping journey online, and data from BRP and Windstream Enterprise shows that digital influences up to 75% of all in-store visits, and mobile use is leveraged in almost half of all in-store shopping experiences.
That means your online presence is the key to success in this digital-first world.
While someone might argue that for certain big-ticket items, like furniture, showrooms are still the leading revenue driver, within the past couple of years, we've seen how technology can help by instilling trust and confidence in furniture shoppers.
The fact that 86% of total furniture market revenue is generated through offline sales doesn't do justice to the right picture about furniture shopping. Today, the furniture purchase journey starts online for more than 70% of consumers, and 47% of Millennials research furniture items online before buying them in brick and mortar stores.
Watching furniture pureplays and online marketplaces increase their revenue year over year, we can all agree that there is no mindset barrier for purchasing furniture online. If you can create an engaging online shopping experience that answers all the questions, people are willing to click the "add to cart" button.
What Makes a Furniture E-commerce Product Page Perfect?
If we put aside the basics you need to cover, like clear product name, product info, pricing, shipping information, and return policy, there are some features that can help you stand out from the crowd.
Here are some best practices from top furniture companies and actionable advice that will put you on the road to success:
1. High-Quality Visuals and Sharp Zoom
We can't talk about e-commerce without emphasizing the importance of high-quality visuals. This is not a nice-to-have feature; it's a must. Using bad quality images for your products is the shortest way to losing people's interest and trust.
Product visualization technology has advanced so rapidly, where it is now tough to spot the difference between a photo and a 3D render. Today, when people are used to superior quality visuals, using low-resolution images on your product pages can harm your reputation.
Having in mind that furniture is a considered purchase, you have to provide confidence-inspiring information and content to equip your prospects and simplify their decision-making process. High-quality visualization is the basic starting point.
Moving forward, make sure to provide multiple angles of the product and zoom features. This allows visitors to zoom in on specific details on the product image and get a feel for the product, thus diminishing the gap between e-commerce sites and physical stores.
However, when implementing the zoom feature, you have to be careful. The photo should remain in high-resolution and clear, even when zoomed in. It really doesn't make sense to add zoom functionality and then display a blurry image.
Research from UPS shows that 70% of users consider the zoom tool as a prime factor when deciding on their purchase. When we talk about selling furniture online, having superior visualization and impeccable zoom features are even more important than in other retail sectors. Even though extreme zooming can sometimes put the product out of perspective, in the furniture industry, zooming in closely will help show textures.
According to our research, 83% of the U.S. Top 100 Retailers have a zoom feature on their product pages. It's interesting to note that only half of the sites with a zoom feature also have the option for full-screen mode. On the other hand, only 68% of the Top 100 European retailers have zoom features on their product pages, and only 20% have the zoom option in full-screen mode.
How to do it right?
Living Spaces is one of the best examples for smart implementation of the zoom feature. They let the visitor control the level of zoom, choosing between 1x, 2x, and 4x. They also have a full-screen mode that lets visitors see even the slightest details of sharp, photorealistic 4K visuals. They also provide a seamless cross-platform experience as all of the same options are available on mobile. The icons and text indicating that you can zoom in on the image create a straightforward experience, thus avoiding confusion.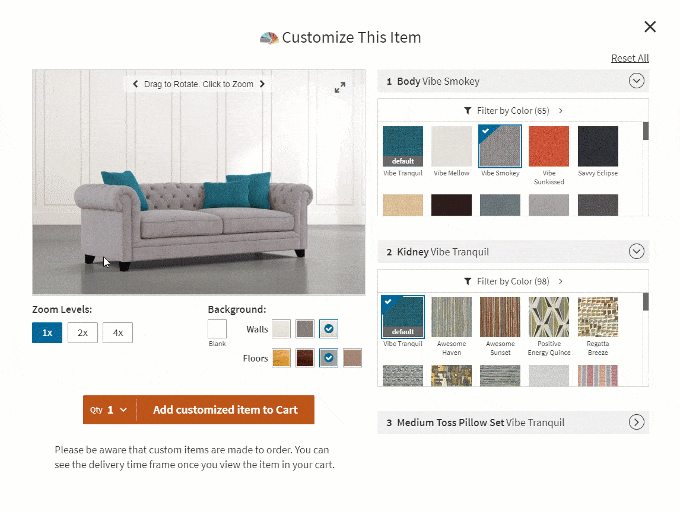 Tip: Put visitors in control by allowing them to zoom in as they prefer, and make sure to provide high-quality visuals that look great under zoom.
2. Engaging 360-Degree Spin
When it comes to the online furniture purchase journey, an outstanding visual experience is the best way to compensate for a lack of tactile sense. Shoppers want a 360-degree view of anything they're going to buy, and images undoubtedly tell more of a story than product descriptions ever could.
Google's metrics have shown that consumers interact with 360-degree spin four times longer than with conventional product photos alone.
The e-commerce giant Amazon added 360-degree image capability for vendors on their platform. Within the first couple of weeks of adding this feature, companies saw a 6-8% lift in conversion rates and a significant reduction in product returns.
Adding 360-degree images on your product page can significantly improve your web session duration by offering interactivity. Introducing this feature on your e-commerce website will get prospective buyers more involved in the online shopping experience, resulting in customer satisfaction, positive engagement, and return customers (impacting loyalty). On top of this, once you introduce 360-degree images, you will notice a decreased number of product returns because your shoppers know exactly what to expect when they buy the product.
One of the most significant discrepancies between consumer expectations and retailer investment is the implementation of 360-degree views on their product pages. Only 13% of the Top 100 U.S. retailers and 13% of the Top 100 European retailers have 360-degree product configurators on their website, leaving the majority without this feature.
How to do it right?
The heritage British retailer, Heal's, offers delightful online furniture shopping with 360-degree views, 4K HD zoom, and lots of product variations. Shoppers can choose a furniture configuration and play with colors, fabrics, and textures, thus getting a real sense of the product that they are looking to buy. On the product page, they have 360-degree views on the main configuration options. If the customer wants to customize a product further, a pop-up opens with all of the possible product variations. Being able to see the product from any angle and in the exact same variation they want, helps to remove any anxiety and other concerns customers may have, while also helping them make an informed purchase decision.
"Encourage customers to play with the product trying out different fabrics and finishes, and to visualize the product in their own setting. Let the customer examine the product in as much detail as possible, with high definition close-ups and 360 ̊ capabilities. Answer as many questions as you can through imagery to give them the confidence to click the add to basket button." - David Kohn, Customer and E-commerce Director, Heal's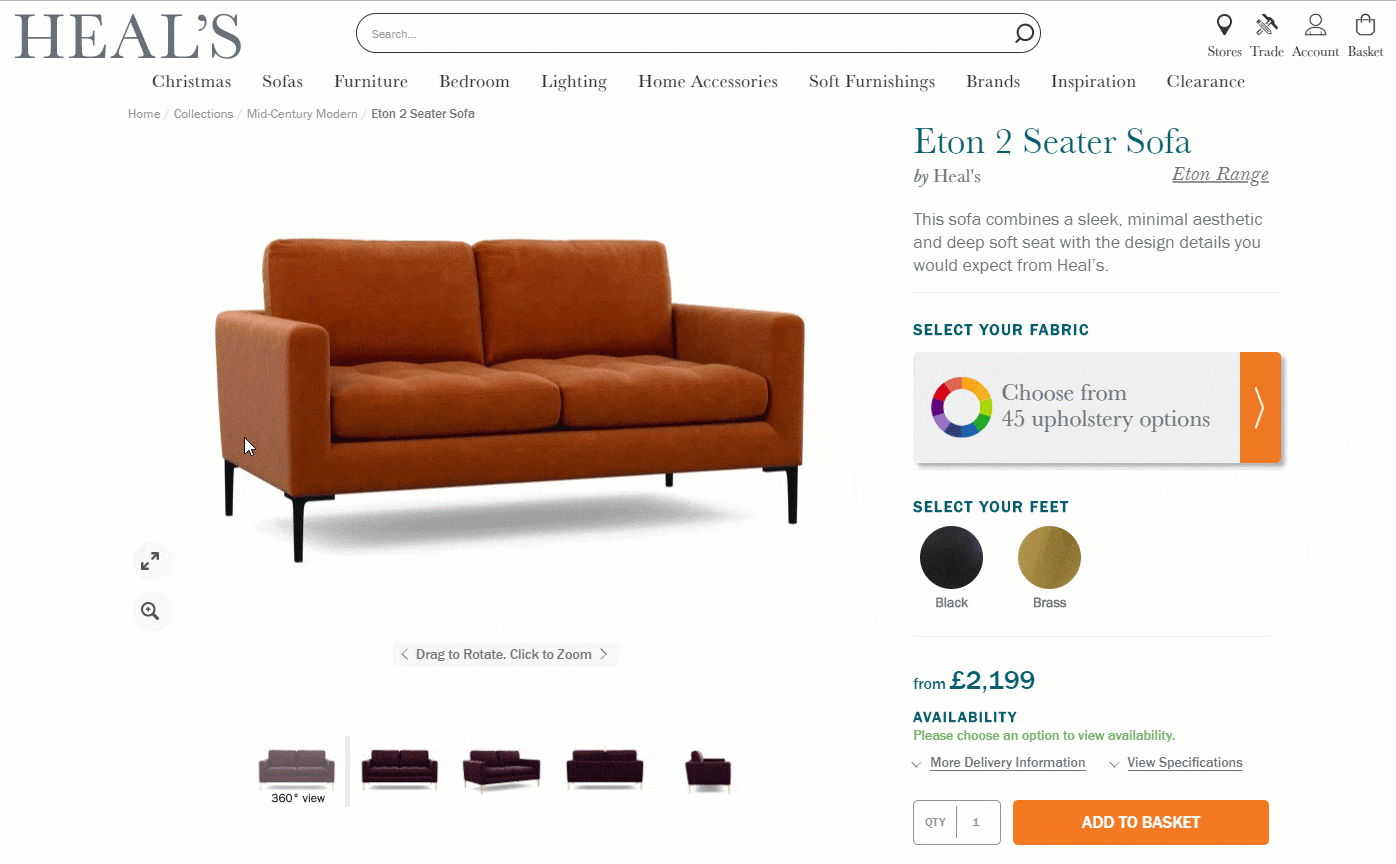 Tip: Introduce 360-degree spin on your product pages to increase engagement and purchase confidence, or inspire a showroom visit.
3. Product Customization
Imagine you are buying a sofa, and the moment you open a retailer's product page, you see a sofa in one color, and then hundreds of colors and fabrics listed on the side without being able to see how the sofa looks in the exact color you like. Not the best user experience, right?
Customers love to customize products as it gives them a sense of power and exclusivity. On top of this, they are also willing to pay more for customization. According to Deloitte, 71% of consumers who customized a product stated that they would be prepared to pay a premium price, and 48% said that they would be willing to wait longer for a personalized product or service.
Today, technology makes it easier to enable product customization and offer a personalized experience to customers straight from your product pages. Choosing the right furniture for a home can be a daunting task - even the slightest details matter. Giving consumers the ability to combine colors, fabrics, finishes, and other details in a few clicks with a simple product configurator can enhance their experience and increase conversions. Thanks to advanced technologies, this differentiating tool can boost satisfaction and loyalty, while enabling the scalable mass customization of home furnishings.
Implementing customization on your product page can help you avoid "analysis paralysis," the state of overthinking a decision to the point where a choice never gets made. If you just place photos of thousands of product variations, the customer may get overwhelmed and abandon the purchase. Having a product configurator makes things easier, giving customers simple steps to customize the product just the way they like it.
An interesting finding from our research is the fact that 67% of the Top 100 European retailers have a configurator for product customization on their website, compared to only 42% out of the Top 100 U.S. retailers. Even though an online sale might not be a strategic priority for some of these retailers, the fact that they have an e-commerce website shows a need for implementing a product configurator to showcase different fabrics, finishes, and materials. This is especially important for products with a lot of variations.
How to do it right?
One of the biggest furniture players on the European market, Ligne Roset, is transforming the furniture shopping experience with step-by-step product customization. Ligne Roset allows customers to customize size, textiles, styles, finishes, and more for a wide range of their products. By doing this, they are creating a smooth and straightforward process of product customization, making things simple for the customers.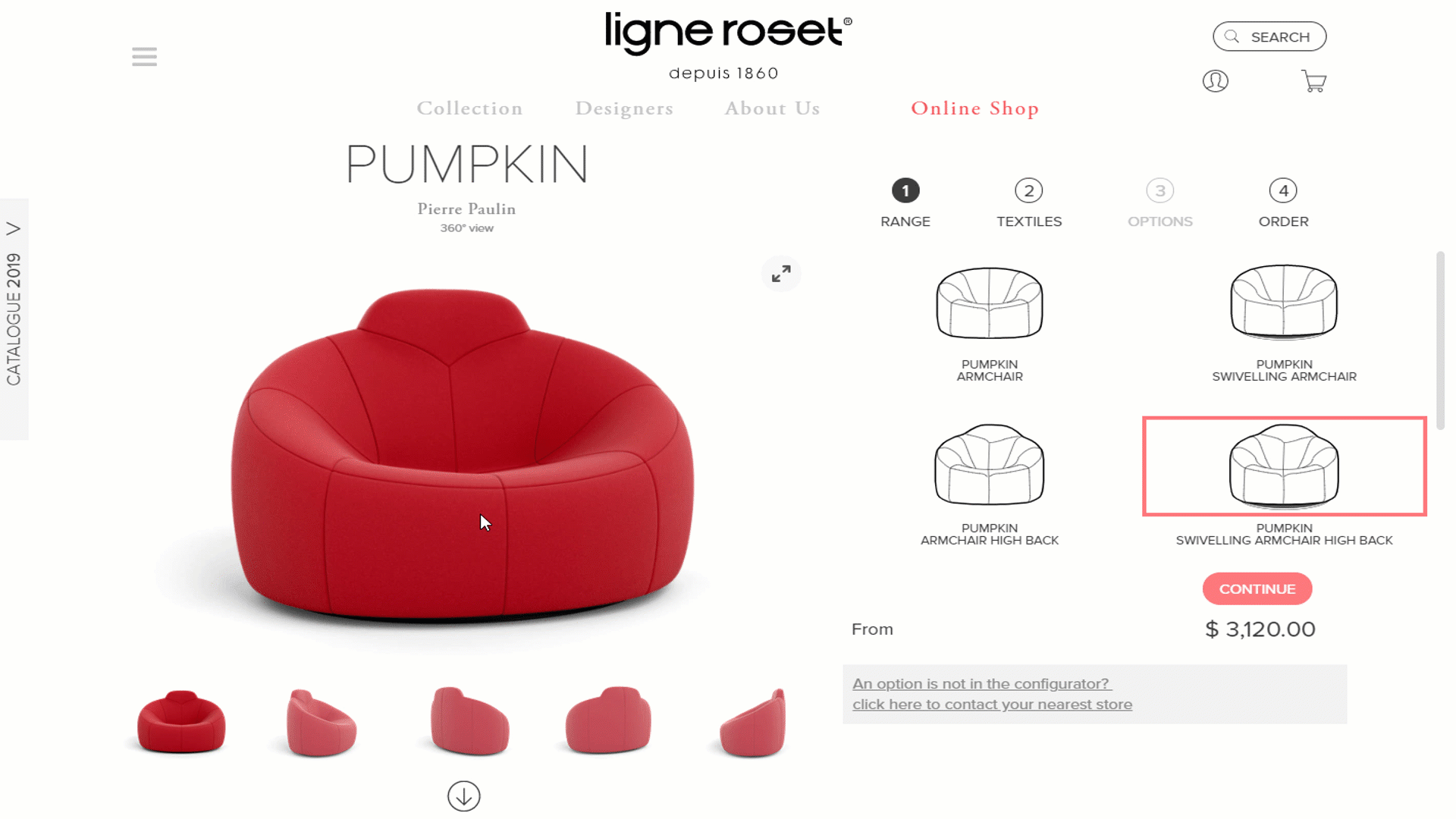 Tip: Having customer expectations in mind, make sure to prioritize customization to increase engagement in both online and digitally-influenced sales.
4. In-Context Images
Have you ever been looking through a furniture catalog and noticed how seeing a sofa in-context made you want to buy the entire room? That's the power of context.
It's much easier to sell products when you show them being used. According to BigCommerce, 78% of online shoppers want products to be brought to life with images. No matter if it is jewelry, a purse, a sofa, or a car, context gives shape and meaning. This helps shoppers get rid of their fears about usage, aesthetics, and size.
Combining elements to create an in-context photo will help you convey a certain quality, tone, or mood that will influence the viewer's perception of your product, ultimately leading to a higher conversion rate. Research from Google shows that 64% of female smartphone users agree that seeing images of products in context positively influences their purchase decision.
Furniture is all about context. Not only do room scenes help explain the features of the product (color, fabric, and size), but they also help customers visualize how the product looks in a real-life setting. This is one of the top three most widely adopted e-commerce merchandising features among furniture retailers—90% of the Top 100 European retailers and 93% of the Top 100 U.S. retailers use room scenes to enrich the product page experience.
How to do it right?
Living Spaces goes one step further with interactive room scenes on their product pages, thus giving their visitors the possibility to customize the furniture in context. They offer a few different wall and floor options that can help you see how a specific furniture color and fabric would fit in.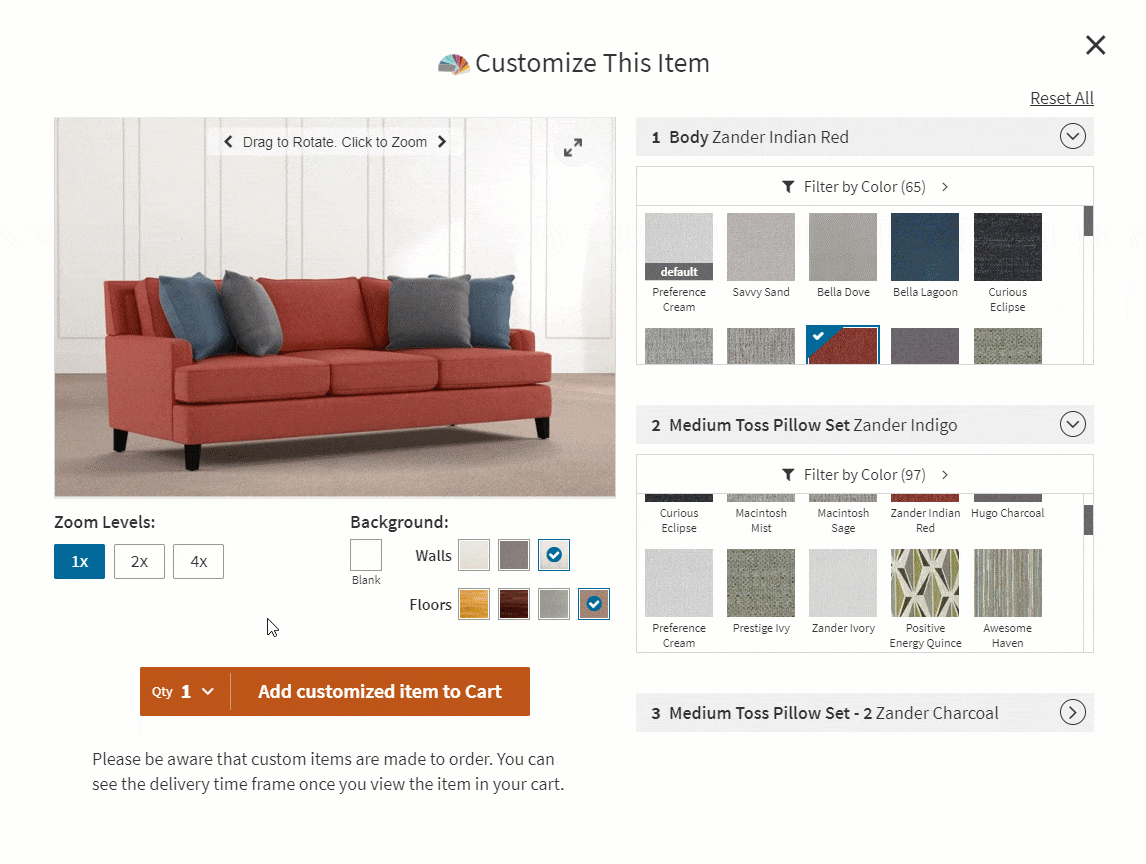 Tip: Even though having room scenes on your product pages is a no brainer, there is a way to get ahead of the wave. Interactive room scenes can help you unleash the power of digital storytelling and differentiate yourself from the crowd. Get one step ahead by allowing in-context product personalization.
5. Cart Thumbnails
The browsing experience often feels detached from the checkout experience. Furniture brands and retailers include a lot of product visuals and convincing copy in the browsing experience. Still, they seem to forget the importance of the checkout process, burdening the page with form fields and instructions. This is where cart abandonment happens.
What can you do about it?
Data shows that including an image in the checkout process can increase conversion rates by 28%.Consistent product image thumbnails can be used throughout the entire furniture shopping experience to close the gap between the browsing and checkout processes.
One of the most common mistakes is using the same thumbnail for all product variations, which might confuse the customer and even force them to leave your website. Imagine you are buying a coral velvet sofa, and when you click the "add to cart" button, you see a generic thumbnail image in a different color. You'd most definitely hesitate to click the checkout button. Displaying product thumbnails of the selected product in the minicart and during the checkout process allows instant verification that the customer picked the right product, which boosts customer confidence and helps to wrap up the checkout process.
How to do it right?
One of the biggest U.S. furniture retailers, Ethan Allen, creates a seamless checkout experience by using high-quality visuals for their cart thumbnails. This way, when customers proceed with the checkout, they can see the exact size and color of the product they've chosen.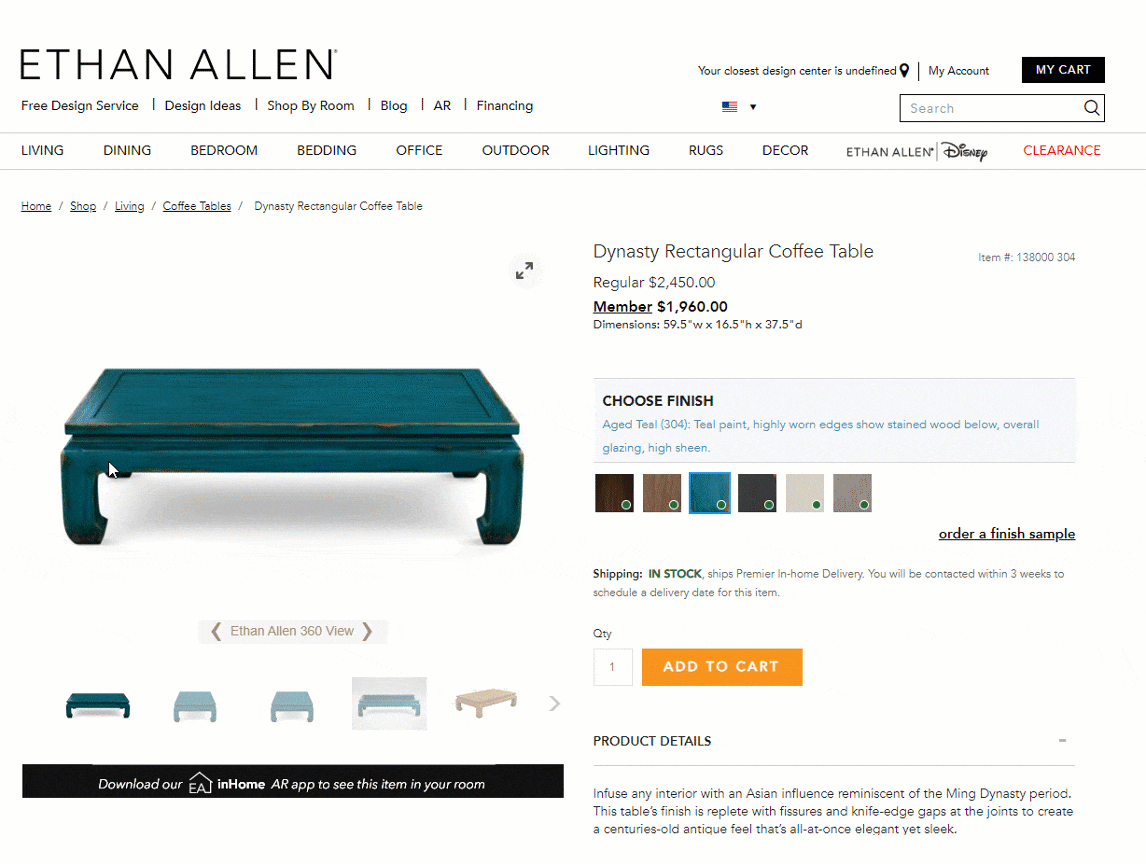 Tip: Create a pleasant checkout experience and reduce cart abandonment by adding photorealistic cart thumbnails for every product. This will help you persuade the customer to finish the checkout process at the most critical step during an online purchase.
6. Product Recommendations
Product recommendations allow customers to find relevant products quickly and easily by generating personalized offers based on their browsing and purchasing behavior. You can also show items purchased by "like-minded" visitors.
Research from Salesforce shows that shoppers that clicked on recommendations are 4.5x more likely to add these items to their cart and 4.5x more likely to complete the purchase. They also spend more time on the site, 12.9 minutes, as opposed to only 2.9 minutes for those who didn't click on recommendations.
Some of the most popular and most effective recommendation algorithms are:
You might also like: Recommendations based on buyer behavior. This gives customers tailored product offerings based on their previous shopping habits.
Visitors who viewed this product also viewed: Recommendations for similar products based on other buyer behaviors.
Recently viewed: Recommendations based on a buyer's browsing history. If someone has checked out a product, it means that they were interested in it to some extent. Showing them a list of recently viewed products can remind them about a product they liked, but for some reason didn't buy yet.
Products from the same collection: Recommendations from a collection the customer is browsing. This type of recommendation is a great opportunity for cross-selling.
Recommendations are one of the top three most widely adopted e-commerce features among furniture retailers—91% out of the Top 100 U.S. retailers and 89% out of the Top 100 European retailers have some sort of recommendation feature on their product pages. Most of them are about related products from the same collection, but a few companies have advanced recommendation engines for a more personalized experience.
How to do it right?
The quality of the visuals in the recommendation section must be top-notch in order to appeal to customers to click the recommended product. This is how the designer furniture brand Man of Parts uses photorealistic visuals to retain it's website visitors with relevant product recommendations. With a slightly different approach than the common "you might also like," Man of Parts recommends products from the same designer that created the product the visitor is currently viewing.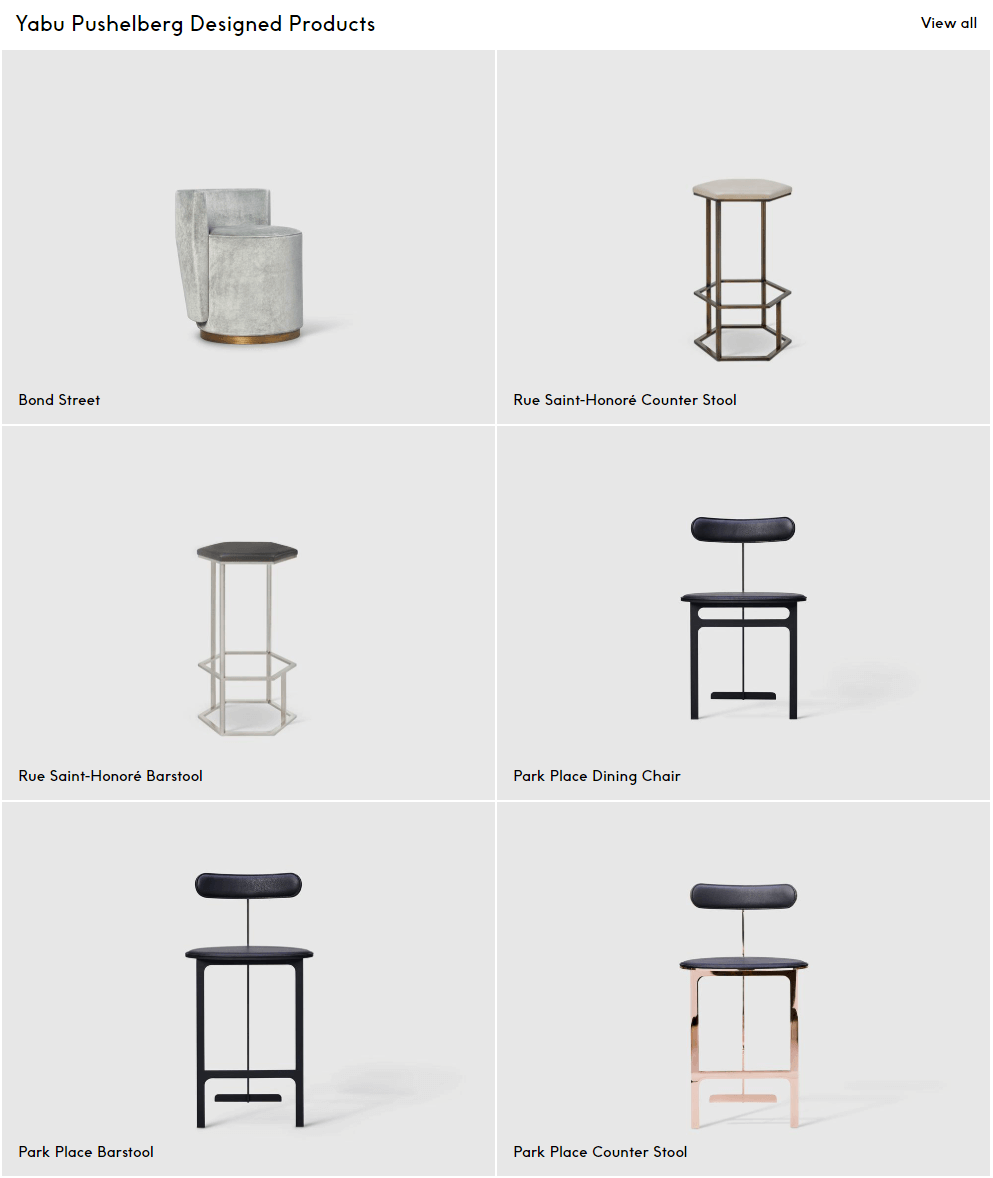 Tip: Adding high-quality product recommendations on your product page can help you create a personalized shopping experience, engage visitors to keep them on your website longer, and cross-sell more products.
7. Reviews and Ratings
Today's customers are more empowered than ever to make informed decisions. They want to be heard, and they want to hear other customers' opinions about products and services. Product ratings and reviews have become major purchase decision factors. Would you buy a product with a low product rating and negative reviews? Probably not.
Data from Spiegel Research Center show that nearly 95% of shoppers read online reviews before making a purchase. According to Google, in the past two years, mobile searches for "product reviews" have grown by over 35%, and videos with the word "review" in the title had more than 50,000 years worth of watch time on mobile alone.
When it comes to big-ticket purchases like furniture, product reviews are even more important. According to eMarketer, when researching an expensive item online, online ratings and reviews were the most common sources respondents consulted, more so than word-of-mouth, in-store sales associates, or social networks.
Results from our research show that 41% out of the Top 100 European retailers and 56% out of the Top 100 U.S. retailers have reviews on their product pages, which means that around half of them don't allow customers to share feedback.
How to do it right?
The DTC disruptor Interior Define pays a lot of attention to customer experience and user-generated content. They have product reviews with a 1- to 5-star rating, where consumers leave comments, but they also post real-life photos of the products. They have a whole section with user-generated content, where you can see pictures and comments from customers. A best practice when it comes to reviews is allowing consumers to sort and filter consumer feedback. Interior Define lets consumers browse the most positive and most negative reviews, as well as see what reviews are most helpful.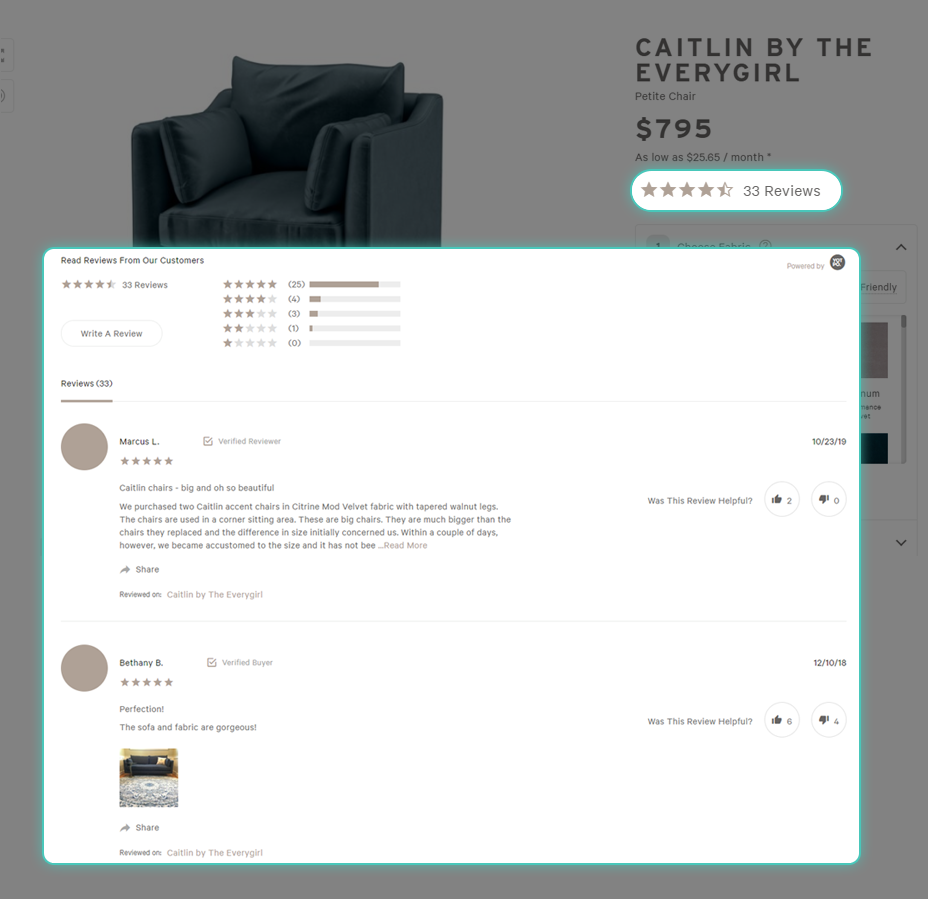 Tip: Customers know that reviews are unbiased feedback from other customers, and they perceive it as a trustworthy source of information. Allow your customers to leave comments on your product page, but also make sure to address negative feedback. Not letting your customers leave reviews won't spare you from the negative comments. The best way to prevent negative reviews is to make sure that you are offering the highest quality products and delightful customer experiences.
Future-Proof Your Product Pages With End-to-End 3D Product Visualization
Furniture is a big-ticket item and the decision-making process takes more time. What makes this journey so special is that people rarely buy furniture on impulse. Buying furniture is always a cognitive process, where consumers value product information, price comparison, consumer reviews, shipping information, and much more.
Today, when customers' expectations are sky-high, it's important to demonstrate value at every step of the furniture buyer journey. The role of your product page is crucial. It's the trailer of a movie that wakes up your customers' interest and prompts them to watch the movie online (shop online) or go to the movie theater (visit your showroom).
If you want to future-proof your product page, provide a user-friendly, seamless, and interactive online experience with 360-degree views, a product configurator, room scenes, and clear product information.
Using the Cylindo Platform, companies create a consistent omnichannel experience at every touchpoint with 360-degree product configurator, 4K zoom, and by leveraging superior quality visual assets across various interfaces and platforms, product feeds, cart thumbs, augmented reality apps, and marketplaces.
Cylindo is the catalyst that drives delightful shopping experiences by empowering retailers and brands to show more and sell more.
Ready to future-proof your product page with an end-to-end 3D product visualization?