Direct-to-consumer furniture bands have changed the home furnishings industry forever.
When we first stumbled upon the direct-to-consumer business model more than a decade ago, everyone was thrilled — and for a good reason.
DTC brands in hyper-focused categories like Warby Parker, Everlane, Dollar Shave Club, and Bonobos witnessed great success by taking advantage of direct access to customers through the internet.
Cutting marketplaces and retailers out of the customer sales journey resonated well with millennials. DTC brands spotted the biggest weaknesses of incumbent retailers, and they used them to differentiate.
From premium experience and top-notch customer service to personalized offers and delightful unboxing, DTC brands have raised the bar for customers' expectations.
After the initial success of the trailblazers, the DTC craze spread across different industries. Furniture was no exception.
What is direct-to-consumer furniture?
Direct-to-consumer (DTC) is a business model where a brand or manufacturer owns the process from start to finish, selling its products directly to customers. Unlike traditional furniture brands that own the manufacturing processes but then sell their furniture to retailers, DTC furniture brands are in charge of every element, from production to post-purchase customer support.
The rise of DTC furniture brands
Back in the days when the direct-to-consumer business model became popular, mattress companies were among the first from the furniture industry to test this concept.
In just a few years, the model mushroomed across the whole industry. Data from 2PM shows that in 2019 the highest number of DTC brands was concentrated in categories such as closet, bathroom, and kitchen.
Fast-forward to today, and brands are focused on children, furniture, pet care, and utility. "The DTC home has democratized," says Web Smith, the founder of 2PM.
This was the density, by room, of DTC brands in 2019. A lot has changed in two years.

The closet, bathroom, and kitchen had the most competition for home goods consumers.

Today: brands are focused on children, furniture, pet care, and utility. The DTC home has democratized. pic.twitter.com/9qqSpODDSC

— Web Smith (@web) September 24, 2021
However, compared to other product categories, homeware is one of the least saturated categories. According to Semisupervised's 2021 study of 1,111 DTC brands, only 164 brands were identified in the home space — 14.8% of the total.
Looking at the saturation level (the number of startups is a category divided by market size, multiplied by 100), data from Semisupervised shows that Home & Garden is firmly in the least saturated category, especially when compared to industries like luggage, clothing, and jewelry.
The impact of COVID-19 on DTC furniture brands
In 2020, retail e-commerce revenue from furniture and homeware sales amounted to 52.6 billion U.S. dollars and was projected to increase to over 61.2 billion U.S. dollars in 2025, according to Statista.
Furniture and home furnishing sales account for 12.3% of total retail e-commerce sales in the U.S.
COVID-19 had a significant impact on furniture sales. Being stuck at home for an extended period motivated people to invest in redesigning their space.
On top of this, the housing market boom has also contributed to the boost in furniture sales. According to the real estate website Zillow, one in 10 Americans moved over the past year, whether by choice or not. Many people who relocated opted for larger homes in the suburbs. Their next challenge was to fill up the new, empty space with furniture.
The e-commerce surge that started as a necessity due to the lockdown has slowly transformed into a behavioral shift. According to Blueprint, homeware is one of the fastest-growing DTC categories in 2021.
The pandemic has dropped the omnichannel future on retail's doorstep. While traditional retailers were scrambling to step up their e-commerce game, digitally native DTC brands were better prepared for the shift.
The truth is, DTC brands were paving the way toward a bigger market share, even before the pandemic.
Numbers from Bloomberg Second Measure show that DTC furniture companies accounted for a monthly average of 30% of furniture sales in 2018 and 36% in 2019. In 2020, DTC furniture companies accounted for a monthly average of 49% of furniture sales — growth accelerated by the pandemic.
And while by 2020, traditional retailers' sales declined an average of 3% year over year (YoY), the average monthly YoY growth for DTC brands reached 67%.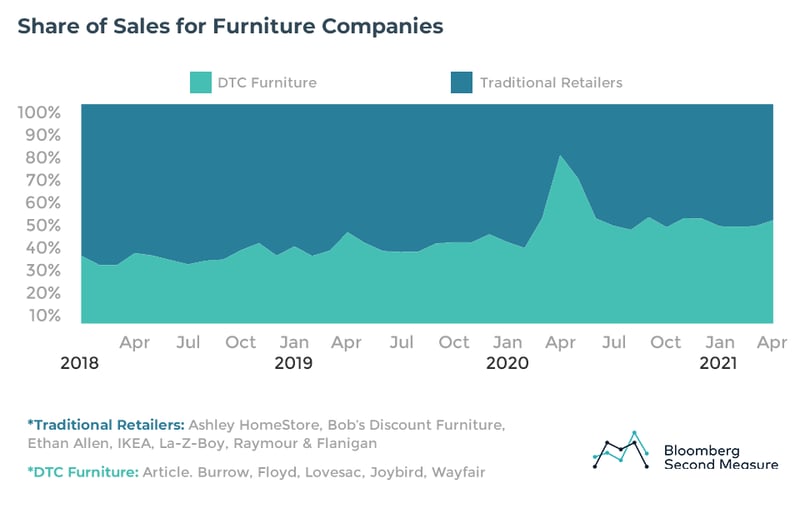 DTC furniture space outlook
The direct-to-consumer playbook has changed. The blueprint that worked in the mid-2010s, when businesses would raise venture capital and spend most of it on social media ads, doesn't work anymore. The market is now flooded with competition, and customer acquisition costs are sky-high. Moving forward, DTC furniture brands that want to survive need to adjust to the new circumstances.
Companies have realized that the cost of the product, plus labor, shipping, and marketing costs, might exceed the revenue made from the purchase. This is especially problematic for companies that sell low-purchase-frequency items such as furniture.
But here is the good news: The number of customers buying furniture online is on the rise. Data from Home Furnishings Business shows that the percentage of customers who have purchased furniture online has increased significantly from 59% in 2019 to 72% in 2022, a 13-point jump.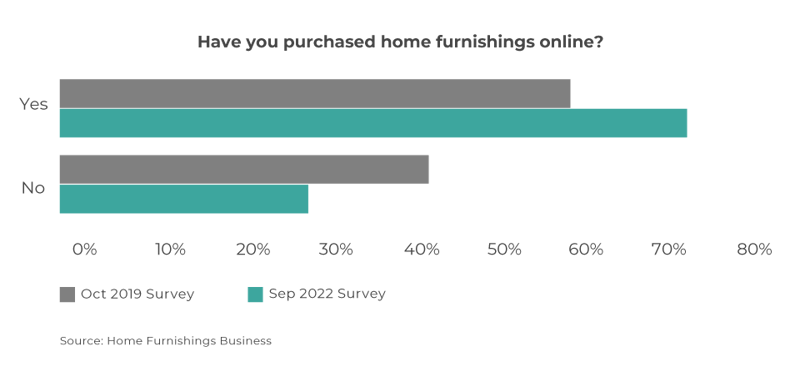 According to Statista, furniture retail is a promising e-commerce segment that is forecast to generate more than 40 billion U.S. dollars in revenue by 2030. This lucrative potential is reflected in the steady increase in the average value of online orders of home furniture worldwide, which was approximately 422 U.S. dollars in the second quarter of 2023.
What does all this mean for DTC furniture brands? It means the industry is poised for growth. However, DTC furniture brands will have to adjust their strategy to take a more significant piece of the market.
10 DTC brands disrupting the furniture industry
The furniture retail landscape has changed. Today, a new generation of disruptive DTC brands are shaking up retail — setting high standards for pleasant furniture shopping experiences. Let's take a look at some of the best DTC furniture brands redefining the furniture buyer's journey.
1. Monte Design — Engaging product pages
Monte Design is a family-owned Canadian brand that's been manufacturing luxury furniture for both adults and children since 2006. Besides selling the furniture through their own channels, Monte Design also has retail partners.
Monte's team is passionate about beautiful design, superior quality, and excellent customer service.
When you open their product pages, you can instantly spot their dedication to creating a bespoke online shopping experience. From 360-degree views and 4K zoom to alternate angle images and a user-friendly product configurator, Monte Design relies on high-quality 3D product visualization to bring products to life.
"Having the image is one thing; but then to be able to spin it, zoom into it, and really get in there … that's fantastic!" - Ralph Montemurro, Founder, Monte Design
Now, products are fully customizable across the whole website. Customers can play around with colors and patterns, and once they decide on the winning combination, the final product can be immediately showcased in high quality. This removes doubt and helps shoppers make the right decision, a vital step in every customer journey.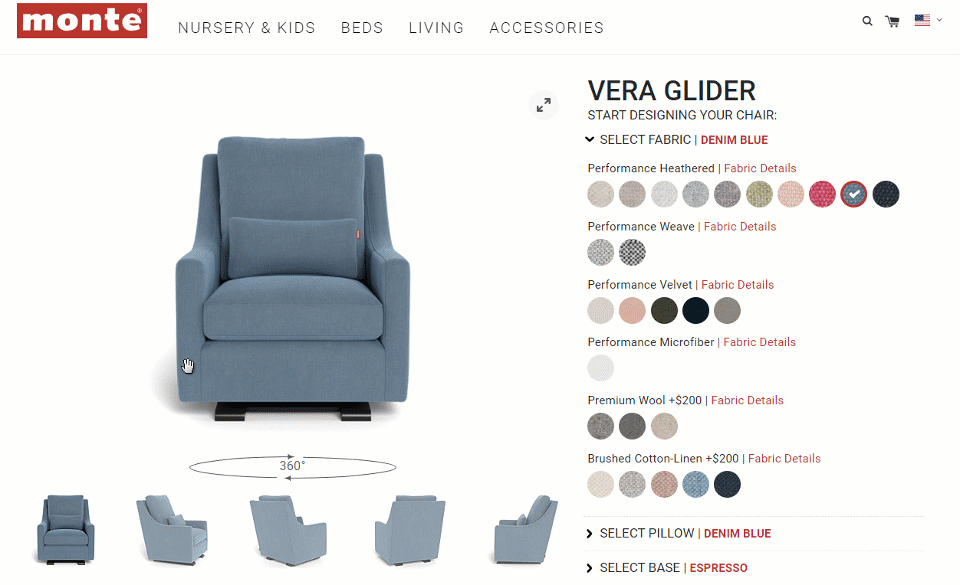 Monte's product page with 360-views and 4K zoom
2. Burrow — Retail partnerships
Burrow was founded in 2016 with the idea to reinvent the way people furnish their homes. Refusing to make compromises between quality, affordability, and convenience, the founders started Burrow with a new approach to furniture.
Today, Burrow is one of the most successful DTC furniture brands. Besides their thriving online business, they dipped their toes into physical retail — with a twist.
The 2,200-square-foot Burrow House in Soho is a great example of using a brick-and-mortar store to showcase products but also host events and partner with other brands.
Customers who visit Burrow's showroom can find two other DTC brands: online paint retailer Clare and online plant seller The Sill. The concept of retail roommates resulted in a triple win. Burrow became a one-stop shop for all things home decor, Clare and The Sill received great exposure, and customers were able to buy furniture, paint, and plants while saving time.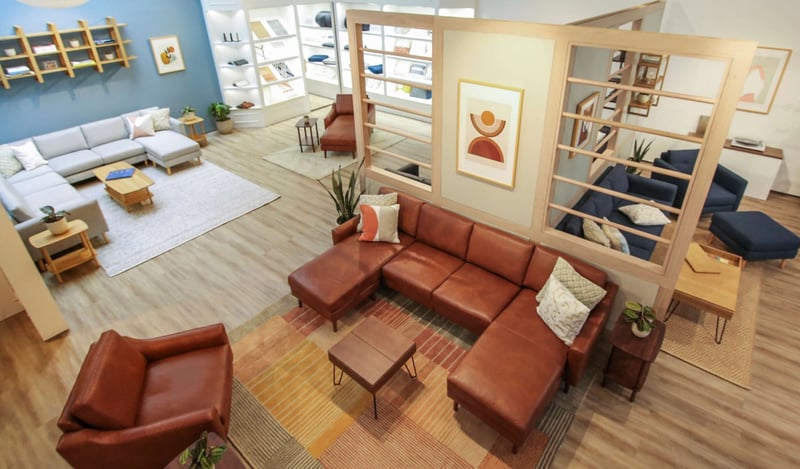 Burrow's shoowroom
3. Interior Define — Virtual design specialists
Interior Define was born in 2014 with the goal of giving consumers access to made-to-order sofas at a competitive price point. Ever since, Interior Define has been at the forefront of innovation in the furniture industry.
Aside from their bespoke product visualization, Interior Define has introduced online and offline consultations with local design experts who guide customers through the purchasing process.
One-on-one design consultations helped Interior Define differentiate from the competition. Giving customers access to a design specialist resulted in higher conversion rates, higher average order value (AOV), higher net promoter score (NPS), and lower return rates.
The idea with local design experts turned out to be a great success. Whether virtual or in-person consultations, having a local expert that understands the regional aesthetics better resonated with customers.
On top of this, having local experts helps Interior Define test a market's readiness for new brick-and-mortar locations.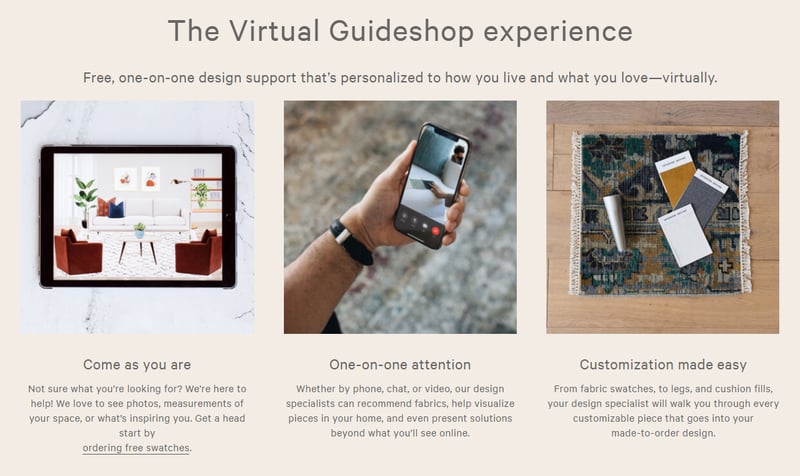 Interior Define's Virtual Guideshop Experience
4. Lovesac — Mobile showrooms
Lovesac is a technology-driven DTC furniture company based in Stamford, Connecticut. This technology-driven company designs, manufacturers, and sells high-quality furniture through its proprietary approach, "Designed for Life."
Lovesac launched a mobile concierge service to bring a personalized shopping experience directly into customers' homes.
"We wanted to create a new way for customers to shop our products, free from the stress of busy shopping centers and limited parking," said Shawn Nelson, Lovesac CEO and founder for Furniture Today.
During the Mobile Concierge appointment, customers can receive a demo to learn how Sactionals work, experience the latest product invitations, view and feel a variety of fabric options, create the Sactional setup that fits their space and style, and place an order with fast and free shipping.
Lovesac is committed to finding new ways to reach customers and offers the best possible one-on-one experience.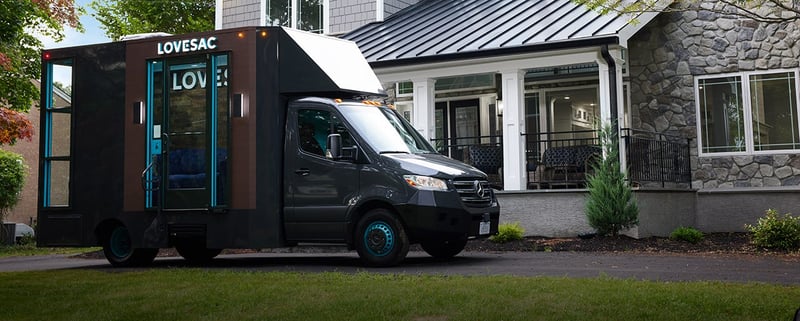 Lovesac's mobile showroom
5. Article — In-house delivery operation
Article launched in 2013 with a mission to make great style easy, long-lasting, and well priced. Its unique, direct-to-consumer model allows Article to deliver stunning, high-quality furniture at a fraction of the cost of traditional retailers.
Besides the outstanding attention to detail in the design process, Article went a step further and launched an in-house delivery program in 2019.
The company's Article Delivery Team (ADT) is in charge of the "final mile" of delivery from a distribution center directly to the buyer. The goal is to eliminate issues related to furniture delivery and to cut average delivery time.
"We've decided to take final-mile delivery to the next level with ADT. In-house delivery gives us a tighter feedback loop which helps us iterate on the process and create experiences people look forward to," said Aamir Baig, Article's CEO, for Chain Store Age.
According to Article, building its own in-house delivery operation was a necessary customer service investment. Soon after Article piloted the ADT program, they noticed a reduction in negative customer feedback by up to 83%.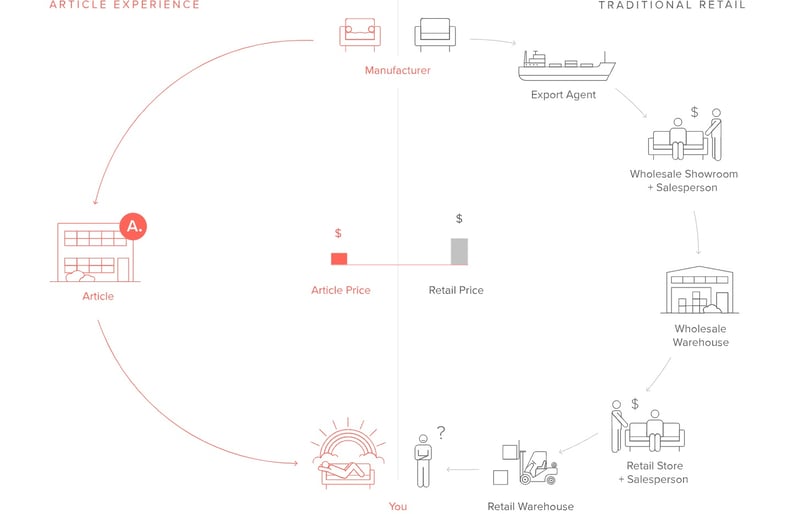 6. Loaf — Experiential retail
The tech-savvy DTC furniture brand Loaf is on a quest to make online furniture shopping as simple and as hassle-free as possible.
Founded in 2008 by entrepreneur Charlie Marshall, Loaf has become one of the U.K.'s fastest-growing homeware companies.
What makes Loaf so special is its dedication to delivering the best customer experience at every stage of the buyer's journey.
Customers can visit Loaf's Shacks and enjoy the laid-back vibe. Described as "slowrooms" rather than showrooms, customers can find a 1970s TV displaying old footage of Wimbledon, a pinball machine, a mini-fridge with free drinks, and even a table with puzzles and coloring pencils for the youngest visitors.
In addition to the engaging product pages equipped with 360-degree views and 4K zoom, Loaf uses the 360 HD Viewers in the "Loaf Shacks" to create an endless aisle experience.
Having 3D product visuals in different colors and fabrics helps Loaf create a delightful brick-and-mortar experience, despite the limited footprint where they showcase a smaller selection of products.
"Loaf's mission is to make the customers' experience amazing. We treat our customers just how we want to be treated." - Louis Adamou, Technology Director, Loaf
7. Feather — Furniture rentals
We live in a subscription economy. From streaming subscriptions to meal boxes, glasses, and clothes, the number of customers who appreciate flexibility over ownership is on the rise.
Feather launched in 2017 with a simple concept — to fit the way people live today. Aware that city renters move on average every 1-2 years, trends change, and tastes evolve, Feather has a different business approach — rental, reuse, and refurbishment.
The DTC brand believes that furniture shouldn't involve compromise. Feather's products are high-quality, stylish, and affordable. Customers can choose from three rental plans: Annual Membership (12+ months), Short-term (3+ months), or Monthly (1+ months).
During the pandemic, subscription furniture experienced a boost, especially categories like office and outdoor furniture. This prompted Feather to expand its offering. "We just launched outdoor furniture, which makes a lot of sense on a rental basis," said Ilyse Kaplan, the president and COO of Feather, for Business of Home.
Besides being cost-effective, the rental model is environmentally friendly.
The problem of fast furniture has become increasingly apparent during the past few years. The U.S. Environmental Protection Agency (EPA) estimates that nine million tons of furniture end up in landfills every single year.
Feather's mission is to keep furniture in people's homes and out of landfills. Aside from this, Feather offers completely carbon-neutral deliveries and supports reforestation efforts in areas that produce Forest Certified Stewardship certified wood (a material that can be found in many of their products.)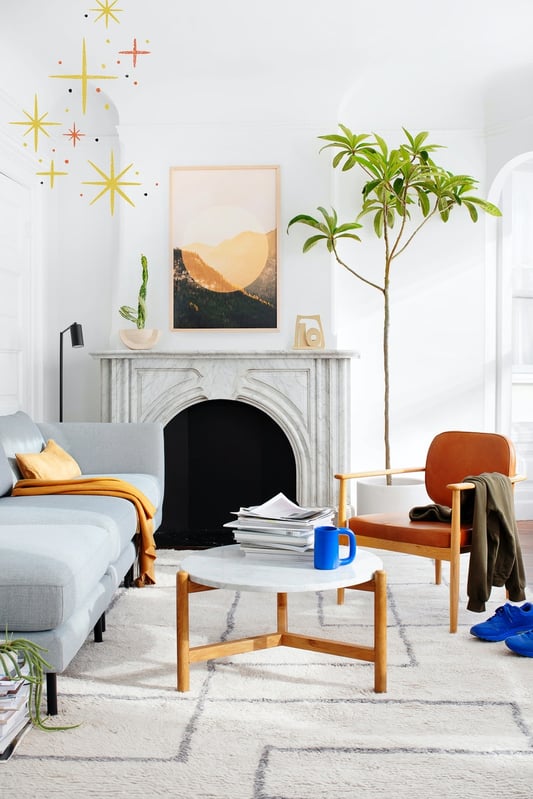 Feather
8. Inside Weather — Customization
Founded in 2018 by Ben Parsa, Inside Weather offers customers the luxury of choice. There are over three million unique combinations in the brand's product catalog.
Unlike traditional furniture players, Inside Weather designs and builds all of its products in-house and works with a zero-inventory model. In other words, they produce only what customers order.
Without middlemen, wasted material, or warehouse costs, the DTC brand creates top-notch, custom-made furniture that doesn't cost a fortune.
Besides the bespoke attention to detail in the production process, Inside Weather believes in online furniture shopping that doesn't require any heavy lifting. Their product pages are equipped with 360-degree views, 4K zoom, and a straightforward customization process.
As a result, customers can customize even the slightest details while enjoying the process. "We've found a way to offer an incredible range of furniture options, a way to manufacture them in a timely manner, and we've developed the management software to track and deliver every variable," said Ben Parsa, the CEO of Inside Weather, for Curbed.
Another thing that makes Inside Weather different is its 365-day return policy. Customers have all four seasons to try out the new furniture and see if they like it.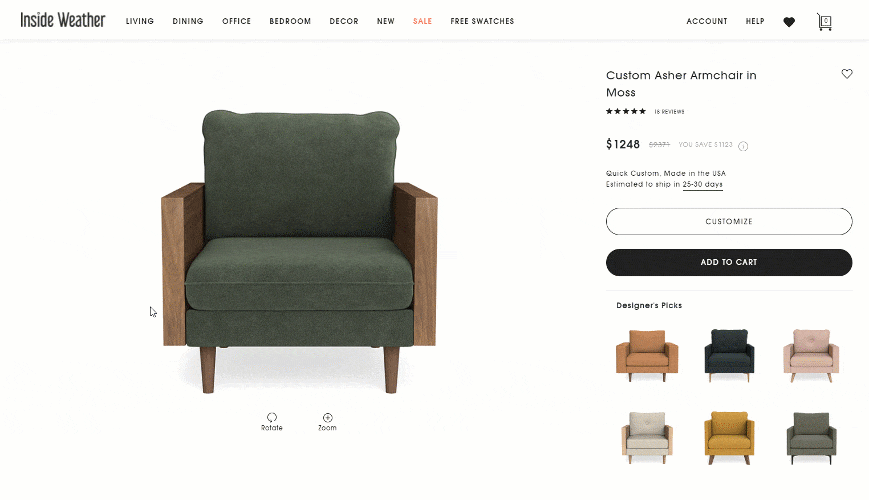 Inside Weather product customization
9. Cozey — Modular furniture
Comfort, simplicity, and convenience are at the heart of everything Cozey does. Founded in 2019, the Canadian DTC brand offers an innovative solution: a sofa that comes in multiple boxes to fit through any door.
Aware of the challenges of modern living, Cozey's sofa adapts and evolves to allow customers to add modules and reconfigure their space through time.
Cozey has managed to thrive amidst a global pandemic, growing by 1,200% in its first year of operations. The key to success? The Montreal-based brand creates a pleasant end-to-end shopping experience.
From its modular approach, with 480 different ways to configure the Cozey sofa and ease of assembly to quick and free shipping and solution-mode customer service — Cozey is devoted to delivering happiness.
"We take the complexity of the operations on our shoulders and make it simple for our customers," says Frédéric Aubé, Cozey's Founder, for Living Cozy.
The concept of modular furniture means customers can add new seats and also order replacement seat cushions and backs, which can prolong the lives of their sofas.
As a digitally native brand, Cozey is focused on delivering an engaging online shopping experience with step-by-step customization of color, seating configuration, arm design, ottoman, and lounging chaise.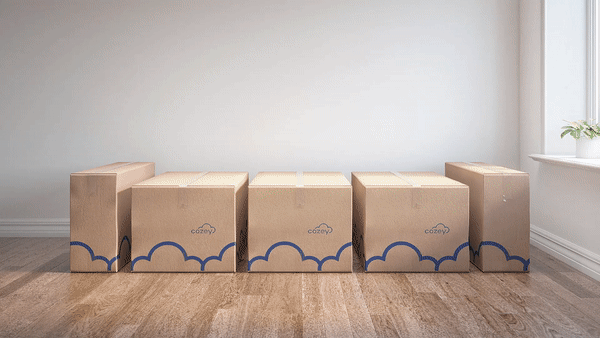 10. Yardbird — Sustainability
Yardbird is a socially conscious outdoor furniture brand launched in 2017. The team is dedicated to producing the highest-quality outdoor furniture at a great price.
What makes the story special is the fact that Yardbird makes the furniture from eco-friendly materials such as recycled ocean plastic — it intercepted more than 150,000 pounds last year, as reported by Business Insider.
In addition to manufacturing with recycled materials, Yardbird's furniture is 100% recyclable, and they also partner with Carbon Fund, which plants trees to combat climate change.
The pandemic brought a big boost in outdoor furniture sales. And while some might think that the interest will start to cool off as things go back to normal, the Co-founder of Yardbird, Jay Dillon, believes that we're witnessing a mindset shift. "Millennials are moving to suburbs and increasingly wanting to be outdoors," said Dillon for Modern Retail.
Yardbird is constantly increasing the number of styles and product categories such as sofas, armchairs, sectionals, cushions, and fire tables. A significant portion of their customers are shopping online, so providing a delightful e-commerce experience remains a top priority for Yardbird.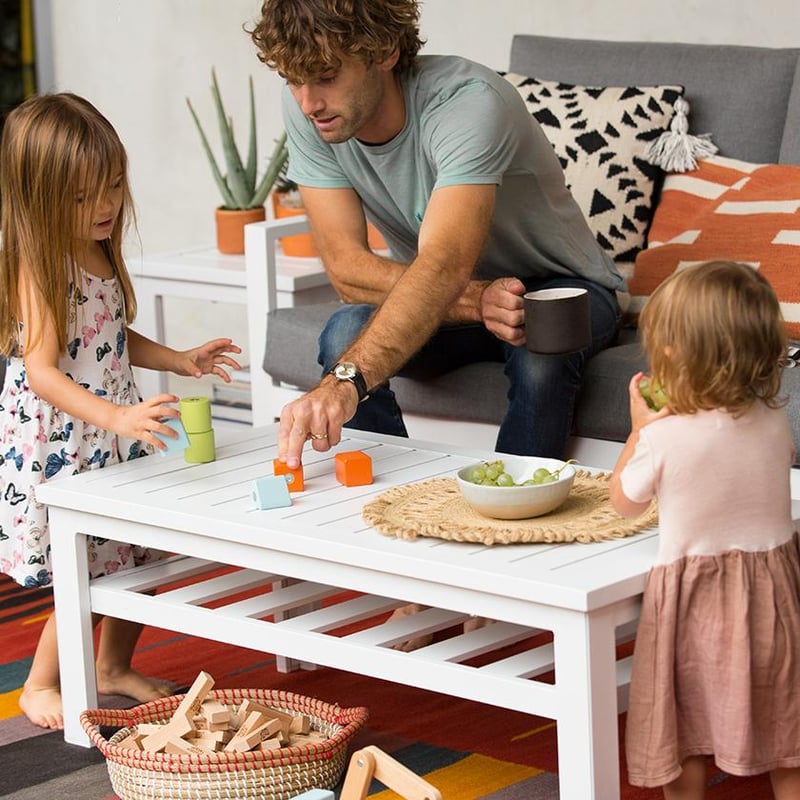 Yardbird
---
And there you have it — 10 forward-thinking direct-to-consumer furniture brands disrupting the industry and raising the bar for customer experience.
Gone are the days of easy customer acquisition and cheap social media ads. Furniture brands need to focus on understanding customer needs, building close connections with them, relying on first-party data, and creating engaging shopping experiences to set the foundation for future growth. Ready to reinvent online furniture shopping with engaging product pages?