Organizing a product photoshoot can be a real nightmare. Even if we put aside the daunting process that requires logistics and ideal environmental conditions, the fact that you can't repurpose product photography for any other use case makes it a cost rather than an investment.
The good news is that 3D product visualization can help you create futureproof 3D assets that you can use across multiple touchpoints.
But how can you create 3D lifestyle imagery, what are the advantages compared to traditional photography, and what are some of the use cases for 3D lifestyle imagery? We'll answer these questions and much more. Here's everything you need to know about 3D lifestyle imagery to take your digital merchandising to the next level.
What is furniture lifestyle imagery?

Furniture lifestyle photography is a type of photography that captures real-life scenarios and environments. Using lifestyle photography, you can show your furniture in context to help customers understand how a piece of furniture would look in a lifelike environment.
Based on all the previous research on the most adopted features among the Top 100 furniture brands and retailers across the globe, lifestyle imagery is one of the three most-adopted features for digital merchandising.
And it's no surprise—context is essential in furniture sales. Showing customers how a piece of furniture looks in a dreamy home environment brings a strong emotional response, ultimately boosting conversion rates.
The tricky part is the process of creating all those lifestyle images for different pieces of furniture in various colors, textures, and materials. Here's where 3D product visualization comes in.
How can furniture businesses create lifestyle imagery?

When deciding on the process of creating lifestyle imagery for your furniture business, there are usually two routes you can choose from:
Traditional photography
3D lifestyle imagery
Let's look at each process and understand the pros and cons of traditional photography and 3D lifestyle imagery.
Traditional photography
"I love organizing product photoshoots!" — said no one ever.
The whole process of staging and creating lifestyle shoots using traditional photography is daunting and requires great organizational skills, attention to detail, and good timing. Besides the fact that you need months to organize everything, you still can't control the delays in transportation, possible furniture damage, environmental conditions, and unpredictable costs.
On top of everything, you can create only a few (costly) lifestyle images you can't repurpose later, making the process time-consuming, unproductive, and expensive.
3D lifestyle imagery
The alternative to creating lifestyle imagery with traditional photography is using 3D product visualization. 3D technology allows you to create photorealistic lifestyle imagery on demand.
You can easily generate, iterate upon, manage, and distribute your visuals at scale. The best part: you can produce 3D lifestyle visuals of your products in all configurations.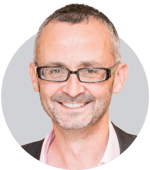 "The costs of lifestyle photoshoots are high and the organizational effort significant. And these shoots create only one dream environment. With virtual imagery, you can create multiple dreams and display more of your furniture. You can also create more immersive 3D experiences. I expect the use of virtual photoshoots to increase materially."

- David Kohn, The Multichannel Expert
Using 3D lifestyle imagery, you get bigger flexibility at a fraction of the cost. Besides the fact that you can easily make adjustments, change the layout and lighting, create visuals in multiple colors and materials, and use different props, 3D lifestyle imagery is 6-8x cheaper than traditional photoshoots.
The end result is a photorealistic lifestyle image that you can use for your product details page, product feed, catalog, paid ads, email marketing, and much more.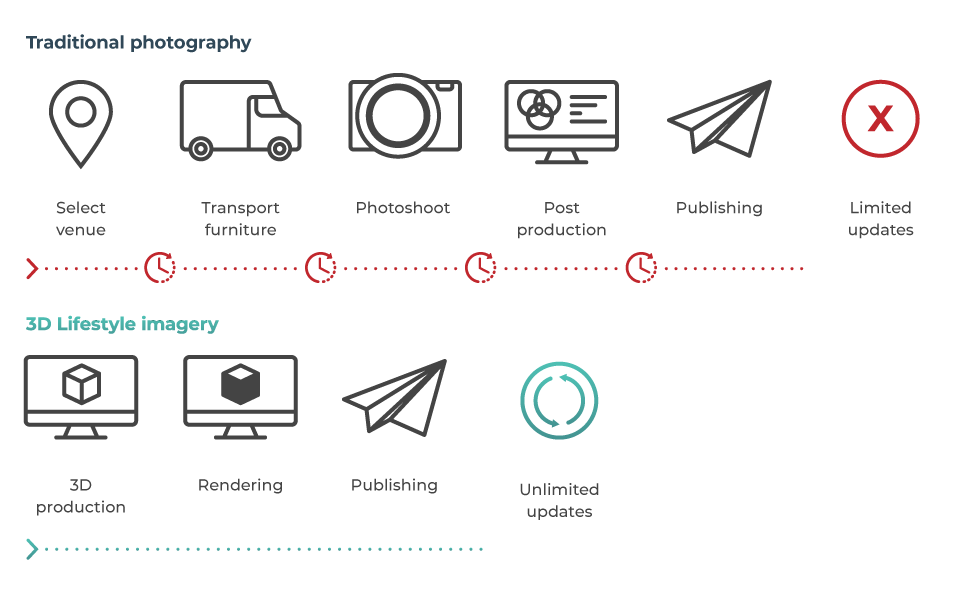 Traditional photography vs. 3D lifestyle imagery creation process
The advantages of 3D lifestyle imagery vs. traditional photography

If you're still on the fence about 3D lifestyle imagery and whether it can meet your expectations for creating photorealistic in-context images, it's time to look at the advantages 3D product visualization has compared to traditional photography.
3D product visualization allows you to create customizable lifestyle imagery by changing the color, material, legs, and other details of the furniture piece, placing it in a lifelike setting. Thanks to the advances in 3D technology, today, it's almost impossible to notice the difference between a real photo and computer-generated imagery (CGI).
Leading furniture businesses, such as IKEA, have been relying heavily on CGI for their product catalog for almost a decade. The logic behind it is simple: creating marketing materials using 3D product visualization is much faster compared with traditional photography. Besides the fast turnaround, 3D product visualization is much more cost-efficient, as you don't have to create products in different colors and materials just to be able to take a photo of them.
One of the most significant advantages of 3D lifestyle imagery compared to product photography is the asset versatility. Once you create a 3D master asset, you can easily use it across different channels and platforms. With traditional photography, you have limited use of the assets you create with a single photoshoot, and recreating everything again is costly and time-consuming.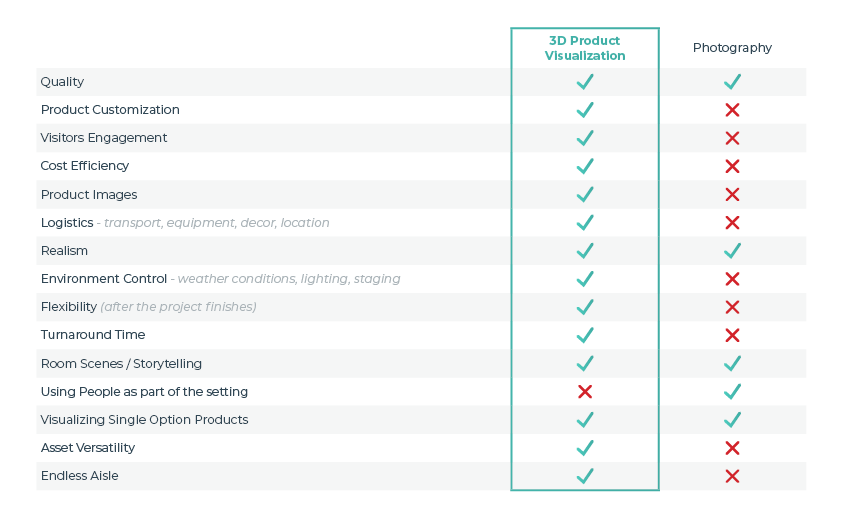 Download the checklist
How to create customizable furniture lifestyle imagery at scale

Imagine having a platform that allows you to select architecture, wall and floor colors, props, camera angle, and flexible product placement to create photorealistic lifestyle imagery at scale.
With Cylindo Studio, you can step up your visual merchandising and create a consistent customer experience across multiple channels. Using Cylindo Studio, furniture businesses can place products in a room and create photorealistic imagery, render products in all configurations within the scene, choose from various 3D environments, and style with different props.
Once you create a 3D lifestyle imagery, you can use it across different marketing touchpoints but also go back and create as many iterations of your rendering at no additional cost.
9 ways you can use customizable furniture lifestyle imagery

Lifestyle shots are more than a "nice to have" addition to the product details page. One of the reasons why furniture businesses haven't maximized their potential in the past is that creating lifestyle shots using traditional photography is very expensive.
With the rise of 3D product visualization, furniture businesses can scale the creation of lifestyle imagery and use those visuals across different touchpoints. Let's see some of the use cases for 3D lifestyle imagery.
1. Hero image on the home page
A hero image is a large banner image at the top of a website, usually the home page. The hero image serves as an attention-grabbing hook, and businesses typically use it to promote their latest campaign, a new collection, or a special offer. Creating lifestyle imagery at scale gives you the flexibility to test different visuals for the hero header and create a new visual whenever you need it, without going through the lengthy process of a traditional photo shoot.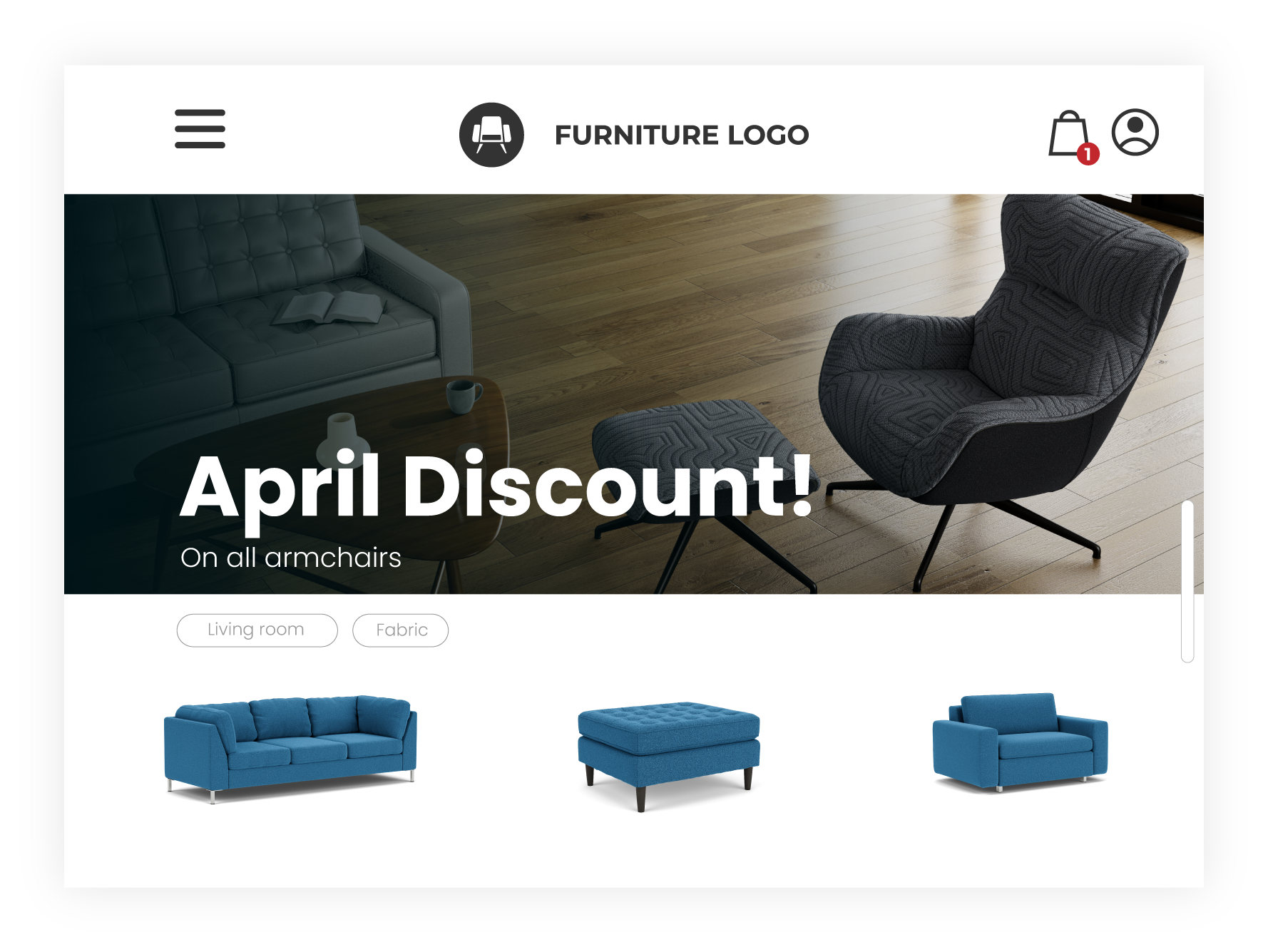 2. Product feed thumbnails
Creating a consistent product feed is one of the biggest hurdles in digital merchandising. Furniture businesses with an extensive product assortment struggle to create consistent visuals for every product. Using 3D lifestyle imagery, you can have control over the camera angle, product placement, colors, fabrics, and everything else that can help you create a unified shopping experience.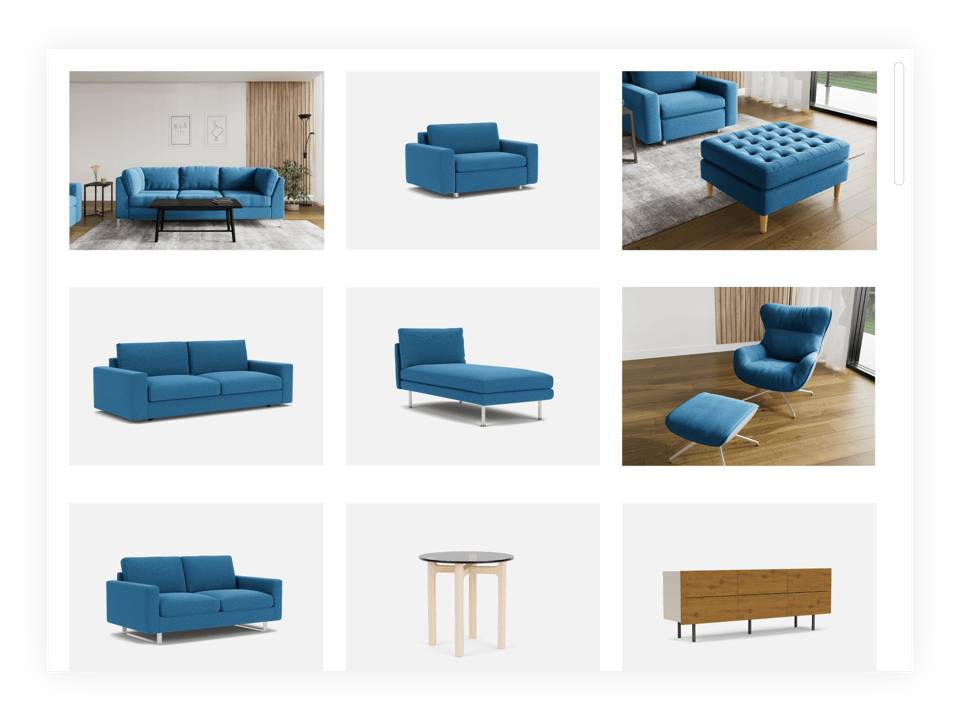 3. Detail shots
Scrutinizing the details is part of how people shop for furniture. Details such as colors, materials, patterns, and fabrics, make a huge difference when customers shop for furniture. That's why besides having a 360-degree view of your product, adding detail shots will ease the path to purchase, giving customers the confidence to make the final decision.
4. Lifestyle imagery on the product page
Equipping the product page with lifestyle imagery helps customers visualize how a piece of furniture looks in a room. According to Baymard, 42% of users will attempt to gauge the overall scale and size of a product from its product images, making in-context imagers crucial for an engaging online shopping experience.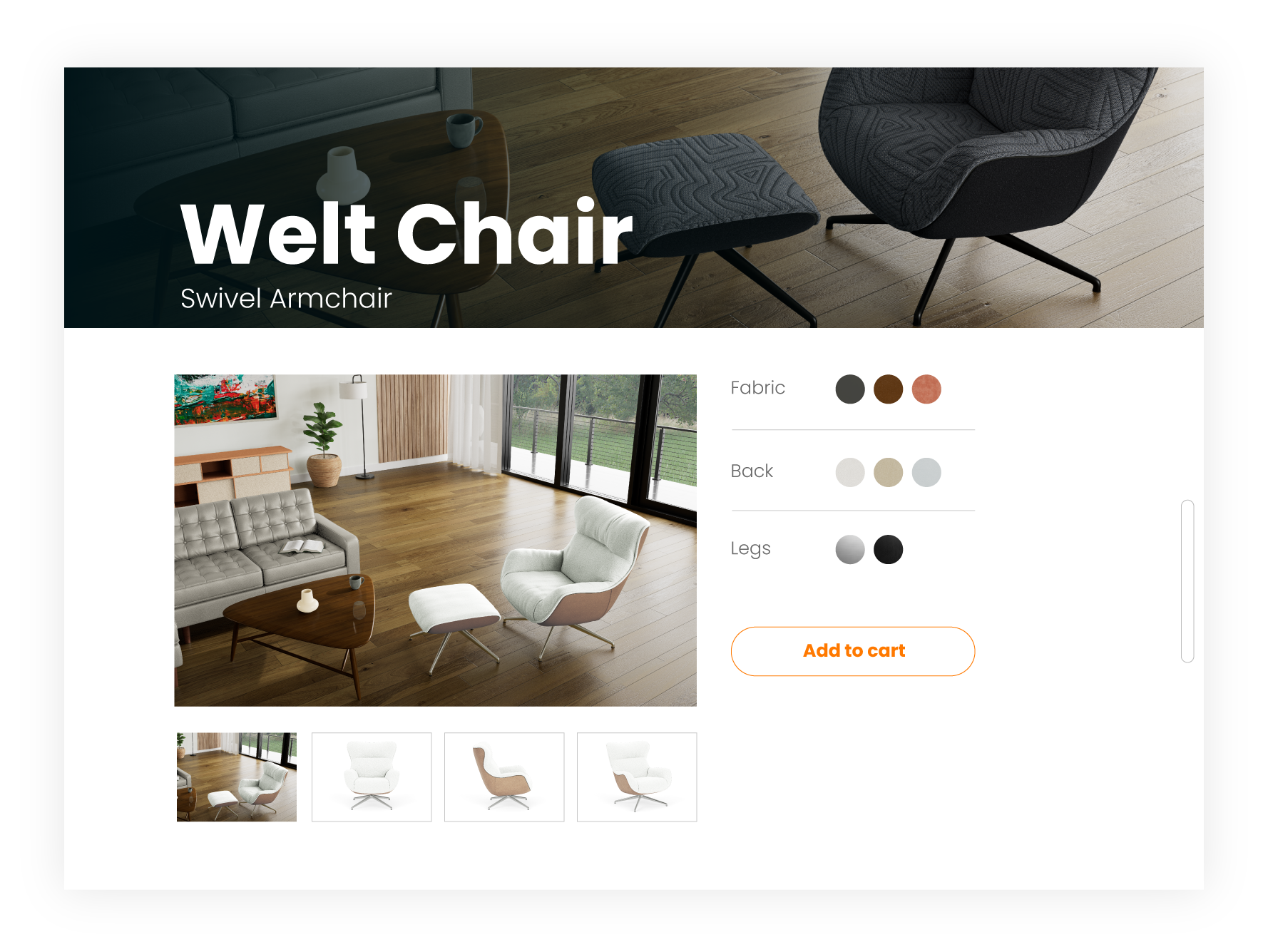 5. Email marketing
Having fresh assets every time you create a new email campaign can be a real gold mine for marketers. Email marketing is still one of the best-performing channels. Data from HubSpot shows that email ROI is impressive — $36 for every $1 spent. The tricky part is getting all the assets you need for your email marketing campaigns. Here's where 3D lifestyle imagery comes in handy. Your marketing team will be able to easily create different assets at scale to ultimately boost sales.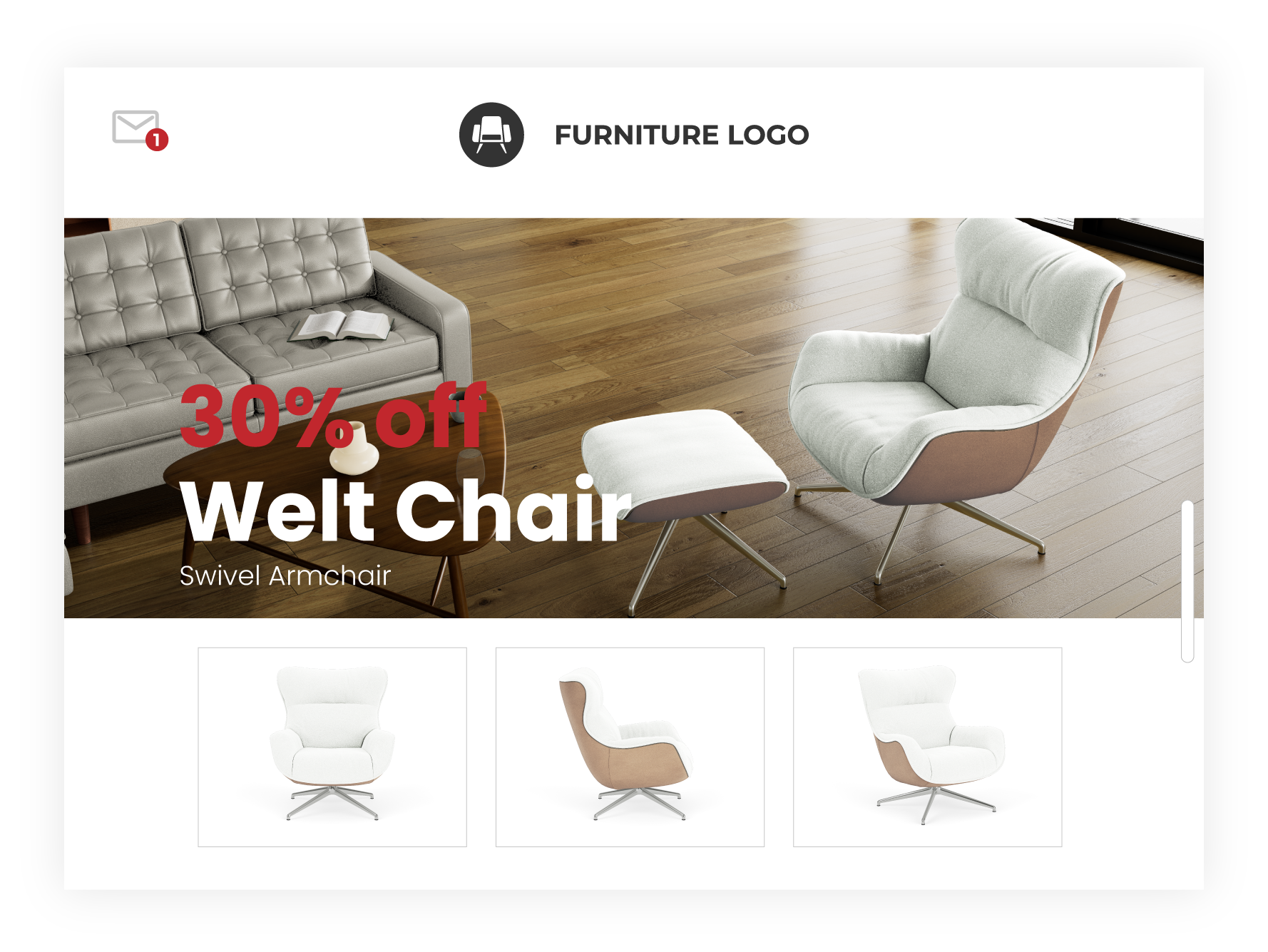 6. Social media
The never-ending pressure for fresh content for social media is a real headache for furniture brands and retailers. One way to do this is to leverage the power of user-generated content (UGC). And while this is a great strategy, you can rely on UGC for only so long. The good news is that 3D lifestyle imagery allows you to unleash your digital storytelling and create the assets you need for all your social media platforms.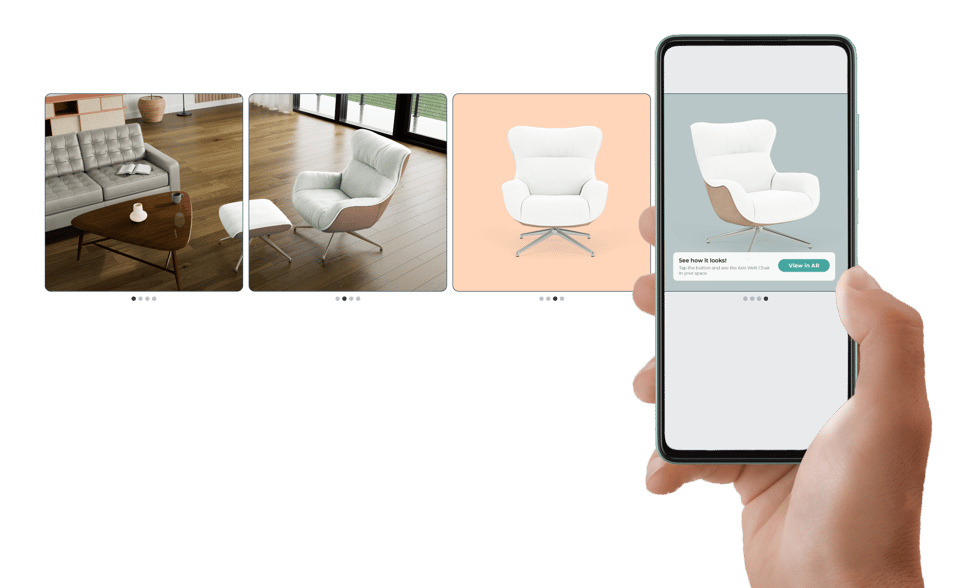 7. Catalogs
Everyone in the furniture business knows how hard it is to create a product catalog. Adding new collections requires organizing photoshoots and getting the visuals to create the catalog in the first place. The most daunting part is that once you get your lifestyle shots, you can't make any additional changes. 3D lifestyle imagery solves this problem allowing furniture businesses to showcase their beautiful product portfolio with different colors and fabrics while saving time and money.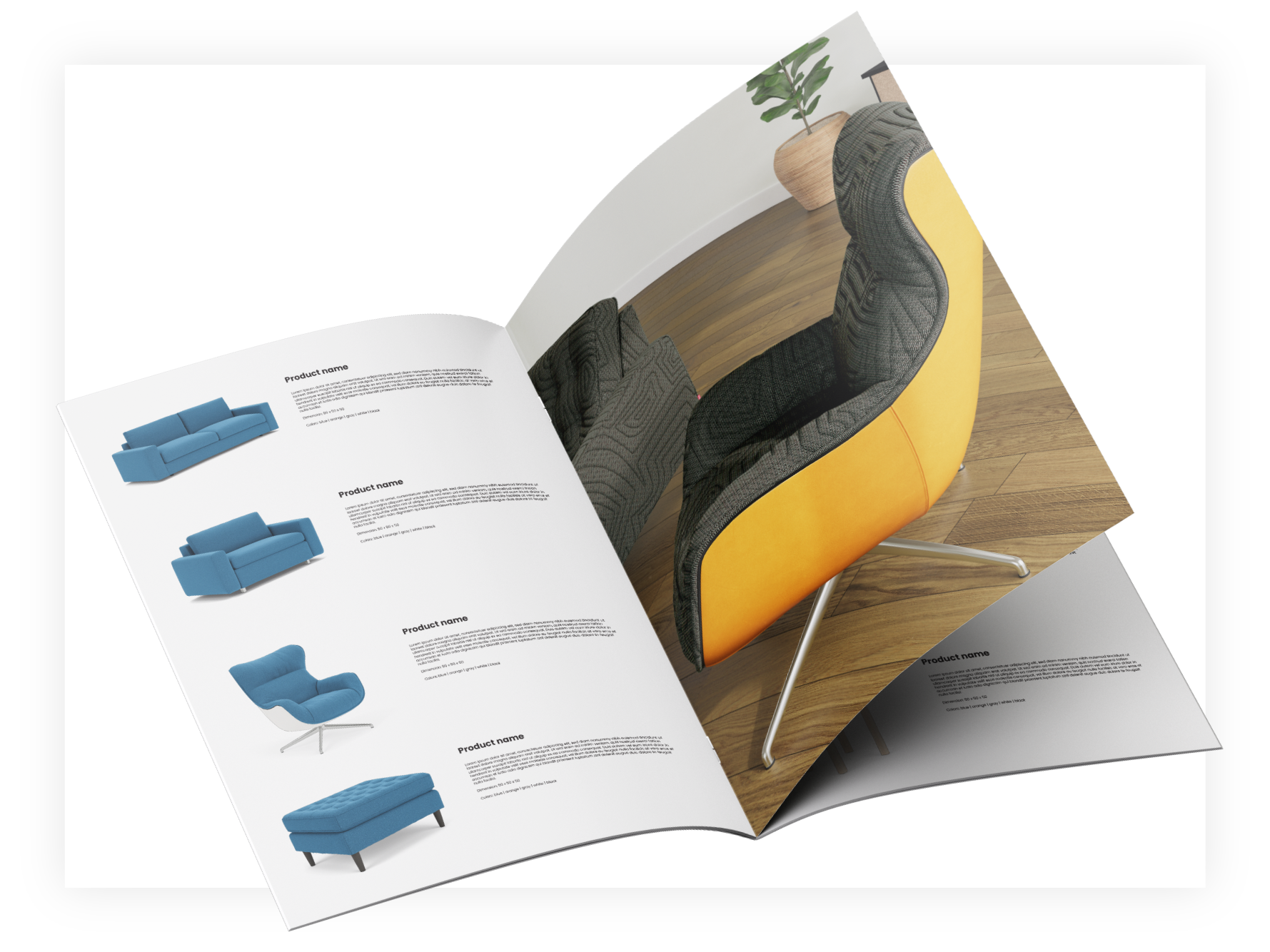 8. In-store experiences
Leading furniture industry experts often highlight the importance of creating an omnichannel experience. Adding kiosks in your showrooms allows you to bridge the gap between the online and offline shopping experience and lets customers go through the lifestyle imagery, 360-degree configurator, and detail shots you have on your product details page.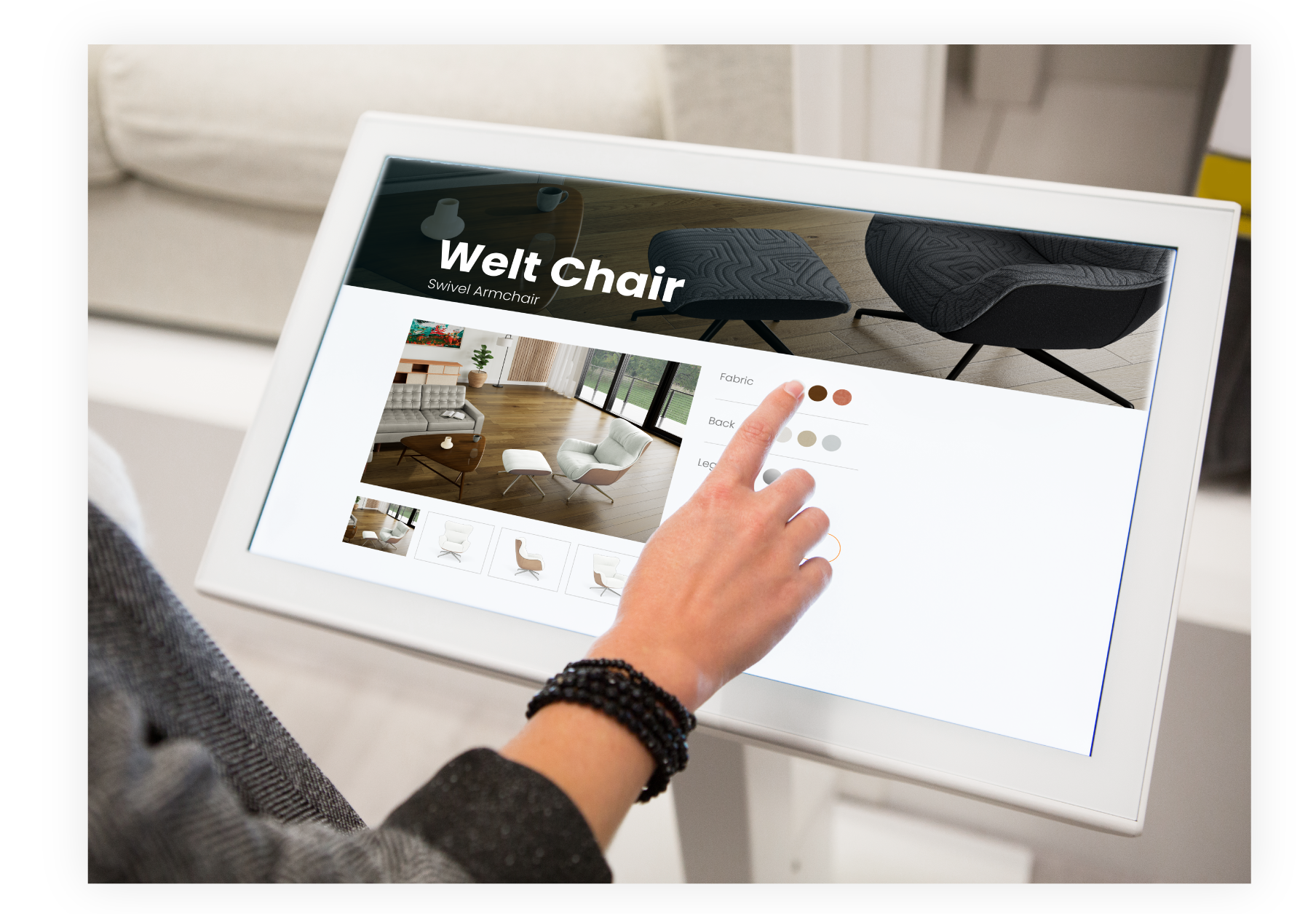 9. Print ads
In an era of a complete digital transformation, furniture businesses are still leveraging the power of print to reach different audiences. However, tech-savvy companies rely on 3D product visualization to create the lifestyle imagery they need for their print ads instead of going through the traditional route, which is time-consuming and expensive.
Transform your furniture business with 3D lifestyle imagery

There you have it — everything you need to know about the importance of lifestyle imagery and how you can leverage 3D product visualization to create photorealistic lifestyle imagery at scale.

If you want to transform your business with 3D lifestyle imagery, check out Cylindo Studio.