It's an exciting time to be in the furniture business. Furniture companies are finally catching up with
leading players in the e-commerce space.
The once slow-to-adapt industry has transformed into a realm where tech-savvy businesses are rewriting the rules of furniture e-commerce by incorporating the latest technology.
Despite the hardships over the last few years, more customers are shopping online than ever before. E-commerce is gaining steam, which opens up great opportunities for furniture businesses.
According to Statista, the size of the furniture e-commerce market worldwide is forecast to reach about 41 billion U.S. dollars by 2030. Moreover, furniture e-commerce is one of the fastest-growing categories. According to Comscore's 2023 State of Digital Commerce Report, furniture and appliances represented the no. 5 top-grossing digital commerce category in 2022, contributing $76 billion to the $1.09 trillion total.
However, we can't neglect the fact that the industry faced some age-old issues, such as ineffective inventory planning, unappealing product pages, and inconsistent customer experience across channels.
So the question is: What will the future of furniture e-commerce look like, and how can businesses adapt to stay competitive?
Mapping the future of furniture e-commerce
We asked seven industry experts to describe how they see the furniture business landscape changing under the current circumstances. Additionally, they shared their observations of the trends that emerged in the past few years. Based on their replies, we've identified the major opportunities, growth recommendations, and predictions for the future.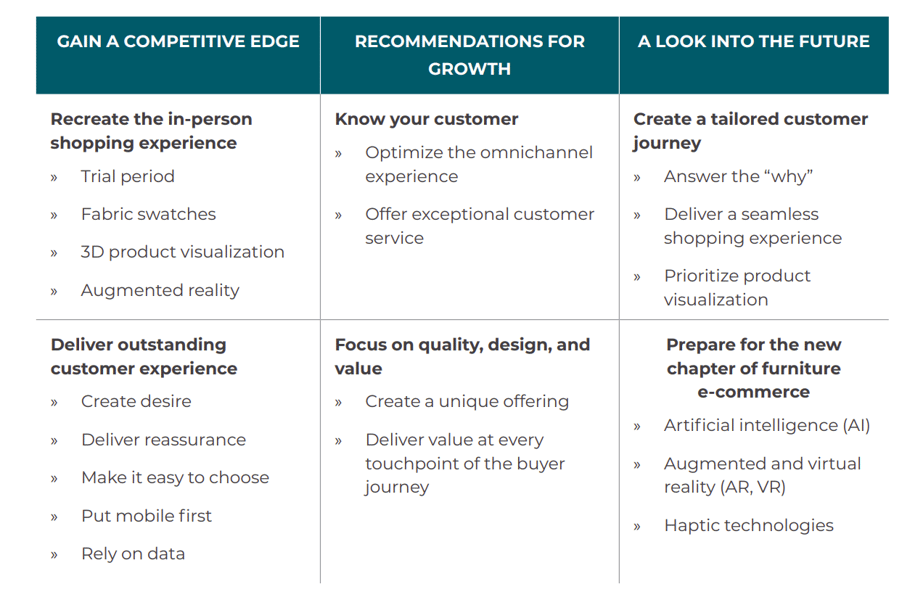 Keeping tabs on what's dawning on the horizon is crucial for industry leaders. Below, furniture industry experts share things to look out for in the business and technology realms in the upcoming years and why these developments will have a significant impact on the furniture industry.
Get ready for the future of furniture e-commerce
This is just a sneak peek of the strategies that will help businesses prepare for the next chapter of furniture e-commerce. Curious to find out more insights from seven furniture industry experts to get a competitive edge? Download our e-book.