People's renewed appreciation of the outdoors has brought a significant boost in outdoor furniture sales.
According to the Outdoor Furnishings Trend Report released by the International Casual Furnishings Association (ICFA), 71% of Americans are spending much more time outside in 2022 compared to the previous year, as many as seven hours per week.
The same survey reveals that 63% of Americans intend to upgrade their outdoor furniture or accessories, referring to purchases like outdoor lighting, lounge chairs, firepits, dining tables/chairs, umbrellas, sofas, pillows, and rugs.
Given the interest in outdoor furniture shopping hasn't taken a nosedive yet, brands and retailers keep introducing furniture items designed for outdoor living.
Outdoor furniture industry outlook
Despite its previous steady expansion, the growth of the outdoor furniture market has been mainly fueled by the pandemic. It took a pandemic for individuals to realize the benefits of spending time outdoors for their physical and mental health. Once they did, it was only logical for outdoor furniture investments to soar in the years to follow.
Global Market Insights reports the size of the outdoor furniture market exceeded USD 15.7 billion in 2020 and is expected to grow at a compound annual growth rate (CAGR) of over 5.9% from 2021 to 2027.

Such growth is anything but surprising, as most homeowners have gradually started including outdoor furniture items on their shopping lists.
According to ICFA's survey, almost all Americans have included outdoor lighting, chairs, or firepits on their wish lists. In 2021 alone, a staggering 78% of individuals with an outdoor living space made upgrades to it in the form of adding a seating area, deck, or patio.
For many homeowners, outdoor space decorating evolved from a short-term hobby to a long-term passion during the pandemic. After making an initial investment in outdoor furniture, most homeowners decided to continue beautifying their yards and spending more time outside.
A survey conducted by Sullivans, devoted to outdoor decor consumer behavior, forecasts 2022–2023 outdoor decor sales to be strong. Fifty-nine percent of consumers have increased the usage of their outdoor space over the last two years, while 82% of them consider their outdoor areas more important than ever.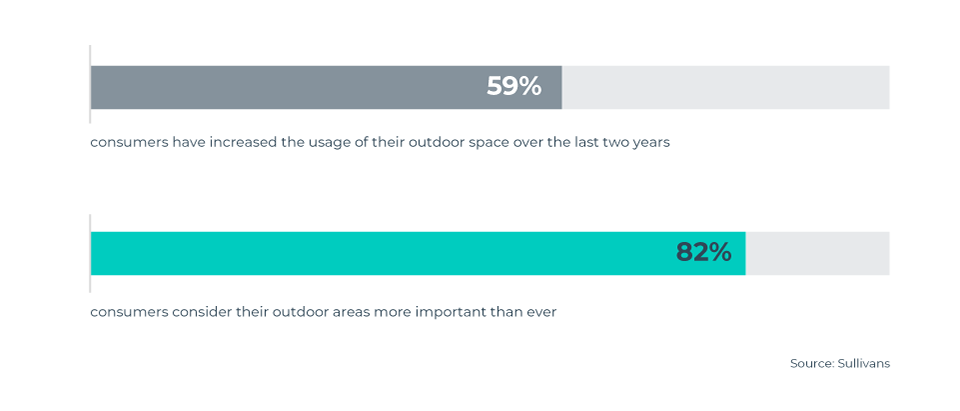 In terms of motivation for making a change to their yards or porches, half of the surveyed homeowners opted for such a change to create a relaxing atmosphere. Other desired outcomes include replacing worn-out or old decor, making the space more functional, or evolving the space's style.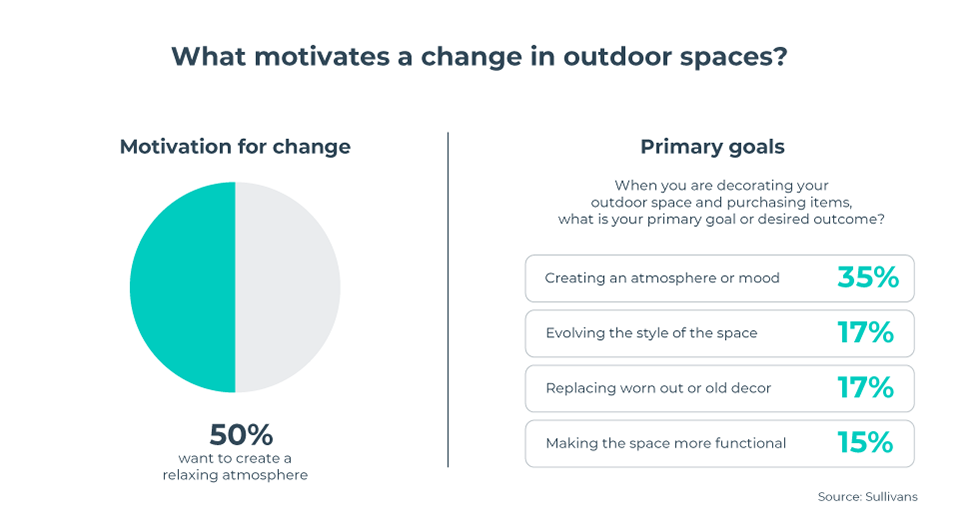 Consumers weren't the only ones gearing toward a shift in habits and interests. Many indoor furniture businesses paved the way for introducing outdoor furniture lines.
The furniture rental brand Feather partnered with West Elm and Pottery Barn to introduce outdoor furniture, including patio furniture and warm-weather accessories. Floyd is another direct-to-consumer (DTC) furniture brand that entered the outdoor furniture space by revealing new products, such as benches, tables, and stackable chairs. Upholstery supplier Classic Home also announced its entry into the outdoor category.
Hooker Furnishings entered the outdoor category by acquiring Sunset West, whose experience in designing and manufacturing outdoor furniture is over 15 years. Vanguard also made an outdoor furniture debut by introducing outdoor furniture pieces constructed with resilient, high-performance fabrics and sophisticated styling.
What are the latest outdoor shopping and living trends?
Outdoor spaces have provided individuals with entertainment opportunities for years. Unfortunately, most people took them for granted. The pandemic was sort of a wake-up call for every person to start appreciating the numerous benefits of outdoor gatherings.
The newfound appreciation for the outdoors during the pandemic prompted a multitude of homeowners to redecorate their patios, open porches, decks, and backyards.
Data from Furniture Today's Strategic Insights survey show that Gen Z put outdoor furniture on the top of their shopping lists, with 47% investing in individual seating, 40% buying group seating, and 43% purchasing occasional tables.
Millennials took the lead in purchasing dining sets, outdoor lighting, and rugs. When it comes to patio umbrellas, Gen X and baby boomers outspent younger shoppers.
Sullivans' survey provides additional insights into consumer shopping habits by reporting that 52% of consumers prefer online shopping compared to 48% of individuals choosing in-store shopping. Data shows furniture shoppers are more impulsive when shopping for outdoor decor than they are when making indoor decor purchases.

"The outdoor furniture landscape has changed forever. E-commerce and a robust online customer experience are now expected from consumers and a requirement for all retailers. People that may have been hesitant to make a purchase or shop online are now very comfortable with it, and in many cases, prefer it." - Zach McMillenn, President of Paddy O' Furniture
The majority of outdoor furniture shoppers base their shopping decisions on the durability and affordability of furniture products. Nevertheless, the atmosphere these furniture items create when placed in an outdoor setting has become valuable as well. The mindset of every modern shopper is focused on all these aspects in the decision-making process.

As time goes by, homeowners are looking for the best ways to make use of their outdoor spaces. Their ultimate goal is to transform these areas into a personal oasis while aiming for greater versatility and functionality. Consequently, outdoor living trends are prone to changes each summer.
Fixr's survey, based on the opinion of 40 home design experts, forecasts homeowners to continue creating year-round usable spaces, along with creating indoor spaces outside. Comfort remains a top feature when shopping for outdoor furniture, as it makes spaces more enjoyable and likely to be used.
Product page best practices from 10 leading players
The surge in demand for outdoor furniture motivated most outdoor furniture businesses to kick their overall website experience up a notch. Some of the most prominent players started paying more attention to the design and interactiveness of their product pages.
Let's have a look at ten outdoor furniture companies nailing the game with top-notch product pages.
Paddy O' Furniture
With more than three decades of experience, Paddy O' Furniture has grown to become one of the most trusted companies for high-quality patio furniture.
Unlike sofas, mattresses, and home appliances, outdoor furniture is an optional purchase. Aware of this, Paddy O' has a rich product page experience, with 360-degree views even for complex products such as firepits.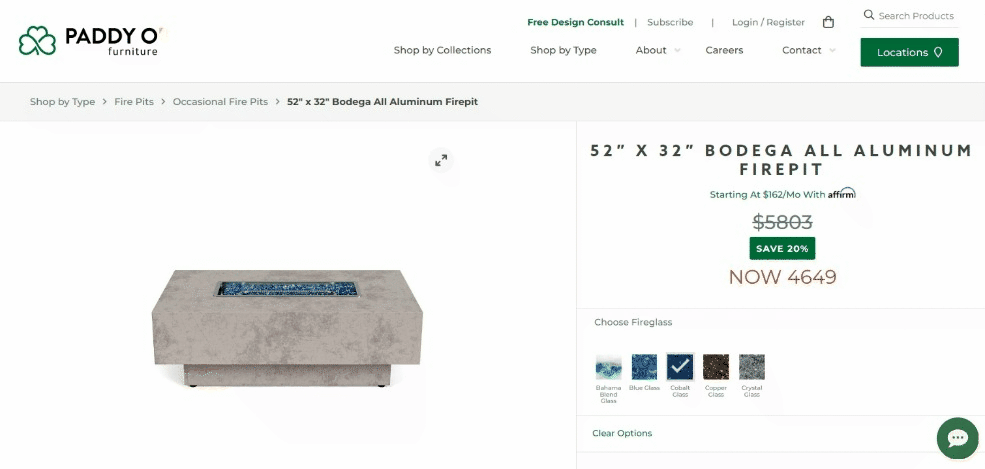 On the left side of the product page, customers can spin and zoom in on the product, and on the right, they can choose different fire glass options.
At the bottom of the page, customers can find detailed product information in the form of a product overview, dimensions, care, and assembly instructions, recommended accessories, and shipping information. All these options are displayed as a horizontal menu right below the products.
"The website experience will play a vital role moving forward as consumers embrace online shopping and have increased expectations from online retailers. Consumers demand a visually beautiful and functional website now more than ever."- Zach McMillenn, President of Paddy O' Furniture
Paddy O's product page experience is second to none in interactiveness. It also offers customer-centric features to guide visitors in making the wisest choice.
Yardbird
Yardbird is a DTC brand known for its quality and impeccable outdoor furniture. It works directly with all of its fabric, foam, metal, zipper, and wicker suppliers, thus transforming the outdoor furniture industry.
Their product pages reflect the tech-savvy approach to their business. Equipped with a product configurator, 360-degree views, alternate images, and detail shots, Yardbird offers a seamless online experience for its customers.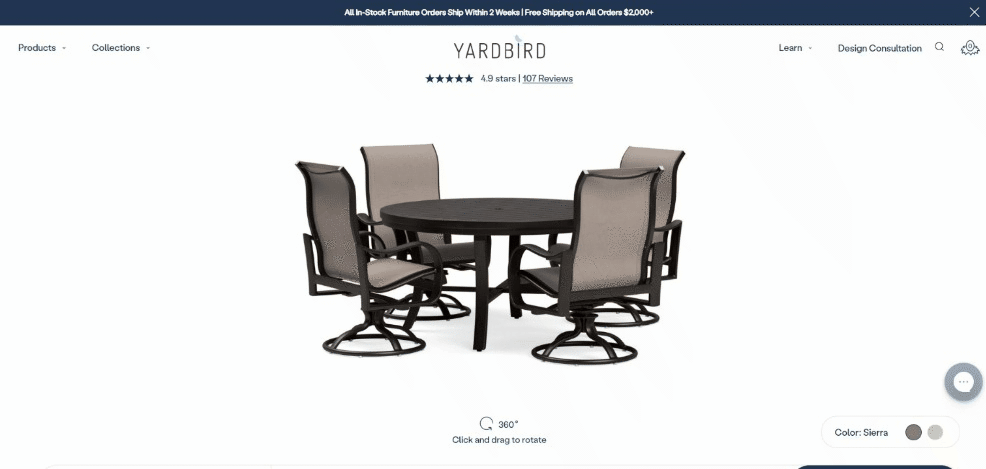 Below the fold, customers can see additional product information, dimensions, and warranty details. Besides this, the product page is enriched with customer reviews and product recommendations.
As a true industry disruptor, sustainability is at the core of their business model. In addition to manufacturing with recycled materials, Yardbird's furniture is 100% recyclable. Business Insider reported that Yardbird incorporated more than 100,000 pounds of recycled plastic into its pieces and packaging.
Sutherland
Sutherland is globally recognized as one of the leaders in luxury outdoor furniture. This U.S. brand is tireless when it comes to designing and handcrafting furniture pieces with elegant proportions and unrivaled comfort.
Sutherland's product page experience is nothing short of interactive. Customers can get a 360-degree view of most of their furniture items, use the click-to-zoom button to scrutinize the fabric and color, and choose from an array of customization options.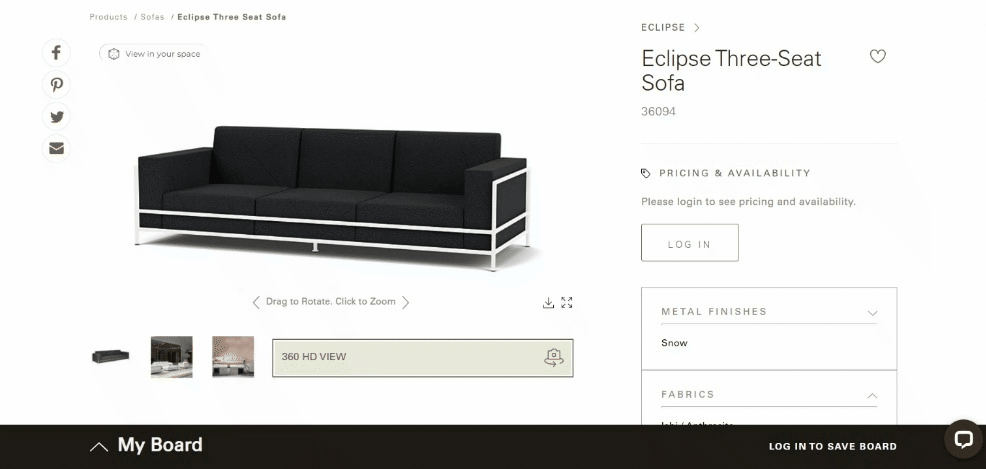 Sutherland strives to make its shopping experience even more engaging by offering web-native augmented reality. Customers can preview some of the products in their own spaces by clicking on the AR button in the upper left corner of the product visual. This button leads to a QR code that shoppers can scan to visualize the furniture piece in their environments.
Web-native AR enables Sutherland to make the transition from desktop to mobile seamless for shoppers.
Visitors are also provided with product details and specifications, an option to download a tear sheet, product recommendations, and a board to pin their favorite items on.
The shopping journey on Sutherland's website is indeed impeccable. Customers enjoy a personalized and interactive experience by using their AR, 360 viewer, 4K zoom, and customization options.
Manutti
Manutti is a Belgian furniture brand dedicated to designing and manufacturing unique luxury outdoor furniture. Its product assortment boasts iconic chairs, sofas, lounges, tables, umbrellas, and poufs, ranging from urban to rustic.
Manutti's product pages display high-quality product visuals that customers can inspect with HD zoom feature. The zoom option is beneficial for potential furniture buyers to see the color and quality of the fabric in lifelike detail. Besides this, customers can get a 360-degree view of the product and customize details such as fabrics, frames, pillows, etc.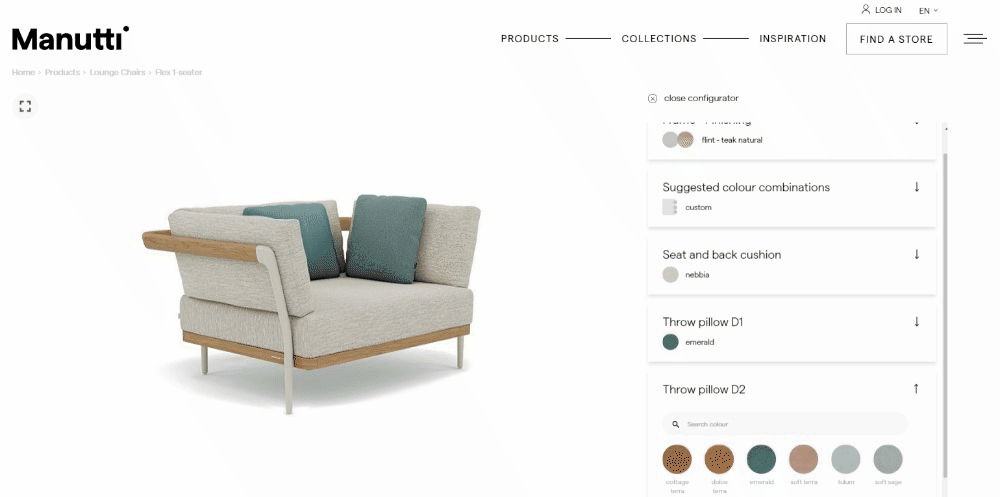 By scrolling down one of their product pages, customers come across in-context images, product specifications, collection sheet download options, and collection recommendations.
Harbour
Harbour is a distinguished U.S. furniture retailer with a strong outdoor line, offering a fusion of traditional and modern design elements. The moment visitors open one of Harbour's product pages, they see the selected product on the left and a list of customization options on the right.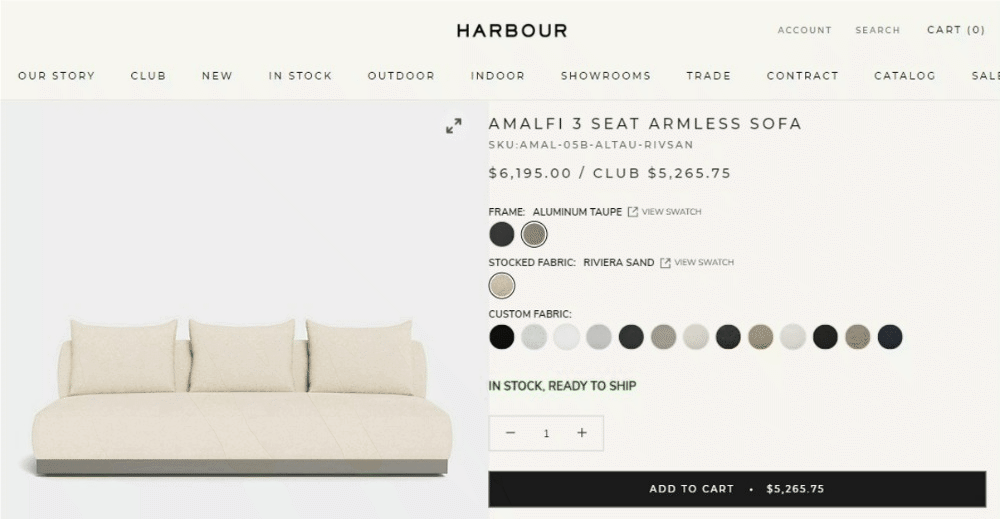 Harbour makes sure customers can choose from a variety of frames and accents. By using their configurator, shoppers can visualize any of the featured outdoor furniture pieces in different configurations. The ability to configure Harbour's furniture items facilitates the decision-making process for buyers.
Thanks to the HD zoom and 360-degree views, customers can inspect the selected piece to the slightest detail. Apart from the product configurator, Harbour's product detail pages (PDPs) are equipped with alternate angle images, detail shots, and lifestyle images, as well as product specifications and product recommendations based on recently viewed items and ones that might be of interest to shoppers.
Outer
Outer is a U.S. DTC brand boasting luxurious materials and exquisite craftsmanship in its outdoor furniture production. Its dedication to sustainability and longevity is crucial in the process of creating intuitive solutions.
The product page experience revolves around customization and product details. Customers can configure Outer's outdoor furniture items in different fabric colors by choosing from the customization options on the right. In-context images are available as well.
Below the "add-to-cart" button, there's an extensive list of product details, including product highlights, dimensions and weights, materials, care and maintenance, shipping, return, and warranty. Outer provides all these details to help customers make informed choices.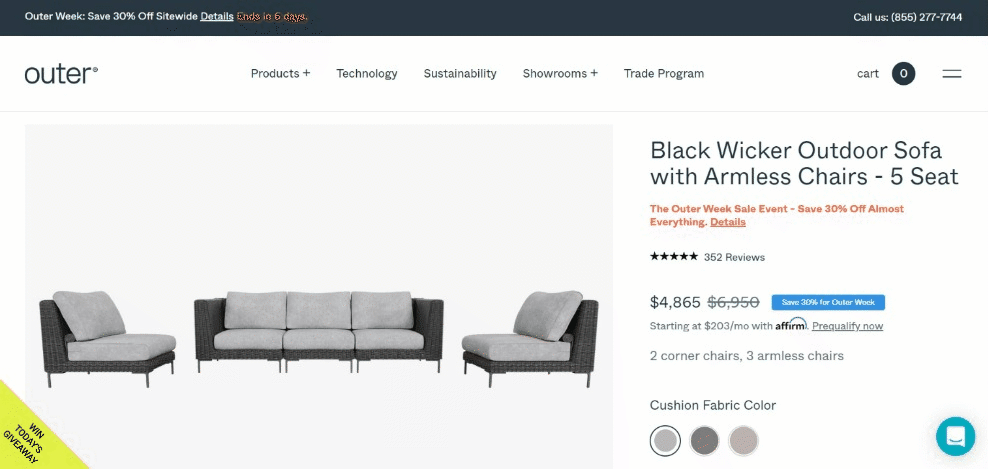 The bottom of the page is reserved for a FAQ section and product reviews.
In general, Outer's product page experience is clean and straightforward. There's room for improvement in terms of making the experience more interactive by adding HD zoom, a 360 viewer, or alternate angle images.
Frontgate
Frontgate is a prestigious U.S. retailer devoted to designing and creating stylish, comfortable furniture pieces of superior quality. It relies on premium fabrics and superb craftsmanship to exceed customers' expectations.
After selecting the outdoor & pool category on Frontgate's home page, visitors can choose from the assortment of outdoor collections. Its product page experience focuses on interaction by offering 360 views on some furniture pieces, along with in-context images and alternate angles.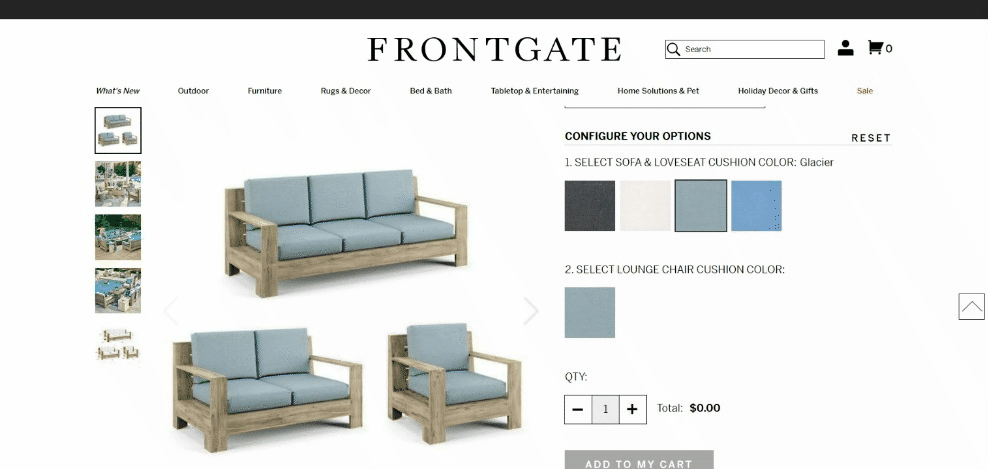 Apart from spinning products in 360, customers can configure their upholstery color and fabric. Another feature that contributes to the overall shopping experience is HD zoom, providing shoppers with a close-up view of the fabrics.
Detailed product specifications, recommendations, and product reviews are available on every PDP.
All in all, Frontgate's product pages provide a hands-on experience aimed at increasing buyers' confidence.
Neighbor
Neighbor is a U.S. outdoor furniture brand based on exquisite craftsmanship and sustainability. Its furniture items are designed to last a lifetime without sacrificing beauty or comfort.
Neighbor relies on alternate angle images and in-context imagery to provide an appealing product page experience for customers. Visitors can customize their outdoor furniture pieces by using the product configurator on the right.
While customization is certainly an attractive feature, Neighbor's product pages are also packed with detailed product information, product reviews, and frequently asked questions.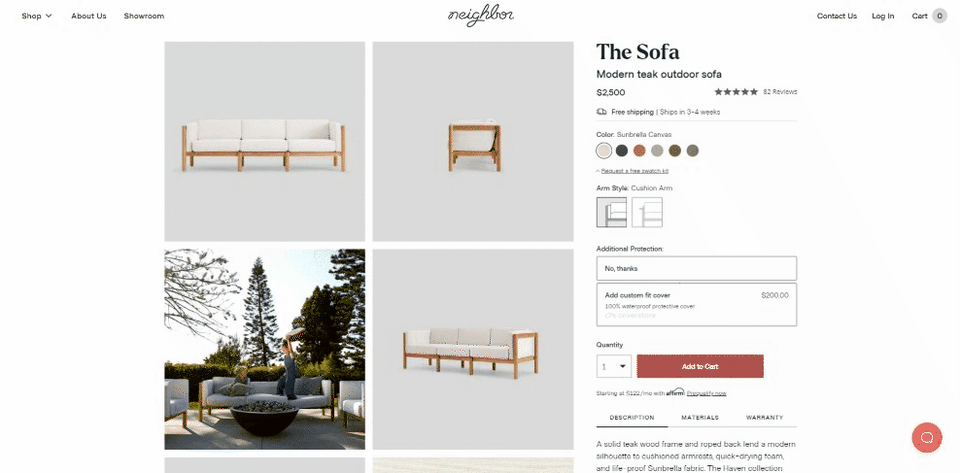 Customers always appreciate unbiased feedback when shopping online, especially when they're about to make big-ticket purchases. Neighbor offers a separate review section that allows shoppers to filter reviews based on ranking, date, votes, and image presence.
In a nutshell, Neighbor's product page experience is designed to facilitate the purchasing process for customers. Nevertheless, it could benefit from additional features, such as 4K zoom, a 360 viewer, and augmented reality to be even more enjoyable.
Polywood
Polywood is a sustainable outdoor furniture brand with over three decades of experience under its belt. Their zero-waste mission goes beyond recycling plastic by transforming it into polywood lumber used for manufacturing weather-resistant outdoor furniture.
Polywood's PDPs are equipped with 360-degree views, alternate angles, in-context imagery, product videos, and a product configurator. Since a 360 viewer isn't available for all products, alternate angles compensate for the lack of it where needed. Both features, however, make sure customers enjoy a pleasant and interactive shopping experience.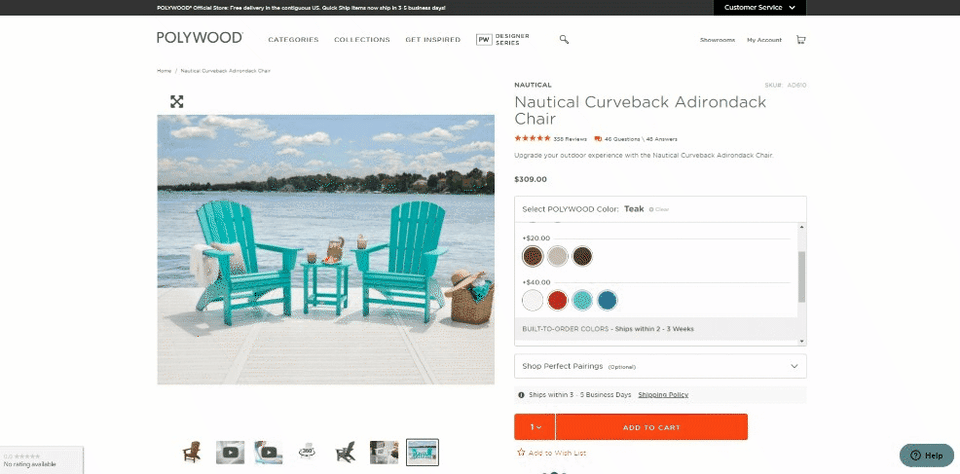 Additional information is available in terms of product details, customer gallery, reviews, Q&A, and best-seller recommendations. Polywood's customer-centric approach to its PDPs allows shoppers to make reasonable decisions. Nevertheless, a 4K zoom would be a nice addition, given its potential to improve the scrutinizing process.
Fortunoff
Fortunoff has a century-long record of success in the outdoor furniture industry. It offers an extensive assortment of unmatched outdoor furniture and accessories, with a special focus on patio furniture.
Alternate angles and detail shots are at the heart of their product pages. The former enables shoppers to see the product from different angles, whereas the latter provides a close-up view of the fabric, frame finish, and color.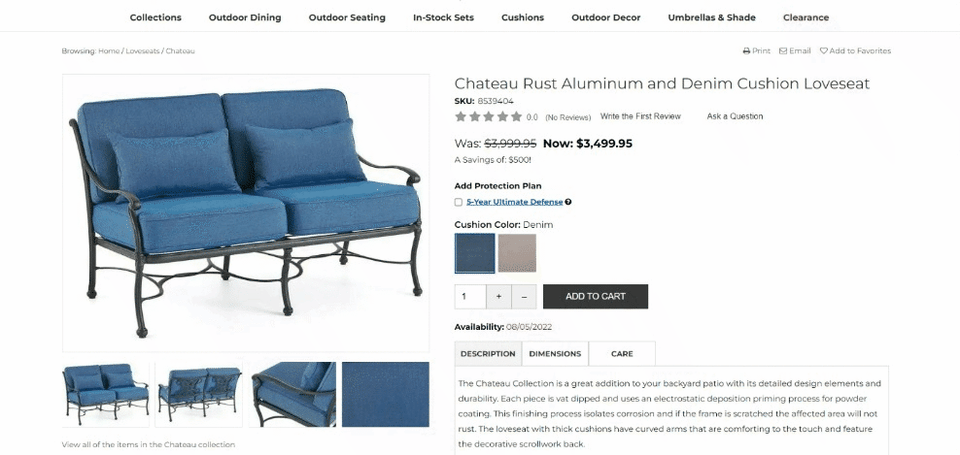 Product customization enhances the shopping experience even further by ensuring customers get a chance to visualize furniture pieces in different configurations. Fortunoff's PDPs are also enriched with product specifications, recommendations, and reviews.
The overall product page experience is pleasant and informative. Implementing more features, such as a 360 viewer, 4K zoom, and augmented reality, would definitely improve the furniture shopping process for customers.
The next chapter for outdoor furniture businesses
Outdoor furniture has become one of the fastest-growing furniture categories. If you haven't implemented a 3D visualization solution yet, it's time to enrich your product page experience with high-quality product visuals, AR, 360-degree views, 4K zoom, and lifestyle imagery.
Ready to jump on the bandwagon?