In the last couple of years, people have grown tired of staying in their homes due to the pandemic, so they started spending more time outdoors, either in their yards or on their balconies and rooftops. As a result of their need to be outside, they invest a lot of money and effort to make their time outside more enjoyable.
According to a survey from the International Casual Furnishings Association conducted at the beginning of 2021, people are spending more time outside. From relaxing, grilling, and gardening to exercising, dining, and playing with children and pets, the pandemic reminded everyone how valuable a breath of fresh air is.
The survey also revealed that nearly six in ten Americans (58%) plan to buy at least one new piece of furniture or accessories for their outdoor living spaces this year.
Due to this increased intention for purchasing outdoor furniture and accessories, furniture retailers and direct-to-consumer (DTC) brands began introducing more and more furniture products for outdoor living on their websites. They wanted to make their customers' outdoor living spaces more comfortable, regardless of whether they were using the space for work or gathering with friends and family.
"Since the outbreak occurred, we all are spending more time at home and we have experienced an increase of consumers utilizing their outdoor spaces as an extension of the home." - Zach McMillen, President of Paddy O' Furniture
Furniture businesses invested money and energy to find the best way to present online outdoor furniture products to their customers. They not only tried to produce furniture products that matched their customers' needs but also followed the latest technological developments for displaying the products online.
The impact of COVID-19 on the outdoor furniture industry
Being outside and enjoying nature is scientifically proven as beneficial for human mental health. And, for many people, both our mental and physical health have been strongly and negatively affected by the COVID-19 pandemic for over a year. Since the lockdown began, people have started spending more time outdoors, and therefore, they started investing more in outdoor furniture.
The outdoor furniture market was marking a steady rise even before the pandemic started. According to Global Market Insights, the size of the outdoor furniture market exceeded $18.15 billion in 2019 and was expected to grow at a compound annual growth rate (CAGR) of over 4.8% from 2020 to 2026.
Although a major part of the numbers started rising as a result of the lockdown due to COVID-19, an Outdoor Living Report by Brown Jordan stated that 82% of American homeowners are more interested in updating their outdoor living spaces than they were prior to the pandemic. As a result, the outdoor furniture market experienced a huge increase in the sales of couches and chairs, as well as in other furniture products such as tables, lights, and outdoor rugs.
In a Statista report, the global outdoor furniture market value for 2021 is estimated at $17.1 billion. And this market value is expected to increase up to $22.9 billion by 2027.
People also started adding novelties to their outdoor spaces to make their lives more enjoyable. They bought new outdoor seating and invested in a greener environment for their yards, balconies, or rooftops. The number of people wanting to make changes to their outdoor living spaces supports the uprise of the outdoor furniture industry.
According to an online survey by the International Casual Furnishings Association shared on Furniture World, 90% of Americans think that the outdoor living spaces are more valuable than ever before, and 78% made outdoor upgrades during the pandemic.
"The outdoor furniture landscape has changed forever. E-commerce and a robust online customer experience are now expected from consumers and a requirement for all retailers. People that may have been hesitant to make a purchase or shop online are now very comfortable with it, and in many cases, prefer it." - Zach McMillen, President of Paddy O' Furniture
Just like there has been a high demand for indoor furniture throughout the pandemic, the same applied to purchasing outdoor furniture and accessories online. Furniture businesses that were more oriented toward selling indoor furniture now started introducing outdoor furniture as well.
The furniture rental brand Feather partnered with West Elm and Pottery Barn to introduce outdoor furniture, including patio furniture and warm-weather accessories.
Floyd is another DTC furniture brand that entered the outdoor furniture space by revealing new products, such as benches, tables, and stackable chairs.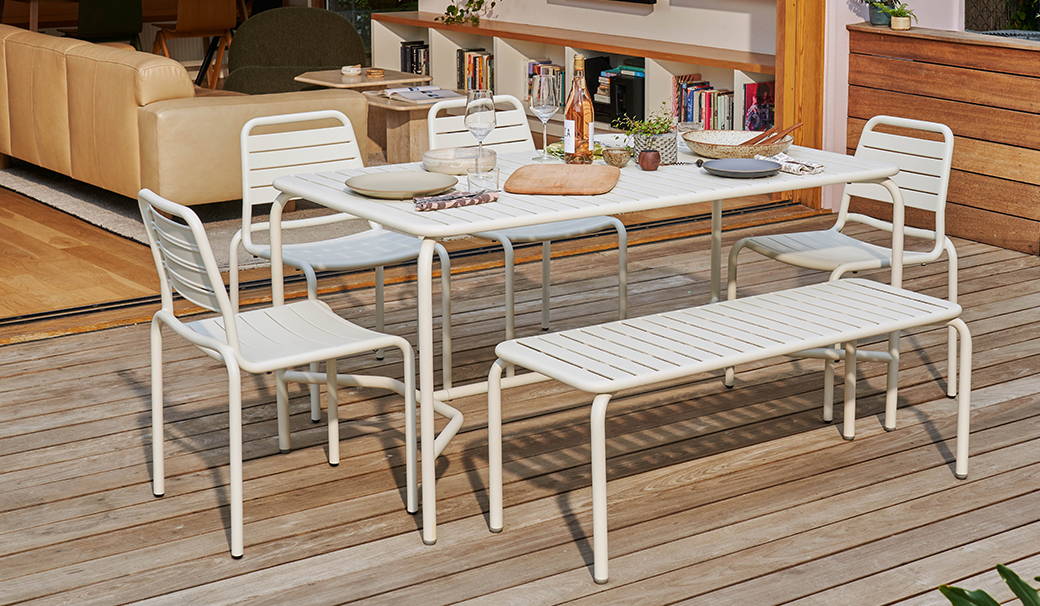 Millennials are shaping the future of the outdoor furniture industry
Outdoor furniture is usually pursued during the sunny and warm days when people want to spend more time outdoors. However, since the pandemic started, the demand increased, and customers began purchasing seating furniture and other products for outdoor living throughout all seasons.
When people began gathering outdoors, outdoor furniture sales numbers started rising because those who wanted to spend more time outside were buying more than just furniture. The need for other outdoor products beyond seating pieces imposed new trends on the market. In an article by Furniture World, it is reported that people who want to transform their outdoor spaces already have an idea about what they want. The most desired items on the list for renovating their outdoor areas are outdoor lighting (52%), lounge chairs or chaises (51%), fire pits (49%), and dining tables with chairs (42%).
Besides this, there are also generational differences that affect purchase behavior. According to the same survey, 53% of millennials are expected to purchase several pieces of outdoor furniture in comparison to the 29% of Boomers who would do that. Millennials even buy music and television equipment and boosters for their Wi-Fi routers to enjoy in their outdoor spaces.
Looking at their preferences for outdoor furniture, we can see that millennials prefer products that make their outdoor living spaces cozier, such as sofas, bars, rugs, and throw pillows.
To extend their time outside, they also purchase lighting to stay in their patios longer at night. In addition, to protect their outdoor equipment and themselves during the long summer days, they buy patio umbrellas to keep them safe from the sun.
A new survey from Zillow shows that more than 1 in 10 Americans (11%) have already moved during the pandemic. The noticeable pattern is that people are choosing bigger and less expensive homes in the suburbs. Now, they're on the hunt for furniture to fill up the empty spaces.
Product page best practices from leading outdoor furniture businesses
The surge in demand for outdoor furniture resulted in increased website traffic for businesses in the space. As a result, outdoor furniture players prioritized their digital merchandising and overall website experience.
Let's look at a few outdoor furniture companies that are nailing the game with top-notch product pages. You can see best practices from both furniture manufacturers, as well as DTC brands.
Brown Jordan
Brown Jordan is a large furniture brand that has been selling luxurious outdoor furniture since 1945. This Californian brand has been creating luxury outdoor furniture with iconic design and enriched taste that distinguishes itself from other brands. And that is precisely the reason why it is one of the furniture brands that stands out when it comes to outdoor living.
Brown Jordan has recently launched a new website enriched with high-quality product visualization, 360-degree viewing capabilities, and 4K zoom.
Besides the product configurator, where designers and customers can choose different fabrics, frame finishes, and throw pillows, they can also download a spec sheet with the selected configuration.
The new website enables architects, designers, and consumers to browse through the collections with greater speed and ease. Using the search feature, visitors can navigate the website easier and filter filters by collection, designer, and style.
Besides this, design professionals can access the 2D and 3D renderings and download them through the design portal.
Paddy O' Furniture
With more than three decades of experience, Paddy O' Furniture has grown to become one of the most trusted companies for high-quality patio furniture.
Unlike sofas, mattresses, and home appliances, outdoor furniture is an optional purchase. Customers buy it to enjoy their outdoor space — so it goes without saying that the online shopping experience should be engaging and straightforward.
Aware of this, Paddy O' has a rich product page experience, with 360-degree views even for complex products such as fire pits. On the left side of the product page, customers can spin and zoom in on the product, and on the right, they can choose different fire glass options.
"The website experience will play a vital role moving forward as consumers embrace online shopping and have increased expectations from online retailers. Consumers demand a visually beautiful and functional website now more than ever." - Zach McMillen, President of Paddy O' Furniture
Customers can find detailed product information, as well as related product recommendations, at the bottom of the page.
Besides the highest quality of its plush seating, outdoor dining sets, poolside furnishings, umbrellas, fire pits, and accessories, Paddy O' is also known for its best-in-class warranties and exceptional customer service.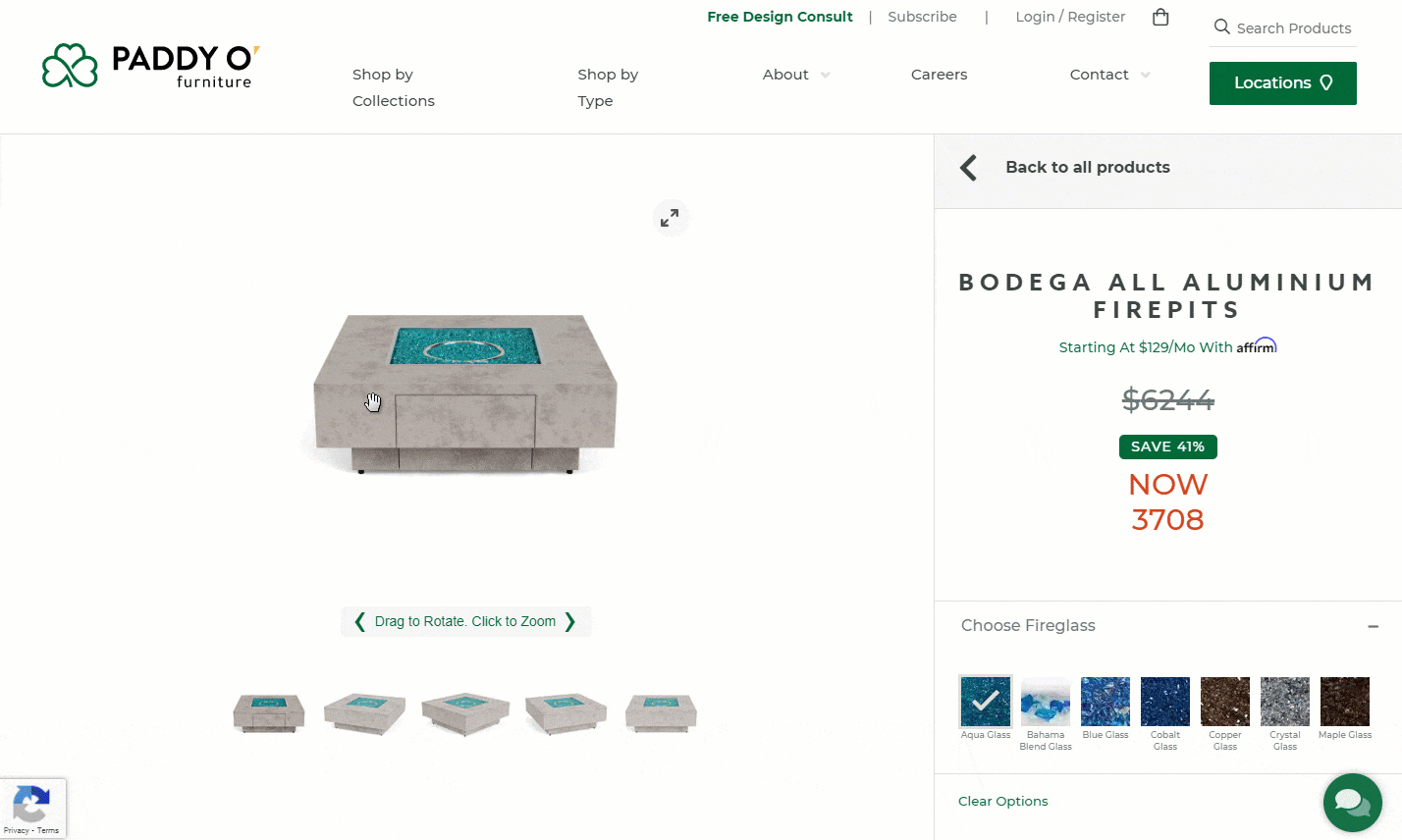 Yardbird
Yardbird is a DTC brand known for its quality and impeccable outdoor furniture. Founded in 2016, Yardbird witnessed great success, and the business has been consistently doubling year-over-year.
Yardbird works directly with all of its fabric, foam, metal, zipper, and wicker suppliers, thus transforming the outdoor furniture industry.
Their product pages reflect the tech-savvy approach in their business. Equipped with a product configurator, 360-degree views, 4K zoom, alternate images, and detail shots, Yardbird offers a seamless online experience for its customers.
Below the fold, customers can see additional product information, dimensions, and warranty details. Besides this, the product page is enriched with customer reviews and product recommendations.
As a true industry disruptor, sustainability is at the core of their business model. In addition to manufacturing with recycled materials, their furniture is also 100% recyclable. Business Insider reported that Yardbird incorporated more than 100,000 pounds of recycled plastic into its pieces and packaging. Being an eco-friendly company while still providing quality products is another of the future trends of the furniture industry.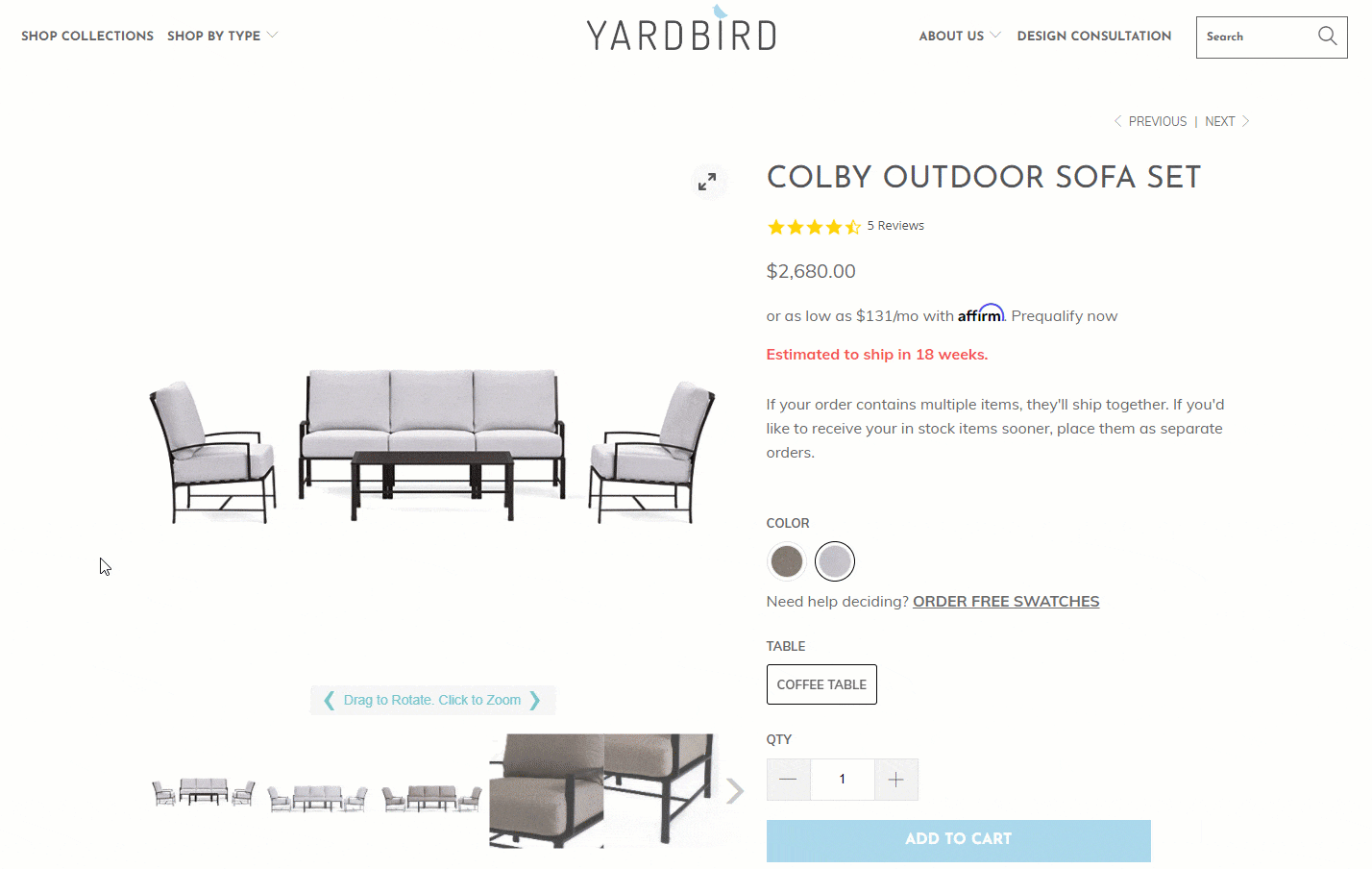 Ready to explore 3D product visualization?
The demand for outdoor furniture was on the rise even before the pandemic. This is the fastest-growing furniture category, and COVID-19 seemed to accelerate that even more.
If you're looking for ways to enrich your product page with high-quality product visualization, 360-degree views, and 4K zoom, let's talk.
We can help you create future-proof 3D assets that you can leverage across channels and platforms.