We are witnessing a shift in retail.
As of November 2018, U.S. retailers announced 5,006 store closures and 2,846 store openings for the year, according to Coresight Research. But the fact that almost twice as many stores are closing as new ones are opening doesn't mean that the store as a concept is finished. Rather, it indicates that boring stores are dying out. The showrooms transform from discovery and research into a transactional destination. Which is why tech-savvy companies will focus on customer-centric stores and downsize their physical footprints, having fewer and smaller, but more impactful and experience rich stores.
According to Statista, worldwide online furniture sales are expected to increase at an average annual growth rate of 11.9% between 2018 and 2022, resulting in a market volume of $294 billion in 2022. If retailers want to take a bigger piece of the pie, they have to focus on selling experiences, not just products.
The Importance of Visualization Strategy
Furniture retail is still very much omnichannel, and it requires both online and in-store interactions before the consumer is ready to buy. In fact, according to Marketing Land, it takes around six touch points, both online and offline, before the consumer is prepared to pay for your product.
Customers want to know exactly what they are going to get. The biggest challenge of bridging the gap between online and offline shopping is effectively visualizing products.. Today, the furniture purchase journey starts online for more than 70% of consumers. Focusing on superior product visualization will continue to be a driving factor for e-commerce success in 2019.
We've seen a huge advancement in product visualization in the last decade.
The furniture industry used to rely on product photography and 2D based tools - now we're truly moving into a 3D era.
More companies are replacing traditional product photography as they are becoming aware of the advantages that 3D visuals have, tipping the balance in this new technology's favor. While 2D assets are static, hard to modify and repurpose, 3D assets are smart, agile and can be repurposed easily.
Today it's almost impossible to notice the difference between a photo and CGI due to the high quality of the renderings. Also, 3D creates unmatched scalability, enabling furniture companies to visualize a whole catalog with all of their product options, while shaving down costs. Adding new fabrics to a product is easy once you have the core 3D asset.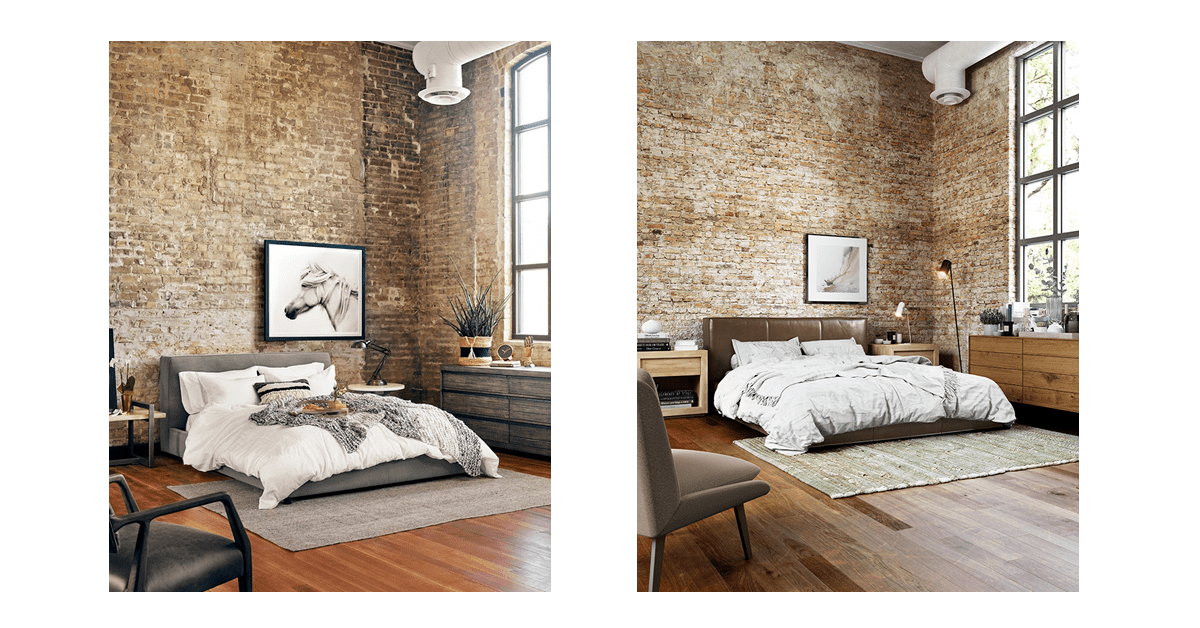 You can't tell the difference between a photo and CGI nowadays
So even though you have decided to implement 3D technology, it's important to think strategically about your asset library and the chronology in which you will adopt and implement 3D technologies.
What Should You Consider When Creating Your Furniture Visualization Strategy?
When we talk about 3D product visualization, 4 interesting technologies are on retailers' radar for 2019 and beyond: 3D product visualization platforms, augmented reality, virtual reality and space planning. We talk about the pros, cons, benefits and use cases for each of them in our Ultimate Guide In 3D Visualization Technologies for Retail.
Today, we'll go through the factors you need to consider when creating your furniture visualization strategy. These tips will help you get a clear picture of what 3D technology is right for your business.
Without further ado, here are the 7 things you need to consider before setting a game-changing furniture visualization strategy:
1| 3D Asset type
There are two types of assets required to power 3D visualization technologies: high and low polygon assets. A low poly asset is a 3D polygon mesh that has a small number of polygons, so it often appears blocky and lacks detail. However, it still demonstrates the basic shape. High poly assets, on the other hand, have an enormous amount of polygons, creating superior finishes and a photorealistic look.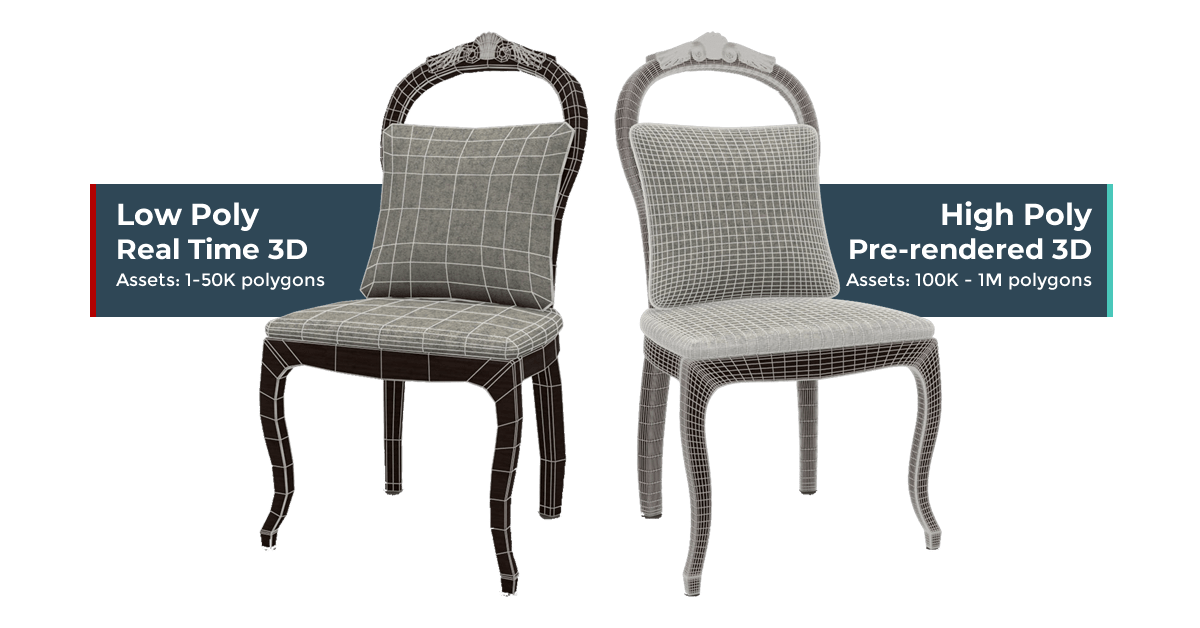 At this stage, only 3D product visualization technology utilizes high poly assets. All of the other 3D technologies like augmented and virtual reality, as well as space planning, are powered by low poly assets. That is why these visualizations are not photorealistic, and you can't use these assets for other purposes (product feeds and thumb images, marketing campaigns on social media and email, catalogs, etc.).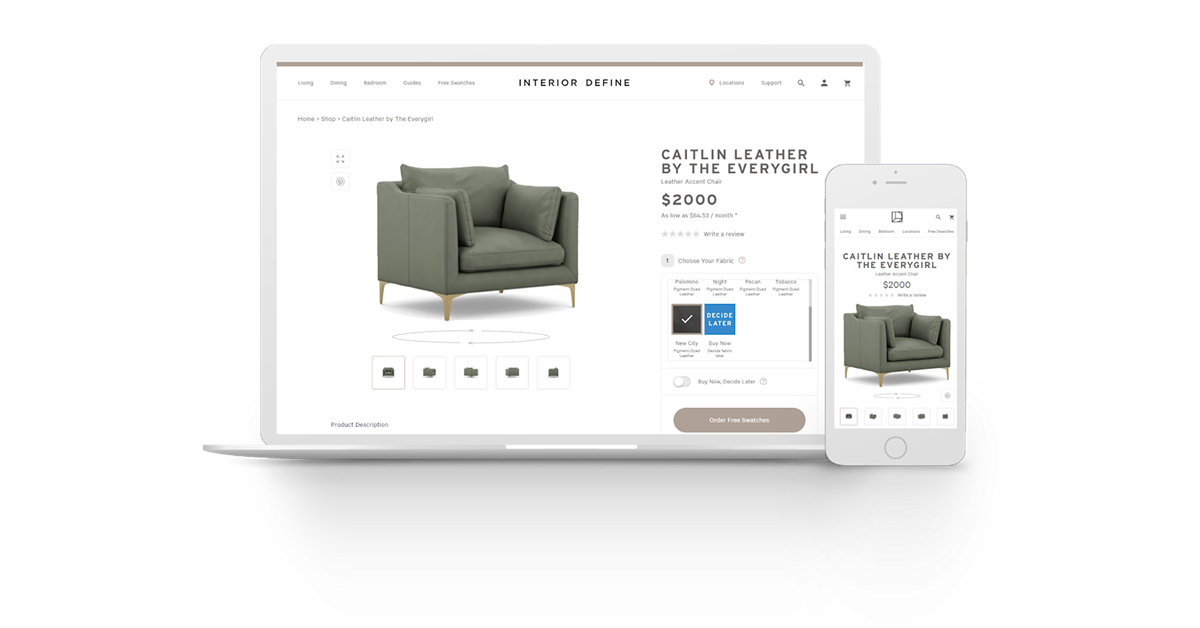 Interior Define sets new standards for online and in-store furniture visualization
When we talk about 3D asset type, the most important thing you should remember is that you can convert high poly models to low poly, but not the other way around.
TIP:
If you want to create a future-proof content library of assets that you can leverage across channels, focus on 3D product visualization technology first, and then experiment with digital realities (augmented and virtual reality) later. Launching a new augmented reality app is easy if you already have the core 3D assets.
2| Primary Users
The companies who adopt technology just for the sake of being cutting-edge will eventually do themselves more harm than good. Make sure that you understand who the primary users of the technology you want to introduce are and think about the purpose - will it bring relevant experiences to those users?
The primary users of 3D product visualization technology, as well as augmented and virtual reality, are consumers. Millennial and Gen Z shoppers are especially excited for browsing furniture with augmented reality. According to Interactions, around 60% of US internet users want to use AR to buy furniture.
When we talk about space planning, even though it's a user-friendly tool, it involves a lot of functionalities, and there's a complexity and a learning curve involved. So the best practice is to invest in training and onboarding of store associates as this is a tool for guided visualization.
TIP:
Know your customers. Baby Boomers or Millenials? Online or in-store shoppers? These answers are crucial in getting a clear picture of what the most suitable technology is for your business.
3| Ideal Channel
Even though most companies focus on omnichannel strategies, every technology is different and typically suits one type of channel more than with another one. Due to expensive headsets and low adoption rate of the technology at this moment, VR is really only suitable for enriching the in-store experience. AR is a completely different case. The main purpose of AR is to give customers the possibility of visualizing a piece of furniture in their home. Space planning is more suitable for in-store sales rather than online. Product visualization with 360-spin helps furniture brands and retailers create engaging shopping experiences online, while also creating an endless aisle in-store, using the technology to show an unlimited number of colors, textures and fabric variations.
TIP:
Think in terms of channels and experiences that you will introduce with a certain technology. Both 3D product visualization and augmented reality can be an effective means for delivering rich online experiences. Virtual reality and space planning are primarily in-store tools, as the customers will need assistance to understand and use the technology for the right purpose. 3D product visualization provides more versatility in comparison with the other technologies, and it can help you bridge the online-offline gap.
4| Expected ROI
The starting point for setting up a product visualization strategy is defining your goals. One of the main differences between different 3D visualization technologies is their expected return on investment. Whether you want to increase your conversion rates, boost customer confidence, create immersive shopping experiences or entertain customers - it's up to you to decide and set the product visualization strategy. After that, then you can choose the right technology that will lead to the desired results.
If you use high-quality 3D product visualization, you can expect a 20-70% increase in conversion rates. The actual uplift depends on many other factors: what technology you've used before, your audience, how you build the product page and overall website UX, the product visualization technology you use, etc.
Increased conversion is the expected ROI for AR as well. However, AR still has a long way to go until it is mainstream, mainly because of user experience. Even though many companies experiment with this technology, the overwhelming majority of them are using low poly.
When it comes to space planning, the expected ROI, in this case, is increased average order value. Research shows that a space planner helps furniture companies increase average sales value by 3 times.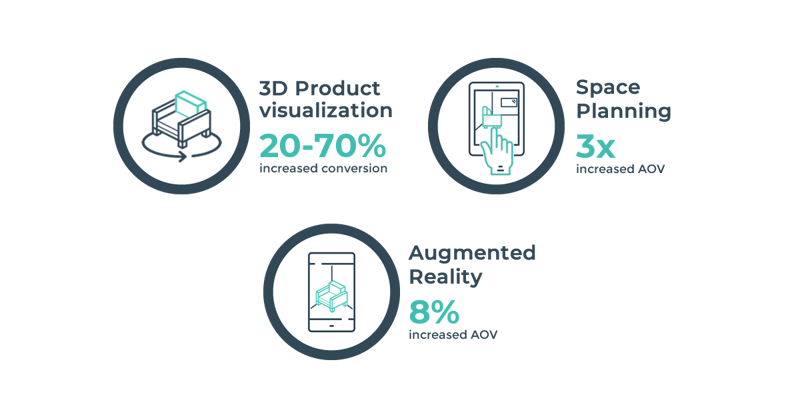 There's a great buzz around virtual reality - but it's still too early to talk about VR in terms of measurable ROI. At this point, there are 19M total active VR devices, compared with 2.5B smartphones. Besides needing a much broader distribution of devices, VR also requires specialized software to run - and content of virtual worlds and products for it to be truly meaningful - so that's a big upfront investment. It's pretty safe to say VR is not going to be consumer mainstream any time soon. However, for now, if you invest in VR, you can expect increased brand image, especially in the eyes of Millenials and Gen Z.
TIP:
Ask yourself what do you want to achieve with the technology? Do you want to increase conversion rates, introduce interactive shopping experiences, or be known as an innovative company that invests in cutting-edge technologies? Make sure you know the answer before you decide to invest in any 3D visualization technology.
5| Adoption Rate
It's a no-brainer that if you introduce a specific technology, you would like to see as many people as possible accepting it and interacting with it. That's why the adoption rate is one of the most important aspects you should take into consideration when deciding about product visualization technology.
If you have 3D product visualization on your website, it's very likely that everyone that visits your site will see the 3D visuals. So, that means that the adoption rate for this technology is close to 100%. As we are seeing that more and more people start their shopping journey online, your website becomes the first touchpoint and first impression of your brand.
Moving on, even though people want to use AR to shop for furniture, research shows that nearly 85% of mobile users only spend their time on 5 apps. That means that other apps are competing for 15% of people's time. According to research from The Manifest, most people delete an app because they weren't using it or it didn't meet their needs. However, a surprising number of people (25%) remove an app due to storage space on their phone. If we observe this statistic through the furniture industry lense, and if we consider that furniture is not a frequently bought item, it becomes clear that there is a big chance that customers won't bother downloading the app.
When it comes to virtual reality, this technology is still a long way from mainstream. It currently reminds us of the chicken or the egg analogy.There has to be enough compelling VR content so customers can see the value of it andinvest in the hardware. However, there also needs to be enough good use cases so that retailers will consider pouring more money into it and develop the content. For now, it remains an in-store technology, and not everyone that comes to your store has the time, or will want to use VR to visualize a product when they can see the product for themselves in the store.
As mentioned previously, space planning with VR can become a powerful in-store tool in the hands of a smart store associate. However, this tool is more for customers that plan to equip their entire home, or plan to buy several products. A customer that plans to buy a single product, like a sofa, is less likely to invest time in visualizing their space with this tool.
TIP:
Consider your goals and how you can make the most out of an investment in 3D visualization technology. It's always better to take care of the aspect that will be visible to most of your customers, i.e. your website, as that is the first touchpoint in most cases. After you make sure that you have a good first impression and foundation, then you can invest in immersive technologies for the tech-savvy segment of your buyers.
6| Use Cases
Different technologies are used for different use cases.
3D product visualization will help you with product personalization and creating a unified omnichannel experience. This is a logical and justified investment for products with a high number of variations, but it also applies to products with one variation, because once you have the core 3D asset, you can leverage it across channels and platforms, thus maximizing the value of the asset.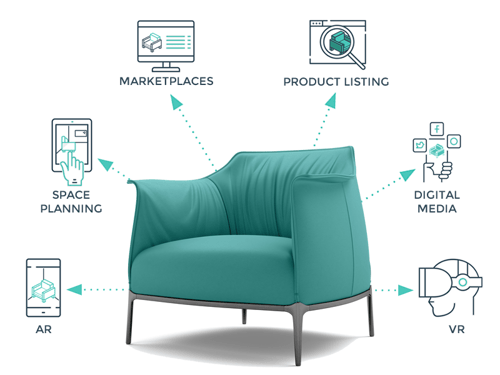 Customers use augmented reality to visualize virtual products in a real environment. With AR customers can "try before they buy" as they can insert virtual objects, such as sofas, tables, and chairs, into their home and immediately see how the piece of furniture would look. This way customers can virtually "try out" furniture, and not worry about bad decisions in interior design or decoration, which removes a huge weight from their shoulders before the big purchase.
With virtual reality, you can introduce immersive virtual store experiences. Furniture retailers experiment with this technology to attract more customers in-store and to eventually create the store of the future, which has limited physical space, but offers unique, immersive experiences.
Space planners are a helpful visualization tool that let brands and retailers turn 2D blueprints into realistic 3D models. This technology allows users to insert 3D furniture replications directly into their space, helping them visualize how the room would look with the new setting.
TIP:
Having a 3D visualization technology is not a goal by itself; it's a tool to help you offer customers what they are looking for, thus increasing sales. Make sure that you understand what your customers want and invest only in relevant technologies and experiences.
7| Investment Cost
When deciding on new technology, one of the first things that retailers think is: how much is this going to cost? When we talk about visualization technologies, the best way to answer this question is to look through the prism of costs, ROI and adoption rate. In this particular case, there are medium investment costs for 3D product visualization, augmented reality and space planning. For virtual reality, on the other hand, the costs are still high due to the expensive equipment and the low adoption rate.
TIP:
Make sure to define all the previous aspects we've mentioned above before deciding on a product visualization technology. You want to make the best decision and invest in a technology that will give you your desired ROI, whatever that may be.
This is just the tip of the iceberg. Deciding on the right 3D product visualization technology for your business is a multifaceted process. If you want more insights that will help you choose the right technology, as well as examples and game plans for different technologies, check out our 40-minute, on-demand webinar, where our CEO Janus Jagd talks about different ways to use 3D furniture visualization technologies to create interactive, content-rich websites and delightful shopping experience.
Ready to reinvent your product visualization strategy and significantly increase sales?