One thing's for sure: E-commerce has changed the way we shop. People buy while scrolling on social media, they use voice search to find what they need on-the-go, and they expect to find information quickly. Quality experience has no alternative. Customers are more empowered than ever. With the customer journey shifting online, the quality of the experience that customers receive can determine whether they buy or not.
Traditional retailers were faced with constant disruption from the digital pure-plays for many years. Now, they are stepping up their game, experimenting with new forms of engagement both online and in-store to deliver more compelling customer experiences.
As the purchase journey starts online for more than 88% of consumers, it's clear that digital merchandising can make or break your business.
The starting point when rethinking the complete journey is the look and feel of your website.
One of the most common dilemmas when it comes to e-commerce, especially for furniture brands and retailers is whether to use traditional product photography or 3D visualization.
It's time to debunk myths and answer all the questions related to product visualization.
What is the right choice for you: Traditional product photography or 3D visualization?
In this post, we'll set up some rules of thumb to help furniture brands and retailers decide between the two options.
1. Quality and realism
First things first, if you want to keep pace with leading furniture brands and retailers top-notch quality is a must. One of the biggest concerns that companies have when choosing between product photography and 3D visualization is how realistic the images will look. In the early stages, when 3D was still a novelty, the realism was not at a high-quality level. However, today it's almost impossible to notice the difference between a real photo and CGI. It's no surprise that 75% of images in the IKEA catalogs are CGI, and yet they look like the real deal. Thanks to advanced technology, renderings are often more color correct than photography. Moreover, 3D renderings can do things that photography just can't do - 360-degree spin, product cutouts, and interactive room scenes. Today, we are not just talking about almost realistic 3D renderings, but rather renderings with features that empower engaging shopping experiences. So, when it comes to quality and realism - we can call it a tie.
2. Product customization
Customers crave personalized experiences, which is why product customization is important. It's in our nature. We like having choices because it makes us feel powerful. It makes us feel in charge. According to a survey conducted by Deloitte, as much as 71% of customers who customize a product stated that they would be prepared to pay a premium price for it. If you want to showcase as many configurations and options as possible, then you should consider using 3D visualization, because organizing a photoshoot for furniture pieces with different fabric, texture, and details can be very costly and time-consuming. Read what Interior Define did when they realized that product customization is essential, especially for e-tailers. Traditional photography can't hold a candle to 3D product visualization in customization.
3. Environment control
This was a real pain point until a few years ago. You can't control weather conditions when organizing a photoshoot, and it can significantly influence your plans and deadlines. Imagine that expensive outdoor sofa you wanted to photograph beside the pool, then, all of a sudden, rain starts. Not the best scenario right? With 3D visualization, things are a lot more simple. Lighting, staging, shadows, reflections - everything can be adjusted the way you need it to look. It will save you a lot of energy, and it will spare you headaches. Another point for 3D visualization.
4. Visitors engagement
In our high-impulse society, people are in constant pursuit of instant gratification. They get bored very easily, so you have to offer engaging experiences in order to grab their attention. When we're talking about visitor engagement, 3D visualization is unbeatable. Interactive 3D gives you the power to convert your audience from passive viewers into active participants, thus, increasing the time spent on the site, and ultimately boosting sales. Customers want to know exactly what they are buying. Give them a chance to view the product from every angle and change the colors and fabrics, this will bring them closer to the "add to cart" button. Read how 360 views increase conversions and engagement.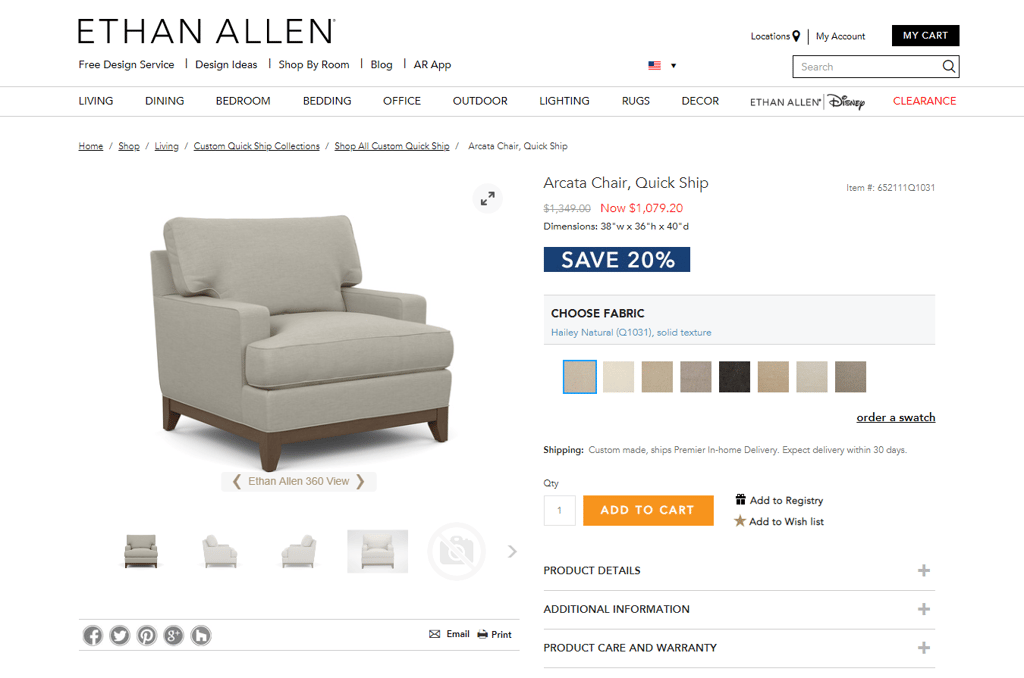 Ethan Allen uses 360 HD Viewer to create an engaging shopping experience and to showcase different fabrics and colors
5. Logistics
One more plus on the side of 3D visualization. And this one is quite obvious. Everyone who has organized a photoshoot for a campaign knows the struggle and the effort needed to get appealing visuals. From transport and equipment to expensive decorations and location constraints. Sometimes it even seems impossible to pull some things off. If we are talking about a photoshoot for a single product, on a basic background or close location, then traditional photography can be an option. But if you want to showcase a spectrum of products, colors, fabrics, and textures, in different locations, with decoration-rich surroundings, then 3D is a far better choice.
6. Image & asset flexibility
Once a photoshoot is over, furniture companies can't change details, lighting, or the layout. Instead, they have to organize a new photoshoot. With 3D visualization, revisions are a breeze. You can make changes at any stage and get the perfect visuals. This also allows you to make corrections after a project is finished, you can reuse the visuals with small adjustments. So, if you want to be able to create a library of visuals that you can repurpose, in that case, 3D visualization is a better choice than traditional photography. Repurposing and reusing visuals can be a game-changer for every business. In a world where rich content is the new imperative, being able to reuse content with small adjustment can make a significant difference. High-quality 3D visuals can also be reused for AR/VR applications. Keeping in mind that AR/VR is one of the hottest trends in the furniture industry, investment in 3D visualization can set the base for your company's future growth in this niche.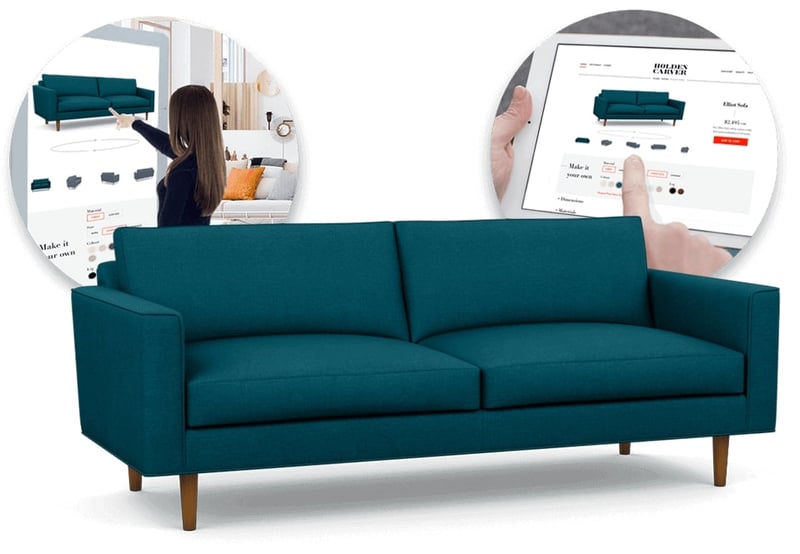 7. Drop shipping / Just in time marketing
If you want to photograph and showcase all the different configurations of your product, it means that you have to produce or supply them and store them in your warehouse. With 3D visuals, you can feature different product variations in your campaigns without actually having the product in stock. This way you can show many more products than what might be feasible if you had to hold everything in inventory. Drop shipping is a popular model for e-tailers because it can significantly reduce investment in products, giving retailers more flexibility. According to E-DSS.org, around 27% of online retailers have transitioned to drop shipping as their primary method of order fulfillment. If you want to consider this option make no mistake - 3D product visualization can be your silver bullet.
8. Endless aisle
When we talk about drop shipping, it's impossible not to mention the endless aisle. They are like two sides of the same coin. Research from Forresters shows that 10% of retail store sales are lost due to items being out of stock. Retailers learned that they can reduce this percentage by placing in-store kiosks, offering customers the possibility to browse and order products that are not available in the store. This strategy is called an endless aisle, and it's a concept that creates a feeling that the retailer is never "out-of-stock." The advantage of 3D visuals over traditional photography is pretty obvious in this case. If you want to leverage the endless aisle strategy, 3D visualization is a far better choice, because it's faster, cheaper and more efficient.
9. Room scenes / Storytelling
In one of our previous blog posts, we talked about the importance of in-context images for higher conversion rates. It's easier to sell products when you show them being used. This helps shoppers get rid of their fears about usage, aesthetics, and size. According to BigCommerce, 78% of online shoppers want products to be brought to life with images. In this case, both traditional product photography and 3D visuals can convey messages and evoke emotions. You can use one or the other depending on the situation. For instance, if you want to show your luxury outdoor furniture in a villa with an ocean view, 3D visualization will spare you headaches (and lots of money). On the other hand, if you want to feature people in the room scene, then photgraphy should be your go-to choice. However, if you want to create a convincing story with real photography, you need a professional studio and delicate staging. Plus, there are always some location constraints that you have to keep in mind.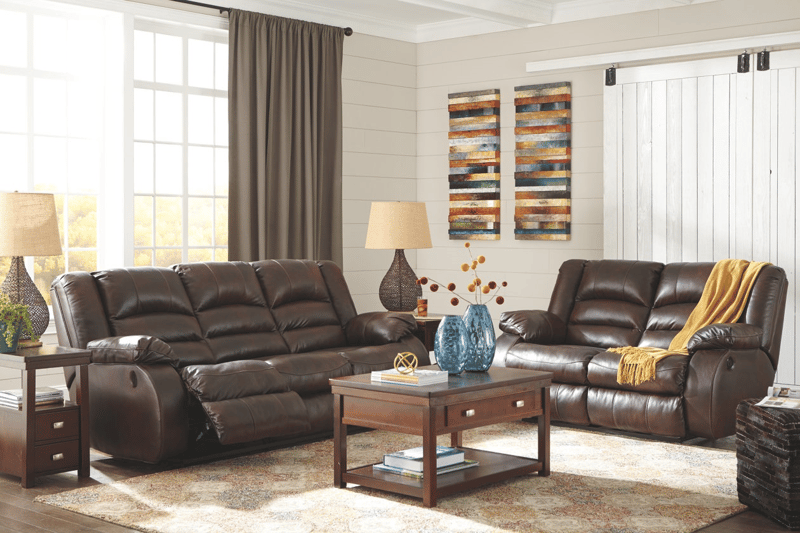 Room scenes from Nebraska Furniture Mart
10. Cost and time efficiency
Turnaround time depends largely on the number of products/variations you want to visualize. If you need images for one product, traditional photography will probably take less time, because creating the basic archetype of the product with 3D is a more complex process. However, once you have the archetype, you have endless possibilities. So, whenever you need to visualize a lot of products or options for the same product, 3D rendering should be your pick. The same logic applies to cost efficiency. Producing a basic 3D archetype can be more costly than a photoshoot. But once the archetype is ready, producing an unlimited number of configurations (different colors, fabrics, and textures) with 3D visualization is far less costly than organizing millions of photoshoots for every single variation.
Product photography or 3D visuals - no matter which one you choose, forget about low-quality images, they can do more harm than good. Make sure to choose the best product visualization company or photo studio that can offer images that meet or surpass the benchmark.
Still not sure?
This was a general overview of the rules of thumb when deciding between traditional product photography and 3D visualization. To simplify things, we've created a checklist to help you understand which one is a better choice for your business.
Ready to find out? Click the Download Now button to get the checklist.