Here is the monthly round-up of all important news and articles in the world of furniture, e-commerce, and technology.
FURNITURE TECH
Furniture Brands Offer Engaging Shopping Experiences To Differentiate
If furniture brands and retailers want to keep ahead of the new competition, they'll need to pack up their old strategies and carve out a new plan.
The direct-to-consumer disruptor Interior Define offers vastly different experiences. They go above and beyond, providing multiple images on each product page as well as a visual guide to product dimensions that updates in real time as customers select different attributes and configurations. Thanks to the product customization, 4K zoom and their 360 spin, the customers are more confident and closer to the "add to cart button".
Wayfair to open its first brick & mortar store
So physical retail is not dead after all? The largest online furniture retailer in the U.S. - Wayfair is following in the steps of numerous other e-tailers in opening its first brick and mortar store. The 20,000-square-foot outlet store will be given its own space within a 260,000-square-foot distribution center being constructed to handle Wayfair's growing online business. Is Wayfair's move to open a physical store a sign of the importance of omnichannel retail experience? Let's wait and see what's next in the furniture business.
E-COMMERCE NEWS
UX Fixes That Can Skyrocket Your E-commerce Conversion Rates
Online shopping cart abandonment rate varies from 50% to 80% depending on the industry. According to Statista, the abandonment rate in retail for the first quarter of 2018 was 75,6%. In other words, ¾ of customers who add products to their carts drop out before they complete the checkout process. Analyzing the shopping cart abandonment rates can be a good starting point towards improving UX. Research from Baymard shows that extra costs, requesting profile creation, and complicated checkout processes are among the main reasons for drop out.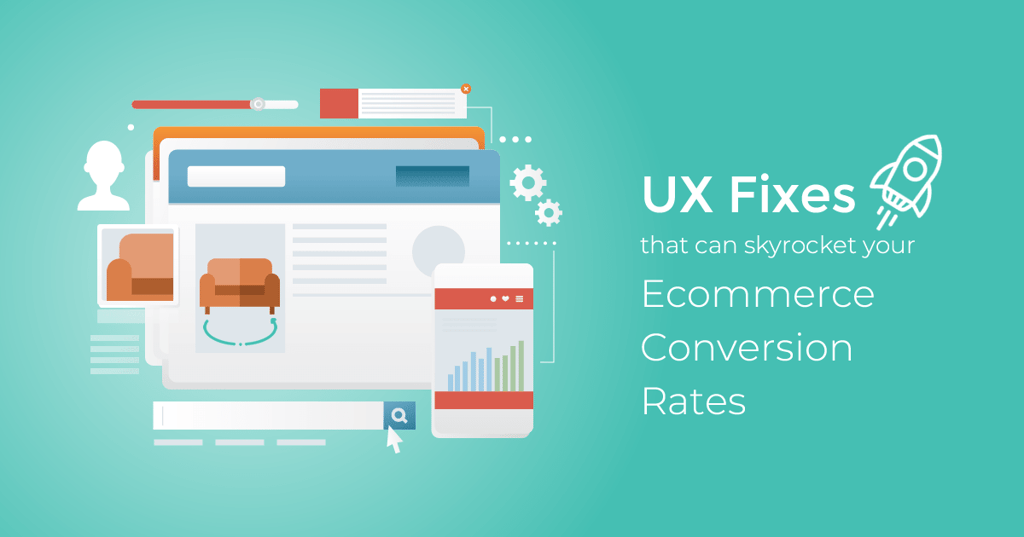 E-commerce Marketing Essentials: 17 Actionable Tactics To Drive More Sales
The competition in e-commerce is fierce. Businesses constantly come up with new ideas to drive traffic to their online stores, to convert the traffic into paying customers and retain those customers on the long run. A holistic e-commerce marketing strategy is made up of marketing tactics both on and off your website. Check out some of the tactics from Shopify that can help you build brand awareness, drive customer loyalty, and ultimately increase online sales.
CUSTOMER EXPERIENCE AND DIGITAL UPDATES
Why Technology Is Key To Seamless, Frictionless Shopping
Providing frictionless customer journey becomes the benchmark for retail businesses. If customers are not enjoying a smooth purchasing experience, it will automatically affect the profitability of a retailer, as the customers will either look elsewhere or decide not to bother. Embracing technology can help companies deliver authentic journey and ultimately surpass the competition with innovation.
INFOGRAPHIC OF THE MONTH
Quality > Price: The Influence of Discounts on Purchase Decisions Declines
According to research from First Insight, more than half (53%) of consumers rate quality as the most important factor when considering a purchase, compared to 38% for price.
Businesses which rely heavily on discounts should rethink their strategy.
This is important for furniture companies, because of the high drop of discounts' influence in this product category.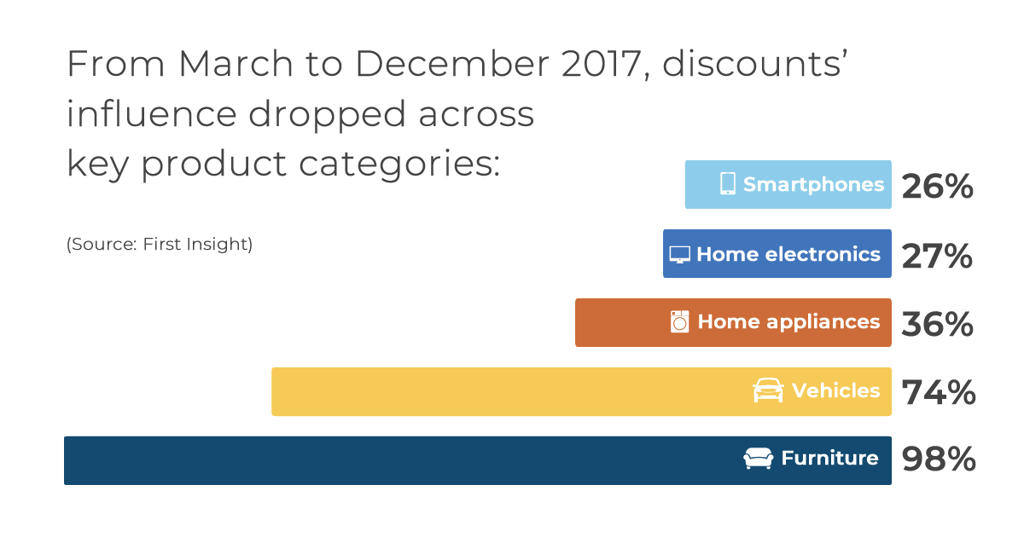 UPDATES FROM CYLINDO
4 Content API Use Cases from Leading Furniture Brands
Bad images can do more harm than good. Furniture photography can provide quality but posses some challenges in logistics and price. That's one of the main reasons why more companies decide to use CGI images for e-commerce websites and marketing campaigns (both online and offline). This is especially true for the furniture industry. Having in mind that furniture is a big ticket item and customers need more time to make a buying decision, visuals are vital for success. Brands and retailers are well aware of that fact. It's no surprise that 75% of images in the furniture catalogs are CGI.
Along with 360-spin and 4K HD Zoom, the Cylindo Platform comes with smart content tools for high-quality product images that can be distributed anywhere. You can elevate your omnichannel marketing game with photo-realistic visuals for any screen and media.
With Cylindo Content API you can:
Product images in any size, angle, and configuration at scale – get endless possibilities with your personal visual library.
Make marketing campaigns a breeze – HD product images for your next email campaign, social media posts and ads are just a few clicks away.
Deliver tailored shopping experience – Allow shoppers to download an image or save to pdf a full specification of your product. They will get back soon!
Ready to explore 4 use cases from leading furniture brands?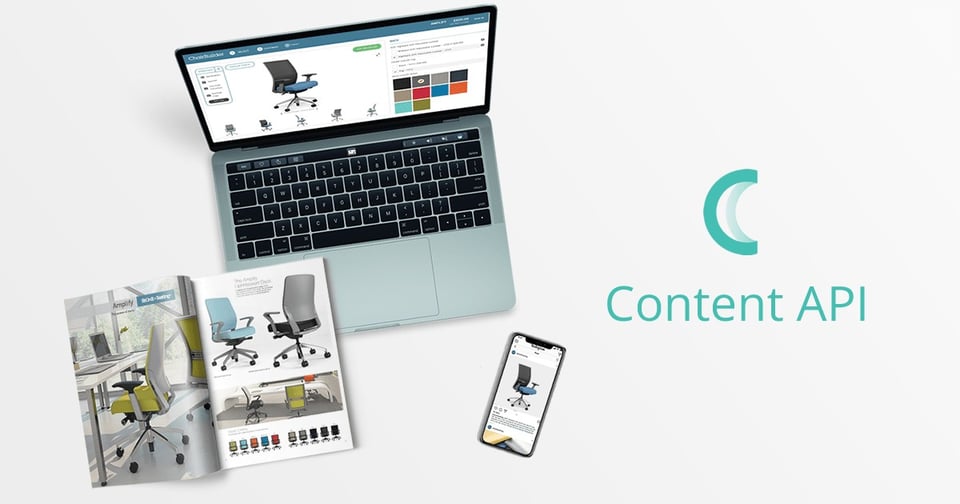 LVM Key Takeaways: 3D is Taking a Swing, as Immersive Experiences Become Increasingly Important
The summer Las Vegas Market brought interesting topics in the furniture world once again. Brands and retailers are focused on improving both online and in-store experience to keep up with the leaders in the industry.
Here are the key takeaways from the latest LVM:
There is a very heavy emphasis on improving the in-store experience to compete with Amazon and Wayfair. Furniture companies are introducing new approaches and technologies to stand out from the crowd.
Brands and retailers are reducing the amount of inventory they present on websites, or taking an approach similar to one of the biggest etailers - Interior Define.
3D is taking a swing - The 3D University from Wayfair is picking up a lot of steam and people seem optimistic. As shoppers continue to shift online, 3D content will serve as the foundation for visual merchandising as well as innovative applications such as AR and VR. This is why Wayfair is encouraging companies to hire renderers to produce this type of content. Still, having in mind that this will take too much time, money and resources from the furniture companies, a lot of them decide to go with a third-party provider of photorealistic 3D visuals and provide engaging shopping experiences on their site, but also leverage the 3D content for other etailers like Amazon and Wayfair.
Companies are still exploring AR/VR technologies. They understand the need for a certain technology, but there is still some hesitation in regards to committing to it.