As the furniture industry becomes increasingly ubiquitous, it's clear that brands and retailers have to create engaging shopping experience across channels in order to win in the long run.
The biggest players on the market have invested heavily in omnichannel strategy, keeping an entrepreneurial mindset and staying hungry for challenges. They are no longer traditional, slow retailers that can't keep the pace with digital pure-plays. In fact, they are stepping up their game, experimenting with new forms of engagement both online and in-store to deliver compelling customer experiences.
Brands and retailers are aware that customers expect a seamless journey.
Retail patterns have changed due to the customer behavior and the digital disruption. Shoppers demand consistency across channels, and they expect instant gratification. And as always, where there's smoke, there's fire. The signals of change were pretty clear, giving furniture companies time to prepare for the new era.
1. Shifts in shopper behavior
Research shows that the furniture purchase journey starts online for more than 70% of consumers, and brands and retailers are aware that digital merchandising can make or break their business.
2. Knowledge-centric shopping
Tightly connected to the previous statement, customers base their purchase decisions on knowledge and research. They browse information, they look for reviews, and they compare similar products with an end goal to make a smart decision.
3. Importance of mobile
If Google is aware that we live in a mobile-first world, then we have to acknowledge that fact. More than 50% of all web traffic is coming from smartphones and tablets, no need to say that that focus on mobile can be a significant competitive advantage.
4. Omnichannel retail
The emergence of omnichannel has brought new rules in retail. Customers want to be able to shop anywhere, anytime and on any device with a consistent experience. Brands and retailers have to excel in the omnichannel game to stay top of mind.
5. The speed of technological changes
From augmented reality to machine learning, emerging technologies are changing the way consumers shop for furniture and rewriting the retail playbook rapidly, with the Internet helping retailers bridge the gap between user experience of physical stores and that of the digital world.
The future is already here. Now.
The question is: How can brands and retailers embrace the new reality?
Superior visualization and engaging shopping experiences
Digital merchandising is more important than ever. When it comes to the e-commerce world, high-quality visuals are non-negotiable. Superior images lead to higher conversions. Visuals with low quality have the contrary effect.
Studies show that the average web user forms an opinion about a brand within two-tenths of a second, leaving next to no room for error. To stay relevant, brands and retailers must differentiate through experience-driven commerce — a strategy that creates memorable interactions and shoppable moments at any touchpoint. Some of the top furniture brands and retailers like Interior Define, Ethan Allen, Century and Kravet have implemented Cylindo 360 HD Viewer giving their customers the pleasure to see products from every angle, in an infinite number of configurations, across channels.
Small details make big difference, especially in e-commerce
One of the biggest online consumer concerns these days is product authenticity. As important as it is to have quality images and to display the product in as many angles, it's also very important to show as many details as possible. According to Blueport, retailers perceive the zoom function as one of the 10 most valued features for providing augmented and consistent information across channels. With 75,9% points, zoom is the number one feature for rich furniture merchandising. Having in mind that furniture is a big-ticket item, close up, magnified view can effectively communicate the details of your product in ways product copy cannot. With Cylindo's unparalleled 4K HD zoom customers enjoy in a futuristic online furniture shopping, confident that they are making the right choice.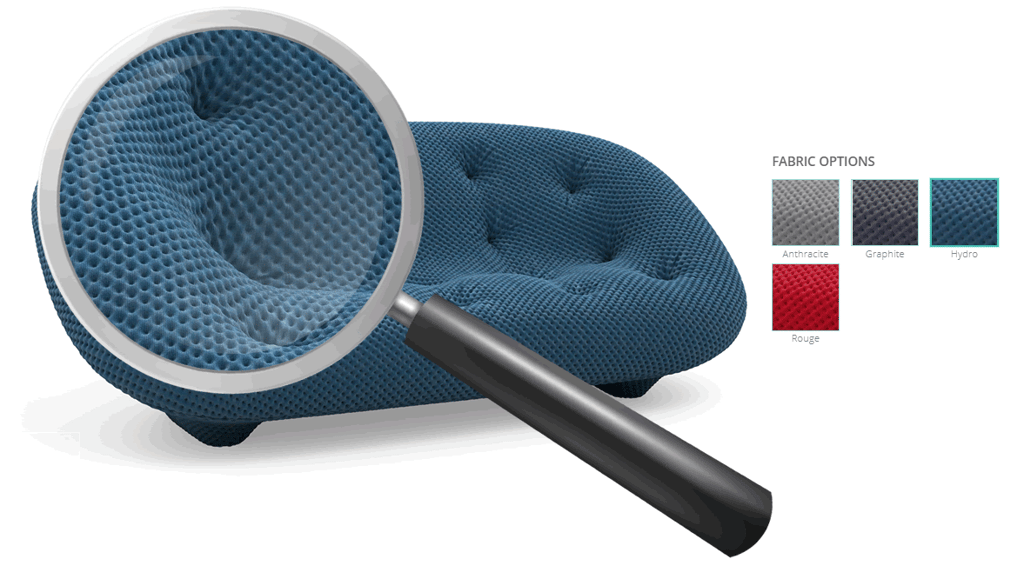 Visual storytelling matters
Storytelling is not just a buzzword. It goes back to the ancient times when people used storytelling to communicate, share ideas and learn. The human brain is more receptive to stories than to data and facts. In-context images help you boost emotional engagement, ultimately leading to a higher conversion rate. According to BigCommerce, 78% of online shoppers want products to be brought to life with images. In-context images empower businesses to trigger emotions by telling stories.
When it comes to the furniture industry, bridging the gap between the user experience of physical stores and that of the digital world becomes increasingly important. Cylindo has recently launched the first-ever interactive room scenes - Styleshots, with a versatile approach to building authentic room sets for furniture brands and retailers.
Speed to succeed
Visitors love content-rich websites, but they will not waste their time if your page is slow. Customers are impatient when it comes to web performance and digital customer experience - 50% of unsatisfied visitors will go to a competitor's website. The bottom line is that your bad web performance can negatively influence your brand advocacy and it can undermine your reputation. SaaS companies are also aware that page load speed is crucial for better user engagement and higher conversion rates, so this becomes one of the main fields for improvement. New product updates are focused on quality and speed at the same time. Cylindo's Platform for product visualization provides a personalized shopping experience with fastest 4K rotating imagery on the market that loads in milliseconds. Brands and retailers no longer need to choose between aesthetics and speed.
The store of the future. Think omnichannel
Research from Wiser shows that 69% of Baby Boomers believe store employees should be able to look into out-of-stock inventory that is available in other stores. They also want to see different options and fabrics in-store. A few years ago furniture companies struggled due to limited showroom space, but they realized that technology can help them create a synergy between the physical and the digital world. One of the top Australian retailers, Plush has used Cylindo's technology to create an endless aisle, equipping their staff with tables so they can showcase products with different colors, fabrics, and textures.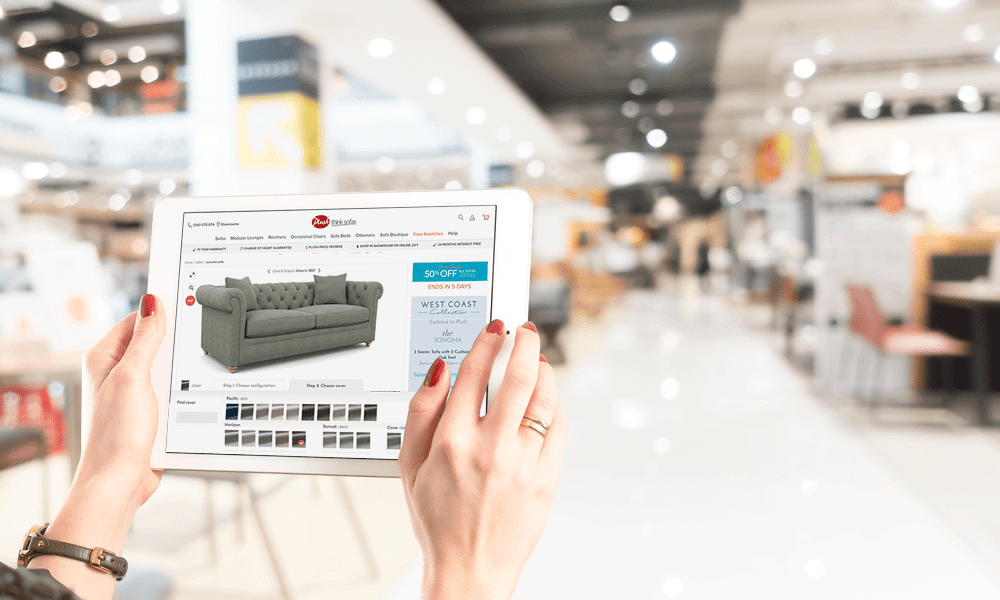 Testing, not guessing: The real value behind the numbers
We live in a data-driven world. Guessing what works and what doesn't is so passé. In fact, it can cost you time, money, and resources. With all the analytical tools and platforms out there, furniture companies must base their decisions on data. For companies to deliver outstanding shopping experiences, they first have to know their customers. Cylindo Intelligence gives furniture brands and retailers meaningful insights to empower their digital transformation and to help them make data-driven decisions. They can use this data to understand how customers interact with their products, to enhance visual merchandising, and to optimize campaigns - ultimately driving revenue growth.
One thing's for sure: the furniture industry has changed forever. Competition is cut-throat. This means that ingenuity has become critical. People are emotional decision-makers and they are constantly seeking for tailored experiences that go beyond texts and numbers. We live in a world where seamless customer experience is the ultimate competitive battleground for furniture industry players. Nuances can make or break your business.
Want to create a compelling shopping experience? Fasten your seat-belt, we are going for a ride.