At Cylindo we love to make things easier for furniture brands and retailers. That's why we've introduced a new version of the 360 HD Viewer with new features for rich product page experience.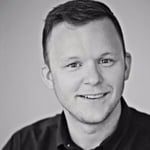 "The new version brings advanced features that enhance the complete user experience with significantly more flexibility and configuration options to the clients. In parallel with introducing new features for the Viewer, our team has been working vigorously on speed and performance improvements, so we now can return non-cached content 300-600% faster."
- Jostein Pedersen, Head of Product Management, Cylindo
Here is what's new in the 3.2 version:
Carousel Viewer
You can now select different angles of your products and present your photorealistic visuals in a carousel format. This opens up an extra layer of flexibility that allows you to put a spotlight on some of your best collections in a gallery-like format so that customers can slide through the images.

See our demo below:
Shabby One Seater - Timothy Oulton
Pick a Start frame
Digital merchandising is both an art and a science. Depending on the collections, some of your products displaying 30º, 90º or another angle would look more appealing than the default setting. With the latest update, you can set any of the 32 frames in the 360-sequence as the start frame. Don't forget about the importance of the first impression.
Go To Angle
Another new functionality is the GoToAngle that gives you a preview of a non-visible angle in the start frame. If a visitor configures an element of the furniture that is not visible in the start frame (e.g. back of a chair), you can now use the GoToAngle functionality to show the Viewer from that specific angle.
Stacked Viewer
This functionality enables you to display your photorealistic content, by showcasing multiple static images on a product page with 4K zoom functionality. This way you can show different angles, details, and lifestyle product images from the same product. As a reminder, the Multi-pane Viewer allows you to have multiple product viewers on a product page so that you can present different products from your collections or recommended products with a 360-spin feature for each product.


See our demo below:
Muleshoe Sofa
- Gallery Furniture
$1,099
Show different angles, details, and lifestyle product images from the same product with Cylindo's Stacked Viewer.
Speed and performance improvements
Cylindo 360 HD Viewer has the fastest loading 4K rotating imagery on the market, so when it comes to speed, we try to beat our own record. The Real-Time Cropper Service responsible for merging image layers is now optimized for even faster merging of content. With some back-end improvements, all content that is not cached will now load 300-600% faster than before.
We appreciate partnership rather than service-client relationship. When releasing a new version of the 360 HD Viewer, we always try to incorporate clients feedback and requests. The latest 3.2 version combines clients' inputs and roadmap ideas to bring significant improvements and represents another small step forward in our quest to change the world one SKU at a time.