A major technological revolution is underway in the retail world. Always-connected customers are craving an omnichannel experience when they're shopping. As retailers focus on creating shopper- and experience-centric stores, they're experimenting with immersive technology to introduce futuristic experiences.
Before we dive in...
Virtual reality is a 3D, computer-generated environment that people can explore. This technology creates an entirely artificial world where people can manipulate objects or perform a series of other actions.
VR is the most immersive experience because it blocks out the real world, making the user unaware of the environment around them. For this kind of virtual experience, customers must have special headsets which are still quite expensive.
Is VR the next big thing in retail?
We are constantly bombarded with news and articles about VR being the next big thing in retail and how it will soon transform the shopping experience.
But what does "soon" mean? And is that really the case?
We can't deny that VR has arrived and we are witnessing some of the biggest companies experimenting and introducing immersive experiences for their customers. According to Spiceworks, 75% of the world's most valuable brands have created some form of virtual or augmented reality experience for customers or employees.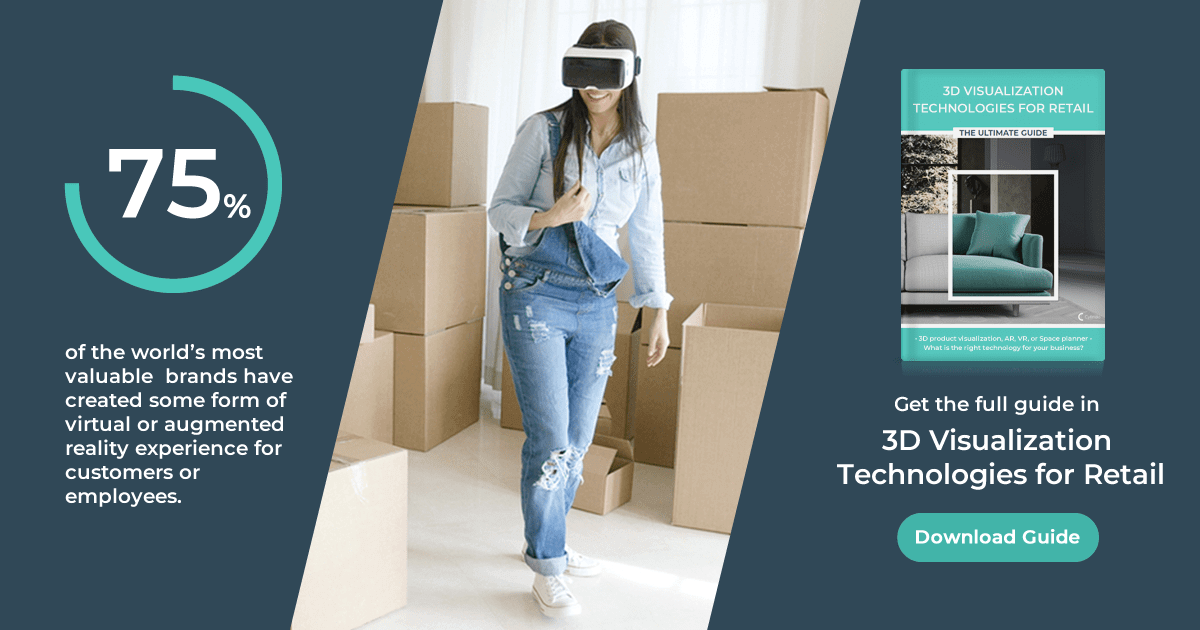 However, we're still at the beginning of the journey. There is a need for more developments in this space. The technology does not live up to customer expectations and is not accessible enough to become mainstream yet. According to research from Perkins Coie, respondents identify the user experience as the top obstacle for mass adoption of VR (41%), reflecting ongoing concerns with technical limitations and performance issues, as well as bulky hardware.
We still can't imagine shoppers at home, sitting on a sofa and putting on a headset to go shopping, which is why VR is not scalable at the moment. However, many brands and retailers experiment with this technology to attract more customers in-store and to eventually create the store of the future which will have limited physical space, but unique, immersive experiences.
However, we're still at the beginning of the journey. There is a need for more developments in this space. The technology does not live up to customer expectations and is not accessible enough to become mainstream yet.
Back in 2016, IKEA introduced the Virtual Reality Kitchen Experience enabling customers to walk around real sized, make-believe 3D kitchen and interact with objects. Customers were equipped with two wands, which let them navigate freely, change the color of cabinets or drawers, and even cook virtually. When they collected feedback from people on what they wanted to do more of, the most wanted feature was - meatballs. Sadly, that isn't much of a surprise, at this point customers look at virtual reality as entertainment, not product visualization technology and there are many reasons why that is so.
Today we want to demystify VR in retail and help you mitigate some of the risk factors associated with this new, cutting-edge technology.
Let's get to the bottom of this and elaborate why it's still too early for VR in retail.

1. Expensive equipment
The most obvious downside of VR is that it requires hardware, so it is not easily scalable until most customers have such devices in their homes, which is not likely to happen any time soon due to the user experience (technical limitations and performance issues), content offering and price of the equipment. A report from IDC's Worldwide Quarterly Augmented and Virtual Reality Headset Tracker found that shipments of AR and VR headsets was down from last year. The report showed that shipments of VR and AR headsets were down 30.5% year over year, totaling 1.2 million units in the first quarter of 2018. The main reason for this according to IDC is that headset makers are no longer giving their products away for free (this was the case with Samsung that was offering free VR headsets with its smartphones two years in a row). However, experts predict that the VR headset shipment growth rate will increase from 24% in 2018 to 44.6% by 2022.
According to Statista 4.65 million VR devices were shipped in 2018 (compared with 3.7 million in 2017). Sony took the biggest piece of the pie, with 2 million VR devices.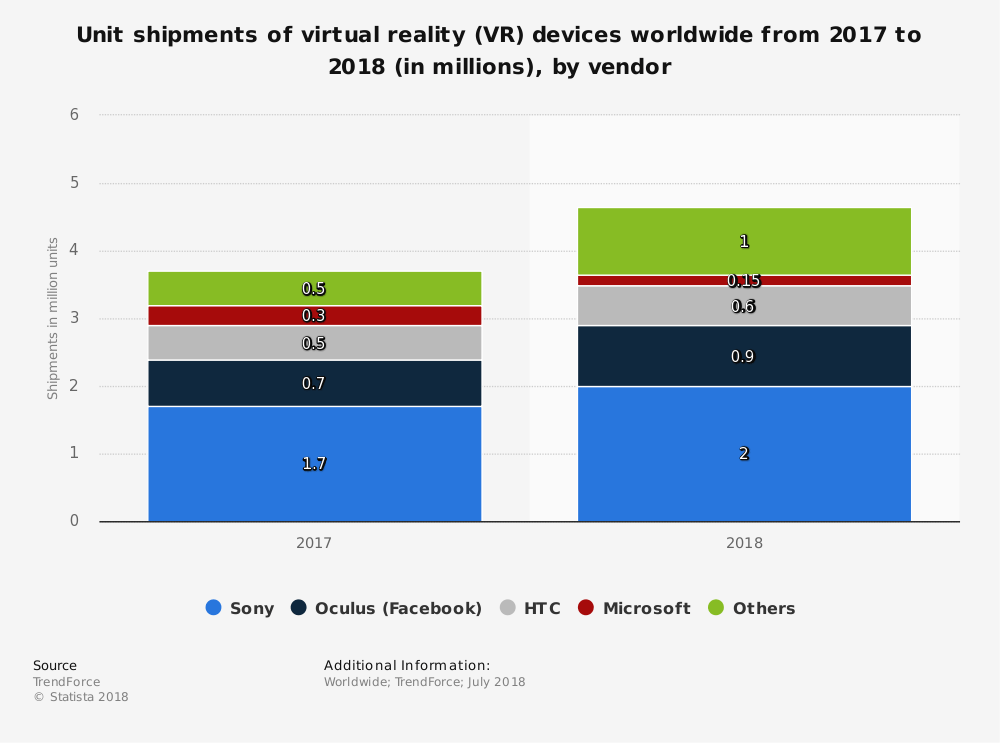 2. Lack of relevant content

According to Perkins Coie, the third biggest obstacle to mass adoption of VR technology (after user experience/bulky hardware and cost) is the content offering (e.g., lack of quality content, amount of content available). There has to be enough compelling VR content so customers can see the value in making the hardware investment. The need for high-quality and not just visually pleasing content will be more critical than ever.

3. Low vs. high poly assets

Let's clear things up - A low poly asset is a 3D polygon mesh that has a small number of polygons, so it often appears blocky and lacks detail, but it still demonstrates the basic shape. High poly assets, on the other hand, have an enormous amount of polygons, which in conjunction with physically based materials can generate a photo-realistic look. At this stage, VR technologies mostly utilize low to medium poly assets. When it comes to retail, and especially industries that rely heavily on visual senses like the furniture industry, high poly, photorealistic visuals are a must if you want to shift the purchasing journey online. Low poly assets can't instill confidence in the purchasing decision.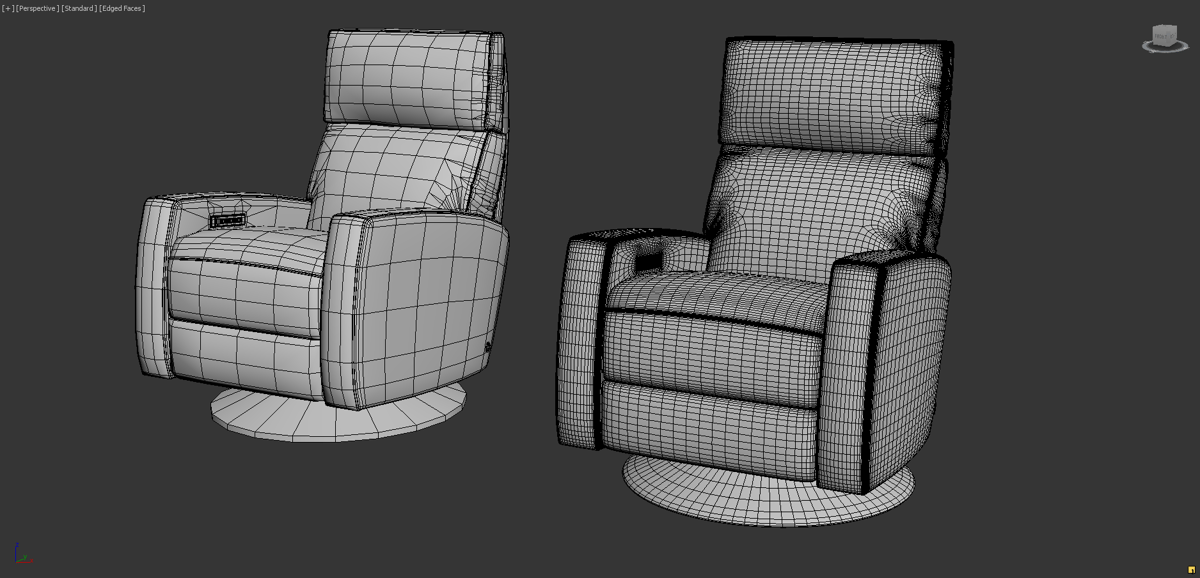 Low vs. High Poly

4. Omnichannel VR - Easier said than done

The store of the future will be a blend of the digital and physical world, combining the convenience benefits of e-commerce with the product exploration benefits of brick-and-mortar. Traditional retailers have realized the importance of digital merchandising and the power of first digital impression, while internet pure-plays found out that even having a small, gallery-like store can have a significant impact on the business. For instance, earlier this year La-Z-Boy acquired Joybird to build its online presence, and Interior Define opened its first physical store.
Businesses today need to be aware that multichannel does not equate to omnichannel. The omnichannel challenge which many companies struggle with today is about having consistent and relevant content across all of their channels.
As illustrated above, the main business challenge with VR is that wide user adoption is not expected to be seen any time soon. One of the main obstacles here is the expensive headset equipment. We can all agree that a scenario in which shoppers can be at home, sitting on a couch and then choose to put on a headset to go shopping is still something that we can't quite imagine. Even though companies invest heavily in making this a reality, the process will take some time. For now, companies are experimenting with immersive experiences powered by VR technology in-store, as they try to create the store of the future.

5. Customers are not impressed by meaningless interactions

Forget about the 'wow' factor. Customers are looking for relevant shopping experiences. If you use VR to create pointless interactions, you will damage your brand, and you will lose customers. Take care of the basics first and then experiment with immersive technologies. If you are ready to launch a VR experience, make sure it's relevant and worthwhile. If you want to use VR to sell more and to visualize products, you have to create relevant, engaging experiences to ease a customer's decision-making process. Otherwise, customers will only use your VR set for fun, but it won't help you sell more.

6. Is your target audience ready for VR?

Gen Z is the most passionate generation for all things VR. But the question is: are they your target audience and do they have the purchasing power needed for your industry? If you are a furniture retailer, then Gen Z is far from your target because they are not the decision-makers when it comes to furniture. As time passes by, consumers who grew up during an era of rapid technological development like Millenials and Gen Z will be the leading decision-making generations with the highest purchasing power. That will be the time to offer immersive shopping experiences to grab customer attention.

7. Brand image vs. ROI

VR is still in the experimental phase (especially in retail), so it is more suitable for brand image programs, rather than measurable results and ROI. Currently, it is more brand-centric than customer-centric. It will be interesting to see how things will develop in the future. At this stage, from a technology ROI standpoint, VR is more suitable for branding initiatives and marketing programs centered around creating buzz.
Two years ago, one of the world's largest e-commerce companies in furniture, home furnishings, and decor, Wayfair opened an innovation lab - Wayfair Next - to develop and refine interactive 3D experiences. One of their first experiments with VR was the Patio Playground, an app that lets customers get a virtual view of how furniture might look in an outdoor setting. Their second VR app - IdeaSpace - enables customers to explore a variety of unique spaces and shop in an interactive environment. Thanks to their constant investment in new technologies, Wayfair has been recognized by Fast Company as one of the Top 10 Most Innovative Companies in AR/VR. A few days ago they announced the launch of Wayfair Spaces, an interior design and room planning app that invites consumers to explore professionally designed rooms and visualize products in their homes at scale through mixed reality. For starters, there are several hundred products to choose from, with plans of adding even more in the future. For now, it's just a visualization app, with no e-commerce component. Aside from the constant technological innovations, this year they've finally embraced the power of omnichannel, opening their first physical store a few months ago.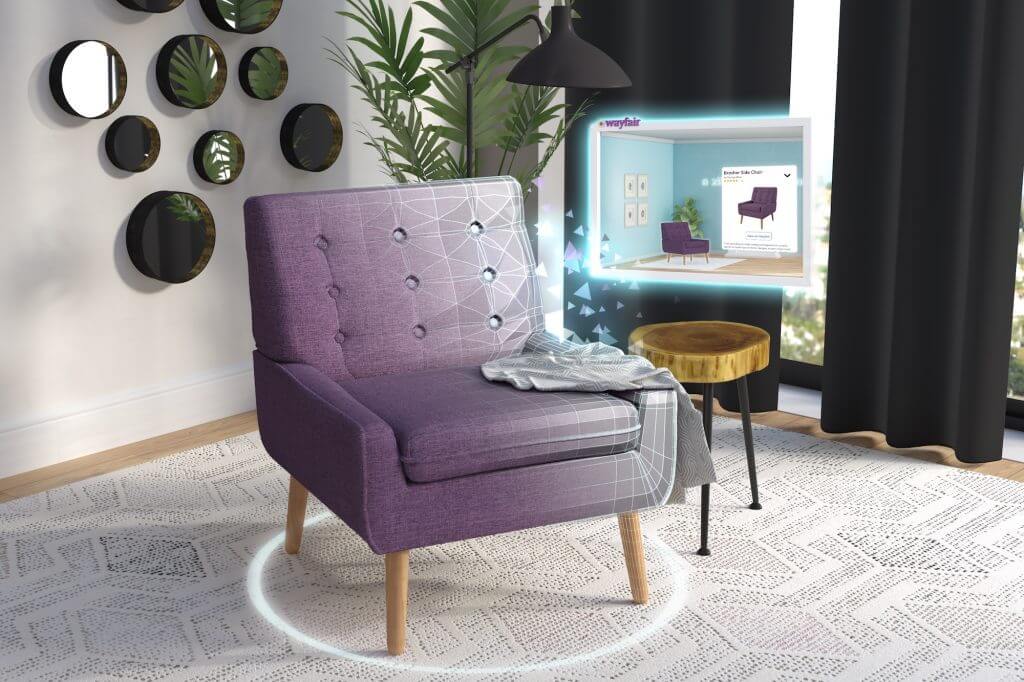 Source: Wayfair Technology Blog
The bottom line is... VR is in a stage of hype. Big players experiment with the technology, and the smaller companies follow, bute can't deny that there is significant potential for VR in retail.
However, there is a need for more relevant content, more use cases, and better assets quality to make sense for customers to buy a VR headset, thus paving the way for VR to become mainstream.
Like what you're reading?
Awesome, this is just a small part from our free guide in 3D Visualization Technologies for Retail. Click the button below to download the full guide.