Here is the monthly round-up of all important news and articles in the world of furniture, e-commerce, and technology.
FURNITURE TECH
The Rise of Immersive Technologies in Furniture
A major technological revolution is underway in the furniture world. Always-connected customers are craving an omnichannel experience when they're shopping. As retailers focus on creating shopper- and experience-centric stores, they experiment with immersive technology to introduce futuristic experiences. Even though the number of mainstream augmented and virtual reality implementations in furniture are still limited there are some interesting use cases. Follow the buttons to read more about the advantages and main challenges for AR and VR in furniture.
Holiday Pop-up Stores Have Started to Sprout Everywhere
As the holiday season approaches, we are witnessing pop up stores from some of the top brands sprouting everywhere. Wayfair recently announced that it will launch two holiday pop-up shops where shoppers can explore innovative new home solutions, learn how to tackle "How-To" projects, browse fabric swatches, place orders, purchase gift cards and much more.
Good Housekeeping magazine has teamed up with Amazon to open a pop-up retail shop where shoppers can test and purchase 40 products carefully selected by GH experts. Each product in the pop-up store is labeled with an Amazon QR code that shoppers can scan to see the details and then add the product to cart.
E-COMMERCE NEWS
The Trend of Buying a Mattress or Furniture Online
The benefits of a local showroom, where customers can feel and test the products before buying are impressive, and they will continue to attract people into the store. However, you risk losing the buyers who don't have the time or the disposition to drive by your store. According to recent statistics, 79% of the US consumers shop online (a dramatic increase from just 22% in 2000). Given these numbers, it's only natural that the bed-in-a-box culture is registering constant growth ever since it was launched.
According to a study designed to watch Amazon shoppers, 87% of online shoppers are first attracted by lower prices and free delivery services. But there are other factors that direct buyers toward online stores, and one of the most important is convenience.
CUSTOMER EXPERIENCE AND DIGITAL UPDATES
The World of Chatbots: Customer Service, Business Automation & Scalability
Customers these days expect to be able to find the information they're looking for in a click of a button and the blink of an eye. According to BI Intelligence, over 59% of Millennials and 60% of Gen X in the U.S have interacted with chatbots. Researches show that without live interaction with customers, traditional online experiences are falling short.
Implementing a chatbot doesn't only have to be about offering customers a better experience in terms of customer service, there are other use cases like lead generation automation, onboarding and educating customers, getting ideas and inspiration for purchases and much more. Follow the link to dive deep in the world of chatbots.
INFOGRAPHIC OF THE MONTH
The Ultimate Guide In 3D Visualization Technologies for Retail
Today's customers are craving for visual information. In lack of tactile experience, customers rely on their visual perception to make purchase decisions. As the focus on customer experiences becomes imperative, technologies will have a major role in blending online and physical retail.
Learn more about 3D Visualization Technologies for Retail (3D, AR, VR, Space Planning ) in this infographic from Cylindo.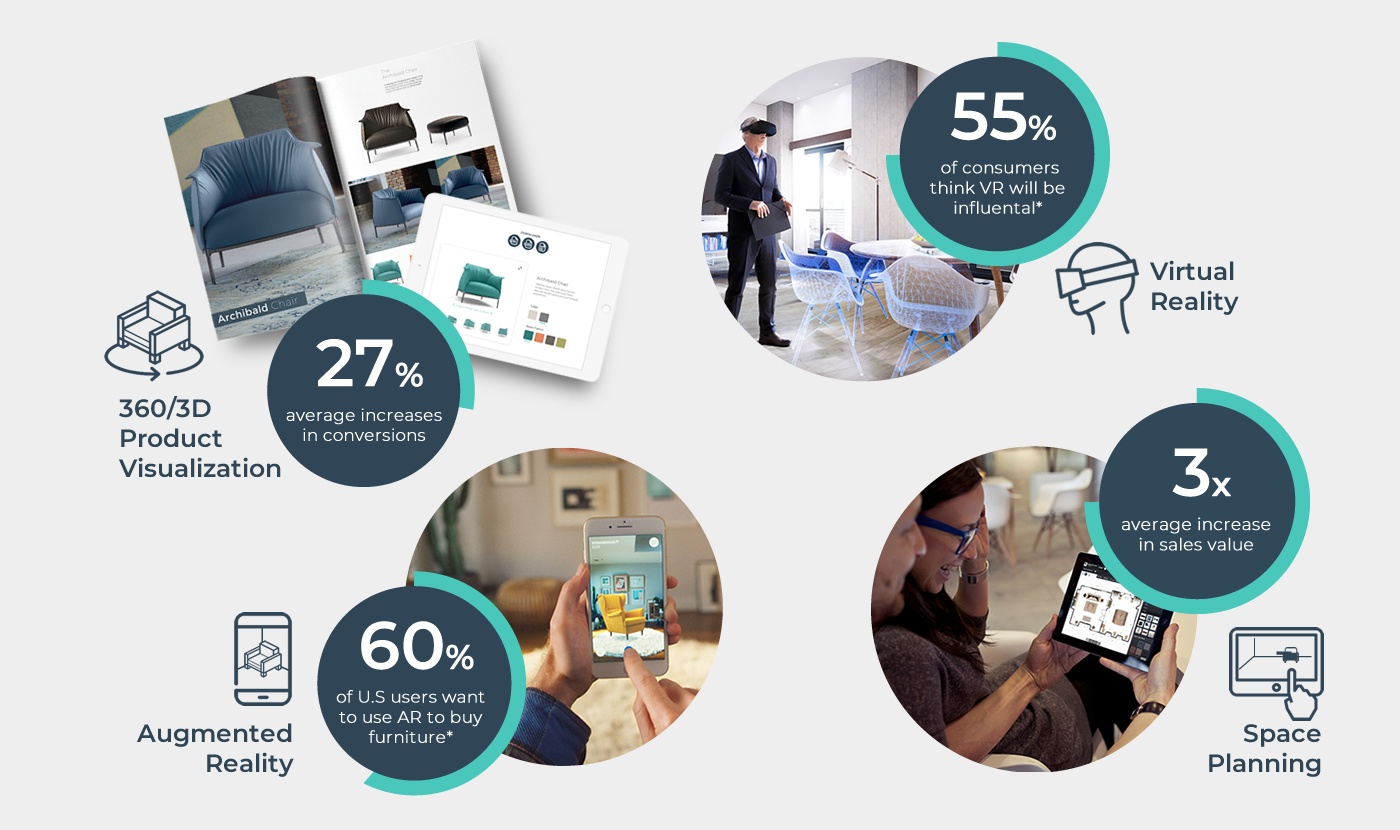 UPDATES FROM CYLINDO
Introducing Cylindo 360 HD Viewer 3.2: More Ways To Enhance User Experience
At Cylindo we love to make things easier for furniture brands and retailers. That's why we've introduced a new version of the 360 HD Viewer with new features for a rich product page experience. The new version brings advanced features that enhance the complete user experience with significantly more flexibility and configuration options to the clients. In parallel with introducing new features for the Viewer, our team has been working vigorously on speed and performance improvements, so we now can return non-cached content 300-600% faster.
Follow the link to find out what's new in the 3.2 version of the 360 HD Viewer.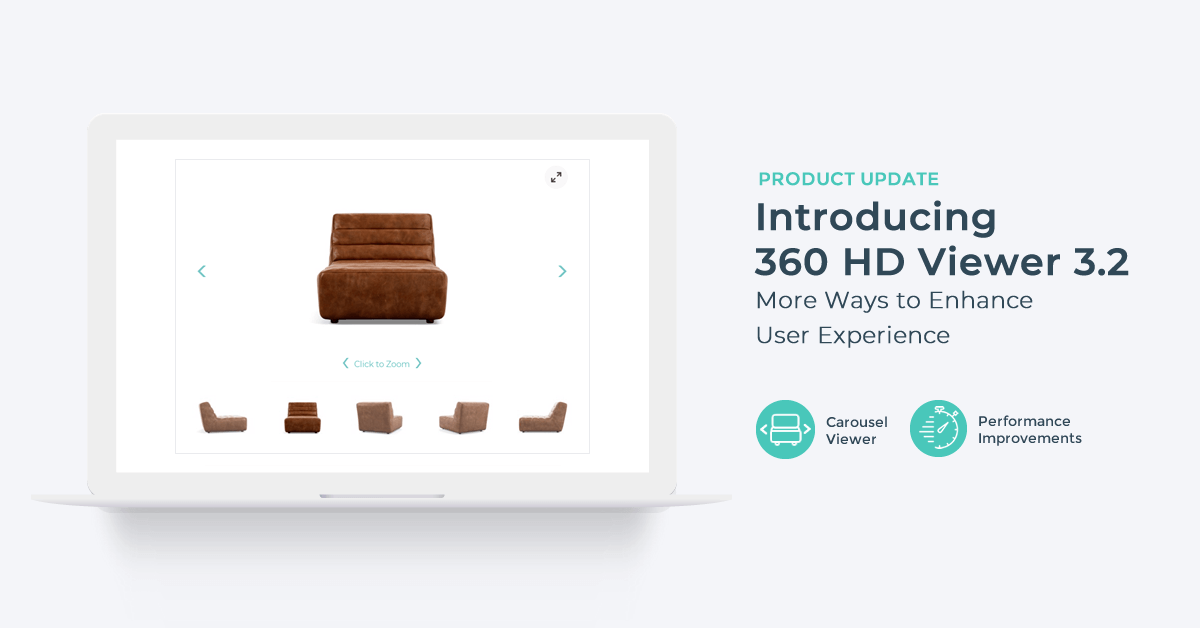 Key Takeaways from High Point Market 2018
One of the largest furnishing industry trade shows in the world, High Point Market took place from 13-17 October, bringing more than 75,000 people to North Carolina. With more than 2000 exhibitors and 100+ countries represented, HPM is really the fashion week for home furnishings.
Here are some of the most interesting takeaways:
In terms of product visualization, 3D furniture visualization becomes more popular as brands and retailers start to realize the importance of having a high-quality asset library that can be later repurposed for marketplaces like Wayfair and Amazon.

The Keynote Series on HPM is a valuable resource offering relevant insights. Some of the hot topics this year were the intricate world of color and trends that will impact home interiors in 2019, 2020 and beyond, the role that materials play in the home environment and the radical transformation of the retail experience in the future.

A lot of new products and new players on the market. Product-wise we see a big comeback of floral designs, bold graphic patterns and new neutrals like greige - a combination of grey and beige that according to some designers can be the best neutral ever. One of the top trends this year was furniture for small spaces.
We are eager to see what will 2019 bring in the furniture business.