As the COVID-19 pandemic is slowing down, furniture brands and retailers are beginning to wonder how furniture stores will look in the future. It is evident that the coronavirus outbreak has urged furniture companies to think more about their digital presence and the benefits of having an e-commerce store. And a large number of customers have become more accustomed to online shopping.
However, people have the need to touch and examine a product in person before making a purchase. So, the question is: What will the furniture store of the future look like?
How the Furniture Landscape Changed Due to COVID-19
These last two years in the furniture industry have been one wild ride. In 2019, we witnessed improvements and innovations both in physical stores and in e-commerce. Then, we watched how those efforts went down the drain as shops were closed as a result of the pandemic. According to Statista, in April 2020, furniture and home furnishing store sales in the United States fell to $3.9 billion from $9.2 billion in January that same year due to the impact of the pandemic.
After that, we watched how businesses acclimated to the new normal and moved their stores completely into the virtual world. Moreover, we saw a massive increase in furniture e-commerce because everyone started working on their digital presence. That was the only way to keep their businesses up and running.
The COVID-19 pandemic rapidly accelerated the evolution of online furniture stores. Yes, online shopping existed long before the pandemic started, but the increasing speed of online sales was unimaginable. According to Digital Commerce 360, the Top 1000 housewares and home furnishing retailers' e-commerce sales grew 44.2% in 2020.
Physical Retail Post COVID-19
While witnessing how online shopping is trending worldwide, you cannot but wonder whether people will eventually start returning to physical furniture shops. As everyone is getting vaccinated and the COVID-19 pandemic is gradually weakening, the world is slowly getting back to the "old normal". However, things aren't expected to be exactly the same as they were before the pandemic. Thanks to the changes made in the furniture industry throughout last year, the future of furniture stores is expected to coexist both online and in-store.
According to Statista, the number of products sold online is constantly rising. In 2020, more than two billion people made online purchases of goods or services, and $4.2 trillion were spent on retail e-commerce. As a result of the worldwide popularity of online shopping, e-retail revenues are expected to grow up to $5.4 trillion in 2022.
Even though there is an expectation that online sales will continue to rise, brick-and-mortar stores will still remain one of the core pillars of furniture retail. People like to touch the product before purchasing, or at least be able to examine it before picking it up from the store.
Both the online and offline shopping experiences have brought upon us the omnichannel strategy. According to a PWC report, companies that decided to invest in an omnichannel experience have jumped from 20% to over 80% since 2020.
Now, marketing leaders in the furniture space are grappling with the question of how they can create an engaging in-store experience and a seamless buyer journey from start to finish.
The New Role of the Furniture Store
Now that we have established that the future of the furniture store will revolve more around the omnichannel experience, we can delve into further detail about the new role that the furniture store will have from now onwards. Here are five best practices from forward-thinking players that we've spotted in the furniture industry.
1. Experiential retail is on the rise
When thinking about the future of the furniture store and the furniture industry in general, experiential retail is one of the latest trends that comes to our minds. After the initial closing of physical furniture stores during the lockdown, retailers and DTC brands started thinking about new ways to create more engaging furniture shopping experiences in brick-and-mortar stores. It became clear that the store should become a destination that consumers want to visit.
Enter experiential retail.
When furniture brands focus on experiential retail, they elevate the furniture shopping experience to new heights. This trend makes the shopping experience more appealing because retailers display furniture items in their stores and use furniture props that will make the store a place that customers would like to visit. Retailers provide customers with unique and pleasant in-person shopping experiences that keep them engaged and wanting to return again in the future to purchase other products as well. Moreover, stores offer such an enjoyable retail experience that it will result in higher sales outcomes.
The UK-based DTC brand Loaf has dedicated time and effort to create an amazing customer experience in its stores by making its customers the center of attention. For that reason, Loaf invested in both the in-person and the digital shopping experience. They introduced high-quality 3D product visualization and 4K zoom on their website, thus bringing products closer to customers. Moreover, Loaf has a completely different approach for physical retail with their Shacks, which are much more than traditional stores and are created especially for providing customers with a better in-person shopping experience.
The stores, which are also known as "slowrooms" or Shacks, contain several sets of different living rooms with specifically selected visual merchandising props. For instance, when visiting one of Loaf's Shacks, you can see a 1970s TV displaying old footage of Wimbledon or a pinball machine and other similar eclectic props. You can even find a mini fridge with free drinks as well as a table with puzzles and coloring pencils for customers' children.
The Shacks are what separate Loaf from its competitors. The idea behind this concept is to provide a unique experience for the customers and make them return to the store or visit the website and make a purchase. After all, Loaf's mission has always been to create an unparalleled customer experience.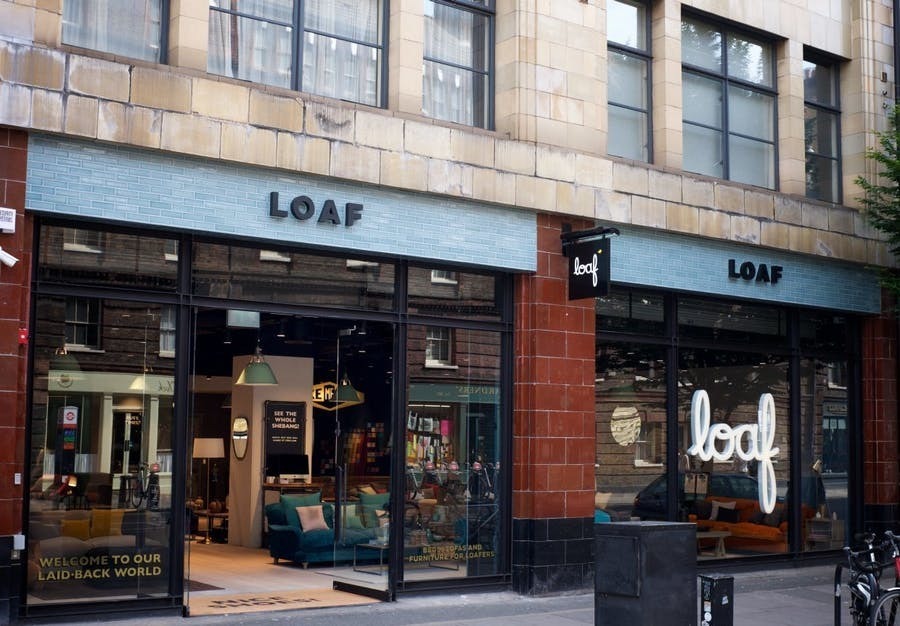 2. The importance of virtual consultations
When purchasing products, customers always want to touch and examine a product. With the closing of physical stores due to the pandemic, a new behavior was adopted — examining the product online through 3D visuals, a zoom-in option, and even augmented reality. To bring products even closer to customers, furniture retailers started implementing virtual consultations on their websites. According to our report, 36% of the top 100 U.S. furniture retailers offered virtual consultations last year.
Online consultations provide customers with personalized shopping experiences as well as with the possibility of having online human interaction with an expert from the comfort of their homes. Virtual consultations help furniture companies and retailers boost online furniture sales while offering direct advice from a design expert.
Interior Define is a U.S. DTC brand that offers designers' advice through virtual consultations with their experts. They use the term Guideshops for their brick-and-mortar stores, so the online consultations are named Virtual Guideshops or e-Guideshops. The Virtual Guideshops serve as a place where customers meet virtually with a local design expert who guides them through every step of the online shopping experience, the same way as they would in a physical store. These experts use numerous digital tools for space planning and provide an AR option to enable their customers to review how their personal creations would look inside their rooms at home.
The idea of having e-Guideshops is to get the design experts to test the demand in a local market. If there is a demand in a specific location, then Interior Define opens a brick-and-mortar store there. Besides this, the design specialists gather information from the virtual guideshops that help with in-store merchandising.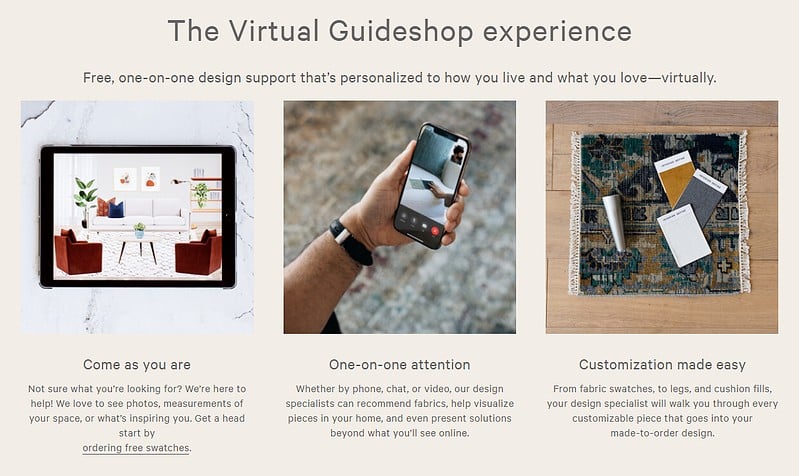 Interior Define's Virtual Guideshop experience
3. Reinventing the in-store experience with endless aisle
When it comes to displaying products in a store, furniture retailers and DTC brands have always had a problem with limited space. For instance, when you go to a physical shop, you could find a sofa in one color and material. If you want to see it in other colors or fabrics, you have to imagine it by seeing a small cloth of material and draping it on the sofa.
With 3D product visualization, you can have a quick overview of your favorite sofa in all available colors and fabrics in one place. Endless aisle enables customers to browse online for products that are either out of stock or aren't sold in-store and can only be shipped to the customers' homes after purchase.
Sofacompany is a Scandinavian DTC brand that, back in 2016, wanted to offer its customers the opportunity to design their own sofa by choosing fabric and legs and creating a unique design. This also enabled customers to get a better sense of what they were buying and to experience a more engaging online shopping experience. Besides increased online sales, the introduction of "Design Yourself" universe helped Sofacompany increase the number of deals in-store as well.
"We can see that when consumers enter the design-your-own universe, there are significantly higher conversion rates, regardless if they buy design-your-own products or not. Once they step in that universe and start playing around, there's a significantly higher likelihood that they will end up buying either a design-your-own product or standard products." - Simon Peschcke-Køedt, CMO at Sofacompany
The furniture store of the future is supposed to be a place where you can choose the product you want in the exact fabric and color you want. An endless aisle strategy can help furniture retailers with product personalization and empower customers to get the product they want when they need it, whether the store has it in stock or not.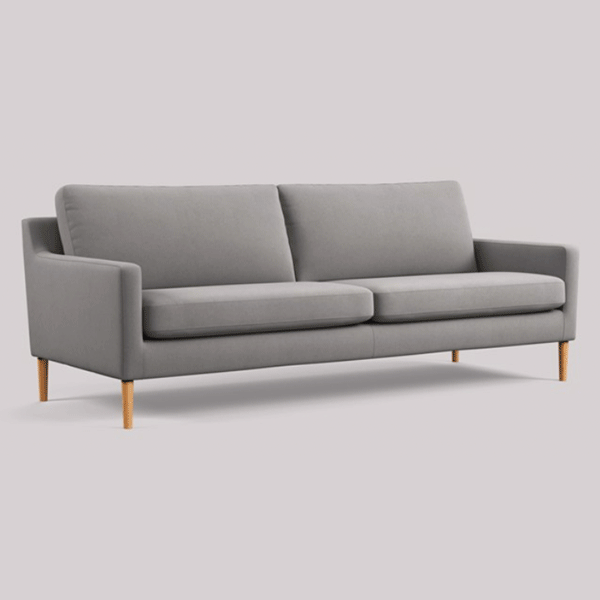 Sofacompany "Design Yourself" Universe
4. Buy online, pick up in store (BOPIS) is here to stay
The pandemic has made BOPIS widely accepted because it forced retailers to rethink and transform the future of stores. Buy online, pick up in store is also known as "click and collect" and ROPIS (reserve online, pick up in store). This trend was in an early-adoption phase even before COVID-19. Still, it was definitely accelerated during the pandemic to the extent that numerous customers now prefer BOPIS over waiting in long queues to shop in person. Customers who use click and collect don't deal with high shipping costs and don't spend long periods of time for delivery.
According to eMarketer, in 2020, $37.4 billion were accumulated from click and collect in the USA out of almost $200 billion in new e-commerce spending. Even though click and collect represented only 9.1% of the total retail e-commerce, it marked a 30% growth.
As a result of the growth that BOPIS marked in the last year, U.S. sales are expected to increase by 15.2% in 2021 and will reach $83.5 billion, while click and collect will account for 9.9% of all retail e-commerce sales. These statistics only prove that BOPIS is slowly but surely transforming the future of stores.
The Californian furniture retailer Living Spaces uses BOPIS as part of its omnichannel strategy. This furniture retailer has realized that customers want to purchase products online but also to be able to pick up those products from a nearby store.
Living Spaces allows its customers to get free shipping for products that are over $500, but they may also choose to pick up the furniture from any of the stores. The only thing that customers need to do is to check which pick-up dates are available for the location from where they want to collect their ordered products. This can be easily previewed through the Living Spaces shopping cart on its website.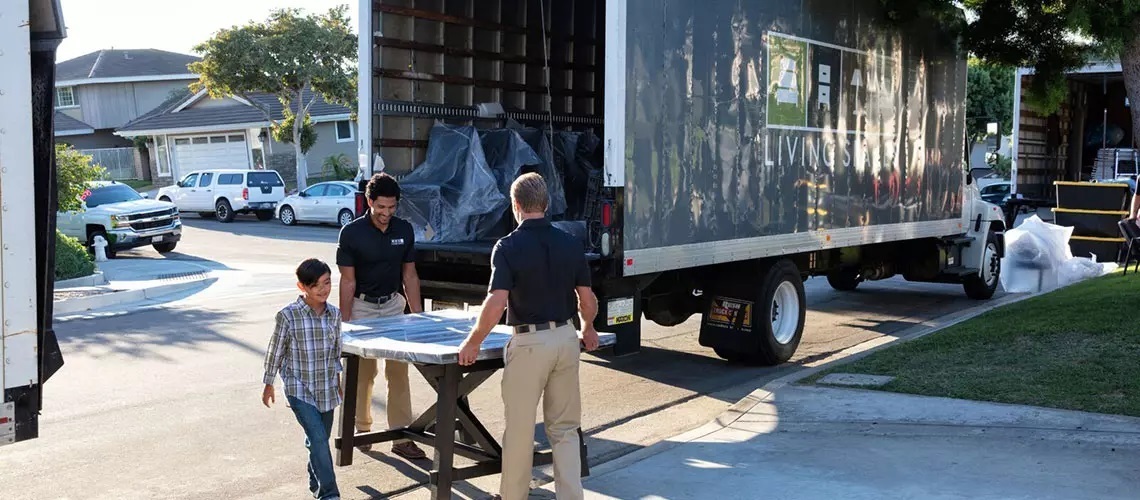 Living Spaces BOPIS and Delivery
5. Customer acquisition costs are increasing - rent is becoming the new CAC
The customer acquisition cost (CAC) is the total marketing cost of winning a customer to purchase specific products. The CAC had started increasing even before the pandemic started. However, with the increase of the number of digitally present companies, customer acquisition costs have risen even higher. According to Profitwell, the CAC has increased up to 60% in comparison to five years before.
Nowadays, more and more digital-first brands are opening stores where they can sell their products. Despite the fact that DTC brands started their businesses online, they've quickly realized that having a brick-and-mortar store in parallel to an impeccable online experience can only add up to enhance the overall buyer journey and gain more confidence and trust from the customer.
As deep-pocketed retailers entered the digital realm, tech-savvy DTC brands started testing the waters with physical retail as another customer acquisition channel.
DTC brands such as Ben Soleimani, YardBird, SofaCompany, and Interior Define have decided to open showrooms that allow customers to see the furniture in person. The best part: these stores are all about experiences.
The DTC disruptor Burrow has another exciting concept for the furniture store of the future. Besides creating physical locations where people can try out the product before buying, they also use the space to host events and partner with other brands. So, in their flagship, Soho store, customers can find products for two other direct-to-consumer brands: online paint retailer Clare and online plant seller The Sill. Burrow plans to use this collaborative model in the future as well.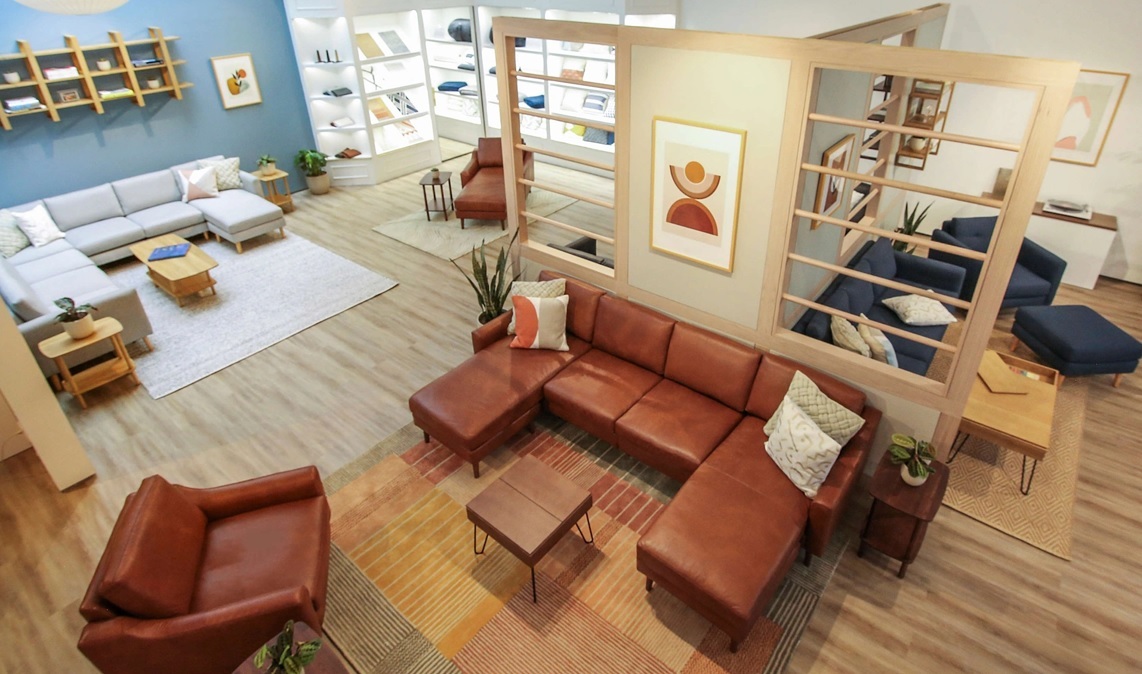 Ready to embrace the future?
The future of the furniture store lies in implementing a good omnichannel strategy. The biggest furniture players on the market have already invested their money and time in providing an infallible in-store experience in addition to the engaging online shopping experience.
Are you prepared for the future furniture store? If you want to discover how to reinvent your omnichannel strategy and empower your customers' digital experience with 3D product visualization, we're here to help.