Furniture e-commerce is growing and evolving faster than ever before.
According to Statista, the global furniture e-commerce industry is forecast to reach about 41 billion U.S. dollars by 2030.
Technology will continue to change the rules of the e-commerce game. Customers consider technology an integral part of their lives, and they expect a seamless omnichannel shopping experience. With sky-high expectations, the pressure is on for companies to keep up with tech-savvy, always-connected consumers.
As online shopping has increased, several key trends have emerged to accommodate new ways of reaching customers. From 3D commerce and mobile experience to e-commerce machine learning and incorporating new technological advancements, check out what's in store for the furniture industry in 2023 and beyond.
1. 3D Commerce
The rise of the visual economy brought a new way of shopping. Customers expect an immersive experience that answers all their questions. Would you buy a sofa online without being able to rotate the image of it, scrutinize the details, and choose the perfect color? Probably not.
The shift from 2D visuals to high-quality 3D models is a trend retailers cannot afford to ignore. The reason? Customers engage more with 3D assets, which ultimately also influences their buying decisions.
There's no doubt that 3D commerce is the future of shopping. From improved visualization and engagement to higher conversion rates and pleasant shopping experiences, 3D technology will be the frontier of commerce for the years to come. All-new experiences, headsets, and use cases that may arise in the future are going to rely on your 3D models. Choose a 3D visualization platform wisely.
"In the upcoming decade, we expect that 3D will get established in every corner of our lives. This will make it a prerequisite for every company that wants to futureproof its business. This new age of 3D commerce will require furniture companies to prioritize scalable solutions with a clear roadmap for future development." - Christian Lang, CEO, Chaos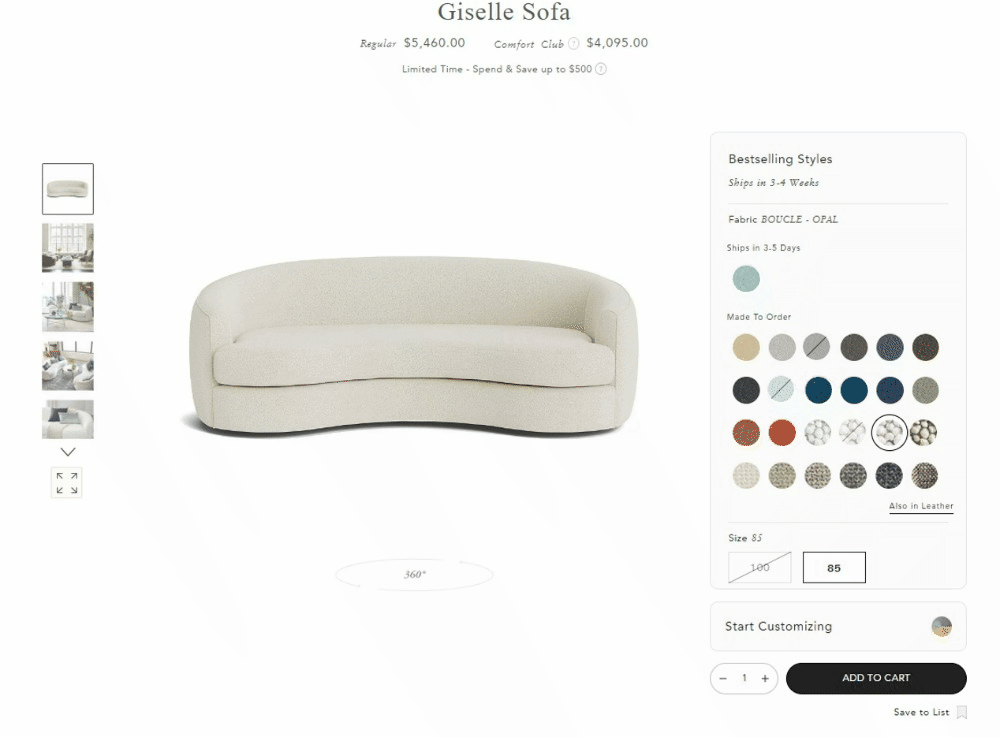 2. Mobile experience
Mobile is fast becoming the most critical part of the omnichannel experience. To remain competitive, retailers need to do more than create a mobile responsive website.
According to Statista, in 2023, the number of global smartphone users is estimated to reach 6.8 billion, marking a 4.2% annual increase. This makes mobile an essential touchpoint in the buyer journey.
Mobile is an integral part of how consumers shop nowadays, from browsing and research to comparison and purchasing. According to Google, 60% of home and garden shoppers use mobile searches for ideas about what to buy before they head into a store. To cater to mobile shoppers' behaviors, home furnishings retailers need to offer convenient and easy-to-use mobile shopping experiences.
3. Customizable lifestyle imagery
Years of research and discussions with furniture companies have led us to the conclusion that in-context images are vital for furniture businesses, and they invest a lot of time, effort, and resources to get the best possible visuals. The whole process of staging and creating is daunting and requires great organizational skills, attention to detail, and good timing.
The good news is that with 3D, creating in-context imagery is much more cost-effective because you don't have to transport furniture all around the world just for a photoshoot. The best part is that you can show off your products in context and at scale with customizable lifestyle imagery.
Retailers that want to stand out can always go the extra mile and produce engaging user experiences with interactive lifestyle imagery where visitors can play with fabrics, materials, and finishes while visualizing the product in context.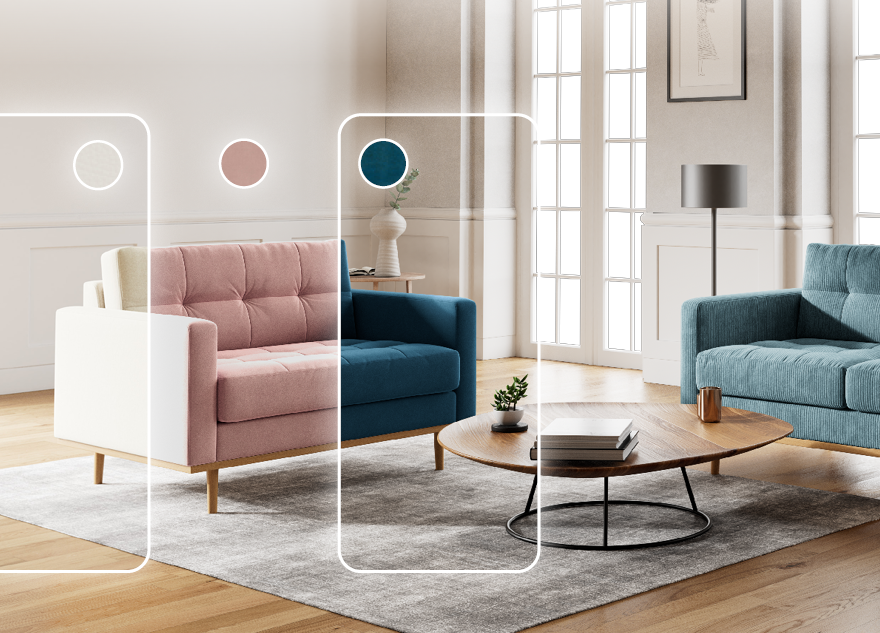 4. Last-mile experience
The explosive growth of e-commerce since the start of the pandemic has brought another challenge for businesses — high customer expectations for a seamless end-to-end shopping experience. According to Baymard, slow delivery is one of the top three reasons for cart abandonment.
Aware of the importance of fulfillment, retailers are ramping up their investments in automation solutions to improve last-mile carrier management, dispatching and routing, real-time visibility, planning warehouse and fulfillment center logistics, driver communication, and smooth omnichannel expansion.
One of the main goals of furniture retailers should be to increase supply chain resilience in the face of the unexpected. Moving forward, logistics and timely delivery will become a significant competitive advantage for furniture businesses.
"More and more furniture brands are taking control of their last mile. Why? It comes down to controlling their end-to-end customer expectations. Last mile is all about enabling technology and data to take control over your customer journey in collaboration with trusted supply chain partners." - Brenton Gill, Global Managing Director, Radaro
5. E-commerce machine learning
Tech-savvy marketers are always on the lookout for technologies to improve the customer experience. Here's where e-commerce machine learning comes into the picture.
E-commerce machine learning is the creation of applications and algorithms using the power of artificial intelligence that relies on a steady flow of data. From pricing optimization, personalization, and product recommendations to customer lifetime value prediction, inventory management, and fraud protection, machine learning has many practical applications in e-commerce. And this is just the tip of the iceberg. We have yet to see the power of machine learning and how it can help businesses grow.
Using machine learning, furniture businesses can automate time-consuming, labor-intensive, and costly manual procedures. What's more, e-commerce machine learning can help companies find patterns in the data and generate predictions to build a more profitable business.
6. V-commerce
Virtual commerce, also known as V-commerce, refers to the buying and selling of products using the power of virtual and augmented reality technology.
Using these technologies, businesses can blur the lines between online and in-store shopping. Even though AR and VR first became popular among gamers and young social media users, according to eMarketer, they are slowly becoming mainstream — with AR outpacing VR. Data shows that by 2024, AR user numbers will exceed 100 million.
We can expect more AR-powered content to be prevalent in the coming years, putting furniture retailers that invest in AR at the forefront of the next-generation shopping experience.
Forward-thinking furniture businesses are already leveraging 3D content to its fullest potential. Instead of just creating an engaging product page experience, they are relying on V-commerce as a new shopping channel where they can meet new customers.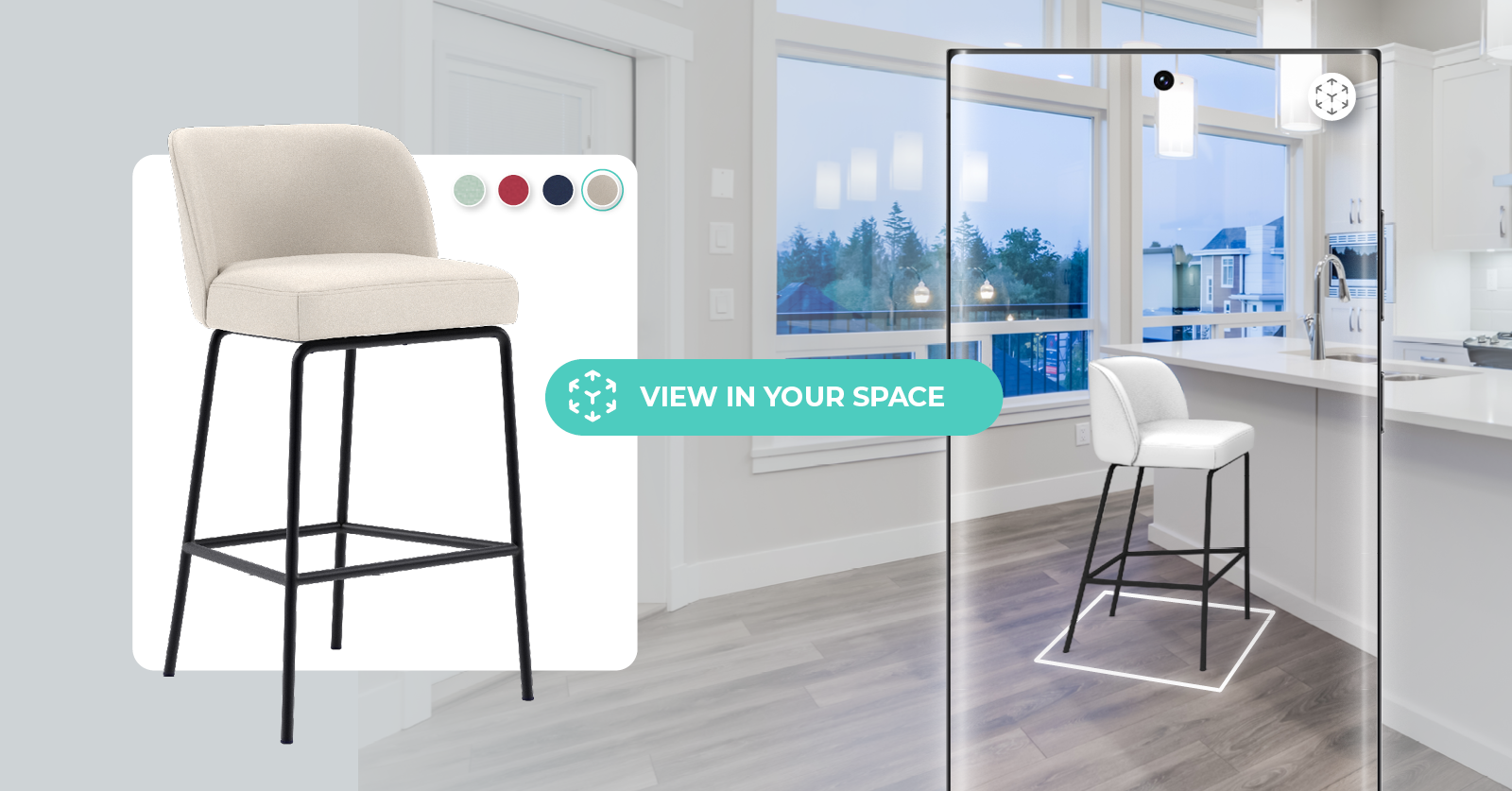 7. Customer reviews
Customers today are constantly looking for unbiased feedback to help them decide whether they should buy a product.
With the increased turn to online shopping paired with ever-shrinking consumer attention spans, reviews and visual user-generated content have become imperative to driving conversion at every stage of the buyer journey. For furniture companies especially, where price points (and the products themselves!) can range from very small to very large, reviews and photos from real customers can provide the context that's needed to make a confident purchase decision.
There's no doubt that online reviews are the digital equivalent of word-of-mouth marketing, and they increase purchase confidence. However, retailers often overlook the potential they hold.
As more furniture businesses deploy this influential social proof in their e-commerce experience, more informative and detailed reviews aren't just helpful — they can help you drive higher conversion. Plus, thoughtful reviews are essential for building trust, a metric intrinsically linked to ROI and retention.
8. Omnichannel experience
In the past couple of years, we've seen pure-plays expanding to physical locations and traditional retailers expanding into e-commerce, often by acquiring pure-plays (e.g., La-Z-Boy's acquisition of Joybird). That's strong evidence that even though e-commerce continues to grow, retail is not dead.
Retail channels and touchpoints have mushroomed, which makes it nearly impossible to predict where or how your shoppers will stumble upon your product. From an Instagram post, a recommendation from a friend, a Google search, or walking into a store — the modern buyer journey is complex and multifaceted.
McKinsey reported that 60% to 70% of customers use omnichannel shopping options, researching and purchasing both in-store and online across categories.
This means one thing: In order to keep up with the competition, your job is to create consistent, engaging experiences across every touchpoint.
Putting omnichannel at the heart of your business means creating a cohesive, seamless, personalized shopping experience by giving your customers multiple ways to interact with your brands. And looking at how retail is evolving — it's the only way forward.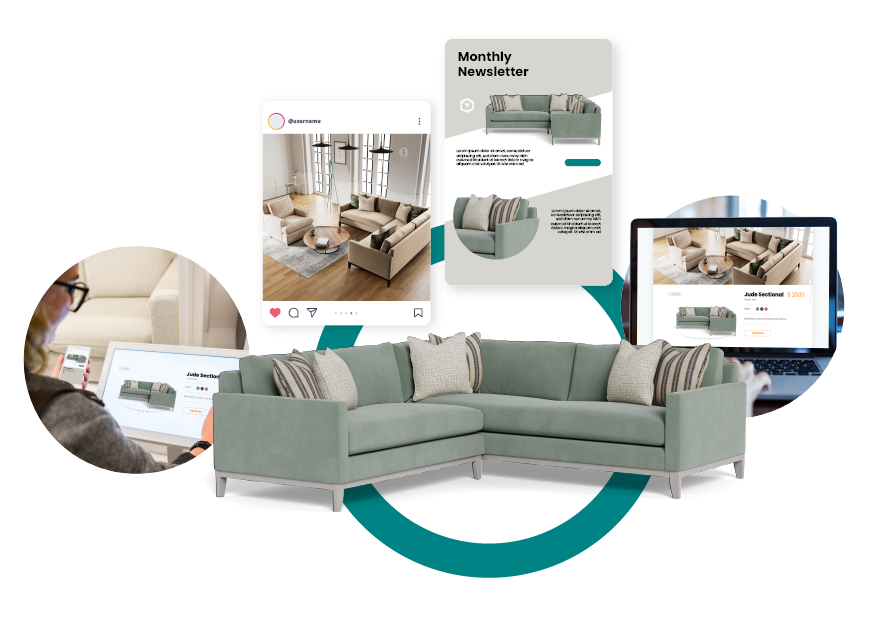 9. Conversational commerce
The explosive growth of social media in the past decade has brought a tectonic shift in the way people communicate. Social media has popularized a quick and simple way of communicating, which resulted in the rise of messaging apps, putting text messaging well ahead of phone calls. According to Spectrm's social conversational commerce report, 60% of respondents prefer messaging over email or phone calls.
Using conversational commerce, furniture businesses can create meaningful, two-way conversations, collect first-party data, build trust, and boost sales. Being successful in the online realm requires speed, convenience, and consistency. This makes conversational commerce the best way to meet customers wherever they are.
It's estimated that by 2025, global spending on conversational commerce channels will grow to 290 billion U.S. dollars. As technology continues to evolve, we're likely to see more tech-savvy furniture businesses that will incorporate fresh ideas into their marketing efforts and reap the rewards.
Ready to transform your furniture business?
Furniture businesses that invest in technology will set the foundation for future growth. If you want to see these furniture e-commerce trends in action download our e-book where we share best practices from leading players such as Mitchell Gold + Bob Williams, Joybird, EQ3, Monte, and Swoon Editions.