We live in a visual world. And that's not a coincidence. Humans are visual creatures — by some estimates, 30% of the neurons in the cortex of our brain are for vision. To top it off, according to the Social Science Research Network, 65% of people are visual learners. In other words, most people process information based on what they see.
When we take into account that furniture is an incredibly visual industry, the importance of product visualization grows exponentially.
The pandemic has brought a dramatic increase in online shopping — even for big-ticket items such as furniture. But the truth is, the furniture industry was in the midst of transformation even before the outbreak. The pandemic only accelerated the inevitable.
As consumers became increasingly accustomed to online shopping, e-commerce merchandising became a priority. The result: the rise of 3D commerce.
What is 3D commerce?
3D commerce is a new way of shopping powered by the use of 3D product visualization, product configuration, and augmented reality to create an engaging customer experience.
For many years, traditional photography has been the go-to method for product visualization. However, with time, businesses spotted all the inefficiencies in the process: organizing product photoshoots, manufacturing, transportation costs for the physical sample of the furniture item, errors as a result of manual data entry, and managing, storing, and repurposing assets.
As a result, furniture businesses have turned to 3D product visualization. Environment control is one of the biggest advantages of 3D compared with traditional product photography. However, there are plenty of other benefits as well. 3D visuals are versatile, empowering furniture companies to leverage visuals across multiple channels and platforms. High-quality 3D is also the basis for augmented and virtual reality (AR and VR) experiences.
Not only do consumers love interacting with 3D visuals, but retailers that incorporate them on their product pages will notice quantitative benefits. By implementing customization with 360 views on its product pages, the industry leader in premium custom furniture, Mitchell Gold + Bob Williams saw a 60% lift in upholstery product sales.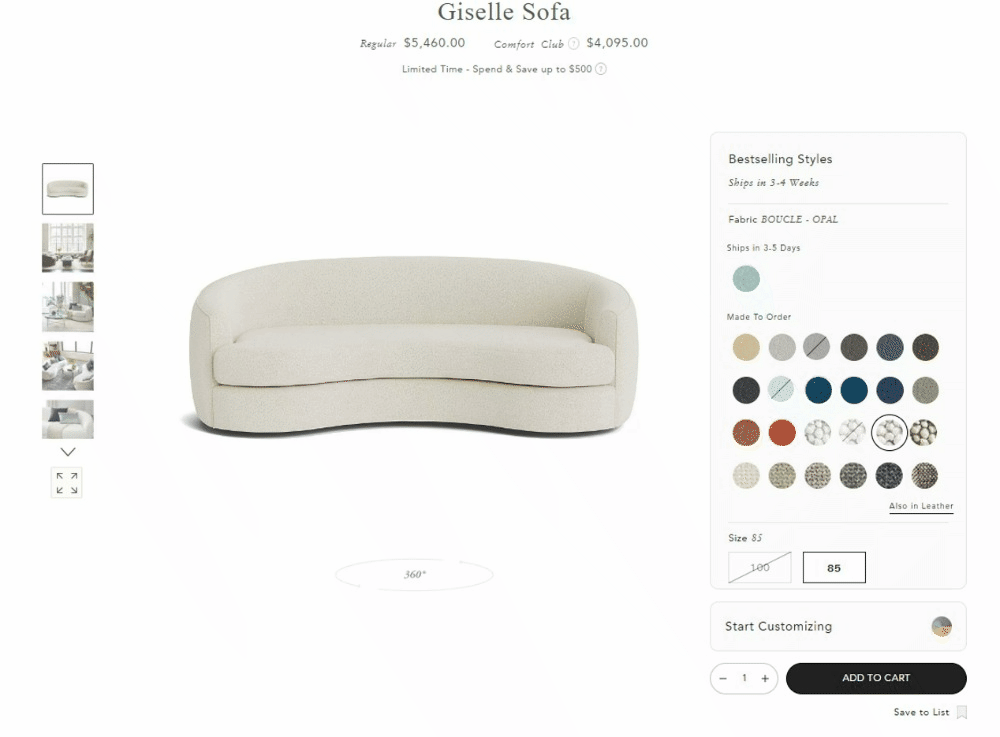 The rise of the visual economy brought a new way of shopping. Customers expect an immersive experience that answers all their questions. Would you buy a sofa online without being able to rotate it, scrutinize the details, and choose the perfect color? Probably not.
Retailers will need to move beyond the current 2D focus of e-commerce to prepare for a more immersive future of shopping. Equipping your product pages with 3D visuals allows customers to view them from any angle, rotate, and zoom in on the details. Going a step further, using augmented reality (AR), customers can place a 3D object in their space to see how it fits.
There's no doubt that 3D commerce is the future of shopping. From improved visualization and engagement to higher conversion rates and pleasant shopping experiences, 3D technology will be the frontier of commerce for the years to come.
Why do furniture businesses need 3D product visualization?
If you're still grappling with the question of whether you need 3D product visualization, here are five reasons to consider it before making the final decision.
3D technology is the backbone of future-proof visualization. When done right, 3D visualization creates assets with unparalleled quality and versatility that you can leverage across channels and platforms, building a unified omnichannel experience.
3D product visualization technology is the foundation for 3D commerce (for B2B and B2C businesses).
Organizing a photoshoot for every separate furniture piece in different variations can be costly and time-consuming. With 3D technology, businesses can scale product visualization and unify the brand experience across the product portfolio.
Offering customers a gamified experience with the ability to turn products around in full 360-degree spin, play with different configurations, and zoom in to scrutinize details like fabric and texture can be a crucial decision-making factor in online furniture shopping.
High-quality 3D assets are the starting point for other 3D product visualization technologies such as augmented reality, virtual reality, and space planning. In a world where rich content is the new imperative, being able to reuse content across platforms can be a game-changer.
The bottom line is that if you're banking on e-commerce for the long run, you can't afford to sit on the sidelines.
How can furniture businesses introduce 3D commerce?
If you're amped about 3D commerce, now is the time to answer the big question: What's the best way to get started?
The short answer is baby steps.
As with everything in life, when trying something new, the best advice is to go slowly. The same applies to 3D commerce.
Enter the crawl, walk, run approach.
To make the most of 3D commerce, you should set the foundation, gradually increase the number and complexity of use cases, and then apply 3D across the board to enhance the end-to-end customer journey.
To help you get started with 3D commerce, we created a step-by-step guide packed with use cases, examples, and expert opinions. Let's dive in.
Crawl: Get started with 3D
3D technology has the potential to revolutionize commerce. But to be able to make the most of your 3D assets, you need to start with the basics and put 3D at the heart of your strategy.
The only way to do so is to find a reliable 3D product visualization partner and create high-poly assets you can repurpose across use cases.
1. Choosing the right 3D product visualization platform
Technology has already revolutionized the way furniture companies do business. The customer shift toward e-commerce further cemented the pivotal role technology plays in the industry.
While adopting new technologies can feel daunting, the cost of the status quo exponentially increases as time goes on. Technology's impact is especially evident in key business areas, such as 3D product visualization. Creating an exceptional customer experience starts with high-quality product visualization that gives customers the confidence to make an online purchase, even for a big-ticket item such as furniture.
However, having a product visualization solution that gets the job done is not enough. Businesses with slow and lengthy product visualization processes experience serious bottlenecks that limit their growth.
The British DTC furniture brand Loaf had similar challenges. But as soon as they noticed the red flags, Loaf's team knew they needed to find a scalable solution.
One of the biggest challenges for Loaf was how to visualize 100,000+ products in the quality and time frame they required.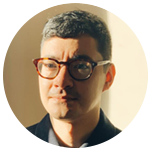 "We were aware that every single day we delayed selecting a future-proof 3D product visualization vendor was another day, another resource wasted."
- Louis Adamou, Technology Director, Loaf
Loaf redefined the online shopping experience with 360° views and crisp zoom that allow customers to choose the right colors, materials, and finishes.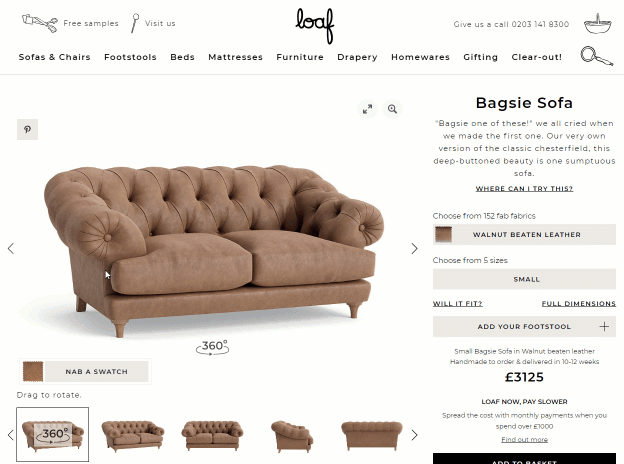 Furniture players that fail to embrace 3D technology will face existential challenges, while their tech-savvy counterparts should see measurable bottom-line benefits.
The question is: How do you find a 3D platform that checks all the boxes?
While adopting new technology requires careful planning, choosing a 3D product visualization vendor doesn't have to be scary. Here are the ten of the most important aspects that will help you find the best fit for your furniture business:
Quality of assets — The quality of the 3D product visuals is the foundation of your product visualization strategy. Not only does the quality impact your brand image and the overall website experience, but it is the key to future growth (adding new use cases).
All in one solution — 3D product visualization should go beyond the product details page. The furniture buyer's journey is everything but linear. Being able to use high-quality visuals every step of the way can fuel your growth. Always think of the possibility of repurposing the 3D assets for different use cases.
Scalability — When choosing a 3D product visualization solution, you have to think long term. Even if you're just starting with a small batch of products, have in mind that over time you might want to create 3D models of your whole product portfolio. For this, you need to find a partner that offers a scalable solution.
Product page load speed — Product page loading speed is one of the most overlooked aspects in the process of choosing a 3D platform. Slow product pages negatively affect user experience, SEO, online sales, business reputation, and credibility.
Production process and turnaround time — Without standard production and pipeline, the risk of missing the deadlines and having inconsistent visual quality is huge. Talk about turnaround time up front. Time efficiency is crucial. A slow turnaround time can completely derail your business (think: having to postpone the launch of your new collection because the 3D assets are not ready).
Review process — The review and approval process of 3D product visuals can be daunting. Always check what the vendor's usual workflow is and if there's a dedicated tool to ease the process and communication.
Onboarding process and communication — 3D product visualization is not a one-off thing. It requires constant communication so everything runs smoothly. That's why you need a vendor that acts as a partner in the process. Working with a dedicated team is a prerequisite for success.
Omnichannel support — Why use 3D product visualization for your website only when you can leverage the 3D assets to boost in-store sales or showcase your products during trade shows? 3D product visualization can help you create an endless aisle experience and overcome supply chain issues.
Product expertise — The complexity and the price tag of big-ticket products such as furniture require state-of-the-art product visualization that instills purchase confidence. Aside from this, you can also benefit from the industry knowledge and the network effect.
Future-proof solution — The world is changing, and so is technology. Make sure to choose a future-proof 3D product visualization platform that is ready to scale, grow, and evolve.
We've compiled a ten-point checklist specifically tailored to help furniture businesses ask the most important question and choose the right 3D product visualization platform.
2. Content creation
The content creation process is divided into three steps: data gathering, archetype creation, and mass production.
During the first step, you should send product data, explain the requirements, and specify delivery details together with the 3D product visualization vendor. The quality of the 3D assets is based on the quality of product images, precise dimensions, and physical swatches you provide to the vendor. The more accurate information leads to fewer revisions and shorter delivery times.

The second step of the content creation process, also known as archetype creation refers to the reproduction of physical products in 3D. The 3D model construction, replication of materials, and general aspects such as lighting setup, framing, camera angle, and resolution are critical steps during this stage.
The third and final step of the content creation process is mass production. During this stage, all 3D models are produced according to specifications and archetype defined standards. The end result is a 3D product visualization of the product ready to go live on your website.
3. Product pages powered by 3D product visualization
The rise in online shopping raised awareness of an important topic: furniture e-commerce merchandising. The online shopping experience is crucial when it comes to e-commerce furniture sales. But the B2B buying journey has changed as well.
Today's business buyers look for the same digital experiences and features they encounter as consumers. As a result, some of the most successful furniture brands and retailers have redefined the website experience using the power of 3D product visualization.
360-degree views
The perceived value of your products and the trustworthiness of your brand are often judged based on the quality of your visual presentation.
Adding a 360-degree view on your product pages is the best way to compensate for the lack of tactile sense, which is critical, especially when it comes to online furniture purchases.
King, a household name in Australia, introduced a 360-degree view of the products, allowing customers to rotate the product and scrutinize the details. King's customers can choose different fabrics, view products from every angle, and zoom in on the detail. This way, they give customers all the information they need to purchase with confidence.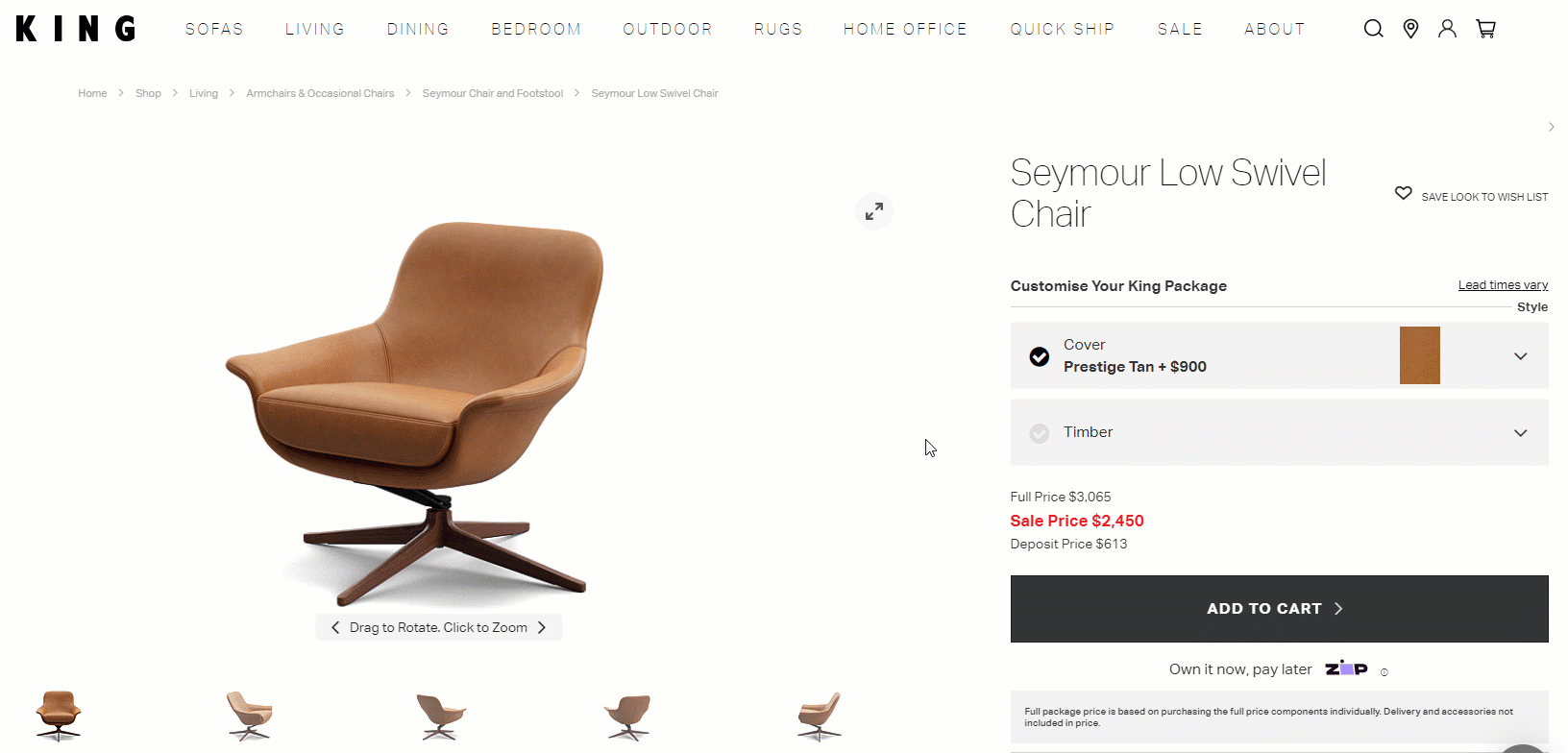 3D commerce has revolutionized King's customer experience. Buyers can now customize their products, inspect the fabrics with 4K zoom, and get a 360-view of the product. It's a true game-changer.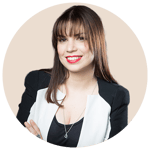 "When it comes to furniture, design choices are very personal. The opportunity to empower customers to explore and visualize their style choices from all angles has revolutionized the customer experience. At King, our design ethos places the end-user at the forefront, and our online innovations follow this same best practice. Utilizing a 3D commerce tool streamlines and shortens the purchase process and, most importantly, gives our customers confidence in their purchase decisions and the best possible online journey available."
- Vanja Stace, Chief Experience Officer, King
Adding a 3D product visualization on the product pages proved to be a powerful solution for King. Aside from the seamless online shopping experience empowered by 3D, the website becomes an excellent research tool for customers who prefer to visit a showroom. Having spent time on the website, customers are well educated about the products King offers, and they already know what they're looking for when they enter the showroom.
HD zoom
To create a pleasant product page experience, you need to focus on high-quality visuals and zoom. Baymard's usability testing shows that 56% of users begin exploring product images as soon as they arrive on the product page. Unfortunately, in many cases, they face low-quality images and an insufficient level of zoom.
You can't expect to increase your online sales if you don't show your products in as much detail as possible. Showing off product details in 4K can certainly increase purchasing confidence and boost online sales.
The Chicago-based DTC furniture brand Interior Define is founded on the premise of delivering the best online shopping experience. Besides the impeccable UX design, Interior Define has well-equipped product pages with 360-degree views, 4K zoom, and product customization.
Customers browsing Interior Define's website can enjoy crisp and sharp zoom, allowing them to inspect even the slightest product details such as texture, patterns, and stitching.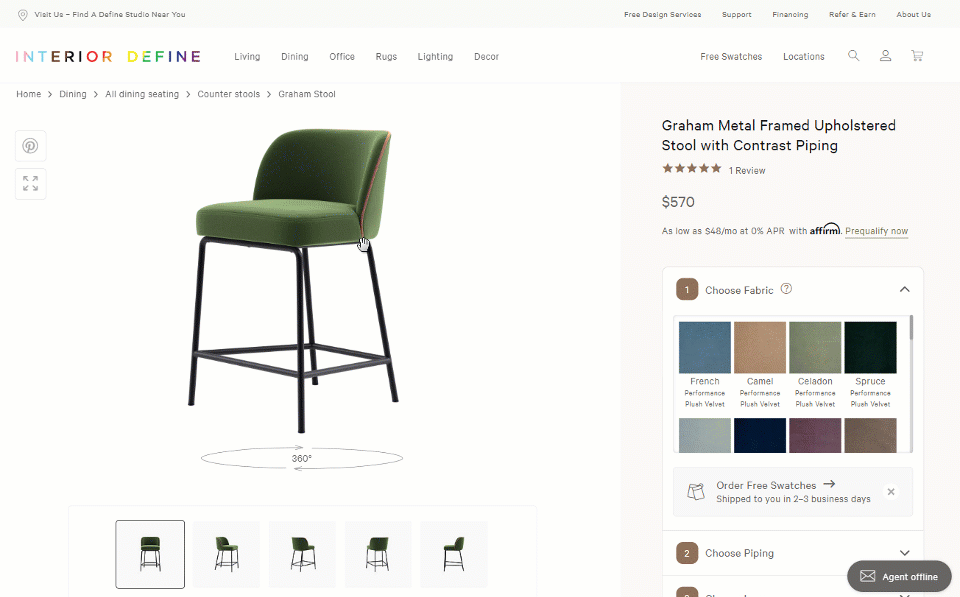 Following the latest UX best practices, Interior Define has a click-to-zoom feature on the desktop version and a double-tap to zoom on the mobile version. Customers can also get a full-screen view of the product, so when using a 4K zoom, they get a real sense of the product specifics.
Room scenes
Consumers are hungry for high-quality content that will help them make a purchasing decision. According to Salsify, 41% of US shoppers ranked quality images and product descriptions as a top-three reason for choosing where to shop online, and 30% of US shoppers will not purchase if product images are missing or of low quality.
Context is crucial for furniture sales. By providing in-scale images, you make it easier for customers to get a grasp of the product size. Not only do room scenes help explain the product's features (color, fabric, size), but they also help customers visualize how the product looks in a real-life setting.
However, the process of creating room scenes using traditional product photography is lengthy, time-consuming, and costly. Here's where 3D comes in handy. With 3D product visualization, you can use the power of digital storytelling with photorealistic lifestyle shots without the heavy lifting.
One of the leading Australian furniture retailers Plush is constantly leveling up its product page experience by adding new features. Besides product customization, 360-degree views, 4K zoom, and augmented reality, Plush also allows customers to view the product in a room setting.

Adding room scenes to your product pages will help customers gauge the overall scale and size of the product. Thanks to the persuasive power of interactive photoreal room scenes, you'll be able to tell a better brand story.
Walk: Use 3D beyond the product page
After you cover the basics, you are ready to dive deeper and introduce a more advanced use of 3D product visualization.
Advanced 3D product visualization platforms allow you to dynamically deliver high-quality visuals across touchpoints through API. Let's look at how tech-savvy furniture players use 3D visualization beyond the product page.
1. Consistent product listing page thumbnails
The product listing page (PLP) is a starting point for a majority of buyers in the consideration phase and thus a vital touchpoint in the buying process. Providing visitors with a good experience on the PLP may largely influence their purchasing decision.
The DTC furniture brand Inside Weather believes that shopping for furniture should be modern, personal, and accessible. To make that happen, Inside Weather invests a lot of time and effort in its online shopping experience. Customers can enjoy high-quality product visuals, customize every detail, and order their unique piece of furniture.
Inside Weather has an unparalleled attention to detail. When you open its product feed, you will witness consistent product visuals. Thanks to the use of 3D product visualization, Inside Weather is able to create consistent PLP thumbnails at scale.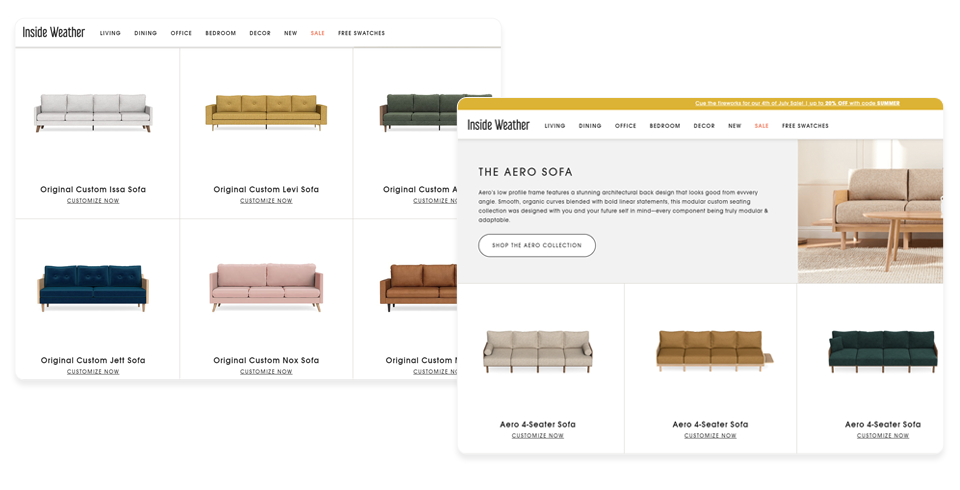 With consistent product listing page thumbnails, you can create a pleasant browsing experience and encourage visitors to engage with your product pages and explore products.
2. Cart thumbnail
The browsing experience often feels detached from the checkout experience. Furniture businesses include a lot of product visuals and convincing copy in the browsing experience, but they seem to forget the importance of the checkout process, burdening the page with form fields and instructions. This is where cart abandonment happens.
What can you do about it?
Include a high-quality visual of the exact product variation the customer has added to the cart. Using consistent product image thumbnails throughout the customer's entire furniture journey can close the gap between the browsing and checkout processes.
The renowned British furniture retailer Heal's shows high-quality product visuals in the cart thumbnail. When a customer selects a product with a specific fabric and adds it to the cart, they can see the exact product visual in the cart thumbnail.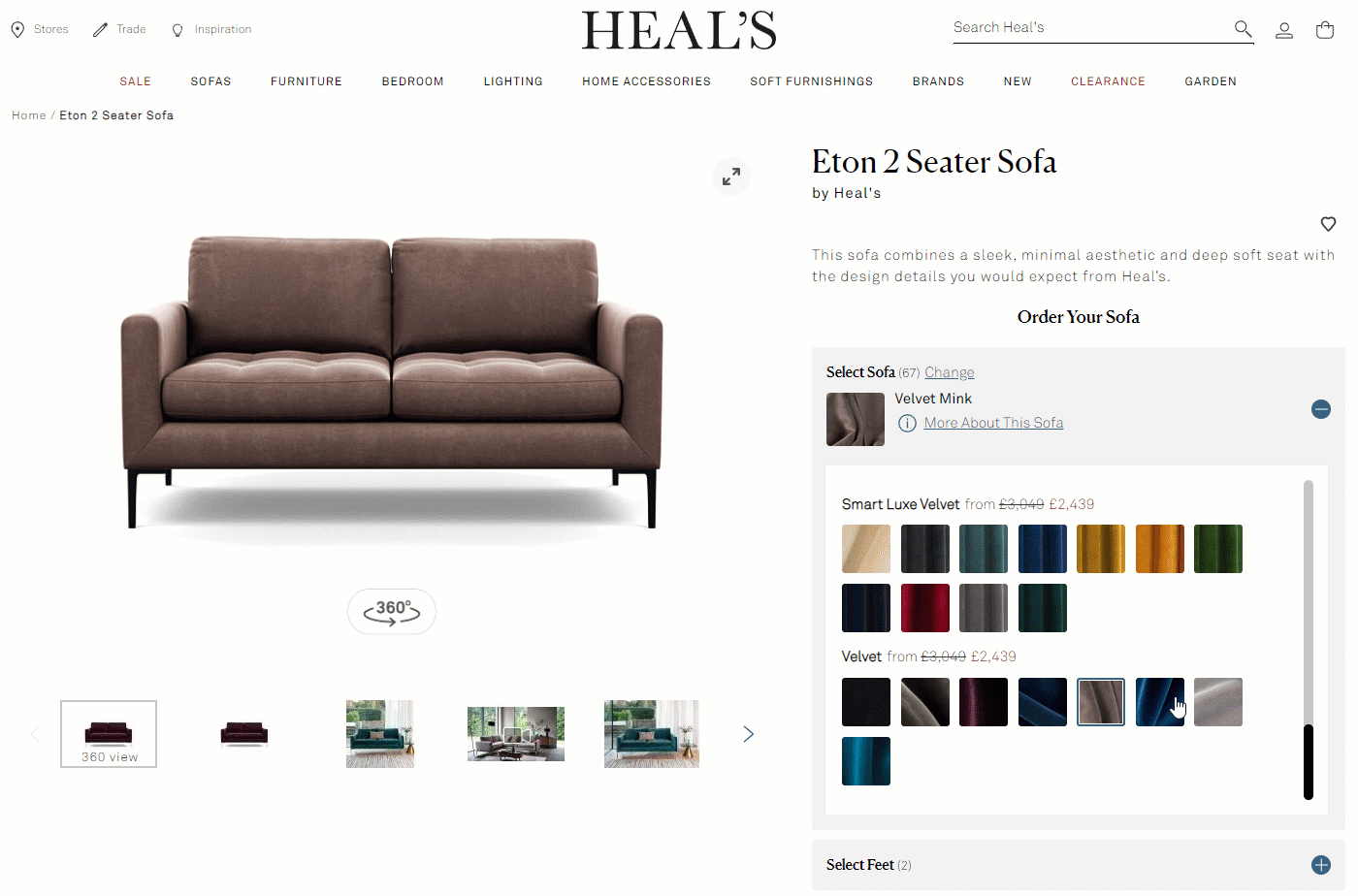 Displaying product thumbnails of the selected product in the mini cart and during the checkout process allows instant verification that the customer picked the right product, which boosts customer confidence and helps to complete the checkout process.
3. Filter fabrics and colors on the product listing page
When done right, e-commerce product filtering helps visitors narrow down a selection and find products they might be interested in based on specific features (e.g., size, color, category).
Only a small number of visitors that come to your website know exactly what they're looking for. Having product filtering that can help find a specific product will create a seamless browsing experience and lead visitors down the purchasing funnel.
The UK DTC brand Loaf is a champion when it comes to repurposing 3D content at multiple touchpoints, online and in-store. Besides the engaging product page experience enriched with 360-degree product views and seamless product customization, Loaf uses 3D visuals to enable fabric and color filtering on the product listing page and vastly improve the user experience.
Once visitors begin browsing through products (e.g., sofas), there are multiple filtering options available at the top of the product listing page. Using the fabrics filter, users can browse through hundreds of different fabrics by feature, type, and color.
When visitors select a fabric/color they like, then all available products in that particular fabric/color are showcased in a consistent manner (same angle, lighting, shadowing, etc.)
Run: Make 3D the pillar of your furniture business
Going 3D is the most effective visual strategy to give your furniture business an edge. Unlike traditional product photography and other solutions that produce single-purpose visuals, investing in high-quality 3D models can help you future-proof your asset library with an array of use cases.
1. Augmented reality
Today more than 1 billion smartphones and tablet devices can deliver augmented experiences. Furniture was one of the first product categories to find widespread and measurable success with augmented reality (AR).
Customers are now expecting retailers to offer virtual product placement in their homes, as it's rapidly becoming the industry standard.
According to Deloitte, furniture is in the sweet spot for augmented shopping capabilities because it has product sets that are highly standardized with high opportunities for customization. As a result, it has a positive ROI and potential for widespread adoption.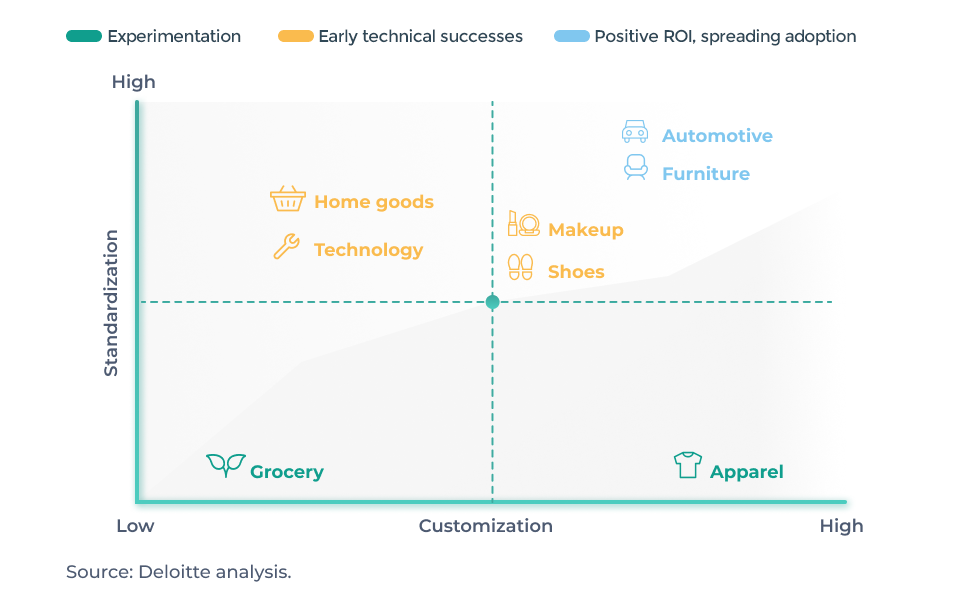 Darlings of Chelsea is a UK furniture retailer devoted to comfort, quality, and excellent customer service. Besides the rich e-commerce merchandising features on its product pages, Darlings of Chelsea allows customers to use AR and see how a furniture item fits in their space.
Visitors can experience AR straight through the browser without the need to download an app, which removes friction and creates a smooth and seamless customer experience.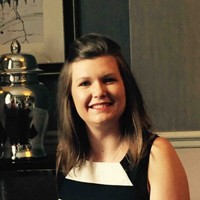 "We are not an industry with a huge repeat purchase rate — given the nature of what we are selling. So ensuring you are confident in what you're showing your customers online with the likes of AR technology, 360-degree spin, and detailed high-definition zoom will greatly increase the chances of a customer checking out. We are investing in the future of Darlings of Chelsea, and the online customer journey will be a big focus for us."
- Tasia Cooke, COO, Darlings of Chelsea
To create a consistent experience and increase AR adoption, Darlings of Chelsea features a QR code that pops up when customers browsing on a desktop click the "View in AR" button. This way, they can seamlessly transfer customers from desktop to mobile and unleash the power of web-AR.
Augmented reality allows customers to visualize furniture in their rooms, and the convenience makes customers buy into these experiences quickly.
Making it easy for customers to use AR with no app needed will positively influence the adoption rate. Furniture businesses will have the tool they need to complement a visit to the showroom, and customers will have the right amount of information to make more informed decisions.
2. Shopping feeds and marketplaces
Generating product images for a Google shopping feed or other marketplaces can be daunting and cumbersome.
Every online marketplace has different visualization requirements for its product pages, and if you decide to sell through their platform, you have to provide the required content following the exact instructions.
Things get even more complicated if you decide to sell through more than one marketplace. As a result, furniture businesses need to invest considerable time, effort, and resources to follow all the guidelines to get their products approved and publicly shown on the marketplace. The good news is that 3D product visualization can simplify the process.
EQ3 is a Canadian furniture retailer with a bespoke online shopping experience. To create a consistent brand experience powered by 3D product visualization, EQ3 programmatically generates customized visuals for Google shopping feed and third-party marketplaces.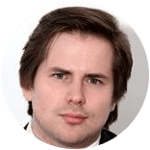 "The concept of the 3D asset being truly an asset — as in one that can be reused to generate revenue — is essential. The idea that I can now jump on opportunities for leveraging existing content at no additional cost and almost no internal effort at all is such a big win."
- Dan Gange, Director of E-commerce, EQ3
Using 3D visuals, EQ3 was able to cut the process of providing Google shopping feed images from six months to 1–2 hours. Furthermore, they generate 3D visuals for Hudson's Bay, a Canadian department store chain.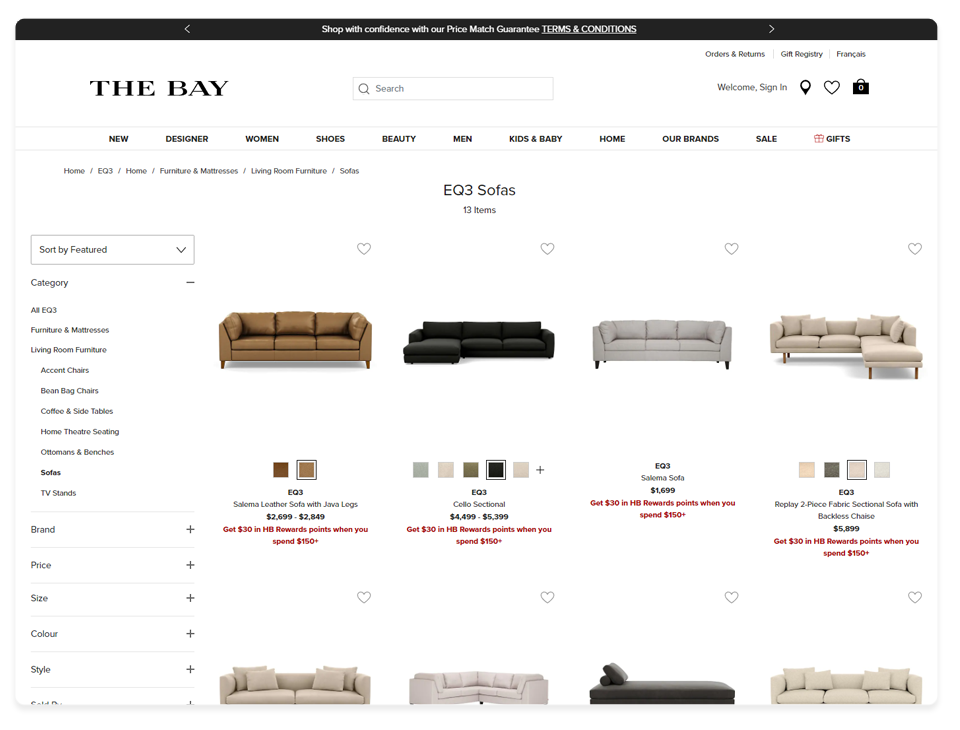 Working with a reliable 3D product visualization platform can solve the pain points related to the ever-changing requirements that marketplaces have for product pages.
3. Endless aisle
The benefits of 3D product visualization are not limited to creating an engaging online experience. Using 3D product configurators in-store can help retailers create an endless aisle and handle supply chain issues.
An endless aisle is a retail concept of using kiosks and tablets in-store that allow customers to browse and order products that are not showcased in-store. They can even order products that are out of stock.
The usage of 3D visuals to create an endless aisle experience is not limited to retailers and DTC brands. Furniture brands can also use 3D product configurators in the showrooms or during furniture markets to display the full range of products.
The Canadian furniture brand Palliser uses 3D product visualization to enhance the brand experience during furniture markets and enable potential furniture retail partners to browse through the collections and inspect the details.
The way they've done it is simple: on a large screen near the entrance of the showroom, a video showcases the browsing experience on the Palliser website. Sales representatives are also using tablets to encourage partners to take the product configurator for a spin.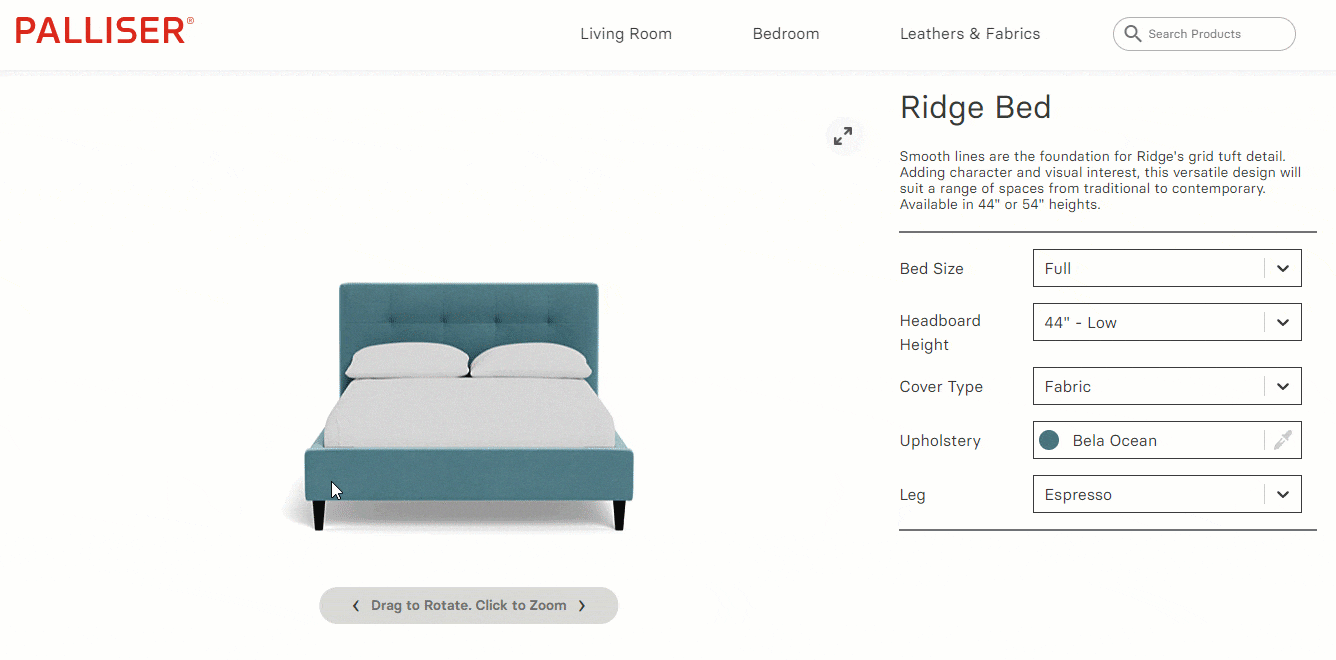 An endless aisle makes it easy for furniture brands and retailers to showcase their product assortment without having multiple showrooms that can take up thousands of square feet at each location. Instead, they can choose attractive locations and open small, gallery-like stores where they will offer engaging shopping experiences to customers.
4. Email marketing and social media
uchpoints across the journey to convince customers to buy your product, serving high-quality content is essential, especially in industries like furniture that rely heavily on visuals.
While content creation can be time-consuming and costly, leveraging 3D product visualization can help you solve this hurdle.
The Danish DTC furniture brand Sofacompany sets new standards for furniture shopping experiences. Besides rich product pages equipped with 360 views, a product configurator, and 4K zoom, they also incorporate high-quality product visuals in their email marketing campaigns and across social media.
Having 3D visuals of your products allows you to get creative and repurpose them across your email and social media channels.
When you leverage the power of high-quality product images, you can set yourself apart from the competition by driving traffic to your website and ultimately converting visitors into customers.
Prepare for the future with 3D commerce

We are living in the decade of 3D commerce. Having high-quality 3D visualization on your product detail page is table stakes nowadays. But 3D visualization goes way beyond that, empowering furniture businesses to create an end-to-end engaging customer journey.
Investing in high-quality 3D product visualization is the starting point for all your future 3D-powered experiences. Being able to base your strategy on smart, reusable, and agile 3D assets that can easily be leveraged across channels and platforms will give you an edge over your competitors and save you time, energy, and resources.
Ready to enter the 3D commerce era?