Here is the monthly round-up of all important news and articles in the world of furniture, e-commerce, and technology.
FURNITURE TECH
IKEA Considering Launching Online Marketplace
In the past few years, IKEA has made few savvy moves, that wowed everyone in the furniture industry. Even though it has taken IKEA a long time to accept the digital transformation, now they are among the most innovative companies in the industry. A few weeks ago it was announced that IKEA is considering launching an online marketplace for furniture. According to an article in the Financial Times, the marketplace site would sell the company's furniture, as well as other offerings from potentially competitive vendors. It will be interesting to see how will things develop in the future.
Wayfair Debuts An Outlet Store
Last year we saw digital-native brands testing waters with physical footprint. After experimenting with pop-up shops last year, Wayfair announced its plans to open an outlet store in Kentucky. The store will feature previously returned items that are in good condition, along with discounted items, helping the company save on delivery and recoup a greater portion of the costs from returned goods. The opening of a physical store is more than a brand statement for Wayfair. It's a strategic approach to use the benefits of having a store to combine managing returns with managing inventory.
E-COMMERCE NEWS
How Amazon took 50% of the E-commerce Market and What It Means For The Rest of Us
We all know Amazon is big. The question is how big is it? According to an article from CNBC, Amazon has nearly 50% of all e-commerce trade. What does this mean for brick-and-mortar retailers? It means that they have to think omnichannel when designing customer experiences and have a strong digital strategy if they want to stay relevant. To proceed with this model, traditional retailers have to address some challenges: from organizational and management, to people that can be resistant to change. However, this change can have a significant impact on your company's success.

Unsplash
CUSTOMER EXPERIENCE AND DIGITAL UPDATES
Almost 70% of US Consumers use BOPIS
Customers love the BOPIS model (buy online pickup in-store). Business Insider cites that 68% of US consumers have made multiple click-and-collect purchases. What's even more important is the fact that 50% of shoppers said that they've decided where to buy online based on the availability of BOPIS. The most popular reason shoppers love BOPIS was saving on shipping costs (48%), followed by speed (39%) and convenience (28%). One more finding from the same research shows that once consumers are in-store to pick up a purchase, they tend to make an impulse purchase. As much as 85% of shoppers say that they've made an additional in-store purchase while picking up an online order.
What Does Experiential Retail Even Mean These Days?
In the past few years, there is no chance you've read a retail article where 'experience' is not mentioned. Nowadays, experiential retail is one of the hot topics and everyone is trying to jump on the bandwagon, and to offer at least something that can be categorized as experiential retail. This means telling a unique brand story, having an Instagram worthy showrooms, and cozy atmosphere (like Burrowhouse) where you can make yourself at home. Or as Retail Prophet's CEO, Doug Stephens puts it: "Millennials don't suffer from shortened attention spans. Rather, they simply have a much higher sensitivity to things that are boring." However, you must never forget - implementing something just for the sake of being innovative is not enough. Make sure to introduce relevant experiences and technologies that will create a delightful end-to-end customer journey.
UPDATES FROM CYLINDO
Top 100 U.S. Furniture Retailers - E-commerce Merchandising Report
We've analyzed the websites of 100 U.S Furniture Retailers for 10 e-commerce merchandising features, and the results are finally here.
What's inside this report?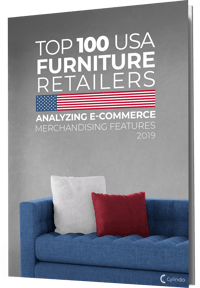 The analysis of 100 U.S furniture retailers' websites and the adoption of e-commerce merchandising features (zoom, product configurator, 360-views, room scenes, augmented reality, video, reviews, recommendation, mobile optimization, and page load speed)

Action checklist: Things to consider when implementing each feature in your retail business

Benchmarks, best practices and best-in-class industry players by features
Want to see how retailers like Interior Define, Ethan Allen, Wayfair, Joybird, and Restoration Hardware are winning the e-commerce game with an all-new approach to the furniture shopping experience?
INFOGRAPHIC OF THE MONTH
Here is a sneak peek from our report with the percentage of retailers out of the Top 100 that have implemented the 10 e-commerce merchandising features. Download the report to get more exclusive findings from top furniture players.