Here is the monthly round-up of all important news and articles in the world of furniture, e-commerce, and technology.
FURNITURE TECH
Is Home Goods The Next Retail Sector Ripe For Disruption?
The furniture landscape has changed drastically in the last few years due to a complete shift in consumers expectations and shopping behavior. If only a few years ago we thought "who would buy furniture online", today, the answer is "all of us".
According to data from Euromonitor, between 2013 and 2018 the home goods markets in brick and mortar and e-commerce have grown 20.9% and 88.7% respectively. As the competition is becoming more fierce, furniture retailers are harnessing the benefits of advanced technologies to bridge the gap between bricks-and-clicks. Some of the top furniture brands and retailers are experimenting with new forms of engagement online and in-store to deliver more immersive and compelling customer experiences.
Wayfair Opens First Brick and Mortar Store, Walmart Launches MoDRN collection, and Amazon Struggles With Private-Label Brands
Marketplaces are restless, and this is more than evident in the furniture category. After opening a few pop-up stores during the holidays last year, Wayfair has decided to open its first brick and mortar store. Besides realizing the importance of physical stores, marketplaces are also investing in their private-label furniture collections. Recently Walmart has launched its MoDRN collection of contemporary furniture and decorative accessories. Walmart is also stressing the quality of materials used, including hardwood, marble, and performance upholstery, that reflects on the prices which are slightly higher compared to what we're used to from Walmart. MoDRN is Walmart's biggest private-label furniture launch, featuring nearly 650 items from sofas to accent pillows. However, making sure that private-label brands are successful can be daunting. A new study from Marketplace Pulse shows that some Amazon-owned private-label brands are not as successful as they might seem.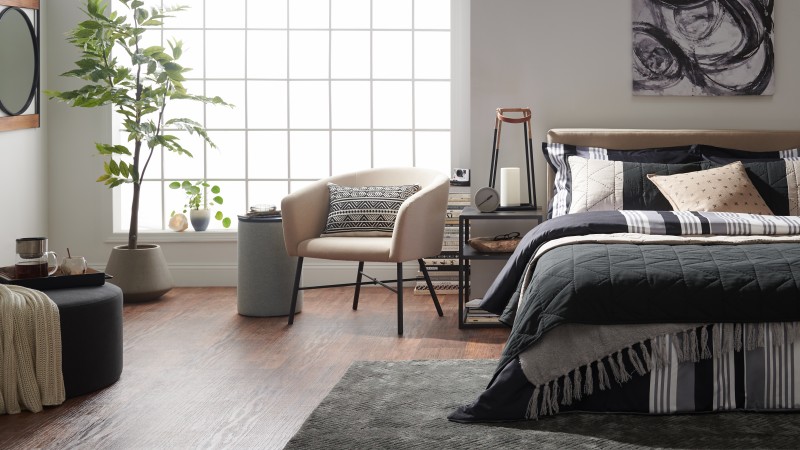 Source: Walmart
E-COMMERCE NEWS
Instagram Launches Shopping Checkout, Charging Sellers a Fee
Instagram has introduced "Checkout on Instagram", which means consumers can now shop on this social network without leaving the app. Thanks to stored payment info, the 130 million people who tap Instagram's product tags on shopping posts will be able to buy those items straight from the app. Saving merchants from abandoned shopping carts left by users frustrated with having to sign up with each different brand is the key value offered here. Will this be a great ROI for brands due to the frictionless and convenient experience? Let's wait and see.
Why Instagram, Home Depot and Pinterest Think Photos Are The Next Big Thing In Retail
Google, Instagram, Pinterest, Home Depot and more are betting that images will increase sales, engage shoppers and improve trust in their brands. Research from Intent Lab shows how important images are in commerce. Around 60% of shoppers think visual information is more important than text, especially in categories such as apparel and home furnishings which rank the highest with roughly 85% of shoppers placing more trust in images than words. This trust in visual platforms and images could well be a brand's best defense against Amazon. It's no surprise that some of the leading furniture retailers rely on superior product visualization and engaging 360-degree experiences to increase conversion rates.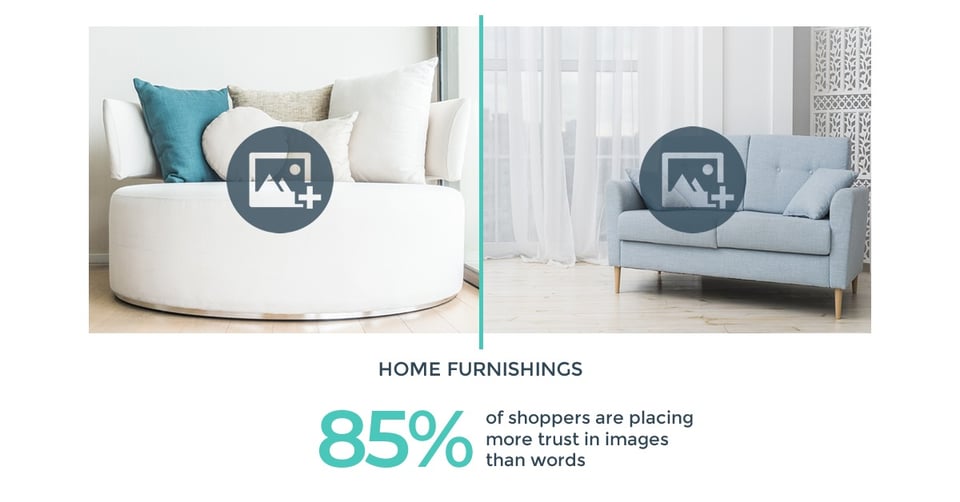 Souce: Intent Lab
CUSTOMER EXPERIENCE AND DIGITAL UPDATES
Brands should be concerned about customer loyalty
Companies have to work hard to keep customers. According to a report from Criteo, 73% of U.S consumers are open to considering a new brand in at least one shopping category. Discount, sample product and a recommendation by a friend are among the top three reasons for doing so. Home & garden category has over 80% of consumers select they are "very likely", "likely" or "somewhat likely" to try a new brand. What can you do about it? A brand that offers the best value, lowest prices, and best selection is more likely to have customers return to it, with 66%, 53% and 49% of respondents, respectively, citing these as their top reasons to return. So if your priority is customer loyalty, focus on value, selection and customer service.
INFOGRAPHIC OF THE MONTH
Creating a Frictionless Experience Becomes a Top Priority
Recent Google research shows that 87% of people say they can be loyal to a brand without having its app on their phone. In fact, 53% of smartphone users say they do not have their favorite brand's app installed on their phone. This is why business leaders integrate technology platforms to help make timely customer connections across multiple touchpoints. Nearly 90% of marketers, across all types of organizations, agree that understanding user journeys across channels and devices is critical to their success.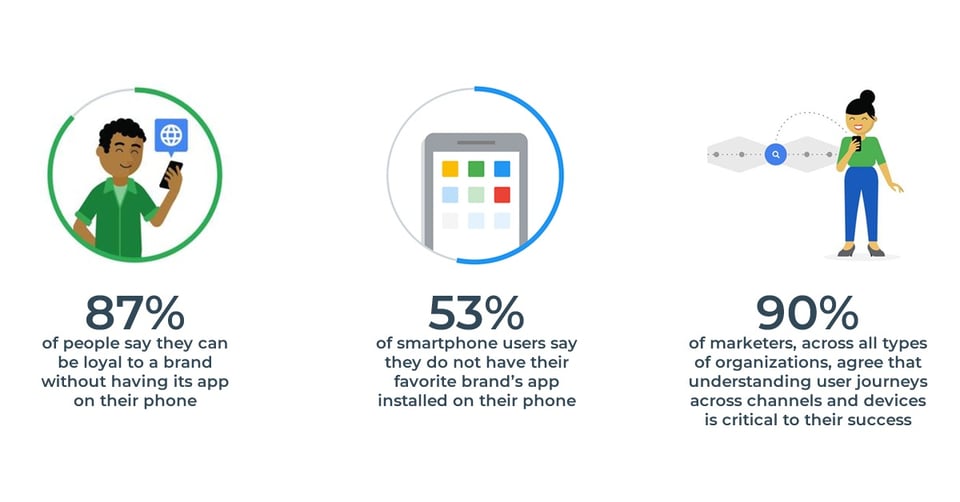 Source: Google
UPDATES FROM CYLINDO
Interior Define Is Redefining Furniture Shopping With Cylindo's Web-Native AR
The direct-to-consumer disruptor, Interior Define, has partnered with Cylindo to introduce web-native augmented reality.
Our web-native AR solution allows customers to place 3D models of selected products in the real world, without downloading a mobile app. The ultimate goal of the partnership is to reduce friction and increase conversions.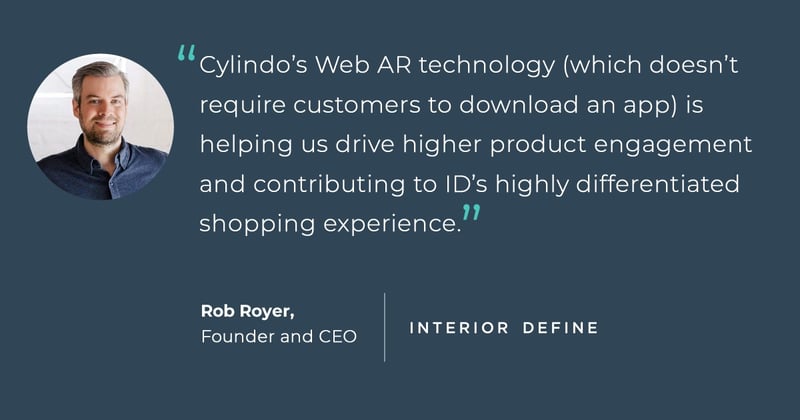 Web-native AR has proven to provide adoption rates that are 33 times higher than traditional Augmented Reality mobile applications. Smooth integration, true-to-size AR, dynamic lighting and fast turnaround are just some of the benefits of the new Cylindo web-native AR.
Excited to find out more?