When we think of spring, we think of High Point Market!
High Point Market is the largest furniture industry trade show in the world bringing more than 75.000 people to North Carolina twice a year.
During Market, the small town of High Point is overflowed (and not just by the heavy rain this year) by furniture brands, retailers, interior designers, architects, and others in the industry. Whether you are looking for new vendors, or you want to check the latest trends, High Point Market is the place to be for people from the furniture industry.
Our team attended this spring and they met with 34 brand manufacturers, from SMBs to some of the biggest brand names in the industry. Here are some of their favorite takeaways from the market:
1| Marketplaces are on brands' radar
For the first time, online marketplaces sold more merchandise than all stand-alone retail websites combined. According to Internet Retailer, marketplaces accounted for 52% of global e-commerce sales in 2018. The influence that marketplaces have on e-commerce is enormous. Millions of customers go through the product pages to find whatever they are looking for, or just browse without having a specific product in mind. The power that these marketplaces have is the main reason why many furniture brands decide to sell their products on one or more marketplaces.
As cited in Jumpshot's report, when looking at the furniture category, Amazon has complete dominance with a transaction share of 47%, followed by Wayfair with 13.5%, and Walmart with 13.1%. However, despite the good numbers, Amazon is losing share YoY to other retailers. On the other hand, Wayfair is continuing its market share growth at 21%. This was confirmed with our High Point Market findings. When discussing marketplace presence, in most cases Wayfair is top of mind for furniture brands.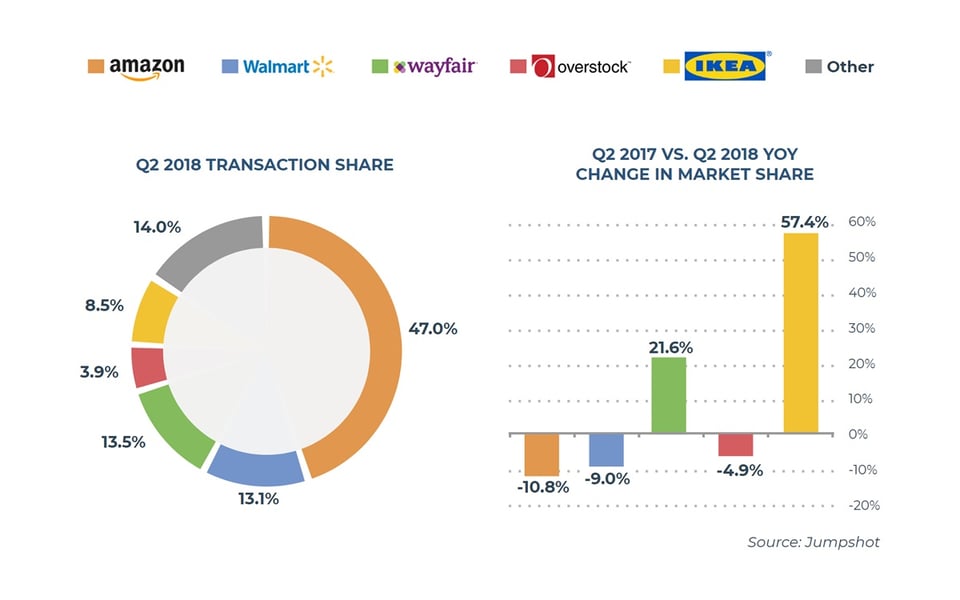 Creating the right content that follows the specific visualization requirements that marketplaces have is an uphill battle for brands. For example, some marketplaces require 3 angles, others 5, some require room scenes, material closeups, detail-shots or dimensions on imagery; there is no standard. It is clear that brands need to invest considerable time, effort and resources to follow all the guidelines to get their products approved and publicly shown on the marketplace(s).
2| A lifestyle shot is worth a thousand words...and sales
According to Intent Lab, around 85% of shoppers in categories such as apparel and home furnishings think visual information is more important than text. Customers find it hard to imagine how a sofa would look when combined with other pieces of furniture, how large is it in real life, and how it will fit in their living room. This is why lifestyle shots are increasingly popular in the furniture industry.
Furniture is all about context. Not only do room scenes help explain the features of the product (color, fabric, size), but they also help customers visualize how the product looks in a real-life setting.
Besides the fact that they are one of the minimum requirements for some of the biggest marketplaces, like Wayfair, retailers are also expecting this type of assets from the brand to help them sell more. The fact that 93 out of the Top 100 U.S. furniture retailers in our benchmark report have some form of lifestyle shots implemented on their website, confirms that this is one of the main pillars of appealing digital merchandising.
The question is: what is the most efficient way to produce this type of lifestyle asset? Considering the broad spectrum of ever-changing requirements, it's clear that product photography is not a feasible approach. Imagine just how costly it is to take photos of all product variations you want to offer with different colors, textures, patterns, and fabrics.
Luckily, today's technology is so advanced, renderings can often show colors more correctly than photography. Moreover, product customization, environment control, creating engaging experiences, asset flexibility, cost and time efficiency are tipping the balance in favor of 3D product visualization. We can see some of the leading furniture brands and retailers going the extra mile introducing interactive room scenes, where you can even change furniture colors, fabrics and patterns while visualizing in-context.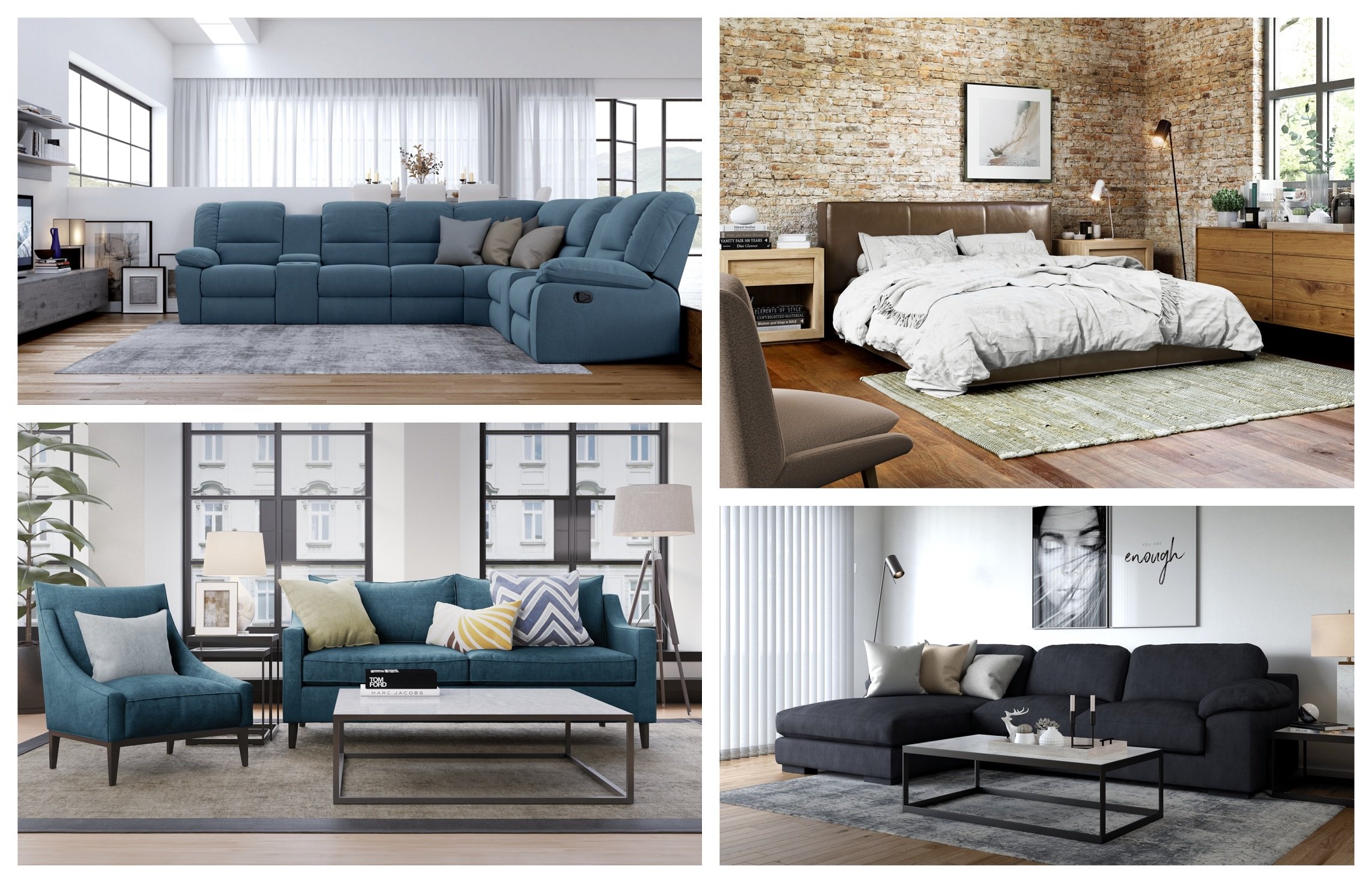 Cylindo Styleshots
3| B2B e-commerce is on the rise
B2B e-commerce sales are accelerating and last year they surpassed $1 trillion for the first time. According to the same report, 75% of manufacturers, distributors, and wholesalers that don't operate an e-commerce site plan to launch them within two years. It's becoming clear that the way things work in the B2B sphere has changed. B2B customers are increasingly self-reliant, and as reported by Accenture, they are 57% into the buying process before the first meeting with a company representative. This means that online presence and digital merchandising are now crucial for B2B companies as well.
Tech-savvy furniture brands now rely on smart analytics solutions to find out which products and product configurations are most popular, so they can use these insights to plan their campaigns and visual merchandising. This is especially important for brands that do not have a cart, so information about engagement and time spent on site can help them make informed decisions.
4| AR has changed the way people shop for furniture
Furniture is the most popular item to shop for with augmented reality and it will be interesting to see how this technology continues to disrupt the industry by easing the furniture buying process. Thanks to AR, customers can virtually "try out" furniture, not worrying about bad decisions, which removes a huge weight from their shoulders. One other feature that customers love about AR is the possibility to mix and match colors and styles and to see the end-results in real-time. According to Interactions Marketing, 77% of shoppers want to use augmented reality to see product differences such as a change in color or style.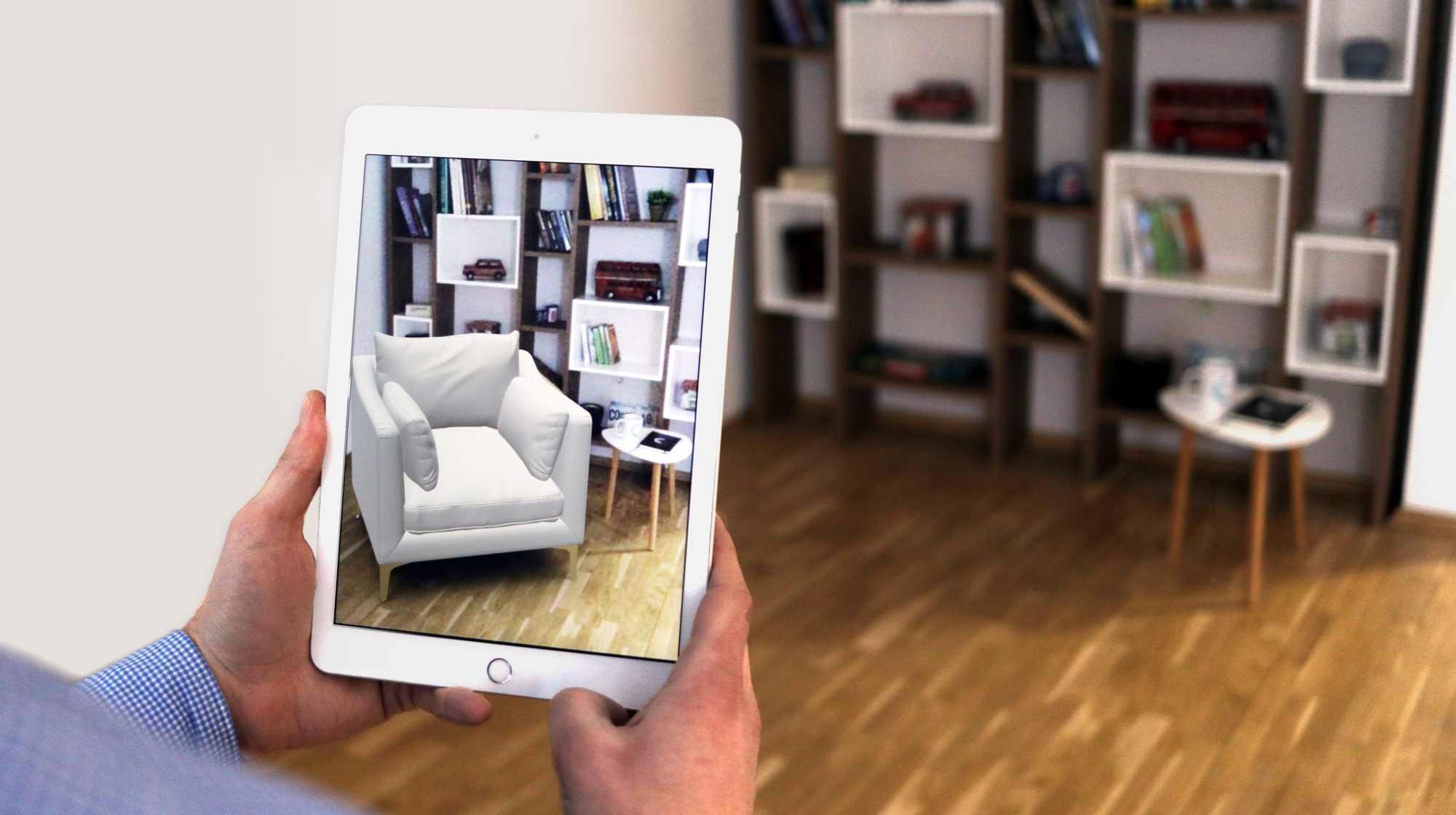 Furniture AR apps have a low adoption rate because people don't want one more app on their smartphone, especially an app that they won't use very often. However, now there are also web-native AR solutions that have 33x higher adoption rate than mobile AR apps.
Even though AR is one of the hottest topics in the furniture industry, it's not as important for brands as it is for retailers, due to the nature of the purchase. This has proven to be the case with the brands we met at HPM.
We hope you will find value in this High Point Market Spring 2019 recap and we look forward to the upcoming event in October. But first… Las Vegas!