The European furniture industry has faced many challenges in the last couple of years — the COVID-19 pandemic, different policy priorities, and growing international competition are just some of them.

During the COVID-19 pandemic, e-commerce played an essential role in the economy and society. According to the 2022 European E-commerce Report, in 2021, total European e-commerce grew to €718 billion with a growth rate of 13%. This number was up from €633 billion in 2020. Growth rates are forecasted to continue their upward trend in the upcoming years. However, we can see that the growth is slightly stabilizing, with an expected growth rate of 11% and a turnover of €797 billion.
Data from Mollie shows just how much of an impact the pandemic had. More than a third (35%) of consumers now shop online more than before the pandemic. In some countries such as the U.K., this number goes up to 42%.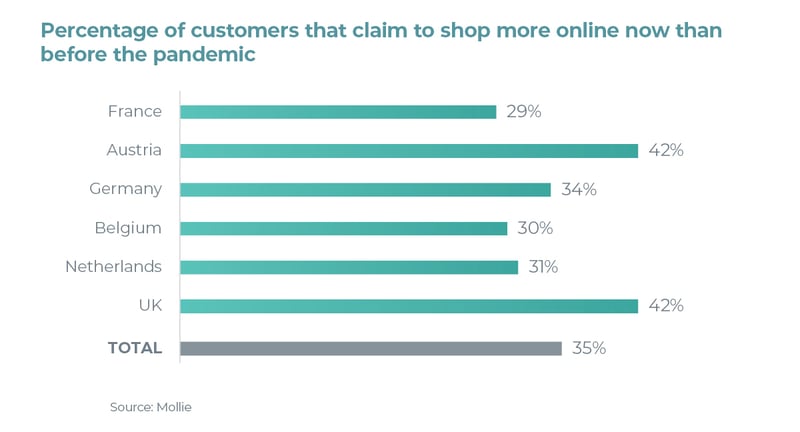 The most common online purchases of goods in 2021 were clothes (including sports clothing), shoes, or accessories, ordered by 68% of online shoppers, according to data from Eurostat. Next were deliveries from restaurants, fast-food chains, and catering services (31%). Furniture, home accessories, and gardening products remained the third most popular product category, ordered by 29% of online customers.

According to the Centre for Industrial Studies (CSIL) report Furniture Retailing in Europe, the European furniture market increased by 3% yearly. The decrease in 2020 was compensated in 2021 with a 10% growth, reaching almost €40 billion (at retail prices). In 2021, all the markets surpassed their 2019 market size, thus fully rebounding from the pandemic.
The leading European home furniture retailers rely largely on imported products from Asian countries, and recent supply chain disruptions are bringing some challenges to their sourcing strategies. As a response to the new situation, some retailers have increased the share of imports from neighboring countries to minimize transport costs and reduce delivery times.
Looking at the competitive system, in general, furniture retailing is more concentrated than furniture manufacturing. According to CSIL estimates, the top 15 retailing companies generate nearly 30% of the total value of the European furniture market.
The bottom line is that shoppers across Europe are now buying more online than they did before the COVID-19 pandemic, even though the numbers are lower now compared to the peak of lockdowns when customers had no choice but to shop online.
However, with the choice of shopping online or in-store restored, shoppers are still opting to buy more online than before, which is clearly a permanent expansion of the furniture e-commerce industry.
Retailers must focus on value and experiences
The news about the macroeconomic outlook continues to dominate the headlines. And while some businesses are waiting on the sidelines, others are moving decisively and quickly to develop a response.
Companies are already expanding their horizons to capture future growth opportunities, with the understanding that bold steps now can increase the potential to lead in the future.
According to EY CEO Imperative Series, investing in digital transformation is one of the top priorities for businesses across the globe. Almost half of the CEOs (47%) see technology as key to customer engagement and maintaining or improving margin.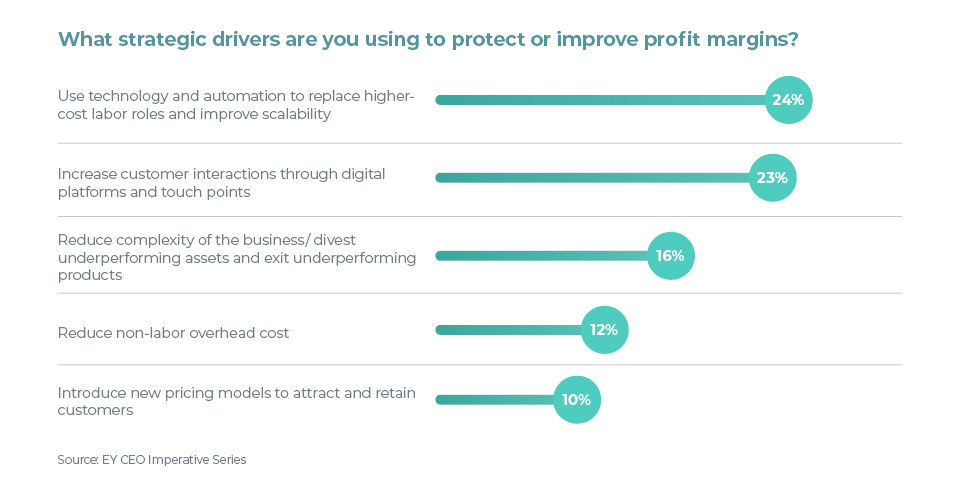 Furniture retailers have finally realized that there's no room for legacy website experiences and platforms never designed with our digital age in mind. Retailers will need to move beyond the current 2D focus of e-commerce to prepare for a more social and immersive future of shopping.
"As a true multi-channel brand, Heal's takes customer loyalty and engagement very seriously and remains committed to providing customers with the best possible experience. In the year ahead, our efforts are focused on continuing this shift bringing the brand even closer to the customer in all our channels and we see 3D technology playing a key role in helping us achieve that."
- Julian Baker, Head of Customer Experience, Heal's
Over time, rich e-commerce merchandising features will help furniture retailers convert more purchases, drive trust, and, importantly, increase revenue from sales. Forward-thinking players are already doing it.
"For most people, buying a sofa is going to be one of the biggest investments of their year; this is something they will be living with for years to come. Historically, a large percentage of consumers want to touch and feel a sofa in person before committing to the purchase online; however, we have seen this behavior shift dramatically post-COVID. Our focus is now on delivering an outstanding online experience with our products and providing the customer with enough information, content, and technology that gives them the same level of confidence as seeing it in real life. Social proof has also become more important than ever, and we are working hard to ensure potential customers are aware of feedback from existing customers through reviews and user-generated content."
- Louis Rose, Founder, Sofa Club
The rapid digitization of commerce has completely transformed customers' expectations. To cater to their needs, retailers are improving the e-commerce experience to meet customers where they are. The once slow-to-adopt new technologies industry has transformed into a modern business landscape with players setting new standards not just for furniture retailers but for e-commerce merchants in general.
To respond to the rapidly changing commercial reality, businesses need to accelerate their digital transformation. According to the Maison&Objet barometer, the website (e-shop) is the main sales channel for 71% of B2B and 69% of B2C furniture businesses.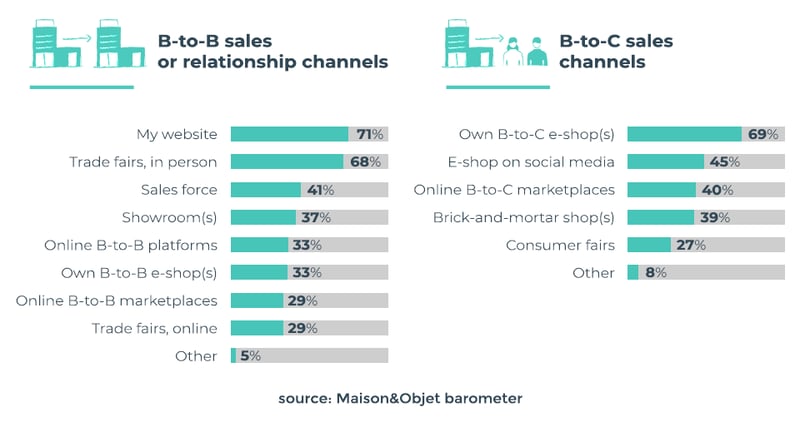 The pandemic has debunked the myth that people don't buy big-ticket items online. Results from the Maison&Objet barometer show that 44% of furniture businesses managed to increase their online sales. According to the report, on average, e-commerce sales account for 18% of total sales.
However, when it comes to website experience, European furniture businesses have a long way to go. Some of the biggest challenges for furniture businesses, according to the Maison&Objet barometer, are website management, customer service, showcasing products on the website, and building awareness. Furniture is an incredibly visual industry, so it's no surprise that e-commerce merchandising is on top of the priority list for furniture businesses.
According to our Top 100 European Furniture Retailers report, only 26% of the retailers have 360-degree product configurators on their websites. The number is even lower for furniture retailers that have an augmented reality solution: only 25%. On the other hand, customers' expectations are constantly growing. Each time customers are exposed to a better shopping experience, the expectation bar raises even higher.
For online furniture sales, visuals are make-or-break. Yet, the results from our research show that more than half of the Top 100 European furniture retailers have medium or low-quality visuals on their product pages.
How can furniture businesses prepare for 2023 and beyond
Consumers' shift to digital has accelerated dramatically. The furniture e-commerce boom increased the need for a seamless online shopping experience.
All the assumptions that the changes would be fleeting were proved wrong. Consumer behaviors driven by the pandemic are sticking.
"We saw that although many customers still want to touch and sit on our products, they will purchase online without visiting a store if the ability to see the product in our fabrics and with the feet they want in their homes is there. It's about ensuring that the website builds the trust of a store salesperson and backs up our beautiful hand-crafted products."
- Tasia Cooke, Chief Operating Officer, Darlings of Chelsea
This begs the question: how can furniture retailers reinvent themselves to seize the opportunity?
The short answer: The website experience is everything. Get it right.
"What is likely to be permanent is a shift in the role of digital in the buying process. Whether a customer ends up buying online or in-store, their buying journey is now almost certain to have been somewhat digital. This could be in the initial inspiration phase, in the research and selection process, or in making their final decision."
- David Kohn, E-commerce investor and advisor
The good news is that technology can help you bridge the gap between bricks and clicks and reinvent furniture shopping.
Darlings of Chelsea is an award-winning designer sofa brand specializing in luxury, hand-crafted sofas, with most handmade to order in the U.K. Style, comfort, and quality are at the heart of what they do. Another thing that differentiates Darlings of Chelsea is the unparalleled website experience.
The retailer offers a complete online shopping experience on its product pages — from 360-degree views of the products accompanied by 4K HD zoom through the use of room scenes and augmented reality, Darlings of Chelsea has it all.
"We are not an industry with a huge repeat purchase rate — given the nature of what we are selling, so the importance of ensuring you are confident on what you're showing your customers online with the likes of AR technology, 360-degree spin, and detailed high definition zoom greatly increases the chances of a customer checking out."
- Tasia Cooke, Chief Operating Officer, Darlings of Chelsea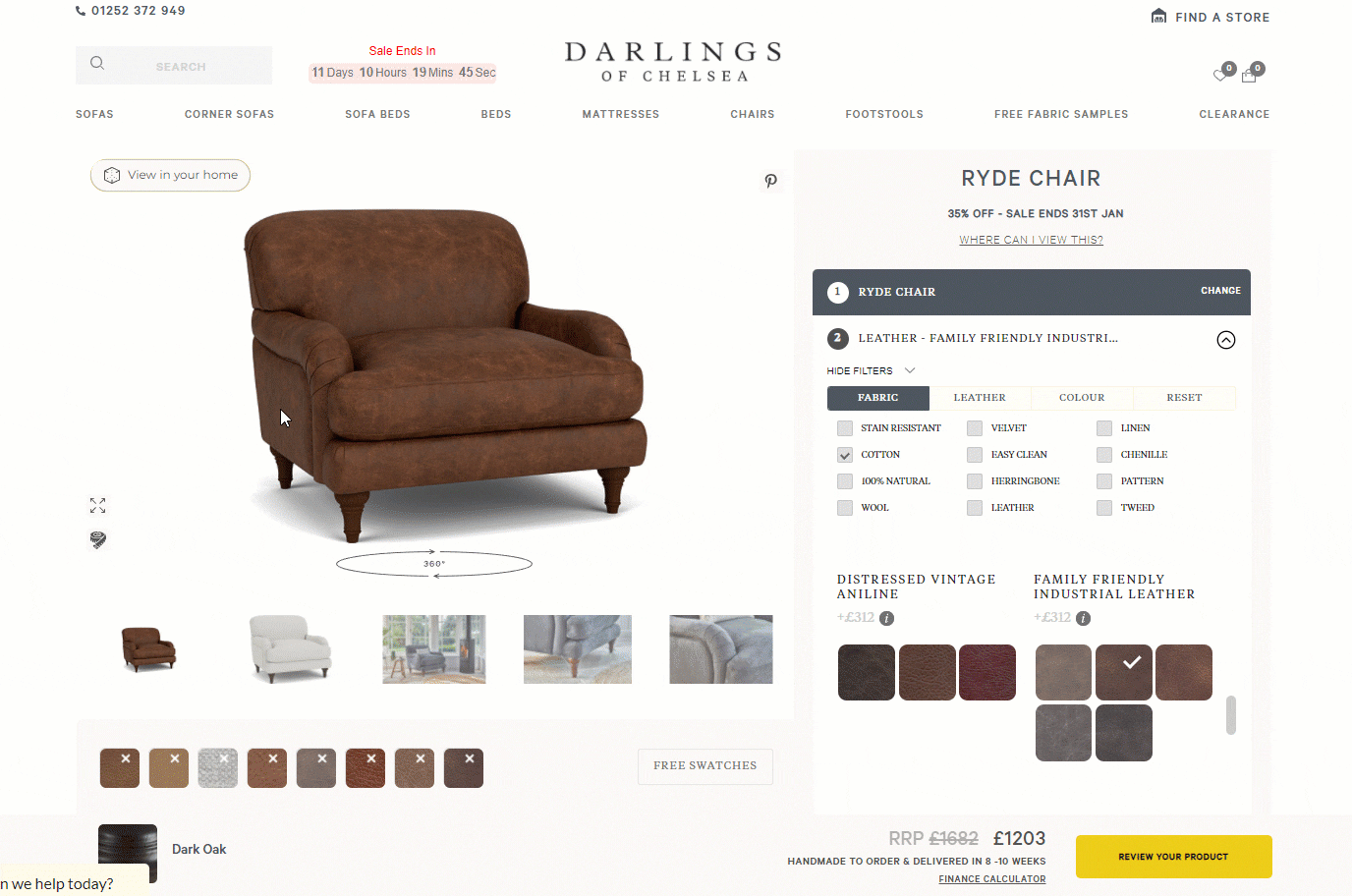 Moving forward, the website experience will be essential for furniture businesses' growth.
"Furniture websites have become more usable in recent years with the use of 360-degree imagery and fabric renderings. We need now to consider how we can more effectively create desire and offer inspiration. Over time, I expect to see a fusion between gaming and online retail to create more immersive inspirational shopping environments."
- David Kohn, E-commerce investor and advisor
What's next?
Furniture businesses are ramping up their investments in digital technologies to meet customers' expectations. 3D product visualization will be crucial for business growth during the next decade. This means that the success of furniture retailers will inevitably be tied to their approach toward visual commerce. Ready to reinvent your furniture e-commerce merchandising with 3D product visualization?