The COVID-fueled growth in online sales has caused an impressive expansion of the European e-commerce market, both in terms of revenue and the number of users.
As reported by Ecommerce News Europe, the total worth of European e-commerce grew to 757 billion euros, a 10% growth from 690 billion euros in 2019. The percentage of online shoppers was 71% in 2020, up from 66% the year before.
The European continent is home to diverse markets. Different digital skills, internet use, and purchasing power are just a few of the key factors that impact the adoption and growth of e-commerce.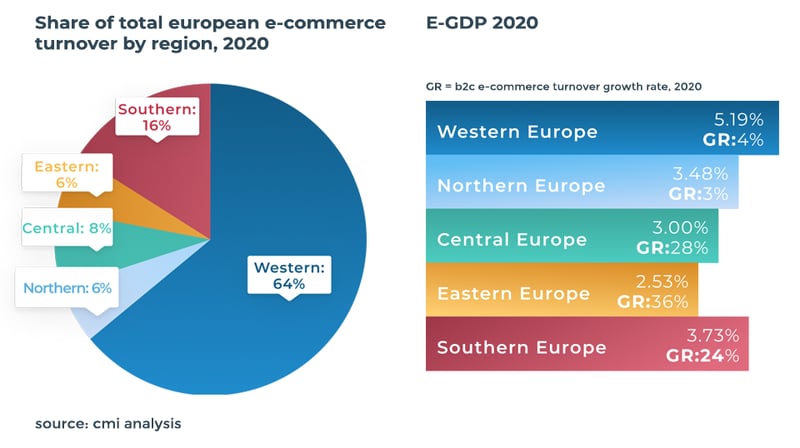 Data from the 2021 European E-commerce Report shows that, as with previous years, Western Europe boasted the highest share of total European e-commerce turnover with 64% in 2020. Southern Europe followed with 16%, Central Europe with 8%, and Eastern and Northern Europe each with 6%.
However, in terms of growth, Eastern Europe shined in 2020 with a rate of 36%, while Western Europe's growth rate remained moderate at 4%. Central and Southern Europe saw similar growth rates in 2020, 28% and 24%, respectively. Northern Europe had a 3% growth rate.
The pandemic has accelerated digital transformation across Europe, and these behavioral shifts appear to have imparted long-term changes in customers' preferences and habits. According to a report from eToro, the vast majority (90%) of Europeans indicated they are comfortable with online shopping.
More than a third (36%) of Europeans have increased their use of digital technologies outside of the workplace, and more than a quarter (27%) expect their use of technology to be higher after the pandemic.

COVID-19 sparks European furniture e-commerce boom
Although the pandemic's effect has varied across industries, the furniture industry experienced an expansion, despite the lockdowns. Europe was no exception.
Zoom in: The European furniture and bedding industry generates a yearly turnover of 96 billion euros and employs around one million workers in 120,000 enterprises, while the furniture retail sector represents more than 100,000 companies.
According to the 2021 European E-commerce Report, many countries from the old continent witnessed an increase in online furniture sales, including France, Ireland, Denmark, and Estonia. Sweden reported a 63% YoY growth in e-commerce furniture sales.
"We have, in general, become more aware of the value of a good home — a base where we can always seek refuge and recharge when we are ready to go back into the world — or are allowed to by authorities. That home needs to be a place we want to spend time in, so it has to have a certain degree of the Danish term "hygge." It also has to be a place which can be flexible to suit our current needs — it can't be static. Let's take the sofa: we work, we play, we eat, we binge, we sleep, we socialize, we internalize, we party, and we recharge — all in the same spot." — Simon Peschcke-Køedt, Chief Commercial Officer at Konges Sløjd
Numbers are even higher in the U.K., where online sales of homeware grew by 108% in 2020, according to the IMRG Capgemini Online Retail Index.
For comparison, in the United States, online furniture sales had a 52% YoY growth.
"As with many furniture retailers, the last 18 months have been a real test on not only our team and manufacturers but also our online presence. Eighteen months ago, we were seeing only around 30% of revenue coming from the digital channel, and during COVID-19, this swung to 100%. Since we have been able to have our stores back open again, we are seeing around 50% online revenue and growing. Having an already strong online presence during the time of 'lockdowns' in the U.K., we were able to direct customers to our website, and with a small core team working, we saw that many customers turned to us on the phone and then trusted us to purchase online." — Tasia Cooke, Chief Operating Officer at Darlings of Chelsea
To respond to the rapidly changing commercial reality, businesses need to accelerate their digital transformation. According to the Maison&Objet barometer, the website (e-shop) is the main sales channel for 71% of B2B and 69% of B2C furniture businesses.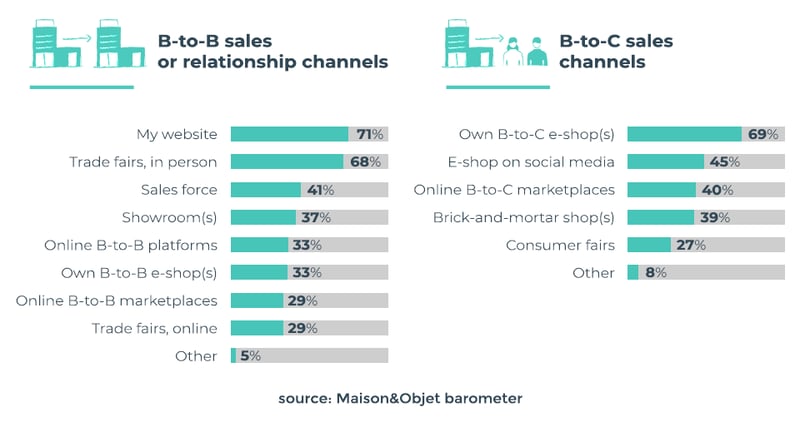 The pandemic has debunked the myth that people don't buy big-ticket items online. Results from the Maison&Objet barometer show that 44% of furniture businesses managed to increase their online sales. According to the report, on average, e-commerce sales account for 18% of total sales.
However, when it comes to website experience, European furniture businesses have a long way to go. Some of the biggest challenges for furniture businesses, according to the Maison&Objet barometer, are website management, customer service, showcasing products on the website, and building awareness. Furniture is an incredibly visual industry, so it's no surprise that e-commerce merchandising is on top of the priority list for furniture businesses.
According to our Top 100 European Furniture Retailers report, only 19% of the retailers have 360-degree product configurators on their websites. The number is even lower for furniture retailers that have an augmented reality solution: only 15%. On the other hand, customers' expectations are constantly growing. Each time customers are exposed to a better shopping experience, the expectation bar raises even higher.
For online furniture sales, visuals are make-or-break. Yet, the results from our research show that more than half of the Top 100 European furniture retailers have medium or low-quality visuals on their product pages.
How can furniture businesses prepare for 2022
Consumers' shift to digital has accelerated dramatically. The furniture e-commerce boom increased the need for a seamless online shopping experience.
"One of the few good things to be said about COVID-19 is that it has accelerated the use of e-commerce within furniture industries. We see many markets where consumer behavior hasn't returned to pre-COVID-19 levels but has landed in a hybrid with fewer physical visits and more digital journeys. This all puts higher demands on the website experience. There is still a ways to go, but we are moving toward that "one-day" scenario where the act of purchasing online can replace a physical visit fully — good images, ability to interact, great descriptions, videos, etc." — Simon Peschcke-Køedt, Chief Commercial Officer at Konges Sløjd
All the assumptions that the changes would be fleeting were proved wrong. Consumer behaviors driven by the pandemic are sticking.
"We saw that although many customers still want to touch and sit on our products, they will purchase online without visiting a store if the ability to see the product in our fabrics and with the feet they want in their homes is there. It's about ensuring that the website builds the trust of a store salesperson and backs up our beautiful hand-crafted products." — Tasia Cooke, Chief Operating Officer at Darlings of Chelsea
This begs the question: how can furniture retailers reinvent themselves to seize the opportunity?
The short answer: The website experience is everything. Get it right.
"Lockdown led to much more interest from people in doing up their homes. Some embarked on significant building projects, others bought large or small furniture items, many simply looked for ways to bring more color and interest to their living spaces. Whether this upsurge is temporary or permanent remains to be seen, but the industry has certainly seen a huge boost in demand. What is likely to be permanent is a shift in the role of digital in the buying process. Whether a customer ends up buying online or in-store, their buying journey is now almost certain to have been somewhat digital. This could be in the initial inspiration phase, in the research and selection process, or in making their final decision. " — David Kohn, E-commerce investor and advisor
The good news is that technology can help you bridge the gap between bricks and clicks and reinvent furniture shopping.
But here's the thing: Furniture retailers should finally face what is needed to be ready for the omnichannel future that the pandemic has dropped on retail's doorstep.
Over time, rich e-commerce merchandising features will help furniture retailers convert more purchases, drive trust, and, importantly, increase revenue from sales. Forward-thinking players are already doing it.
Darlings of Chelsea is an award-winning designer sofa brand specializing in luxury, hand-crafted sofas, with most handmade to order in the U.K. Style, comfort, and quality are at the heart of what they do. Another thing that differentiates Darlings of Chelsea is the unparalleled website experience.
The retailer offers a complete online shopping experience on its product pages — from 360-degree views of the products accompanied by 4K HD zoom through the use of room scenes and augmented reality, Darlings of Chelsea has it all.
"We are not an industry with a huge repeat purchase rate — given the nature of what we are selling, so the importance of ensuring you are confident on what you're showing your customers online with the likes of AR technology, 360-degree spin, and detailed high definition zoom greatly increases the chances of a customer checking out. We are investing in the future of Darlings of Chelsea, and the online customer journey will be a big focus for 2022." — Tasia Cooke, Chief Operating Officer at Darlings of Chelsea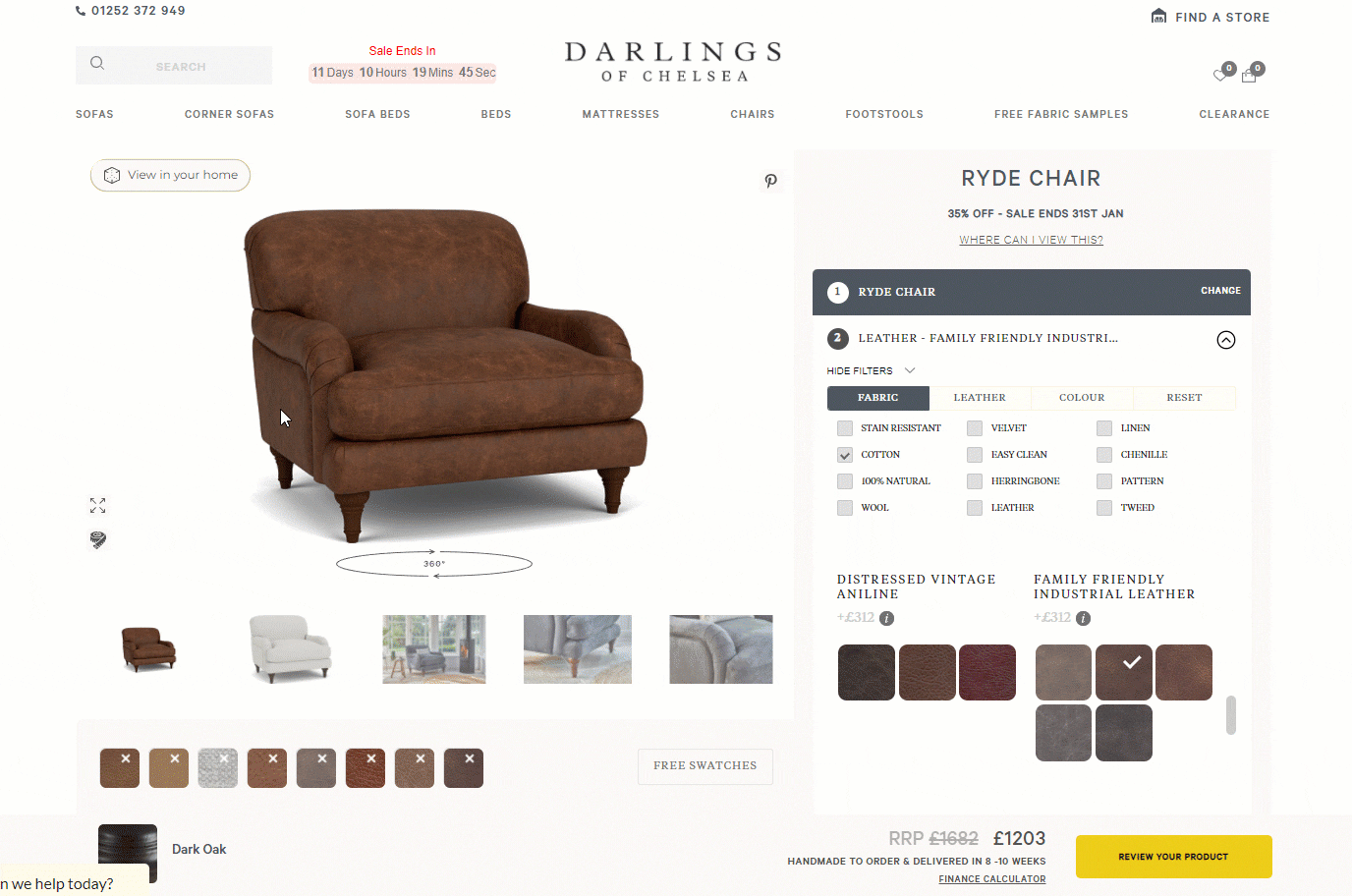 Moving forward, the website experience will be essential for furniture businesses' growth.
"Furniture websites have become more usable in recent years with the use of 360-degree imagery and fabric renderings. We need now to consider how we can more effectively create desire and offer inspiration. Over time, I expect to see a fusion between gaming and online retail to create more immersive inspirational shopping environments." — David Kohn, E-commerce investor and advisor
What's next?
Furniture businesses are ramping up their investments in digital technologies to meet customers' expectations. 3D product visualization will lie at the heart of leading furniture businesses during the next decade. This means that the success of European furniture retailers will inevitably be tied to their approach toward visual commerce. Ready to reinvent your furniture e-commerce merchandising with 3D product visualization?