Here is the monthly round-up of all important news and articles in the world of furniture, ecommerce and technology.
FURNITURE TECH
Brands Are Finally Embracing Augmented Reality, but Not Without Speed Bumps
In the past year, we witnessed how Wayfair, Lowe's and Ikea are using AR to help consumers place scaled versions of their products in their homes.

Augmented reality is a natural progression for retailers and it can help them sell more products online. Customers love interactive experiences and they tend to engage more. Lowe's, the home improvement store said it scores a 104 percent higher conversion rate when customers interact with 3-D objects in its app compared to those who didn't.

Still, there are some challenges that need to be addressed before the technology can become mainstream. In this case, speed and quality are crucial.
The 3-D AR piece of furniture must look real, with the right color and details, and scale. Plus you have to create a lot of compelling 3-D visual content.

Even though mass adoption and ease of use remain the key challenges of AR, brands continue to explore what this technology can offer. Interesting times ahead of us.
Macy's is using VR instead of AR to sell furniture
Unlike other retailers which have some sort of augmented reality furniture experience — Macy's is using VR headset to demo furniture to customers.

They are planning to use VR experiences to sell furniture to customers in 50 stores by this summer.
According to Macy's CEO, the virtue of virtual reality is its ability to sell more furniture with less square footage devoted to displaying it. They believe that this immersive shopping technology will help them solve customer pain points.
Even though companies adopt AR and VR technologies at a slow pace due to the costs, you might want to do some research and decide what technology suits your business case. Whereas VR requires special technology to immerse consumers and could be more useful in-store, AR adds virtual elements into real surroundings simply by looking through smartphone or tablet glass.
AR and VR will shape the future of e-commerce. Online retailers must stay ahead of the curve if they want to win in the long run.
Retailers debut augmented reality apps for Android
A number of online retailers like Lowe's, Jet.com, eBay, Houzz and Build.com unveiled their augmented reality features on Google's ARCore platform at Shoptalk.

According to Google, the ARCore software development kit (SDK) gives developers the tools to create augmented reality features in Android apps, making augmented reality accessible to more than 100 million Android global smartphone devices via 12 different smartphone models.
So far, the results have shown that customers that are using AR apps are more likely to make a purchase compared to other customers.
This is a confirmation that AR isn't just a buzzword and that it's changing the digital landscape.
E-COMMERCE NEWS
Google launches cost-per-sale Shopping Actions
Google has introduced 'Shopping Actions' to help retailers in their battle with Amazon.
This will allow retailers to list their products across Google Search, in its Google Express shopping service, and in the Google Assistant app for smartphones and on smart speakers, like the Google Home.
Shopping Actions runs a universal shopping cart across devices and products and a Google-hosted checkout when users save their payment information in their Google accounts.
They are already working with some of the top retailers including Target, Walmart, Ulta Beauty, Costco, and Home Depot. As announced, Google will use a pay-per-sale model, which means that they are only taking a cut of the sale when a shopper makes a purchase.
What do you think - what is Amazon's next move?
Purchase Intent On First E-Commerce Site Visit
According to the 2018 Reimagining Commerce study from Episerver, only 17% of customers browse with intent to purchase when visiting a brand's website for the first time.
If you want to compete online, there are few things you need to know:
95% of online shoppers will abandon a site before completing a purchase if there is a weak product, store or brand information.
While 29% of shoppers browse on their smartphones daily, only 27% will complete a purchase during the mobile site visit.
22% of shoppers have received ads for products they would never purchase, while 16% have received similarly misguided product recommendations.
These statistics show that online retailers should look closer at omnichannel shopper behavior and they have to provide seamless customer experience across channels. In the upcoming years, personalization will be one of the key elements of successful shopper market, but retailers must learn how to do it right because it can be a double-edged sword.
CUSTOMER EXPERIENCE AND DIGITAL UPDATES
Brands Must Show Loyalty to Earn Loyalty
New experiences, innovative technologies, instant access to information, and an abundance of choices are continually changing how consumers engage with brands. This is why it's critical that brands understand the impact on shopping behaviors and the influence on loyalty.
According to Alliance Data's New Consumer Study, 'The Rules of Nextgen Loyalty', NextGen consumers are finding ways to combine the digital experience with in-store visits:
More than 50% of the young consumers shop in store
62-67% shop/browse online
Young consumers use a brand's mobile app nearly 2x more than older shopping segments.
Consumers are loyal to brands because brands are loyal to them. 63% of younger consumers agree they have lots of choices of where to shop, so it is important for a brand to show them loyalty to earn their business. So we can definitely say that loyalty these days is earned, complex, fragile and multifaceted. If you want to dig deeper into the research results follow this link: https://knowmoresellmore.com/sites/all/themes/alliancedata/assets/img/report/rules-of-loyalty.pdf
Google's Mobile first index
Mobile-first indexing is here. This is an indexing system under which Google will predominantly look at a mobile version of a site's content for indexing and ranking.
Since most searches on Google are from mobile devices, Google has decided to use a mobile version of a site's content to rank pages from that site
This is an important shift, but there is no room for panic. Sites that use a responsive design won't be subject to mobile-first indexing because their content is the same on desktop and mobile, also sites that only have a desktop version won't be affected.
If you still don't have a mobile site, have in mind that as the adoption of mobile devices explodes, this is your chance to jump on the bandwagon. According to Zenith's Mobile Advertising Forecasts, in 2018, 66% of individuals in 52 key countries will own a smartphone. Knowing that more than 50% of all web traffic is coming from smartphones and tablets, it becomes clear that focus on mobile can be a significant competitive advantage.
INFOGRAPHIC OF THE MONTH
Page Load Time
A research from Soasta shows that customers are impatient when it comes to web performance and digital customer experience:
50% of unsatisfied visitors will go to a competitor's website
35% will have a negative perception of the brand and
22% will never return to the slow site.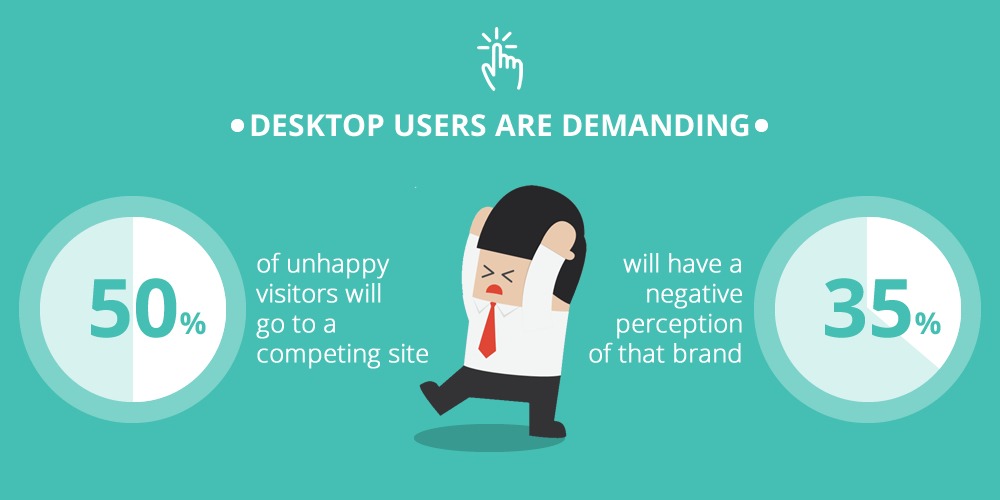 In one of our previous blog posts, we've demystified page load time. Here is everything you need to know and how it can affect your business.
UPDATES FROM CYLINDO
Cylindo Intelligence is Here! The 360 HD Viewer just got smarter
After months of research and hard work, we are introducing our new analytical solution: Cylindo Intelligence. It integrates with the existing 360 HD Viewer and offers vast amounts of analytical data that will help the customers optimize their product page experience and make data-driven decisions.
With this solution furniture companies can identify the real value behind the numbers, so they can utilize the 360 HD Viewer to its fullest potential. Some of the key features of deep customer understanding include:
Product engagement metrics
Top performing products
Conversions and ROI
The ladder to your digital transformation is one click away.


UPCOMING EVENTS
High Point Market, April 14-18
The High Point Market is one of the largest furnishings industry trade shows in the world, bringing more than 75,000 people to High Point, North Carolina, every six months. Known as the fashion week for home furnishings, this is the right place to hear industry leaders, to see the upcoming furniture trends, to explore all the amazing learning experiences and to network with some of the most influential people in the industry.
Salone del Mobile Milano, April 17-22
As their manifesto says, the Salone del Mobile is a system of connections, creativity, and innovation. Within the space of a week, more than three hundred thousand people converge on Milan: entrepreneurs, journalists, collectors, intellectuals, critics, designers, architects, creatives, purveyors of knowledge and nurturers of beauty.
If you are attending one of these two events, and you want to discover how simple a superior product visualization can be, send us an email at hello@cylindo.com and we can schedule a short meeting.
Do you like our blog? Never miss an update and receive our monthly digest newsletter directly in your inbox or follow us on Linkedin, Facebook, and Twitter.