Up until the global pandemic, the traditional B2B sales cycle was reliable and comforting. However, since the onset of COVID-19, traditional face-to-face interactions have given way to sales and customer service by digital means, such as videoconference, phone, and chatbot.
To achieve this, brands need an engaging website experience supported with high-quality visualization and product information details that simplify the decision-making process.
According to Digital Commerce 360, 98% of manufacturers have — or plan on having — a digital commerce sales channel. It's safe to say that B2B e-commerce will become an important sales channel for manufacturers.
Aside from this, brands have noticed an increase in website traffic from end customers. This was one more reason to put the website experience at the top of their priority list.
Some of the biggest names in the furniture industry are already setting standards for an engaging website experience.
7 Furniture Brands Redefining the B2B Furniture Website Experience
The changes in B2B sales cycles required some on-the-spot adjustments for furniture brands. Moving forward, the website experience will be paramount to the success of furniture manufacturers. Product configurators, 360 views, 4K zoom, augmented reality, room planners, virtual markets — these are some of the features that help furniture brands move the needle.
Let's take a look at some of the leading B2B furniture brands and what makes their website experiences stand out.
1. Palliser
Palliser is a leading North American furniture brand that has been creating exceptional products for the entire home since 1944. What makes Palliser different from other traditional brands is its B2C2B focus which is evident the moment you open Palliser's website.
Even though the brand is not selling directly to end customers, the website is equipped with visuals, tools, and information that can help the customer make a purchasing decision.
"With the B2C2B mentality, while we don't sell directly to customers via our website, we can help them walk into the store well informed and prepared to make the purchase. We've taken upon the task of equipping customers with all the information they need to make a decision, even without seeing a showroom example." — Allison Dineen, Director of Marketing, Content Creation & Artwork at Palliser
Palliser's engaging website enables customers to get a 360-degree view of the products and scrutinize the details with a 4K zoom. Using the product configurator, customers can explore the colors, textures, and materials in depth.
After redesigning its website, Palliser has noticed increased product detail page (PDP) engagement, improved brand communication via multiple channels, and increased brand awareness among end users.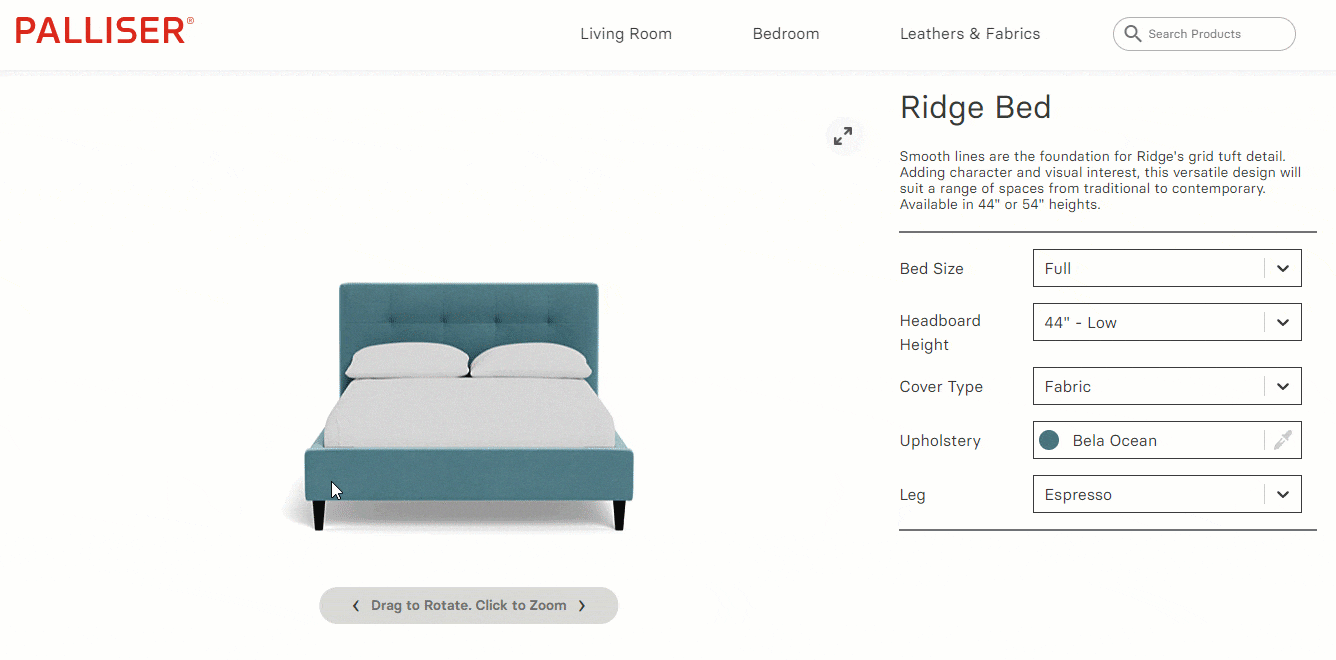 Palliser also offers a Room Planner tool to help customers see if a piece of furniture will fit in their space. Using this tool, customers can choose their preferred piece of furniture, define their room size, and configure the layout. After completing these three steps, customers can save the created room and submit it to a retailer, where they can buy Palliser's furniture.
2. Muuto
Muuto is rooted in the Scandinavian design tradition characterized by enduring aesthetics, functionality, craftsmanship, and honest expression. The bold creative thinking helps Muuto deliver new perspectives on Scandinavian design.
Muuto's website is a great example of a furniture brand that creates a pleasant experience for different audiences — from design trade professionals and business buyers to end customers. With great design and seamless user experience, Muuto's website has a user-friendly flow and a fully optimized user journey from start to finish.
Muuto created the ultimate Sofa Experience to guide customers through the wide range of designs and endless fabrics, colors, and configurations to choose from, helping customers to create the perfect sofa for their space.
The product pages are equipped with a product configurator, 360 views, 4K zoom, and augmented reality. The seamless design of Mutto's product pages allows visitors to customize the fabric and color and bring the product to life by clicking the "View in AR" button.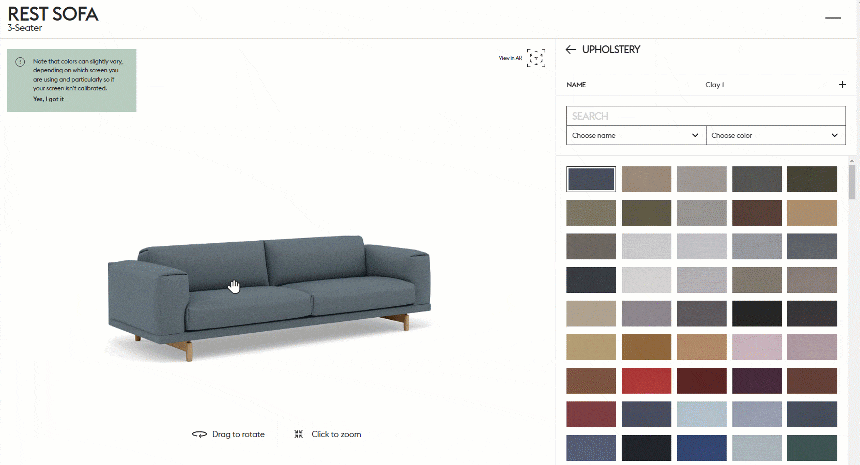 Muuto's Rest Sofa
3. Universal Furniture
Universal Furniture is a forward-thinking furniture brand that creates quality furnishings for the entire home with a focus on function and lifestyle.
Aware of the importance of providing an impeccable website experience right from the buyers' journey start, Universal offers 360 views and a 4K zoom to help customers visualize the products.
"We need to be prepared to meet the consumer at the beginning of the shopping journey. Part of that is helping showcase what is possible with products, and that's where online visualization is necessary when there are options. The more information we can provide upfront, the better the experience for the customer." — Neil MacKenzie, Vice President of Marketing at Universal Furniture
Customers can use the online customization tool to configure and preview special order upholstery before ordering. The 3D configurator showcases more than 400 fabrics, 50 kinds of leather, six leg finishes, and three nailhead options. The best part: Trade members are also able to see in real-time how each choice impacts a product's price. Since launching in 2020, Universal has seen an average of over 68,000 unique configurations created monthly, with an all-time high of 102,000 in March, as reported by Business of Home.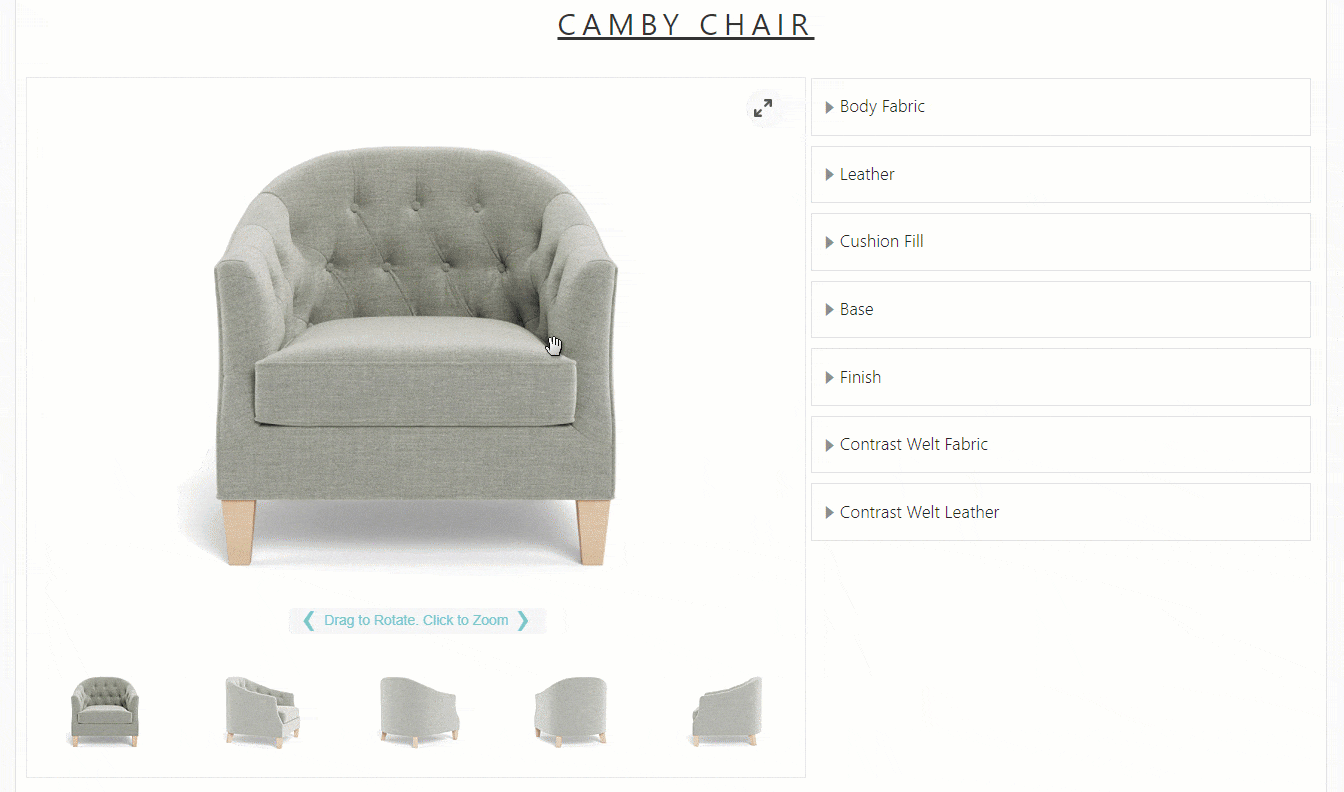 Universal Furniture's Camby Chair
4. Montana Furniture
Montana Furniture is a Danish family-owned furniture business providing personalized storage solutions since 1982. They focus on processing, painting, and assembling furniture that will last a lifetime.
In 2020, Montana redesigned its website by adding a product configurator, 360 views, and a crisp zoom which help customers spin the products around and scrutinize them. The product configurator lets customers choose from a variety of colors, positions, and depths. For each product, customers can also see lifestyle images and zoom in to inspect the product's details. Today, Montana's website showcases more than 70,000 furniture configuration options.
"We want to give our customers a comprehensive experience wherever they are in the customer journey, whether they are just looking for inspiration or ready to purchase their personalized configuration. The 360 viewer and the 4K image quality are important in communicating our high-quality product." - Trine Roed, Marketing & Brand Director at Montana
One feature that makes Montana's website experience unique is its "Made by You" drawing app that allows customers to create their own composition, find prices, and share the drawing with a retailer.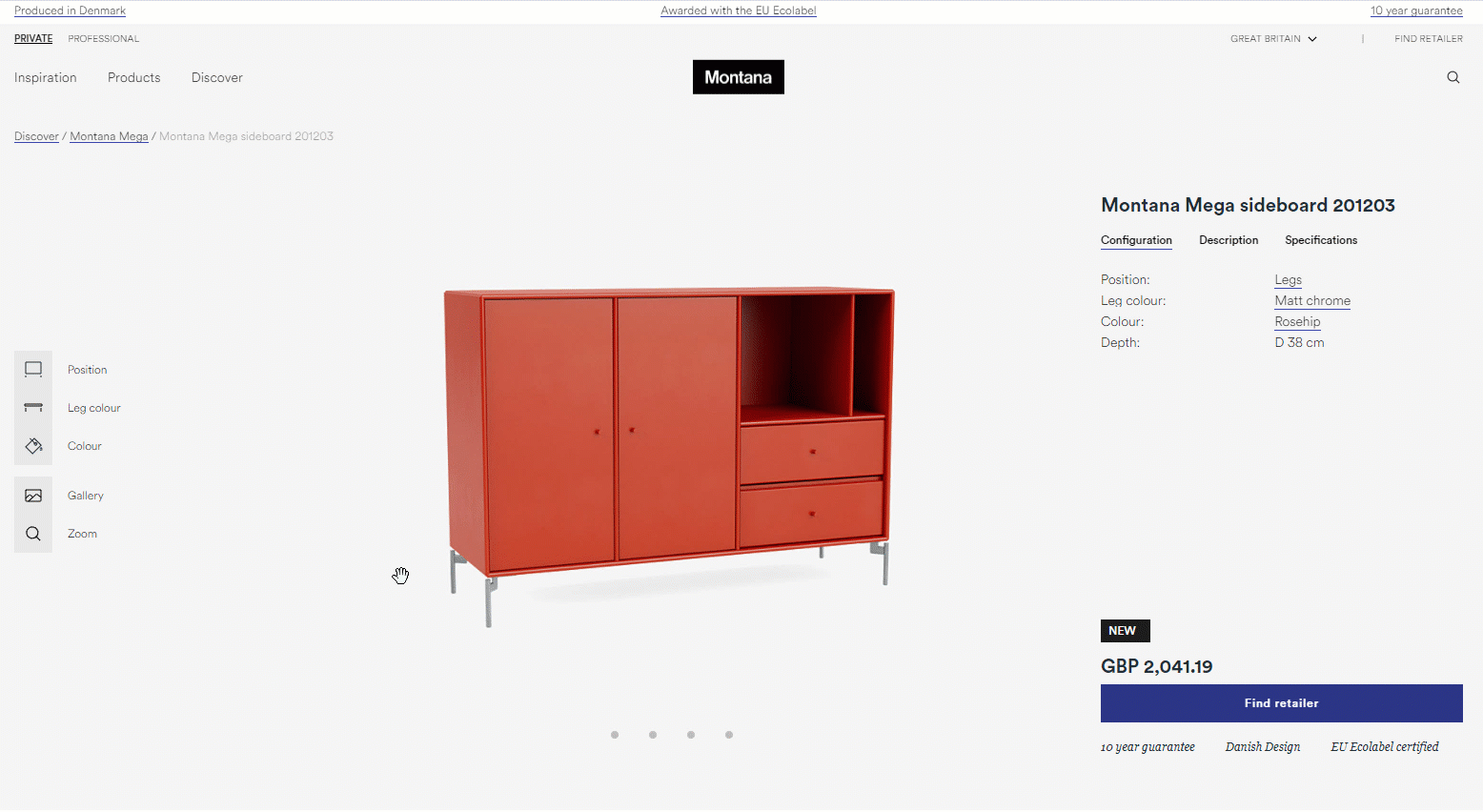 5. Knoll
Knoll uses modern design to connect people with their work, lives, and world. This design firm produces office systems, seating, files and storage, tables and desks, textiles, and accessories for the office, home, and higher education settings.
To convey the top-notch, real-life brand experience online, Knoll introduced a rich website experience with high-quality product visualization, a 360-degree HD viewer, and a 4K zoom option that enables customers to virtually examine the products.
Using the product configurator, customers can choose from different fabrics, upholstery types, and leg finishes. After configuring the product of their choice, consumers can download an image with the selected configuration.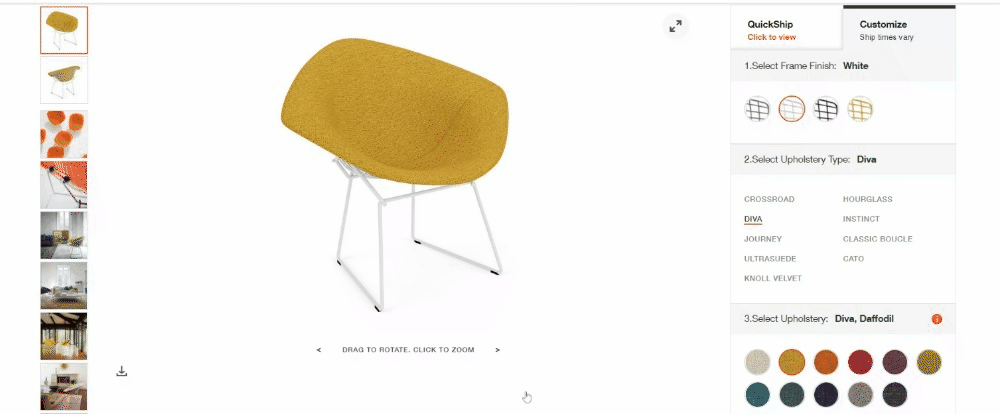 Knoll's Bertoia Diamond™ Chair
6. Neptune
Neptune is a British interior and lifestyle brand that designs and makes furniture, lighting, and accessories for the whole home. The moment you open Neptune's website, the attention to detail distinguishes them from other traditional furniture brands.
Lifestyle images are a focal point on Neptune's product pages. Neptune implemented 360 views of their products with a 4K zoom-in option that allows customers to analyze the products from all angles and in great detail. Customers can also customize the furniture before buying it by selecting the product size, fabric, and leg color.
To bridge the online-offline gap, Neptune lets customers order up to six free fabric swatches and use augmented reality to see the products in their space. Consumers who click the "View in AR" button will get a QR code. After scanning the QR code with their phone cameras, customers will see the product in their room.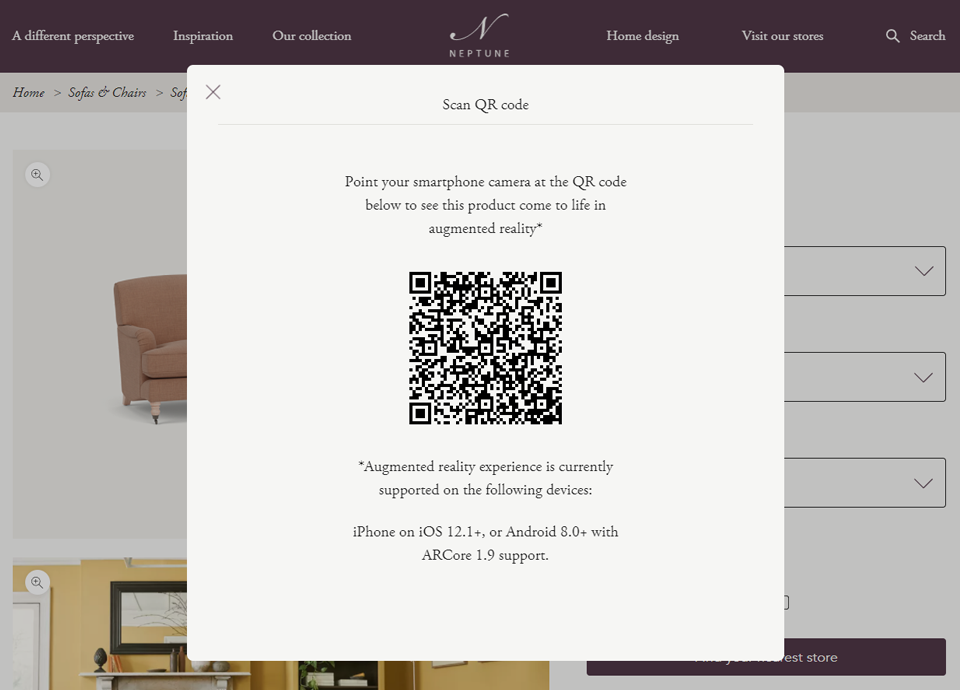 7. Flexsteel
Founded in the 1900s, Flexsteel has grown from a small Minneapolis furniture manufacturer to a leading global furnishings network. The company prides itself on its perfected processes, patented technology, best-sourced materials, and the fact that every piece of Flexsteel furniture is hand-crafted.
But excellence is not only part of the manufacturing process — the brand pays special attention to the website experience. Customers can configure products, take them for a 360-degree spin, and zoom in on the fabric details. On top of that, customers can use augmented reality to see the furniture in their space and see how it would look combined with the other furniture items they already have at home.
Once customers find the perfect configuration, they can email the details to themselves or to a friend or download a PDF. Customers that are ready to buy can click the "Find Flexsteel" button to find a retailer near them where they can buy the desired product.
On the product page under each item, there are product recommendations with related products from the same collection, which help customers find additional items to complement their purchase.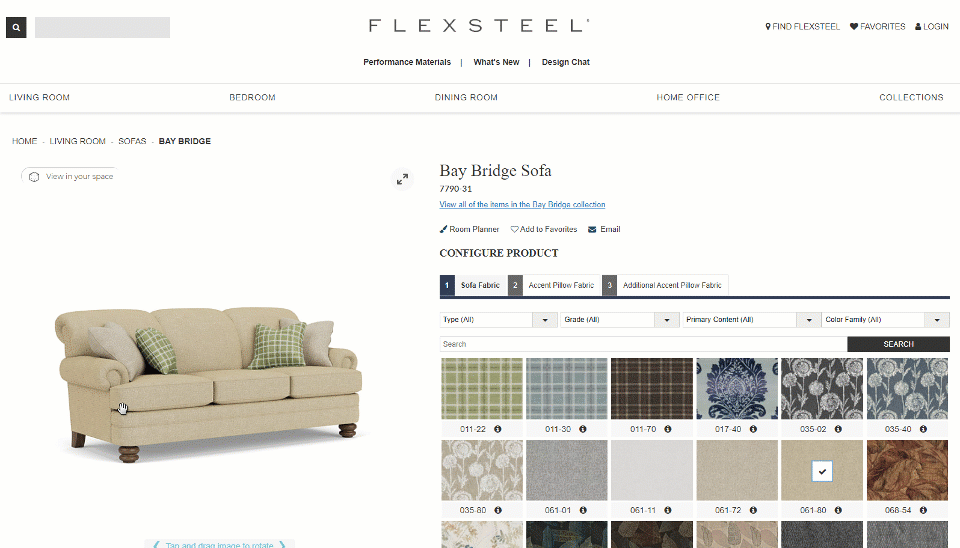 ---
There you go — those were some of the best practices from 7 leading B2B furniture brands that are setting high standards for digital presence. Are you ready to reinvent your website experience for both retailers and end customers?