Two words describe the past year in the furniture industry: exciting and challenging. The e-commerce boom, emerging tech, and unprecedented supply chain issues were just some of the recurring topics in the headlines all year round.
As we turn a new page, it's time to understand the changes that have taken place and learn the lessons that will help us prepare for the new furniture retail paradigm.
Without further ado, let's take a look at some of the most important changes and what we can learn from them.
1. Supply chain issues
Not starting the article with this topic would feel like sweeping problems under the rug. The supply chain crisis persisted throughout the year, and it even forced changes in the holiday sales playbook. The holiday sales season started as early as the beginning of November, and we also witnessed smaller discounts. The reason was simple: companies wanted to avoid the supply chain headaches and associated costs.
Data from the U.S. Census Bureau shows that almost 40% of businesses experienced or are still experiencing supply chain delays due to the pandemic. Factory closures in Asia due to the lockdowns combined with a domestic labor shortage forced companies to put logistics and delivery at the top of their priority lists.
As a result, we witnessed many furniture companies investing in their domestic manufacturing facilities and in-house trucking capabilities. Recently, Ashley Furniture announced the acquisition of a trucking company, and many companies have opened large new warehouses near key ports across the country.
Moving forward, logistics and timely delivery will become a significant competitive advantage for furniture businesses.
2. Rising inflation
The combination of supply chain havoc, rising costs of shipping, and labor shortage, together with an all-time-high demand for furniture products, resulted in inflation reaching its highest point in more than three decades, according to the U.S. Bureau of Labor Statistics.
The furniture sector has been one of the most affected consumer categories. Prices for furniture and bedding are 12% higher in 2021 versus 2020, as reported by the Morning Brew.
Recently, one of the world's biggest furniture brands, IKEA, announced that as a result of the increasing costs in transport and raw materials, it is raising prices by an average of 9%.
However, consumer spending on the home is still above pre-pandemic levels, and online furniture shopping is booming. An analyst at marketing research firm The NPD Group, Joe Derochowski, whose specialty is the home industry, told Business of Home that the consumer mindset has been permanently shifted to being more "home-centric," which is why industry players have remained confident in their staying power.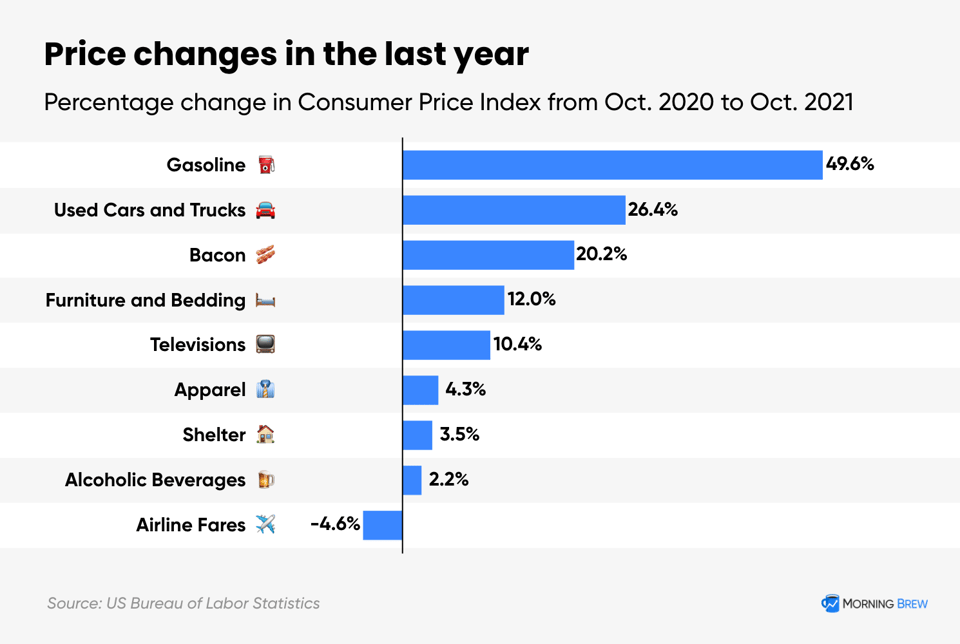 3. E-commerce boom
The pandemic brought significant challenges, and customers have had to pivot and adopt new habits. And while many businesses wondered whether these changes would be short-lived or permanent, research shows that the changes are sticking.
Data from McKinsey shows a 30% expected growth in customers purchasing furnishings and appliances online even after the pandemic.
Online shopping is no longer only for digitally native customers — 58% of millennials, 49% of Gen X consumers, and 37% of baby boomers are likely to make their next furniture purchase on the internet, as reported by Furniture Today.
While there is increased out-of-home activity such as work, shopping, and social activities, consumers continue to invest in their homes. According to McKinsey, 31% of respondents have renovated their homes in the past 12 months.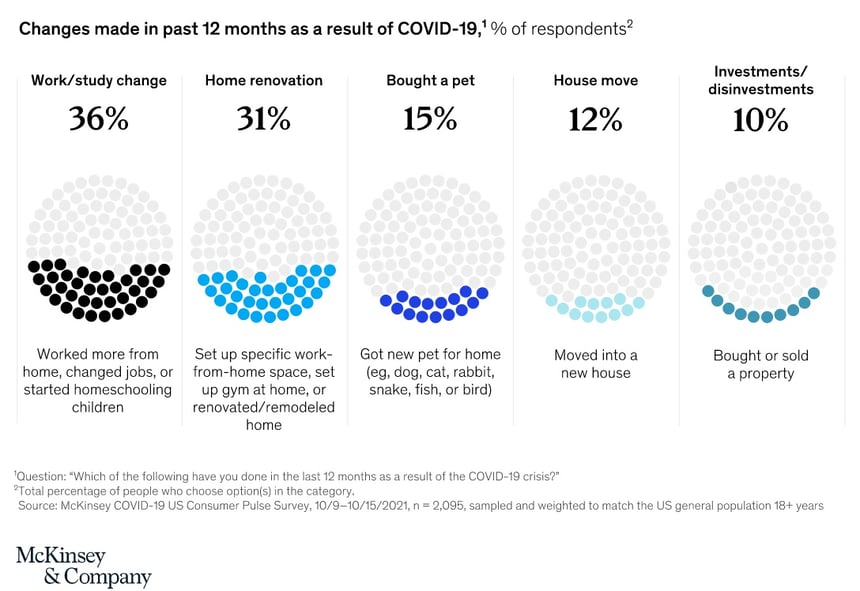 McKinsey
4. 3D product visualization becomes table stakes
The rise in online shopping raised awareness of an important topic: furniture e-commerce merchandising. The online shopping experience is crucial when it comes to e-commerce furniture sales. As a result, some of the leading furniture players have redefined the website experience using the power of 3D product visualization.
The Canadian furniture retailer EQ3 witnessed a 36% increase in conversions and an 88% increase in average order value (AOV) after implementing 3D product visualization. To bridge the online-offline gap, EQ3 has also introduced augmented reality (AR). According to the retailer's data, a shopper who uses AR has a 112% higher conversion compared to someone who doesn't use AR. They also found that AR users have two times higher average order value (AOV).
While 3D product visualization is nothing new in the furniture industry, especially for furniture retailers and DTC brands, the mass majority of furniture brands have been slow to adopt product visualization tools. The good news: things are starting to change. As reported by Business of Home, furniture brands are increasingly aware of the importance of 3D product visualization.
Some of the leading furniture manufacturers are setting standards in 3D product visualization and website experience. The renowned North American furniture brand, Palliser, enables customers to get a 360-degree view of the products and scrutinize the details with a 4K zoom. After redesigning its website, Palliser has noticed increased engagement, improved brand communication via multiple channels, and increased brand awareness among end users.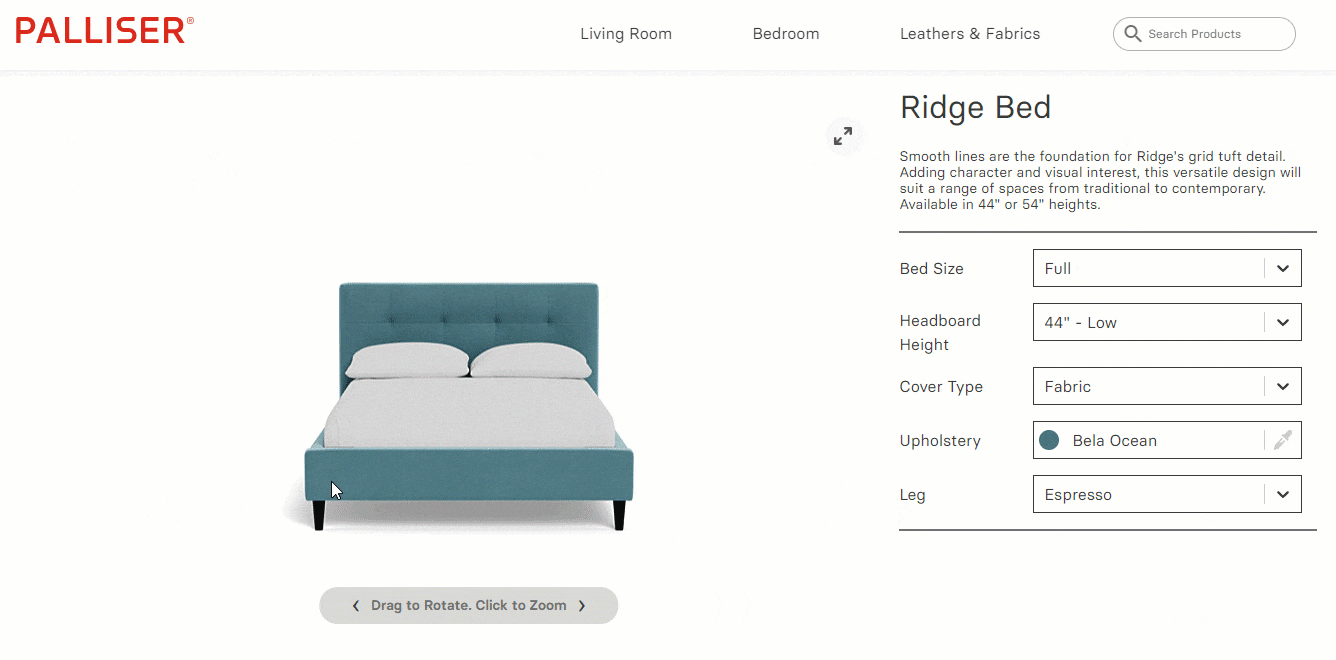 5. The store as a destination
Given that e-commerce has skyrocketed over the past two years, one would assume that furniture businesses would focus on digital and forget about their stores — not really. Retail is not dead — but boring retail is.
Even though online sales will continue to rise, brick-and-mortar stores will still remain one of the core pillars of furniture retail. The heavy investments in brick and mortar by some of the most well-known names in the furniture industry are a testament to that.
The leader in customizable furniture offering thousands of made-to-order upholstery items, Interior Define, has announced a rapid expansion of its retail footprint with more than 30 brick-and-mortar stores in 2022. The new "Interior Define Studios" will allow customers the opportunity to see, touch, and share the endless customization options in person by showcasing all the fabrics, cushion fills, leg options, and more.
Other forward-thinking players such as Loaf, Burrow, and Sofacompany are also redefining the in-store experience through experiential retail.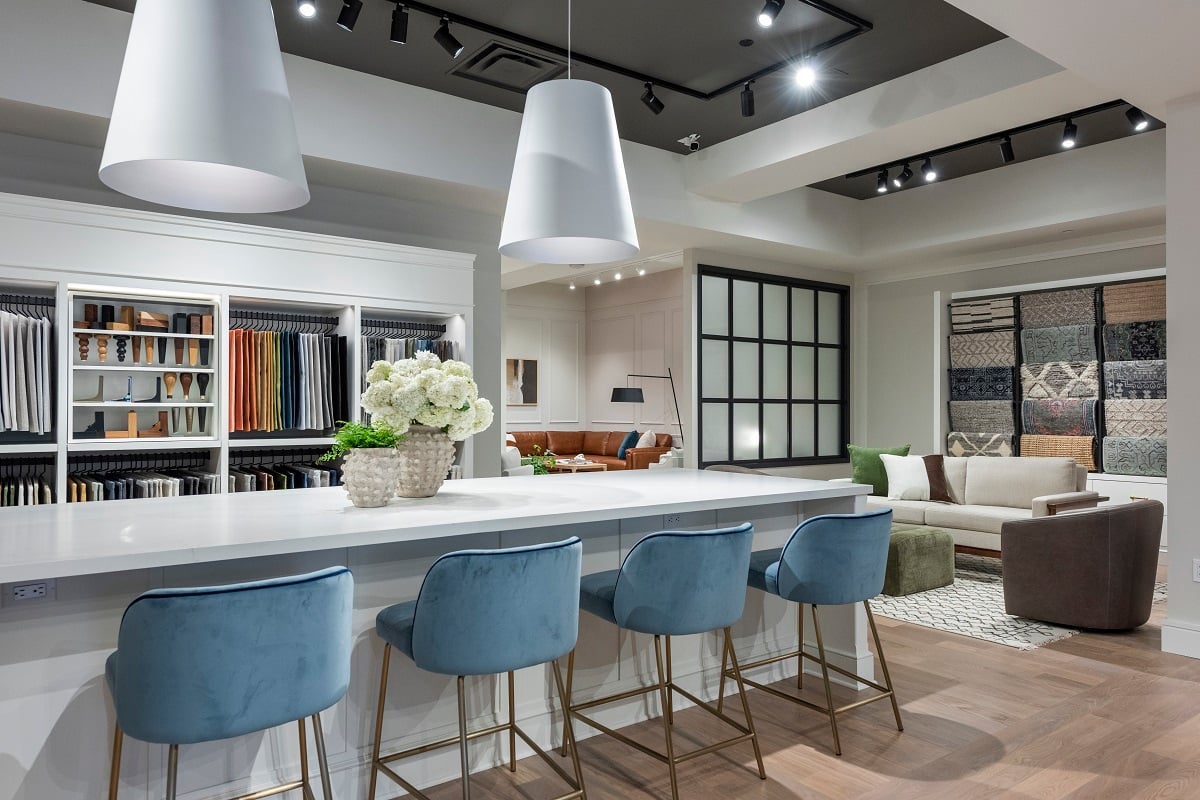 6. The future of furniture markets
After a year of postponing and rescheduling, in 2021, furniture markets slowly started returning to in-person events. And then, end-of-the-year restrictions and concerns about the potential risk of new COVID-19 variants once again forced organizers to postpone some of the shows such as Maison&Objet and the January Furniture Show.
The pandemic had a significant impact on the format of furniture markets. While some events switched to a virtual format, others tried to get the best of both worlds with a hybrid form that includes both in-person and digital elements.
This begs the question: How can furniture brands prepare for the future of furniture markets?
Moving forward, one thing is for sure — whether furniture markets are in-person, hybrid, or virtual, they will be accompanied by some digital component.
Forward-thinking brands are already leveraging the power of 3D product visualization to enhance the furniture market presence and create an endless aisle experience. Palliser uses TV screens and tablets to encourage partners to use the 3D product visualization tool to configure products and take them for a 360-degree spin.
Another emerging trend is the rise of virtual markets. According to Furniture Today, 60% of the surveyees said they have used one of the emerging virtual alternatives for networking, such as virtual markets and video showcases. The outdoor furniture brand Brown Jordan designed a virtual market experience that enables visitors to browse through products displayed in their virtual showroom. Visitors can click on the displayed products and get additional product information.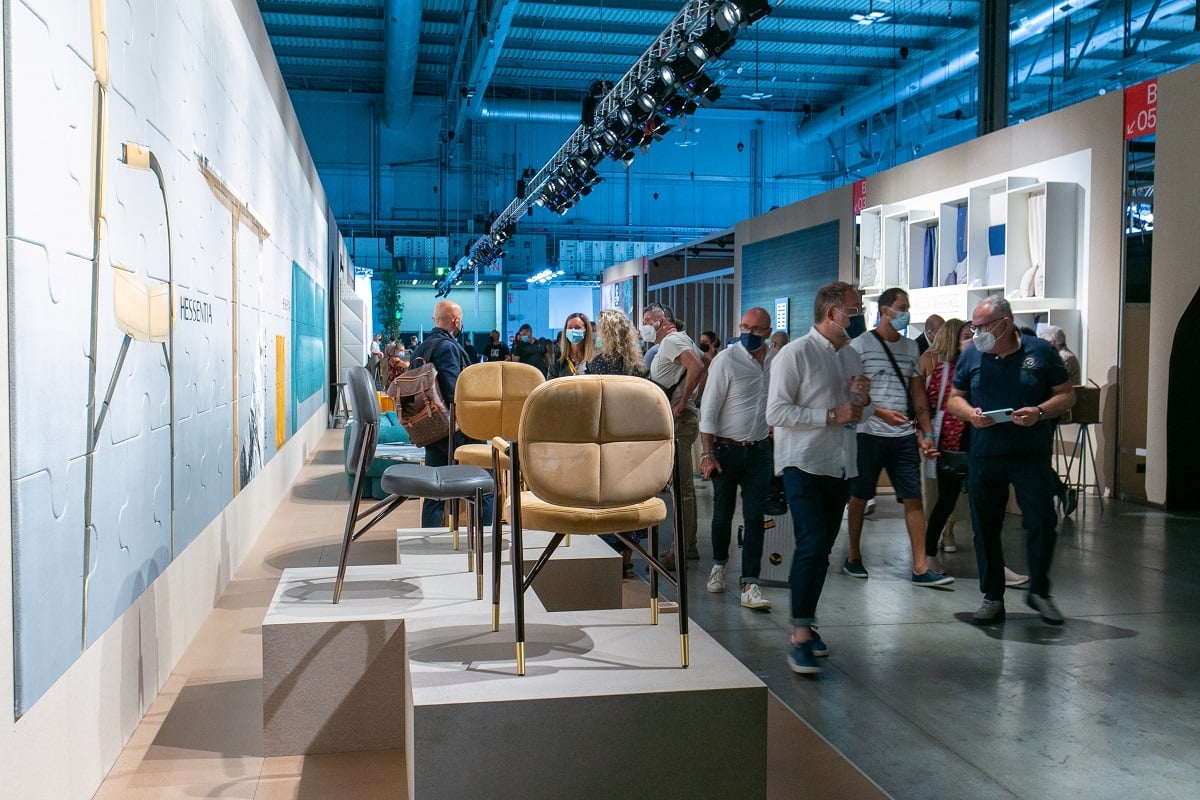 7. Mergers and acquisitions
Another hot topic in the furniture industry for the past year was the number of mergers and acquisitions. Some of them were smaller, but there were also those that defined the news in 2021. One of them was the merger between two furniture industry giants — Herman Miller and Knoll.
While it's hard to predict the reasons behind mergers and acquisitions, acceleration of e-commerce adoption, demand for domestic upholstery, and domestic capacity were among the drivers that pushed furniture companies to make these types of strategic moves.
Another reason was the increasing emphasis on the ability to provide products for the whole home, as reported by Furniture Today. As a result, we've seen Norwest Equity Partners (private equity firm) acquire Thibault (wall coverings, fabric, and furnishings), Best Buy (electronics & increasingly home goods) acquired Yardbird (DTC outdoor furniture), and Classic Home (importer of case goods and décor) acquired Braxton-Culler (a domestic manufacturer of upholstery).
---
Looking back at 2021, we can definitely say that it was an eventful year in the furniture industry. There's never been a more exciting time to be operating in the furniture space, and we are here for it.
Curious to find out how 3D product visualization can set you up for success in the years to come?