The new decade has brought immense transformations in the e-commerce world, especially since COVID-19 started spreading. We witnessed massive changes in the e-commerce landscape as more retailers tried to bring their businesses online.
According to Statista, e-commerce sales on a worldwide level have skyrocketed in the past two years. In 2019, online sales accounted for 13.6% of all retail sales worldwide, which rapidly increased to 18% in 2020 and 19.5% in 2021. This number is expected to increase up to 21.8% in 2024.
But the e-commerce landscape wasn't the land of milk and honey. Businesses have faced serious challenges with supply chain disruptions. As the problems persisted throughout the year, it was clear that we could expect changes in the holiday marketing playbook.
Let's take a look at the changes that happened during the holiday season and how you can prepare for e-commerce furniture sales year-round.
Overview of Cyber Week 2021
Throughout the years, holiday shopping during Cyber Week, from Thanksgiving to Cyber Monday, has been the week that brought the biggest sales to companies.
Adobe reported that consumers spent a total of $10.7 billion on Cyber Monday, which is $100 million less than 2020 ($10.8 billion) and down 1.4% YoY. However, Cyber Monday still remains the biggest online shopping day of the entire year. In the same report, Adobe stated that during this day, consumers were spending $12 million every minute.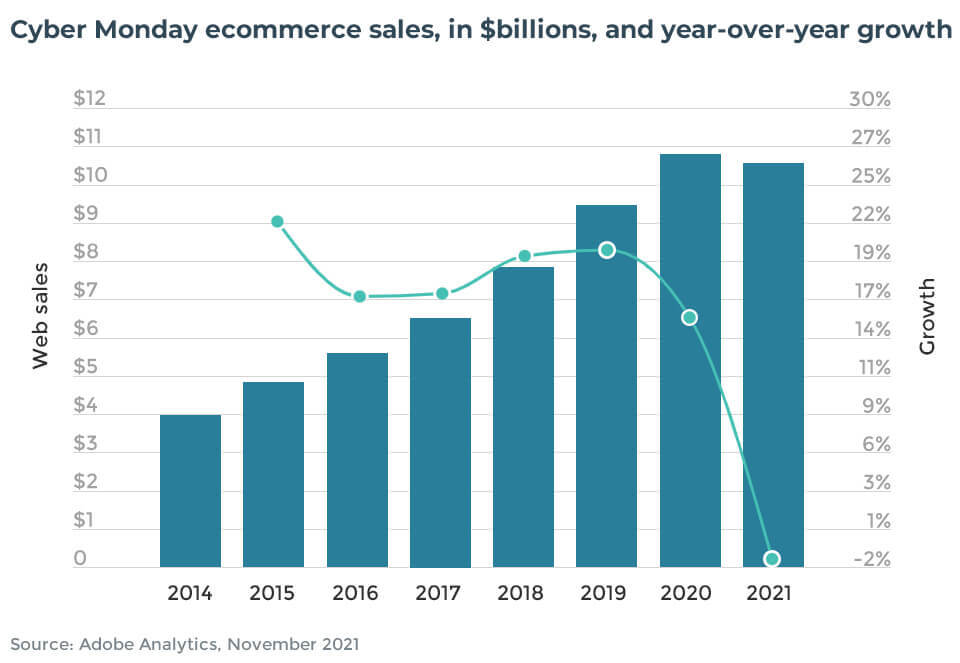 According to Digital Commerce 360, U.S. online retailers sold $33.9 billion worth of goods during the Cyber 5 period in 2021, which is 1.4% less than the previous year. In comparison to last year's online sales, Thanksgiving is the only day of Cyber 5 that increased up to 0.5%, as stated by Adobe.
The question is: What does this all mean for marketers?
As furniture businesses try to understand the dizzying array of changes that are afoot, we look at the reasons behind the changes and how to prepare for the future.
The holiday shopping playbook changed
In the last two years, the holiday shopping season began earlier than usual. On one hand, customers were forced to shop online due to the lockdowns, and on the other hand, retailers wanted to avoid delivery issues due to the supply chain havoc, so they started offering holiday deals much earlier.
Adobe has reported for CNN that consumers spent $110 billion online from November 1 to Cyber Monday in 2021, which is an 11.9% increase compared to 2020. According to CNN, companies started offering Thanksgiving deals as early as October, so shoppers wouldn't have to wait for Cyber Week to make a purchase.
Furniture retailers also started their holiday shopping season earlier this year. One of the furniture players that implemented a Black November sale that lasted for the entire month is the Australian retailer Nick Scali.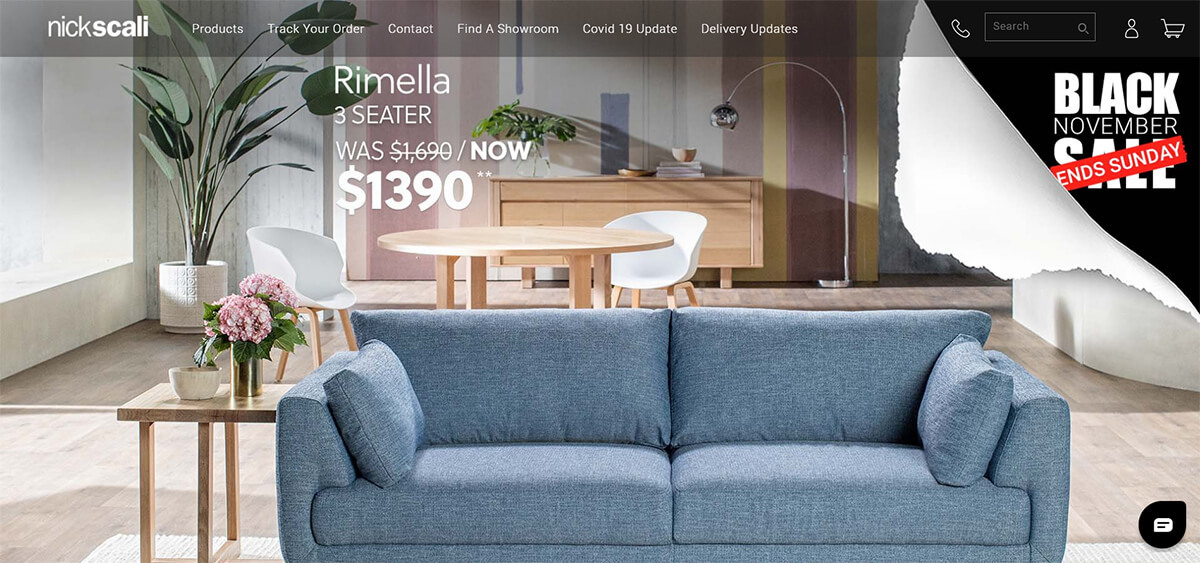 Nick Scali's Black November Sale
Companies dealt with supply chain issues
Ever since 2020, COVID-19 has brought enormous challenges to the global supply chain. The higher the demand, the bigger the supply chain issues.
According to the U.S. Census Bureau, almost 40% of businesses experienced or are still experiencing supply chain delays due to the pandemic. Factory closures in China, Taiwan, South Korea, and Vietnam due to the lockdowns combined with a domestic labor shortage brought many headaches to furniture businesses.
At the onset of COVID-19, people started moving from big cities to metros that offer relative affordability and year-round outdoor living. This phenomenon, also known as the "Great Reshuffling," brought a real estate market boom. As a result, furniture sales have also skyrocketed. The rise in demand caused prices for shipping containers and raw materials to spike.
At the same time, the lack of shipping containers caused finished products to stay piled up in warehouses and ports throughout Asia. Shipping containers were scarce while the demand for shipping was enormous, and this caused a huge surge in the price for moving cargo.
According to The New York Times, before the pandemic started, the price for a shipping container to go from Shanghai to Los Angeles was around $2,000. However, by early 2021, this price skyrocketed to around $25,000.
The global supply issues that brought shortages and delays are among the main reasons why companies decided to prolong the shopping season.
Companies offered fewer discounts than previous years
The whole situation with the supply chain crisis made retailers think twice before offering big discounts during Cyber Week. In a Reuters article, Salesforce stated that the discount rates during Cyber Week 2021 were on average 8% lower than last year.
Companies started decreasing their discount offers during the holiday shopping season to avoid too many orders concentrated in a short period of time and problems with delivery issues.
Instead, they started their promotions earlier, so they could deliver orders before Christmas. As a result, instead of five days from Thanksgiving to Cyber Monday, the holiday season sale was prolonged throughout the entire month of November.
How to prepare for e-commerce sales year-round
In 2021, retailers faced a new reality — they needed to set the groundwork for e-commerce sales throughout the year instead of waiting for Cyber Week.
Forward-thinking e-commerce companies were already aware of all these changes in the holiday shopping playbook, so they were prepared to capitalize on the last two months of 2021.
And while in the past, retailers were getting ready for the holiday shopping season two to three months before they launched their promotions, moving forward, the best time to prepare is right away. Let's take a look at some of the steps you can take to be ready for e-commerce sales throughout the entire year.
Provide better 3D product visualization
Furniture businesses that want to provide their customers with a seamless online shopping experience need different ways to accurately display the products online. Here's where 3D product visualization and augmented reality (AR) come into the picture.
By using 3D product visualization and augmented reality, customers get a digital representation of the product without going to a physical store to see it in person. These technologies are some of the most effective methods for producing high-quality digital content.
Furniture companies that use 3D product visualization and augmented reality on their websites have noticed higher conversion rates throughout the whole year. By implementing a 360-viewer on their product pages, the furniture retailer EQ3 has noticed an average increase of 36% in conversions, 88% of increases in average order value (AOV), and an average increase of 116% in pages visited.
EQ3 also implemented a web-native AR solution. The results were impressive — EQ3 found that a buyer using AR has a 112% bigger conversion rate compared to someone that doesn't. What's more, AR users have two times higher AOV.
"Augmented reality finds a valuable use case in the furniture industry. We have seen in customer surveys that AR is referenced as a common reason for purchase completion." — Dan Gange, Director of E-commerce at EQ3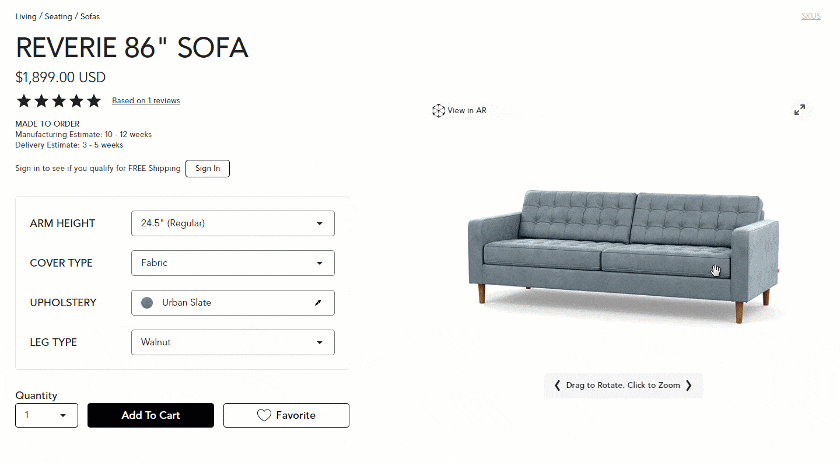 3D visualization on EQ3's Reverie Sofa
Takeaway: Displaying your products more accurately on your website is the key to success, especially in the furniture industry. Businesses that know the importance of having an impeccable product page experience are already reaping the rewards. Using the power of 3D product visualization and augmented reality, you can set the foundation of an engaging online shopping experience throughout the whole year.
Personalize the shopping experience
Furniture businesses can personalize the online shopping experience for their customers by offering products based on their previous purchases and preferences. As stated in the Personalization Development Study from Monetate, 93% of businesses with an advanced personalization strategy experienced revenue growth.
When creating a product page, companies need to think of the best ways to make the shopping experience more personalized for their customers. Furniture businesses that want to be prepared for the e-commerce boom year-round need to pay attention to creating a customized product page experience, rather than having a one-size-fits-all approach.
One of the Top 100 U.S. Furniture Retailers, Room & Board, was faced with the challenge to create individual messaging across their 17 different customer segments. This process required manual work that wasn't scalable at all.
"We wanted to be able to leverage our content library and our data in an environment that would set us up for scalable personalization success." — John Schroeder, Director of Business Intelligence at Room & Board
To solve this problem, they tested and personalized new content, promotions, and offers created an open-source technology that allows ongoing customization and built an agile setup that enables various team members to set up new campaigns and test on a daily basis.
Thanks to this, they achieved notable results that increased their overall performance. After implementing personalization on their website, Room & Board achieved 109% longer time on site for engaged customers, 80% higher conversion rate, and 10% higher AOV, as reported by Kibo Commerce. Today, their product pages offer an impeccable UX design and sophisticated personalization at every point of the customers' shopping experience.
"AI-driven personalization should top the list of technology investments for all furniture e-commerce firms. Heightened customer expectations and an unprecedented upswing in online shopping will make scaling personalized experiences paramount, leading to improved conversion rates and business results in turn." — Brian Wilson, Chief Operating Officer at Kibo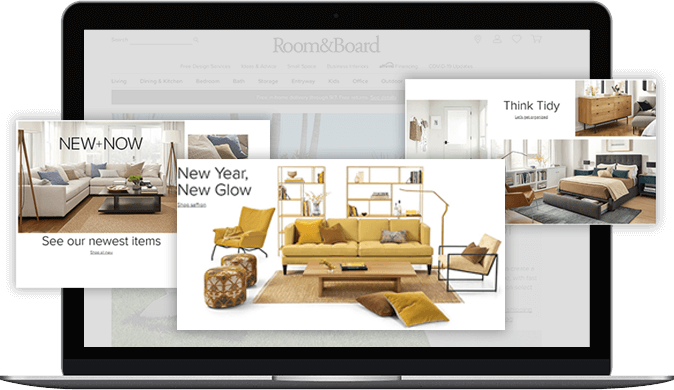 Room & Board's Case Study by Kibo
Takeaway: Personalization plays a vital role in attracting customers and keeping them engaged in exploring and purchasing new products. Use behavioral data to deliver a unique user experience and drive sales.
Optimize for mobile
Smartphones already have a major impact on our daily lives. It's no secret that people are getting addicted to their mobile phones. According to an eMarketer forecast, U.S. adults will spend four hours and 30 minutes daily on their mobile phones in 2022. That's one-fourth of the total active time (16 hours awake, eight hours asleep).
According to Google, 60% of home and garden shoppers use mobile devices to do research and get purchase inspiration. Thanks to the ease and convenience that mobile devices bring to online shopping, the mobile experience has become table stakes nowadays.
Customers expect a high-quality, straight-to-the-point browsing experience, especially when they're on their smartphones. Furniture retailers that are hoping to close the visit-to-revenue gap have to prioritize their mobile shopping experience.
There's no doubt that mobile-first will become the norm. That's why it's no surprise that 91% of the U.S. Top 100 Furniture Retailers we analyzed in our latest report have a superior mobile experience.
The businesses that were able to understand the importance of the mobile-first approach are seeing the benefits. Those that haven't invested in this area are missing out on a growing customer base segment.
Takeaway: Mobile is an integral part of how consumers shop nowadays, from browsing and research to comparison and purchase. This is why having an exceptional mobile experience is a must for every furniture retailer, whether traditional or digital-first.
Collect first-party data
The cookie apocalypse turned the digital marketing world upside down. The launch of Apple's iOS 14.5 and Google's announcement of its plans to phase out third-party cookies made marketers reconsider their data management strategies.
It became clear that moving forward, focusing on first-party data will be essential.
First-party data is customer information that companies gather from their online and offline sources like their website, CRM, app, social media, or surveys. Companies that collect first-party data obtain information about customers such as: purchase history, demographics, interests, time spent on website, already visited pages, and more.
According to eMarketer, 85% of marketers from the U.S. and 75% of those from Western Europe declared that increasing their use of first-party data is a high priority. For marketers, it is a highly valuable source of users' data.
While it might seem difficult to adapt to the new requirements, owning data instead of relying on third-party platforms can help furniture businesses reinvent their overall online shopping experience.
Some of the innovative players in the space are already focusing on gathering first-party data in the form of quizzes and questionnaires. The Canadian DTC brand CouchHaus offers a "Build My Couch" tool that lets customers create their couch in 15 steps by choosing what they prefer from the pre-given options. This way, the customer receives personalized suggestions, and the company gathers important information about the customer's preferences.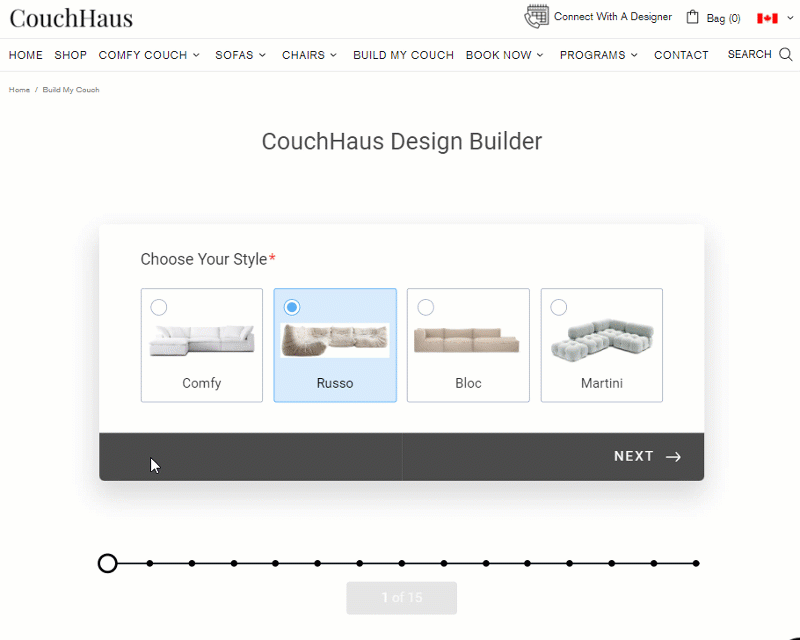 CouchHaus Build My Couch
Takeaway: Make gathering first-party data one of your priorities. Data ownership can help you stay ahead of the competition and offer a best-in-class furniture shopping experience.
Customers are slowly getting used to online shopping throughout the entire year, and not just during the holiday season. If you are curious about how 3D product visualization and augmented reality can help you improve your website experience, don't hesitate to reach out to us.