The furniture industry is one of the fastest-growing categories in Australia. An IBIS World report stated that the market size of the furniture retailing industry in Australia is $9.9 billion in 2021 (measured by revenue), making it the 12th ranked retail trade industry in the country.
Statista reports that the number of users in the Furniture & Homeware segment is projected to amount to 5.3 million users by 2025. In the same segment, 11% of the entire market revenue is likely to be generated through online sales by 2023.
This shows that the furniture industry is currently growing, and it will continue to grow in the future. According to Statista, there were 3,181 registered furniture retailing businesses in Australia at the end of the 2020 financial year. More than one thousand of them were in the New South Wales area.
The impact of COVID-19 on the Australian furniture industry
COVID-19 has brought many changes throughout the world. The Australian furniture industry was no exception. According to IBIS World, the market size of the Australian furniture retailing industry has marked growth of 2.7% yearly on average within the five years from 2016 to 2021. And for 2021, the furniture retailing industry market size is expected to increase by 20.1%.
The boost in demand has motivated furniture retailers to create better online shopping experiences for their customers. Furniture companies have started implementing new, engaging features on their websites to replicate the in-store experience. Introducing such features has made customers start shopping online, even though they had been skeptical about online shopping for big-ticket items before the pandemic.
"The global pandemic has underlined just how important e-commerce is to a global furniture designer, manufacturer, and retailer such as King. Customers expect a seamless online shopping experience, and it's our responsibility to deliver that experience. We've also seen customers, who perhaps in the past were hesitant to shop online, become more comfortable with the process. Having real-time remote interaction with customers through avenues such as online chat and phone support is now, more than ever, an essential part of our customer service. We go to great lengths to replicate the personal service of the King showroom experience for our online customers." – Marketing team at King Living
The Australian Bureau of Statistics shows that household goods retail increased 20% between June 2019 and June 2021 as consumers spent more on home improvements and recreational goods. Even though the drastic oscillations have finally settled, the spending on household goods is much higher than the pre-pandemic level.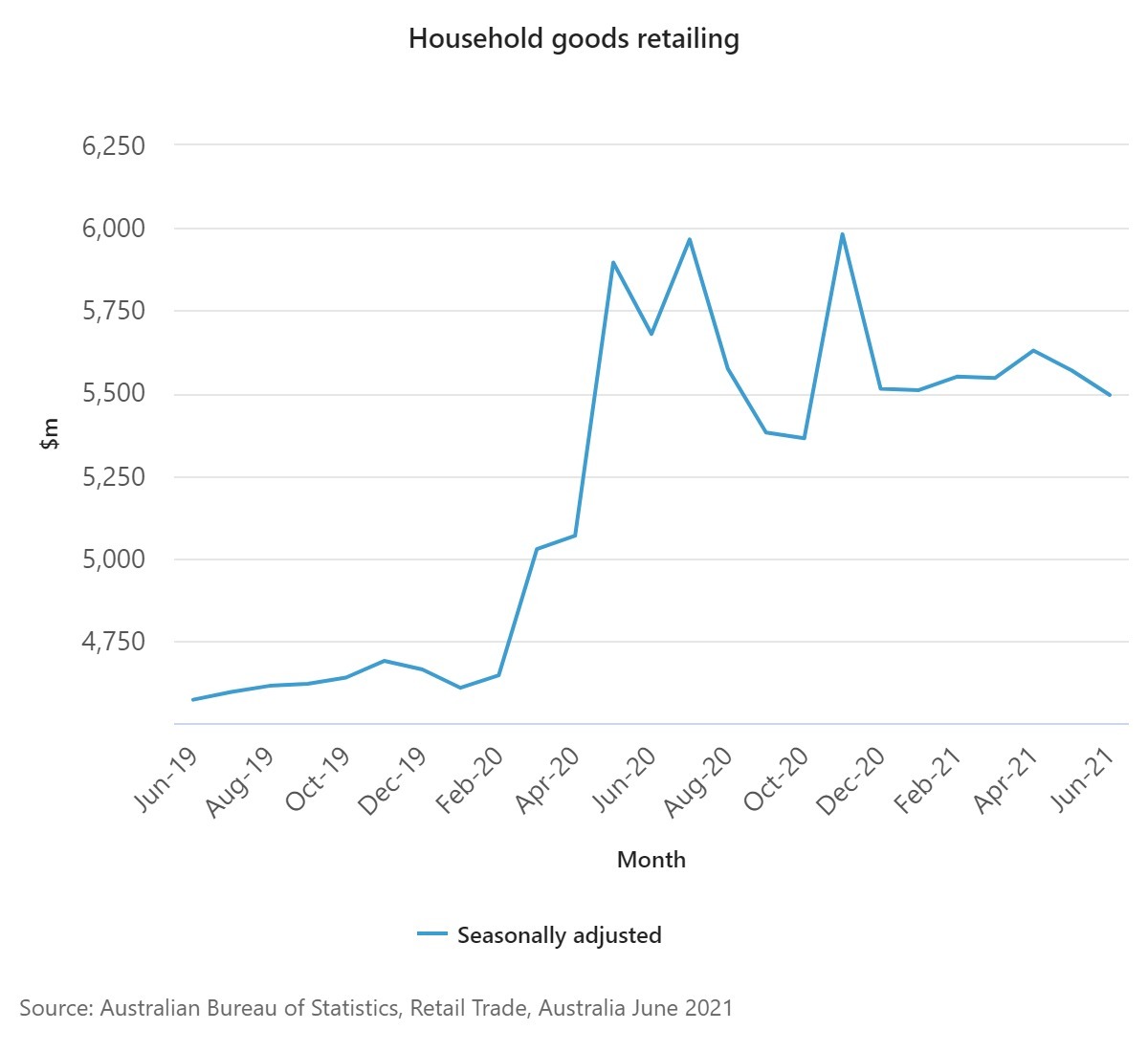 Australian Bureau of Statistics
The growth of the Australian furniture industry is undeniable. This opens up great opportunities for forward-thinking companies in the space.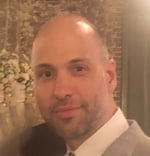 "Due to the pandemic and reduced physical, in-store shopping, customers are more reliant on product information and high-quality product visualization provided online."
- Jim Bokolis, General Manager at Lounges Plus


Product page analysis of the top 10 Australian furniture players
In the new furniture retail landscape, best-in-class retailers know that their business must be truly focused on creating a seamless end-to-end shopping experience for the customer. To understand the elements that differentiate the top Australian furniture players, we analyzed their product pages. Let's take a look at the highlights.
Plush – Augmented Reality
Plush is one of the leading furniture retailers with numerous locations throughout Australia. Its first store opened in Nunawading, Victoria, in 2000. This retailer uses only 100% genuine cowhide leather and offers a 10-year warranty on their hand-crafted sofas. Plush offers 100,000 combinations of fabrics, leathers, designs, and configurations to create unique sofas.
Apart from the offer of a wide range of products that can be customized, website visitors have an opportunity to examine products with a zoom-in option and to get a 360-degree view of the furniture from all angles in great detail.
At the bottom of the product page, customers can get recommendations about other products similar to the ones they searched for on the website. Besides this, Plush offers its customers the chance to read reviews about different products, an option that eases the purchasing process. They also use user-generated content (UGC) on the website to provide customers with real-life examples of how other customers have combined the same piece of furniture.
Plush also offers augmented reality, which allows customers to preview the piece of furniture in their room. This AR option is one of the features that distinguishes Plush from other retailers and allows its customers to enjoy a unique shopping experience from the comfort of their homes. Having web-AR and superior 3D product visualization contribute to a high-quality user experience. Using these technologies, Plush managed to shorten the sales cycle and increase conversions both online and in their showrooms.
Quick tip: According to The Search View, 56% of searches in the retail industry come from mobile phones. Adding a web-native AR option to your product pages will only improve the online shopping experience and boost your conversion rates.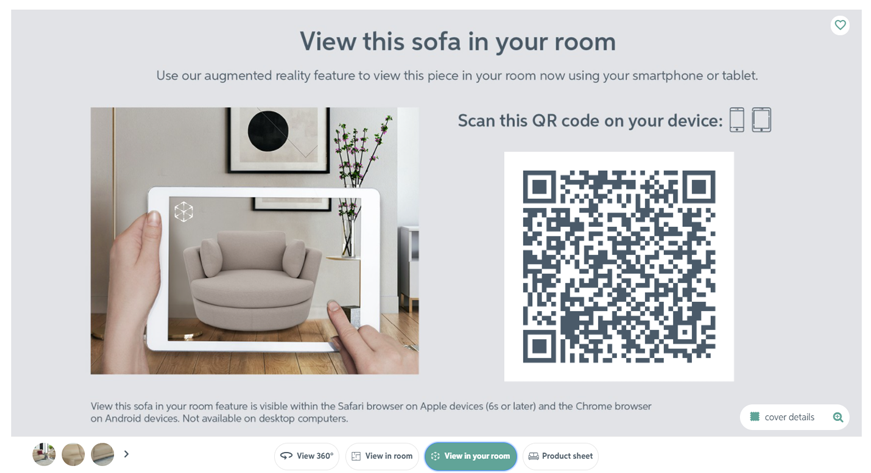 Freedom – 360-Degree Spin
The story of Freedom started back in 1981 with a vision to help all Australians create a home that they love coming home to. They offer a wide range of stylish and functional products that successfully passed the durability tests, increasing customers' satisfaction and trust throughout the years.
Their website offers an engaging shopping experience with high-quality 360-degree views of their furniture. By allowing customers to spin the items and examine them from different angles before purchasing, Freedom created a more appealing shopping experience that captures customers' attention.
The 360-degree spin is accompanied by a zoom-in feature that provides customers with close-ups of the colors and fabrics. Some of the products are presented as images in a pre-set room ambiance.
Quick tip: By adding 360 spins on your product pages, you can increase customers' engagement and time on site, which ultimately leads to higher purchasing confidence.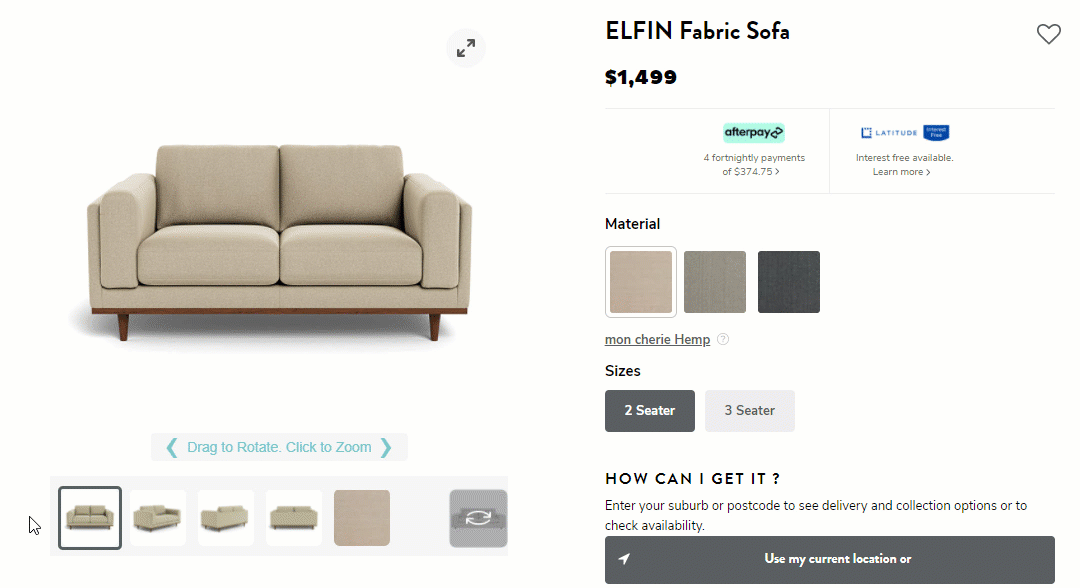 Freedom's 360-degree spin feature
Coco Republic - Virtual Consultations
Coco Republic is a family-owned furniture business operating in Australia, New Zealand, and the USA. It offers numerous pieces of furniture manufactured with great attention to detail.
When you enter a product feed, you can see thumbnail images for different products. For each image, a room scene visual shows on hover, as well as information about available color options.
The product pages are equipped with 360-degree views, HD zoom, and a straightforward product configurator that allows customers to select from an array of product variations.
Coco Republic has always paid special attention to its customer experience. This is why they go a step further and offer virtual consultations with designer experts to help customers make the right purchasing decisions.
They provide free in-store consultations and virtual appointments to customers who want to talk with a design expert before transforming their spaces at home. Besides the design advice, customers get complimentary swatches and samples and receive personalized mood boards and quotations.
Quick tip: Leveraging high-quality 3D product visualization during virtual consultations will set you up for success. Using 3D visuals helps customers get a better preview of the products they want to purchase.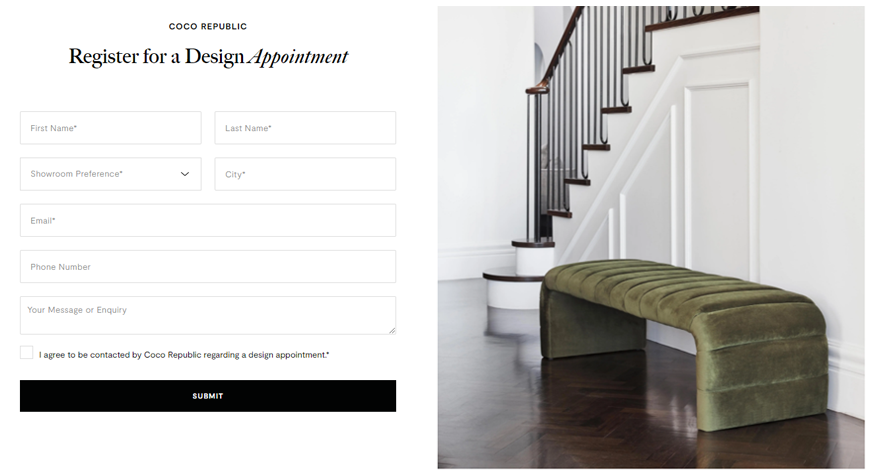 Coco Republic's virtual consultation option
Nick Scali Furniture – In-Context Imagery
Nick Scali Furniture was established over 50 years ago and is now one of Australia's largest importers of quality furniture. It retails and imports furniture such as armchairs, lounges, dining tables, coffee tables, TV units, and much more.
On the product pages, Nick Scali Furniture displays its products with high-quality in-context imagery that shows the product in a room setting. In these in-context images, the main product is combined with other furniture items or props that contribute to a better room scene.
By having in-context images on its product pages, Nick Scali helps customers get a better sense of the scale and size of a product. Below the fold, customers can find product information details about dimensions, options, and materials.
Quick tip: It's much easier to sell products when you show them being used. In-context images also help you boost emotional engagement, ultimately leading to a higher conversion rate.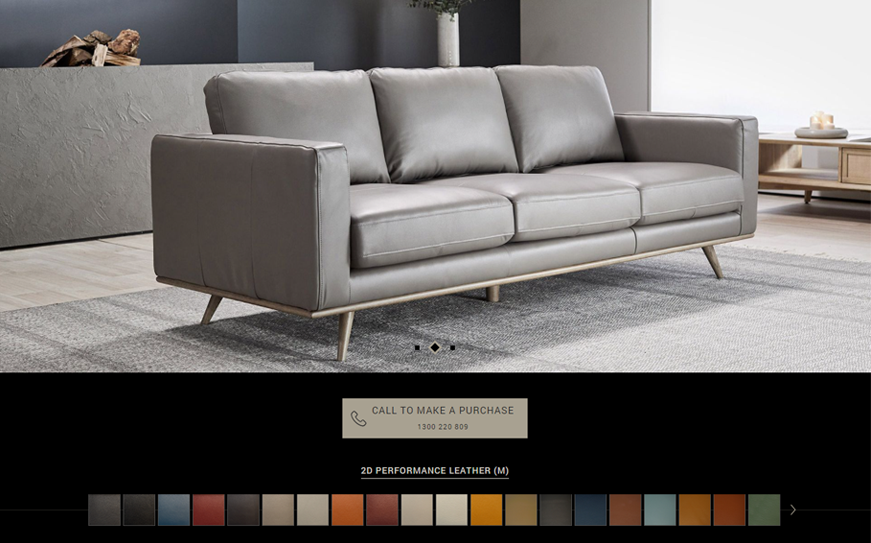 Nick Scali's in-context imagery
King Living – Product Customization
King Living has been at the forefront of Australian furniture design since 1977. Design, innovation, and comfort are at the heart of everything this family-owned business does.
"At King, we're constantly enhancing our global websites to improve the customer experience. As we continue to expand globally, the King website is not only essential as an e-commerce platform but also as part of our brand story. For new customers, the website will be one of the first interactions they have with King, and their first impression must be a good one." – Marketing team at King Living
When you open the product page, on the left, you can see alternate angles, zoom in to scrutinize details, or get a 360-degree view of the selected product. Besides the click-to-zoom feature, King Living has a full-screen mode where customers can again zoom in on the details.
On the right side, there is a product configurator where customers can select the fabric, legs, cushions, fabric protection, etc. Thanks to the product customization, customers can visualize how a certain fabric would look on the selected piece of furniture, which instills confidence.
Below the fold, customers can find information about features, shipping, delivery, warranty, and product support.
"A seamless online shopping experience relies on many factors. It's crucial to give customers all the information they need to purchase with confidence. Cylindo is a game-changer for King. It's a powerful tool that allows our customers to choose different fabrics, view them from every angle, and zoom in on the detail. And for those customers who still prefer to visit a showroom, the website becomes an excellent research tool. We find that many of our showroom customers are well educated about the King brand and our products as they have spent time on the website." – Marketing team at King Living
Quick tip: Giving consumers the ability to combine colors, fabrics, finishes, and other details in a few clicks with a simple product configurator can enhance their experience and increase your conversions.

King Living's product customization options
Koskela – Shop by Room
Koskela is an Australian DTC brand that sells timeless, innovative and inspiring furniture to its customers. The core of its business is intelligent, flexible, durable, fun, and contemporary design in combination with quality craftsmanship. Koskela's signature style aims to contribute to a timeless effect and enable customers to treasure its furniture throughout their entire lives.
When you enter a product feed, you can see thumbnail images for different products. Under each image, there is information about the price as well as color options that you can choose from and get a thumbnail preview without entering the product detail page. On some of the products, you can see different lifestyle images or a detailed shot on hover.
On the product page, customers can get a 360-degree view of the product that gives customers a good overview of the products from different angles. The website also provides a zoom-in feature that presents the furniture and its fabric in detail.
Customers who visit Koskela's website can also choose the furniture they want to purchase in different fabric options and thus customize products according to their personal desire.
Koskela allows its customers to shop products according to the room they want to design. The Shop by Room option gives a selection of furniture items for living rooms, dining rooms, kitchens, home offices, bathrooms, and outdoor spaces. In addition, they have images of the furniture in a predetermined room setting so that customers can get an idea of how the product will look in a specific room.
When designing a specific room, Koskela offers a free Interiors Consultation to its customers, thus helping them design their interior spaces by talking to experts.
Quick tip: Creating a one-stop shop for your customers where they can find products categorized by rooms will make their purchasing process much easier. One best practice from Koskela is to mark the products that are ready to ship. Short delivery time might be another incentive for customers to click the "add to cart" button.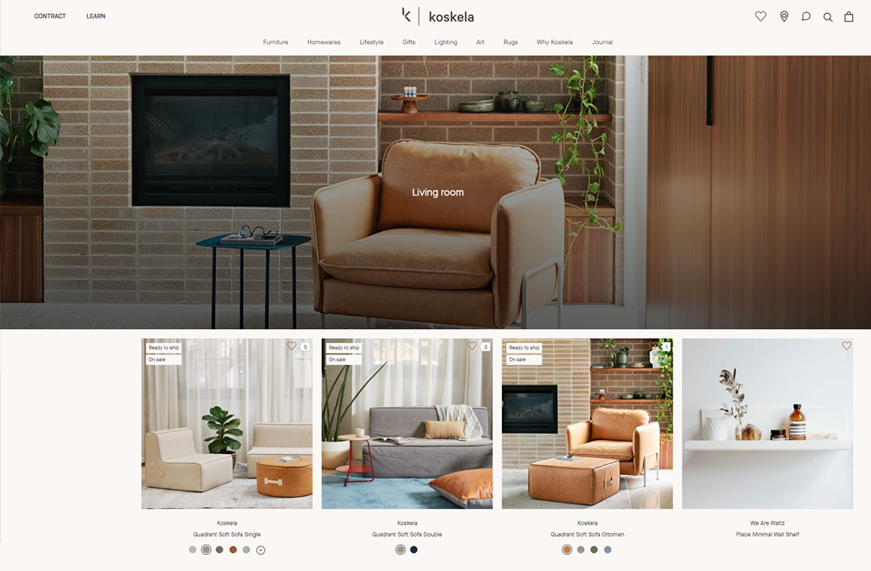 Lounges Plus – 4K Zoom
Lounges Plus is a large furniture retailer which operates various stores within Australia. Specializing in Australian-made furniture and bedding, this retailer allows shoppers to customize furniture products in a few simple steps through the Made For You feature on their website.
Website visitors can customize products by choosing different fabrics and leathers and get a 360-degree view of the product. Lounges Plus showcases the products in high quality offering a 4K zoom feature that lets customers examine the fabric up close.
Customers can also get a full-screen view of the product, so when using a 4K zoom, they get a real sense of the product specifics.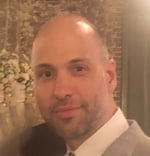 "The most important feature that makes our online shopping experience seamless and engaging is the true product representation and giving customers a real sense of the texture, detail, and size."
- Jim Bokolis, General Manager at Lounges Plus


Quick tip: The zoom feature mimics the way consumers would look at a product in a brick-and-mortar store. Make sure to use crisp and sharp images so users can inspect any product details carefully with the zoom. Showcasing a low-resolution image is ultimately the same as not supporting zoom at all or maybe even worse due to bad user experience and unfulfilled expectations.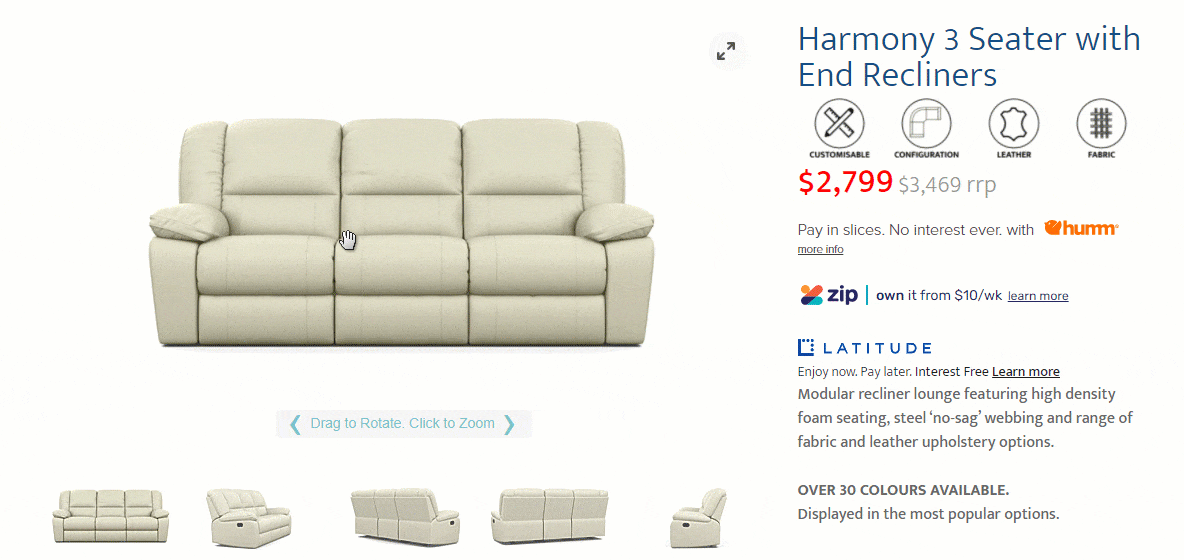 Snooze – Ratings and reviews
Snooze is an Australian retailer specializing in beds, mattresses, and bedroom furniture for more than 40 years. As one of Australia's first bedroom specialist stores, Snooze offers new standards of service, expertise, and range.
The bedding retailer has a clean and straightforward product page experience where customers can see high-quality product visuals and product information details. At the bottom of the page, customers can check related product recommendations.
Snooze also offers ratings and reviews for each of the products it sells. Below each product, customers can see how other customers have rated the piece of furniture, and they can read reviews from previous customers.
Depending on the type of product, customers can see ratings based on comfort, support, materials, and overall sleep experience for mattresses and their features, design, and assembly for bedroom furniture.
Quick tip: When it comes to big-ticket purchases like furniture, product reviews are crucial. According to eMarketer, when researching an expensive item online, online ratings and reviews were the most common sources respondents consulted, more so than word of mouth, in-store sales associates, or social networks.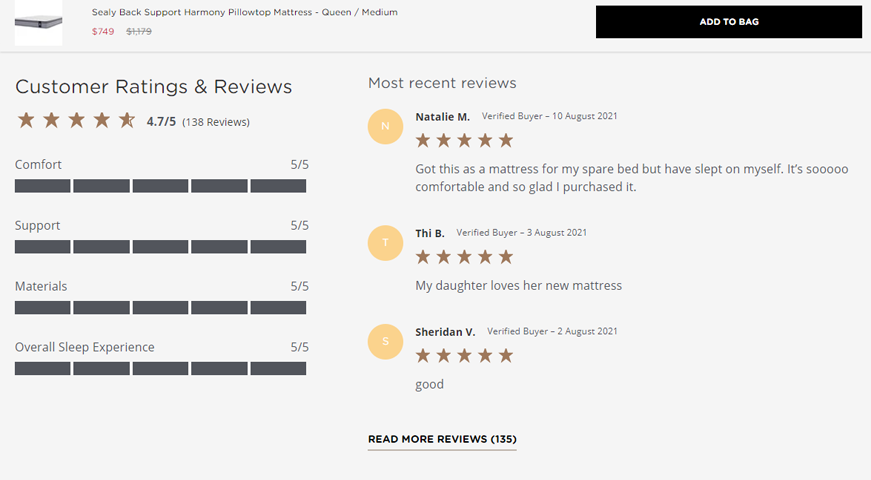 Amart Furniture – Product Returns
Amart Furniture is an Australian furniture company that started operating in 1970. Ever since then, its mission has been to transform homes with stylish, high-quality furniture at an affordable price.
On the product page, customers can see the product from different angles and in a room setting. Below each product, customers can find product specifications and features, reviews, related products, and delivery and returns information.
Amart Furniture pays special attention to its product return policy, as it's one of the most important factors for online purchases. Amart Furniture gives its customers a period of 30 days to return the product and get a refund or exchange for another product with the equivalent value.
Besides this, Amart Furniture offers a 180-Night Sleep Guarantee on any orthokinetic mattress. If a customer is not satisfied with their mattress, they can exchange it within 180 nights. This is another benefit that contributes to a delightful shopping experience and boosts customers' trust.
Quick tip: Customers pay close attention to the product returns policy before finalizing a purchase, especially when buying big-ticket items. Highlight the return policy on the product page, but also create a separate page with as many details as possible to answer any questions customers might have.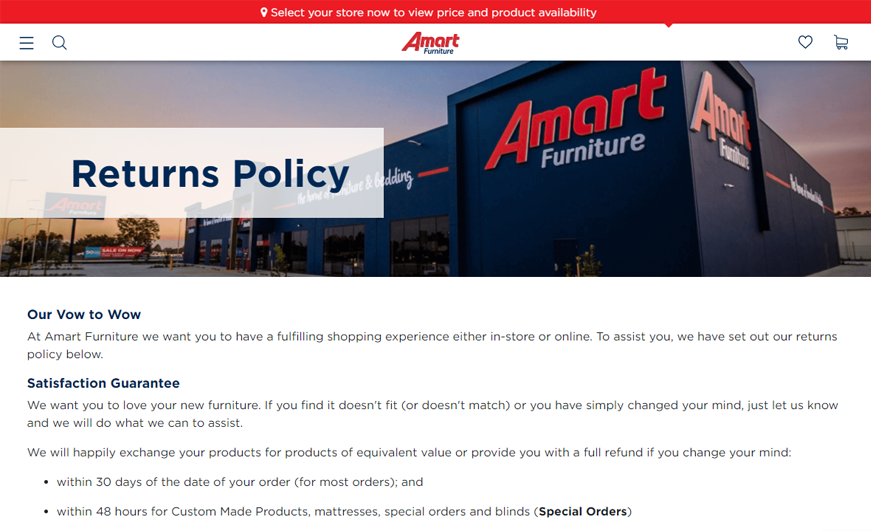 Amart Furniture's return policy
Temple & Webster – Visual Search Tool & Shop the Look Feature
Temple & Webster is the leading Australian online-only retailer of furniture and homewares that offers more than 180,000 products. Besides offering a wide range of products, this retailer is dedicated to providing fast shipping around Australia and world-class customer service.
On the product feed, there are straightforward filtering options, where customers can filter products by seating capacity, upholstery material, color, price range, type, style, features, customer rating, shipping time, etc. Under each thumbnail image is information about available color options for the particular product.
On the product page, customers can see a few product images, including alternate angles and room scenes. Besides this, customers can get a zoomed-in view of the product by hovering on a specific part of the image.
What separates Temple & Webster from other retailers is the option for customers to upload a photo in the search bar on the website to find similar products. This visual search tool relies on artificial intelligence (AI) and machine learning to create a seamless online shopping experience.
Apart from that, Temple & Webster also has a Shop the Look feature on its website. This feature displays room scenes with different products on the left and a list of products included in the image that customers can add to the cart from the Room Ideas page.
Quick tip: Think outside of the box and provide customers with features that increase customer engagement and ease the online shopping experience.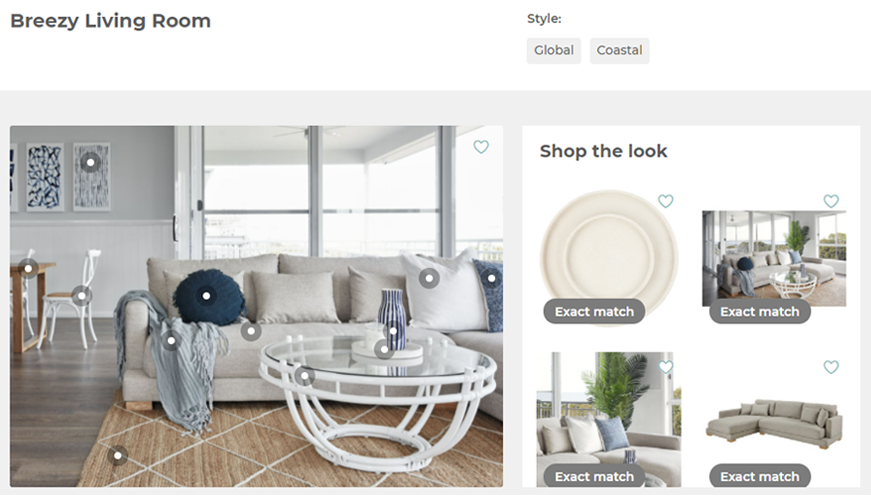 Temple & Webster's visual search tool and Shop the Look
The Australian furniture market offers great opportunities for tech-savvy companies that are ready to disrupt the old furniture buying pattern with engaging online shopping experiences.
Interested in finding out how you can use 3D product visualization to redefine furniture shopping?