The COVID-19 outbreak and technology development have contributed to the implementation of new trends in the furniture industry. Although many furniture companies have always followed the latest trends, others have not been aware of the benefits they could get until their brick-and-mortar stores were closed due to the pandemic. One of the trends that emerged rapidly in 2020 is virtual consultation.
In March 2020, furniture companies tried very hard to replace the feeling of going to the store when purchasing furnishing items for their homes. To do so, they decided to offer online consultations to their customers and to provide them with a virtual experience where their expert designers would be able to see the customers' room setting and offer an appropriate solution in real time.
Offering virtual consultations in the form of expert advice has proven to be the most effective feature that helped furniture companies to boost their online sales efforts.
Virtual Consultation in Furniture E-commerce
In most cases, it's in the customer's nature to want to touch and analyze the product before buying. When it comes to the furniture industry, it's the same: shoppers want to scrutinize the product before making a purchasing decision. Furniture companies and retailers have tried hard to replicate the sensation of rich texture and soft cushions in the virtual world and to recreate the overall in-store experience in the digital realm.
Although this task had its challenges, furniture retailers implemented virtual consultations where customers could connect with experts in real time and get pre-purchase product advice or have their questions answered in order to make a smarter purchasing decision.
One example of businesses trying to offer the best online variant for a real-time consultation is the furniture company Heal's.
Furniture retail has thus far shown itself to be resilient during the lockdown. A big asset for Heal's has been our live chat service that connects online users in real time to experts in our stores. We've also pushed online consultations via video conferencing. Otherwise, the basics continue to be the same as ever — inspire through great lifestyle photography, reassure through clear product information, and make the buying process as easy as possible. - David Kohn, Customer & E-Commerce Director, Heal's
Furniture companies use different terms for the online consultation services they offer. Interior Define, for instance, has called their virtual conversation "Free Design Advice," thus suggesting that they offer the opportunity to talk with designers and get their advice for free. Regardless of the term retailers choose to use and whether it is in the form of "Free Interior Advice" from FEST Amsterdam or an "Outdoor Design Consultation'' from Yardbird, furniture companies achieve their ultimate goal: attract customers to schedule design consultations and increase their online furniture sales.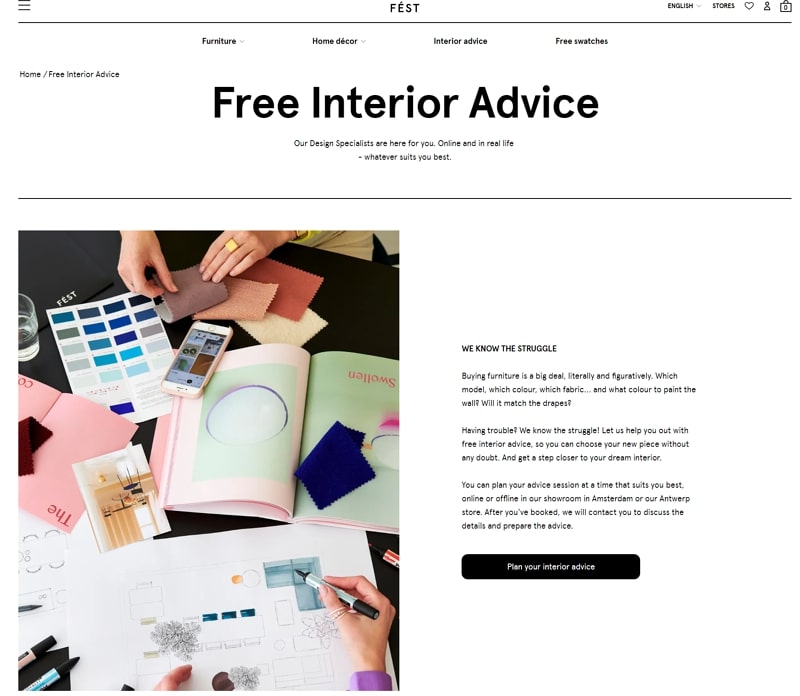 Fest Amsterdam offers free interior advice
There are also companies such as Burrow, which provide several options: quick call, design consultation, or an in-person consultation; or companies such as Ben Soleimani, which offer three contact options: email, phone call, or text. The options are numerous, and each retailer makes their own choice of what they offer, but their purpose is to provide customers with an online experience that will make them feel satisfied while boosting their company's online sales efforts.
In our latest research on the Top 50 DTC Furniture Brands, we concluded that 68% of DTC companies offer virtual consultations or live chat tools for their customers.
QUICK TIP: Leveraging high-quality 3D product visualization during virtual consultations will set you up for success.
How a Virtual Consultation Can Boost Online Furniture Sales
Retailers who use any type of online design consultation can make the most out of their furniture e-commerce store.
According to Statista, e-commerce furniture sales have achieved a rapid increase in 2020 and are expected to continue rising in 2021 thanks to the development of online shopping, the personalization of the shopping experience, and customer satisfaction during the virtual design consultations.
Parachute, the home goods DTC brand, has noticed a 60% conversion rate for online consultations, which surpasses every other sales channel. DTC brands that are willing to offer online expert advice to their customers are the ones that close more sales. Besides this, virtual consultations help companies nurture the relationships with their customers and add that human touch that is usually lost in online shopping.
Here are the three most important aspects of boosting online furniture sales with the help of virtual design consultations:
Human Interaction - Throughout the years, online shopping has been lacking an element of human interaction — that final step needed to push customers into completing a purchase. A consultation with design experts improves the retail experience in various aspects. Online design consultations help furniture brands maximize their online sales by using the omnichannel approach and offer the customers an experience of ordering online while accessing direct advice from an in-store expert.
Personalized Experiences - Connecting with customers online through video calls builds long-lasting relationships with them, and it is a good method that retailers can use to show off product details with the help of 3D product visualization. Moreover, it helps design experts understand their customers better, while the customers get personalized advice and answers to their questions.

Virtual consultations in real time enable data storing for their customer preferences and valuable customer insights that can be useful for future interactions. By providing a personalized experience to the customers, retailers ensure that their shoppers will continue coming back to that website to make another purchase.

Endless Aisle Showcase

-

Retailers can use online consultations to provide their customers with an endless aisle

. This allows customers to browse products and order them, even if they are not showcased online or in-store. Equipping your design experts and your sales team with the ability to showcase endless products can increase your online sales.
Benefits of Virtual Consultations in Online Furniture Sales
Ever since the beginning of the lockdown due to the pandemic, the furniture industry had to create new sales strategies and channels to satisfy the customer's needs. However, the implementation of online consultation has proven to be so beneficial that furniture retailers will continue to implement it even after the brick-and-mortar stores reopen. Below are the five most important advantages of using virtual consultations for online sales:
Reach more customers through digital sales channels;
Provide the possibility of scheduling online consultations beforehand, which will enable both customers and companies to plan their activities better;
Reduce the company's storage space and presentation areas;
Enable a two-way relationship: customers can provide insights into their homes, while designers can suggest appropriate ideas according to the customers' needs and provide them with specific assistance;
Get valuable customer feedback and initiate a data collection process, which will help with the storage and analysis of those customer insights.
By using online consultations, retailers can show products to their customers through live videos and demonstrate certain product features that can't be seen through a simple image. At such point of the virtual experience, furniture companies have started implementing a 3D product visualization that has improved the customer experience and has boosted online furniture sales.
How To Boost Online Furniture Sales With Virtual Consultation and 3D Product Visualization
The combination of virtual consultations supported with 3D product visualization has helped tech-savvy furniture companies turn the odds in their favor and navigate through the coronavirus outbreak much more easily.
It is a well-known fact that visuals are crucial in the furniture industry. If you want to create an exceptional online shopping experience and to achieve better sales results, you must think about offering high-quality visuals. 3D product visualization has proven to be more effective than traditional photography in many aspects, especially when it comes to offering customers the ability to customize products to fit their needs.
According to our research in the Top 100 U.S. Furniture Retailers Report, 36% of the top 100 furniture retailers in the USA offer virtual consultation to help customers make a decision for online purchase. All they have to do is enable a system for scheduling online appointments and consult with customers just like they would do in a physical store. Most companies are using platforms such as Zoom, FaceTime, or Microsoft Teams.
Today, many furniture companies, such as West Elm, RH, Design Within Reach, Interior Define, and Crate & Barrel, are offering online consultations.
---
If you have virtual consultations or you're thinking about introducing them in your furniture business, now is the time to consider 3D product visualization. The synergy of online consultations in combination with superior furniture visualization can help you step up your game.
The furniture industry is entering a new chapter. Are you ready for it?