Major players in the furniture industry have long ago discovered that customers prefer to purchase products that they can customize to perfectly fit their living spaces. For that reason, furniture companies started selling custom-made furniture and gave customers the opportunity to take part in the design process of their favorite pieces of furniture.
With the COVID-19 pandemic and the transition toward shopping online, selling custom-made furniture online was slowly becoming one of the trends on the rise.
However, offering custom-made furniture items without the appropriate technology to support the customization process can be a real headache.
This raises the question: How can furniture businesses simplify furniture customization and improve the overall shopping experience?
Custom-made Products in the Furniture Industry
According to Deloitte, 42% of customers prefer to purchase furniture from companies that give them the opportunity to customize products. After all, who doesn't want to add a personal touch to a product before purchasing?
Consequently, since not all homes are the same, consumers want to buy furniture products that represent their individuality and that can be easily customized.
According to a report in Statista, 71% of customers would be happy to purchase custom-made furniture and decor for their bathrooms, followed by 43% of customers who would use product customization for their bedrooms, and 38% who would buy customized furniture for their home offices. These numbers only prove that people are more interested in purchasing furniture that can be designed according to their personal preferences.
As stated in a Lectra report, the millennial and post-millennial generations place a high value on product customization. Since millennials are the front-runners in generational spending power, customization becomes even more important. According to the same report, 69% of American companies have shown a clear trend toward increasing the already high number of variations they offer. However, increasing just the number of product variations without a tool that will ease the shopping process is not enough.
As a result, companies have ramped up product customization by equipping their websites with product configurators.
According to the Top 100 U.S. Furniture Retailers Report for 2021, 53% have a product configurator on their product pages. The number is slightly lower for furniture manufacturers. Data from the Top 100 U.S. Furniture Brands Report shows that one-third (33%) of the brands have a product configurator.
Benefits of Product Customization in the Furniture Industry
Furniture is one of the three product categories where customers make the most personalized purchases, according to Deloitte. Having a product customization tool on your website is the easiest way to let customers choose from a myriad of fabrics, colors, and finishes.
Let's take a look at some of the most important benefits of product customization for furniture businesses:
Create a seamless shopping experience - Imagine you are buying a sofa, and the moment you open a retailer's product page, you see a sofa in one color and then hundreds of colors and fabrics listed on the side without being able to see how the sofa looks in the color you like. Not the best user experience, right? A product configurator enables customers to display the right product from a large number of possible product variations intuitively, easily, and quickly and to order directly according to their individual requirements.
Enable a made-to-order business model - Many furniture businesses choose to work inventory-free and produce only the products that customers order. Using the same materials, such as wood, cushion fills, and fabric, allows the company to buy in bulk and then customize at scale. Having a product configurator that allows customers to create thousands of options is the main pillar of this business model.
Stand out from the crowd - We live in an overwhelming world where we get to choose from countless different products and services. Providing product customization on your website can be your competitive advantage. Customers want to express their individuality, and product customization will separate you from other similar companies.
Increase customer engagement - Giving customers the possibility to play with different fabrics, colors, and finishes is a great way to increase customer engagement and time on site. Ultimately, the time they invest in customizing a product to fit their unique taste will translate into an urge to buy that product.
Future-proof your business - The number of customers that want unique furniture pieces grows by the day. In order to meet the expectations of demanding generations such as millennials and Gen Z, you have to reinvent your end-to-end buyer journey by enabling product customization.
How Can 3D Product Visualization Increase Custom Furniture Sales
One of the biggest challenges when it comes to customization is product visualization.
Product photography is not a feasible solution since it requires producing and photographing every single product variation.
The good news is that advanced technology can solve this issue.
Enter 3D product visualization.
This technology enables the scalable mass customization of home furnishings, thus empowering furniture businesses to showcase thousands of product variations while saving costs.
The adoption of 3D product visualization is the catalyst to democratizing customization and opening the next chapter of the furniture shopping experience.
Tech-savvy furniture players have already witnessed an increase in sales online and in-store as a result of product customization. Take Jerome's, for instance. They noticed an increase of 49% in their conversion rate and another increase of 211% in their user engagement, thanks to the implementation of a 360 viewer with their custom upholstery program. EQ3 demonstrates another example of an 88% increase in average order value and a 36% increase in conversion rate after they found a way to simplify product customization for their consumers.
Heal's, a UK-based furniture retailer, has noticed a sales increase for both their sofas and beds in the last two years. They use product customization online and in-store to provide customers the option to design their custom-made furniture by creating a user-friendly and engaging buyer journey.
"We've seen great results online with sofa sales increasing 100% over the past two years and sales of beds increasing by 50%. We also know that store associates use the website to demonstrate fabric choices to in-store customers. In fact, in 2021, despite our stores being shut for large stretches of the year, our in-store sales of sofas have actually increased year over year." - David Kohn, Customer and E-commerce Director at Heal's
The best part about this technology is the twofold impact:
Being able to customize a product before making a purchase contributes to an enhanced online shopping experience. Website visitors who can customize the furniture and get a personalized experience at the same time will most likely convert into buyers.
Using the product customization tool in-store can help you create an endless aisle. As a result, you are not confined by your physical footprint, and you can offer thousands of product variations to your customers.
3D product visualization is especially important for businesses with a wide product portfolio. Moving forward, furniture businesses will have to rely on this technology to enable straightforward product customization and ultimately boost sales.
5 Furniture Players That Nail the Product Customization Game
We took a look at some of the leading furniture businesses, including manufacturers, retailers, and DTC brands, to see how they implement product customization and what makes them stand out. Here's what we learned.
1. Heal's
One of the businesses that excel in offering a delightful online shopping experience is the furniture retailer Heal's. Heal's allows its customers to step into the role of designers and create custom-made sofas, beds, dining tables and benches, mattresses, mirrors, and kitchens with their custom-made collection.
When entering the online designer's world, customers who want to design their own pieces of furniture get to choose from a variety of styles, sizes, fabrics, and legs. Once customers pick the style they want, they can see in which sizes that furniture is available, and they can customize it further by choosing the fabric and legs of their choice.
The product customization tool is further accompanied by a 360-degree spin of the furniture and a 4K zoom-in option.
"At Heal's, we've always offered our customers a wide choice of fabrics on all of our own-made sofas. And in recent years, we've innovated by creating more hard-wearing and cleanable luxury fabrics, for example, our smart velvet and smart linen ranges. Working with Cylindo, we've expanded the range of these that are available online so that on most sofas, we now enable customers to view more than 50 fabric choices on heals.com. We've also developed a range of upholstered beds that come in many of the same fabrics and can all be viewed in 360⁰ detail online." - David Kohn, Customer and E-commerce Director at Heal's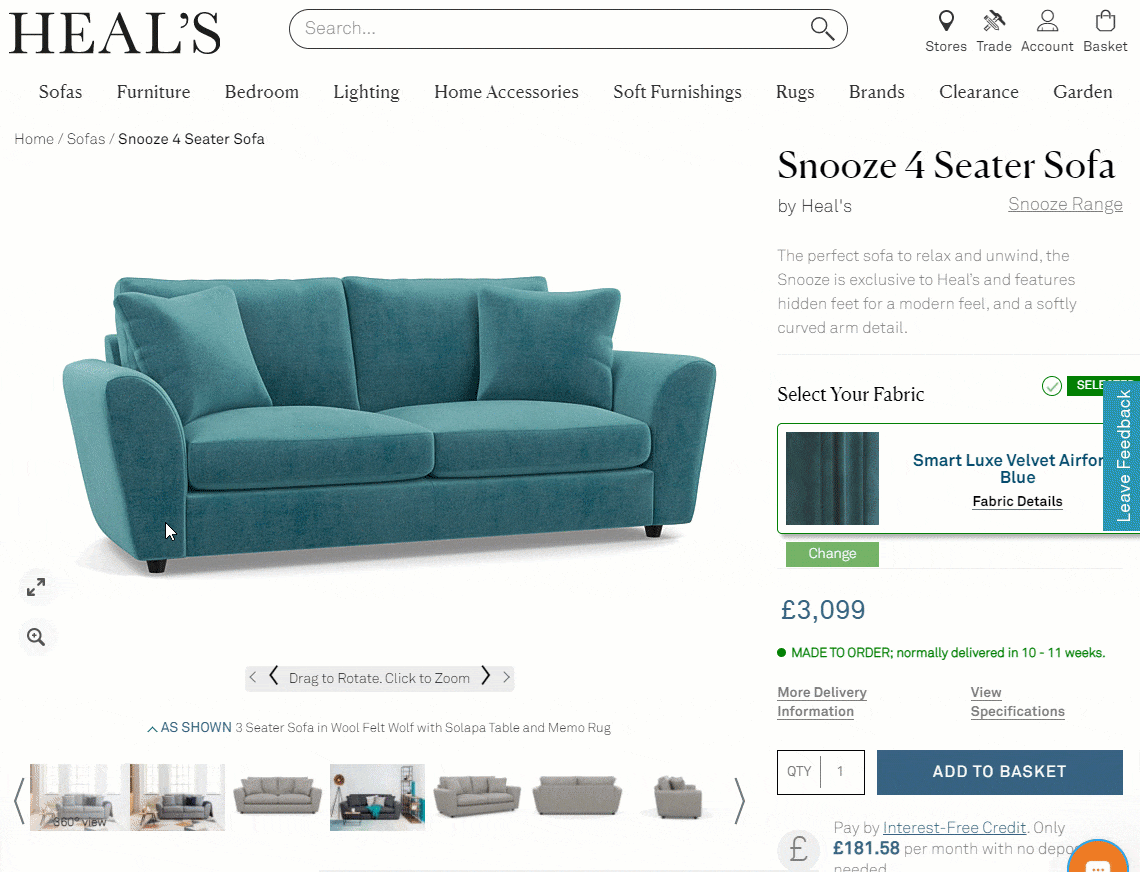 2. Loaf
Loaf is a UK-based DTC brand that separates itself from its competitors by offering a wide range of possibilities for product customization. Buyers who want to customize their sofas can choose type, size, dimensions, seat, style, arm, fabric, and additional details.
Loaf offers the comfiest and snuggliest sofas that can be custom-made in numerous styles: from traditional and retro to contemporary. The product customization tool works wonders because it allows buyers to examine the products with 360-degree spin and a 4K zoom-in option.
Thanks to 3D product visualization, Loaf redefined the entire website experience by enabling customers to pick the right colors, materials, and finishing touches. Their aim was to visualize 100,000+ products in the highest quality. As a result, Loaf has doubled its year-over-year online sales. One of the key elements of their website experience is a well-thought-out and user-friendly customization tool.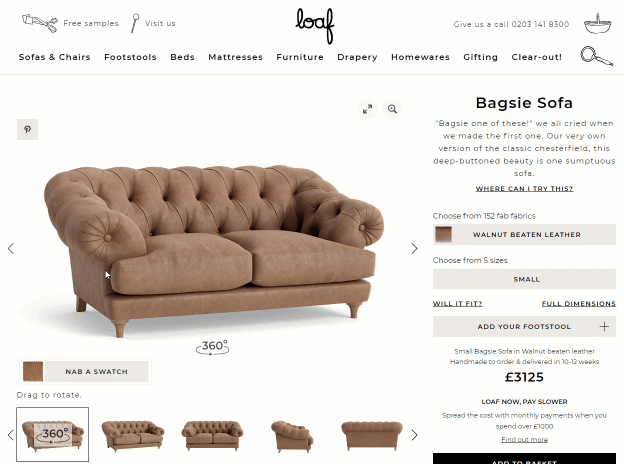 3. Montana
Montana is a furniture brand that dedicates special attention to manufacturing furniture products that will last a long time. They work hard to uphold high standards in the manufacturing process and also offer timeless functionality of their products.
This enables them to showcase an endless range of possibilities that can be achieved with the help of 3D product visualization. The product visualization in combination with a 360-degree viewer and a 4K image quality enables seamless product customization for consumers.
"With the new brand site, we would like to get our brand values across: Montana is pragmatic yet playful. We want to give our customers a comprehensive experience wherever they are in the customer journey – whether they are just looking for inspiration or ready to purchase their personalized configuration. The 360 viewer and the 4K image quality is important in communicating our high-quality product" - Trine Roed, Marketing and Brand Director at Montana
With the help of 3D technology, Montana managed to showcase 70,000+ furniture configurations on its website. This action enhanced the online shopping experience, but it also allowed customers to tailor their products according to their personal desire.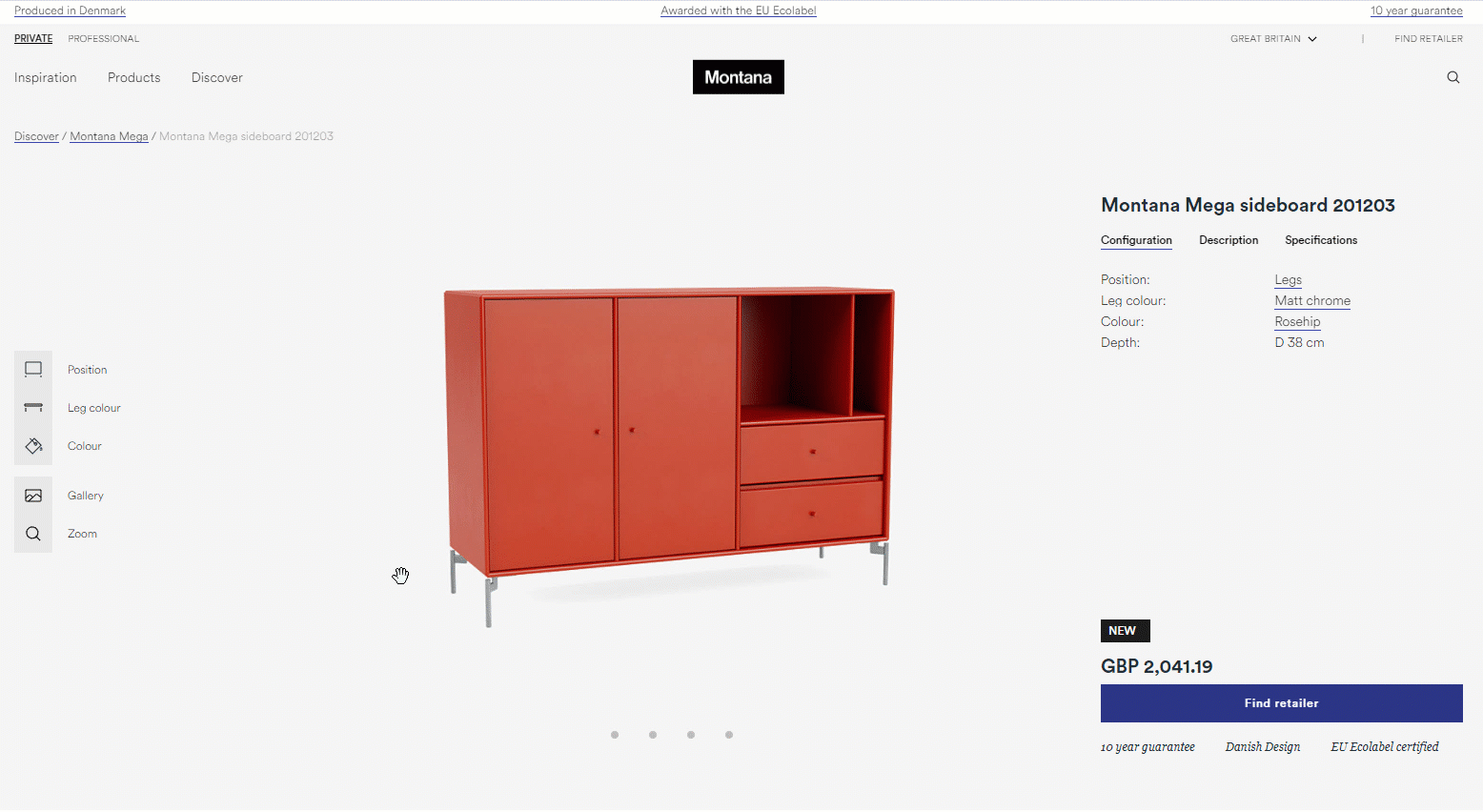 Montana's Product Customization
4. Inside Weather
Inside Weather is a DTC brand that believes that shopping for furniture should be modern, personal, and accessible—so they offer an engaging shopping experience and let customers customize every detail.
"Being able to visualize tens, and soon hundreds of millions of combinations of furniture from the comfort of your home is something that we think has tremendous mass appeal." - Ben Parsa, CEO of Inside Weather, for The New York Times.
The Inside Weather product customization tool allows buyers to customize every aspect of the piece they are buying. From choosing the product arm style, base style, upholstery, configuration, pillows, and cushions to customizing the comfort of the product, consumers have the entire freedom to choose.
Product customization enables Inside Weather to manufacture the items customers want. This way, they can focus on custom-made models and save money on materials, production, and warehouse costs.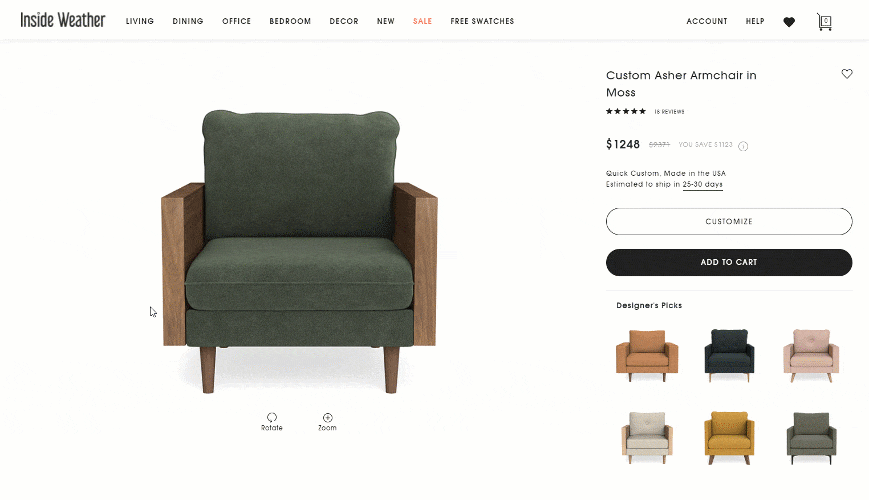 Inside Weather's Product Customization
5. Timothy Oulton
Timothy Oulton is a British furniture brand known for its fearless quest for innovation and daring yet timeless furniture.
What makes Timothy Oulton unique is its dedication to quality. Each piece is handcrafted with only the best traditional techniques and fabrications.
"Our furniture is made to order, one by one, by hand, using simple tools and time-honored techniques. That culture of craftsmanship has always been key for Timothy Oulton." - Tim Oulton, Founder of Timothy Oulton, for The Retail Gazette.
When using the product customization option provided on Timothy Oulton's website, customers can choose the size, leathers, fabrics, or featured finishes, depending on the chosen piece of furniture. Once the customers select these features, they can preview the product in a 360-view in a specific room setting, as well as zoom in to examine the fabric more closely.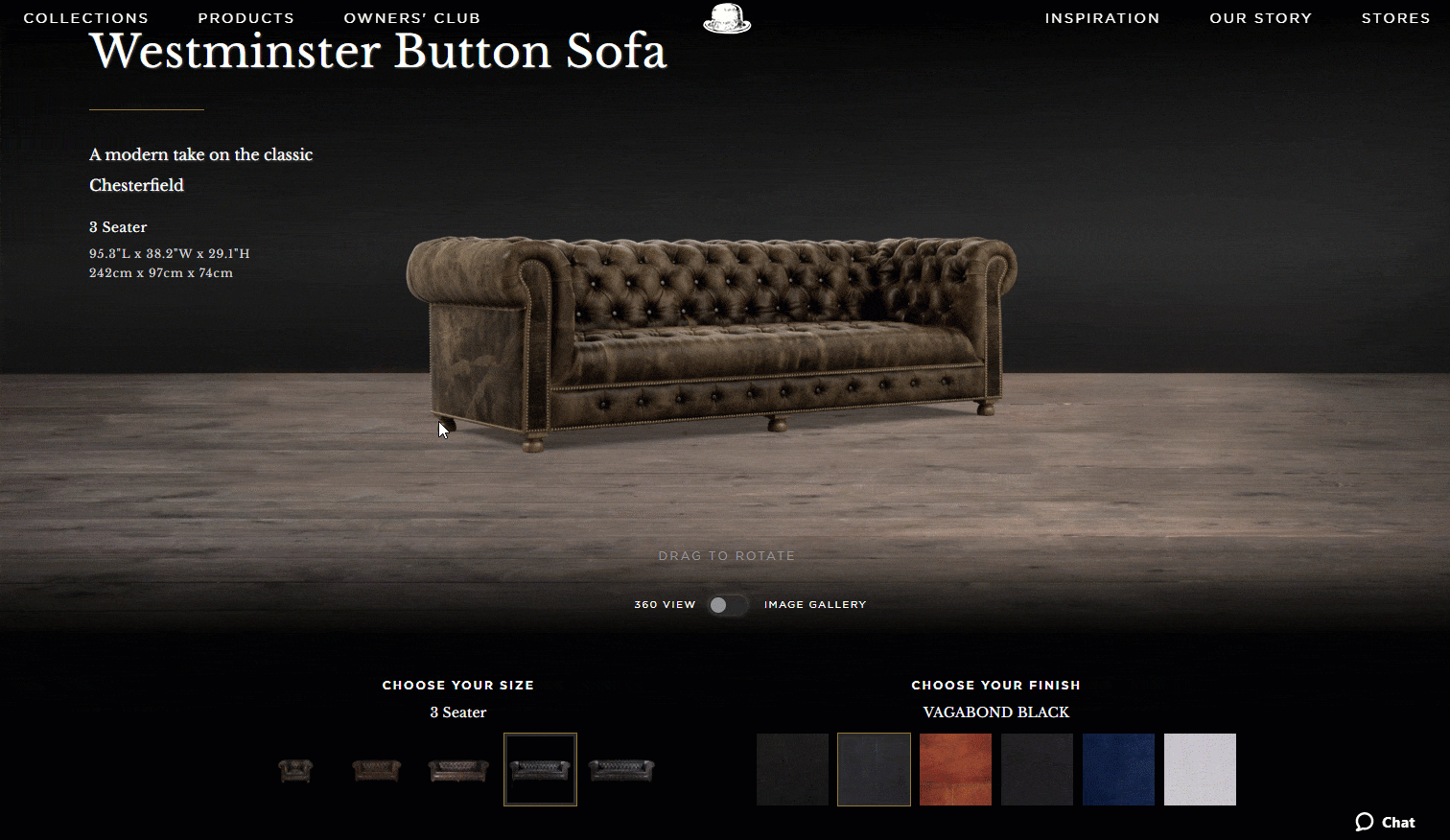 Timothy Oulton's Product Customization
As the furniture industry continues to evolve, product customization becomes a table stake. Curious to find out how 3D product visualization can boost your custom furniture sales?