The way modern customers purchase furniture has significantly changed during the last few years. Ever since the COVID-19 pandemic started, the purchasing process has shifted more toward online shopping, and it's expected to have a lasting effect. The digitalization of furniture shopping has been accelerated completely. And this has increased the need for offering a seamless online shopping experience in the furniture industry.
Prior to the appearance of e-commerce and social media, the purchasing process involved people going to stores and purchasing products in person. The pandemic has relocated the shopping process from in-person to online. However, the trend of online shopping has been on the rise since long before the pandemic started.
A Forbes article published before the pandemic stated that online shopping would reach up to 90% of all shopping by 2040. But we didn't have to wait until 2040. As a result of the pandemic, we experienced a decade in years, and this trend came earlier than expected.
While brick-and-mortar stores will remain an important success factor in the post-COVID-19 period, having a strong online presence will make or break your business.
Nowadays, there is no strict rule about how the customer's purchasing process looks. However, customers follow some patterns when purchasing furniture. Let's take a look at the purchasing stages and the technologies and features that can help you boost your furniture sales.

Stage 1: Discovery
The first stage in the purchasing process is the discovery phase. Customers must be aware of the product in order to consider it and decide whether they want to buy it or not. This purchasing process usually begins after seeing an advertisement. As people started spending more time online, the discovery phase has shifted more toward the online world. Customers can now easily find products on numerous social media platforms or via impeccable email campaigns.
Social Media
According to Statista, in 2020, over 3.6 billion people were using social media globally. This number is expected to increase up to 4.41 billion in 2025. What is even more interesting is the fact that 81% of consumers use Instagram to research products and services, as reported by Hootsuite. This makes social media one of the main channels that customers use to discover and research new products. So, being present on social media is one of the tactics that furniture companies must adopt in order to be discovered by potential customers.
Email Campaigns
Email marketing is considered one of the most effective customer acquisition channels. And investing in email campaigns has proven to be worthwhile. According to Hubspot, email generates $42 for every $1 spent, and that is why businesses still consider email as one of the most powerful ways to communicate with customers.
Furniture businesses that use appropriate email campaigns may easily aid the discovery stage of the customers' purchasing process. By sending out emails about their products, furniture companies inform customers about existing and new products, as well as about certain promotions they may offer. This tactic enables consumers to get information about the products at the right time and become aware of their need for a specific product. Learn more about the 10 email marketing best practices for furniture businesses.
Stage 2: Research
The second stage of the purchasing process is good and detailed research. Thanks to the widespread digitization of furniture companies, customers can now conduct thorough research about a product from the comfort of their homes. As reported by Forbes, 90% of customers begin their furniture shopping online, and many intend to keep it that way. As a result of the numerous mobile devices used in one household, consumers now can begin their purchasing process with a simple press of their fingers.
Mobile is gradually becoming the most critical part of the omnichannel experience. Furniture companies need to do more than just create a mobile-responsive website if they want to stay competitive in the online marketplace. As reported in the Harvard Business Review: 73% of purchasers use multiple online and offline channels to access their favorite brands. This signifies that online channels have become as important as offline ones, and consumers will continue using them to get connected with the brands of their choice.
Reviews
The online research process is good for customers who want to investigate the products but also to check out other people's experiences with the products they want to buy. Nine out of ten consumers read reviews online before purchasing products, according to a Trustpilot and Canvas8 report. This only further emphasizes that product reviews and ratings give consumers the necessary information that will help them decide whether to buy a certain product or not.
Many of the major players in the furniture industry, such as Interior Define, EQ3, Plush, and Burrow, provide their customers with a segment of their websites that contains product reviews and ratings. The numerous reviews from other consumers help new customers make a decision about purchasing a specific product.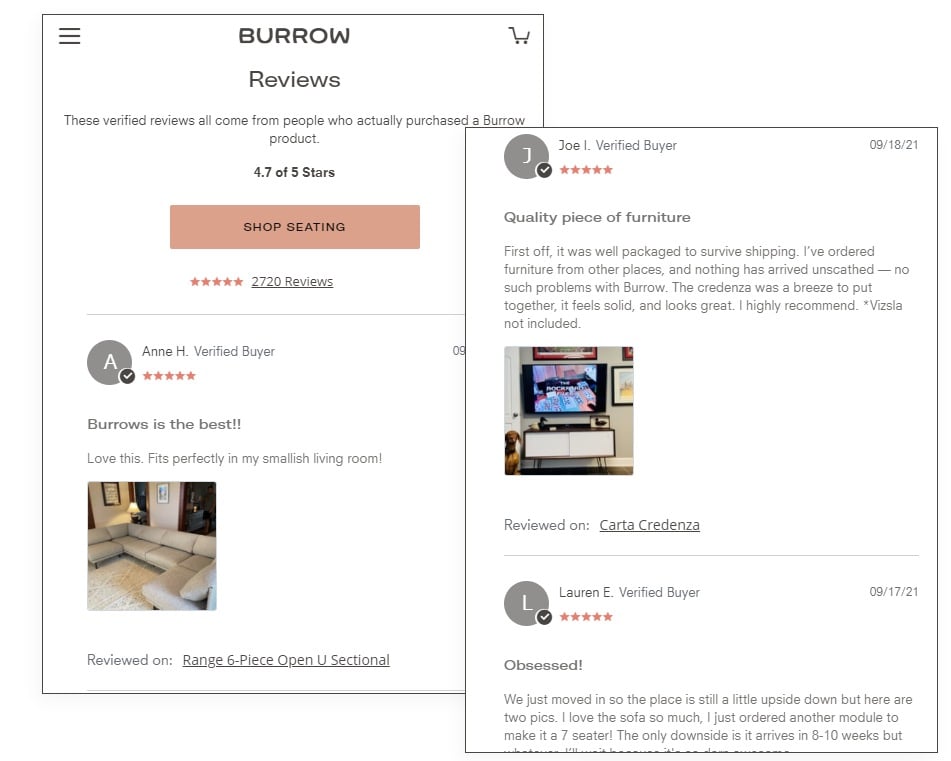 In a Bizrate Insights survey, 91% of the respondents read at least one review before making a purchasing decision. This indicates that online research plays a huge role in the customer's purchasing process. Successful DTC brands and retailers in the furniture industry use positive customer reviews to boost their sales.
Product Recommendations
Product recommendations are a vital part of the purchasing process in the furniture industry. Furniture companies try to create a more human shopping experience for their customers, regardless of the channel they use. One way to do this is by offering personalized product recommendations.
Furniture companies nowadays use more advanced personalization for their products. They use the personalization for product recommendations all over their homepages, on their product detail pages, in the cart, in the checkout points, and in their showrooms. In research by Accenture, 91% of customers were more likely to shop from brands that provide them with product recommendations and relevant offers.
Visual Search
It is clear that people will not stop using text-based searches anytime soon. However, due to its popularity among consumers, visual search is suspected to change the way people search for products in the long run. Gartner expects that, by 2021, companies that support visual and voice search will increase their e-commerce revenue by 30%. The visual search tool relies mainly on machine learning and artificial intelligence (AI), which is even more accelerated by 5G technology.
Visual search has been present on search engines for a while now. Some of those search engines are Google Images, Pinterest, and marketplaces such as Amazon and Wayfair. Additionally, some of the major players in the furniture industry also use visual search options on their websites. One of those players is Temple & Webster, a retailer that allows its customers to upload a photo in the search bar in order to browse through similar products to the one in the photo.
Stage 3: Consideration
The third stage of the purchasing process is consideration. At this point, customers have already conducted their research, and now they begin to consider purchasing the products. However, to make a buying decision, consumers would again evaluate the product and contemplate whether it meets their expectations.
The consideration stage can be easily affected by the technology used for the representation of the products. Since the purchasing process has shifted more toward online shopping, having a solution to present the products virtually is what will set you up for success.
For that reason, you need to invest in 3D visualization tools, provide product customization options for customers, and let them visualize the product in their rooms with the help of augmented reality. And last but not least, enable customers to get virtual consultations with design professionals or create virtual guideshops and virtual showrooms that will simulate the in-person shopping experience.
3D Visualization
3D visualization can help customers see the products online with the help of 360-degree views and a 4K zoom-in option. These tools allow customers to virtually examine the furniture products and see them from every angle.
EQ3 is a furniture retailer that has shown great eagerness in offering an impeccable online shopping experience to its customers. EQ3 implemented a 360-degree view of its products in combination with the 4K zoom option, which allows its customers to examine products and their fabrics up close. After the implementation of the 360 HD viewer on the product pages, EQ3 witnessed a 116% increase in page views, a 36% increase in conversion rates, and an 88% increase in average order value. Find out how EQ3 increased online conversion and created a future-proof 3D asset library to leverage across the buyer journey.
"All of our best-selling products are visualized with the 360 HD Viewer from Cylindo with all of our larger products on the way." - Dan Gange, Director of E-commerce at EQ3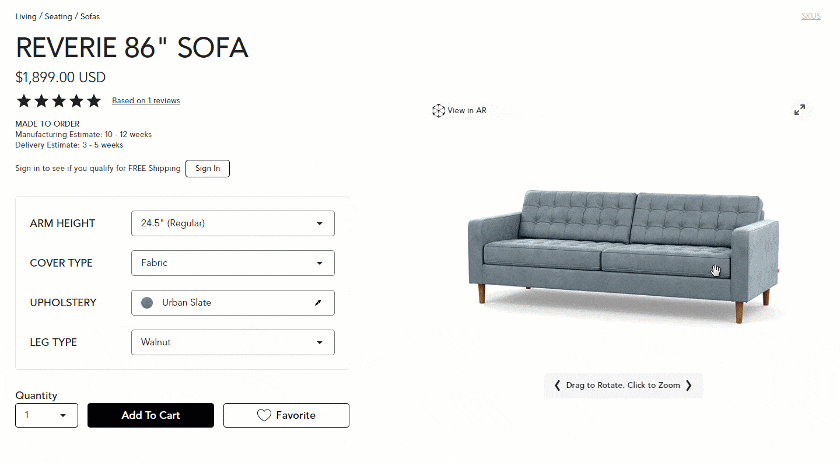 3D visualization on EQ3's Reverie Sofa
Product Customization
Product customization gives customers the opportunity to participate in the design process of the products they want to purchase. According to Deloitte, 42% of customers prefer to purchase products from furniture companies that give them the opportunity to customize products. Providing a product customization tool on your website is the best way for customers to choose from a myriad of fabrics, as well as product colors and finishes.
The DTC brand Interior Define implemented the 360 HD viewer on its product pages but also dedicated time and effort to product customization by presenting each product in numerous fabric options. After implementing this technology online and allowing customers to browse through many products, Interior Define also implemented the solution in-store, thus creating an endless aisle.
"We send free fabric swatches to potential customers, but this capability is more transparent when they can see an extremely close-up view of the fabric. When they then order fabric samples, it confirms that they look like the renderings, and that helps give people the confidence to place an order." - Rob Royer, Founder of Interior Define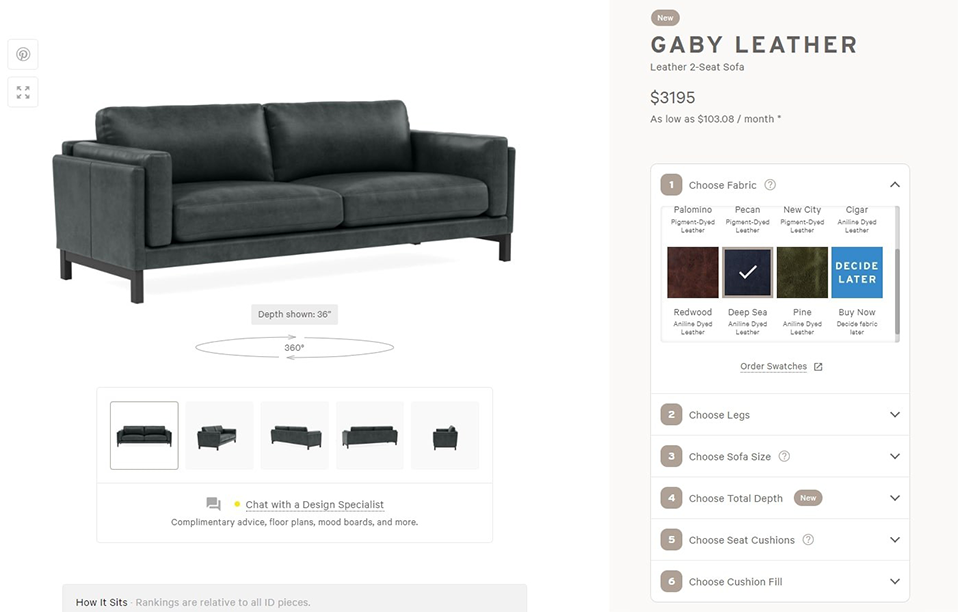 Interior Define's product customization
Augmented Reality
The importance of augmented reality in the furniture industry is increasing with every passing day. Customers who have used 3D visualization and have customized their products according to their personal preferences may want to go one step further and see the furniture in their rooms at home. Here is where augmented reality steps in.
In the past, furniture companies have used AR apps that enabled customers to see the products in their homes with the help of a mobile device. However, thanks to the appearance of web-native AR, customers now can enter into augmented reality directly from their browsers. Plush is a furniture retailer that offers its customers not only 360-degree images of its products but also web-native AR that eases their online purchasing process.
"Our goal is to make furniture shopping easier than ever—and now we have augmented reality as another tool in our arsenal. With AR, you can see how a new sofa would look in your living room before you buy it – or even try out different colors and textures on an item before committing. You can also use AR to get a sense of scale when considering large items like sofas or dining tables. It's a game-changer for any retailer looking to engage with customers and increase sales." - Ash Mehta, Head of Digital & E-commerce at Plush
Virtual Consultations/Guideshops
With the increased interest in online shopping and the spread of the pandemic, furniture companies started offering virtual consultations to their customers in order to replicate the in-store experience. Take, for instance, the Virtual Guideshops by Interior Define. They decided to offer customers direct online conversations with design experts. To do so, all customers need is a mobile device, and they won't have to leave their homes and go to one of Interior Define's locations.
Customers who want to complete the shopping purchase online prefer these features because they can talk to experts without going to the actual store. Purchasers can call the designer by phone, chat online, or schedule a virtual appointment via FaceTime or Zoom.
Virtual Showrooms
Some furniture companies have seen that virtual consultations were well accepted by people, especially during the pandemic. Due to this, they went beyond online consultations and created virtual showrooms. These showrooms enabled customers to complete the purchasing process online without having to go to a physical showroom. King Living is one of the companies that created a remarkable 3D virtual showroom experience. Their virtual 3D showroom feature enables customers to walk within one of their stores virtually and browse through a showcase of products.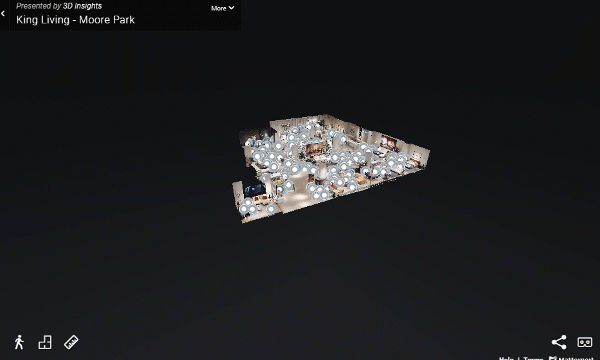 King Living's virtual 3D showroom
Stage 4: Purchase
The final stage of the shopping process is the purchase itself. The implementation of all the aforementioned technologies closes the online-offline gap and significantly transforms online furniture shopping. What is even more interesting is the fact that as we get back to the old normal in the post-COVID-19 world, people are expected to continue purchasing products online.
According to Statista, e-commerce revenue from furniture and homeware sales was $52.6 billion in 2020, and it's expected to increase more than $61.2 billion in 2025. Customers enjoy engaging shopping experiences that make them take part in the process. Websites that offer product pages with these features could attain more visitors and convert them into purchasers.
Seamless Online Checkout Process
The checkout experience is an essential part of the online purchasing process. Here, customers are required to complete forms and read a lot of instructions about the purchase. Due to this, many visitors leave the website during this phase, especially in the furniture industry. Therefore, furniture retailers need to pay special attention to the checkout process. According to Dynamic Yield, the home and furniture industry has recorded the highest shopping cart abandonment rate of 73.7% in the last 12 months.
Providing an easy and seamless online checkout process can help you increase your conversion rate and improve customer retention. If you want to keep your customers satisfied with the checkout process, you need to use high-quality visuals for the cart thumbnails. By doing so, customers can see the exact product they have chosen to purchase and will be able to complete the checkout process without additional issues.
Take a look at the Room & Board checkout process. Room & Board is a U.S. furniture retailer that offers a detailed online checkout process. It enables customers to see its products in the shopping cart, along with the total price, the estimated delivery time, financing options, and the return and guarantee policies.
Endless Aisle
Endless aisle is a concept that allows customers to browse and make in-store purchases of products that are not showcased there or are out of stock at the moment. This concept is enabled thanks to the implemented 3D product visualization technology.
Online purchasers can see a myriad of different products when visiting the website of the furniture company. However, when going to a physical store, furniture businesses can display only one product from each category in their brick-and-mortar stores. Here, the endless aisle showcase comes in handy and enables customers to see all available products on a tablet.
Sofacompany is a Scandinavian DTC brand that has a unified omnichannel buyer journey. This brand has introduced a "Design Yourself" feature that contributed to a significant increase in the number of in-store purchases. The feature was used for in-store purchases so that salespeople could easily close the sale while the customer was still in the showroom. Sofacompany knows that there are from five to ten touchpoints before making a purchase, so their idea for building the customer's trust is to provide them with high-quality visuals throughout every step of the purchase process.
"We can see that when consumers enter the design-your-own universe, there are significantly higher conversion rates, regardless if they buy design-your-own products or not. Once they step into that universe and start playing around, there's a significantly higher likelihood that they will end up buying either a design-your-own product or standard products." - Simon Peschcke-Køedt, CMO at Sofacompany
BOPIS
When customers are ready to purchase the product online, they may use BOPIS (buy online, pick up in store), depending on whether the furniture company offers this option. BOPIS is also known as "click and collect" or ROPIS (reserve online, pick up in store). Although BOPIS was present before COVID-19, ever since the pandemic started, it has become even more popular among buyers.
Offering this flexible option has proven to be essential for furniture retailers. For example, Living Spaces is a furniture retailer that offers a pick-up-in-store option at any retail location or distribution center. Using the BOPIS option, Living Spaces' customers don't have to wait too long for the products to be delivered.
Buy Now, Pay Later
Furniture retailers and DTC brands have introduced the buy-now-pay-later payment option to encourage customers to complete their online purchases. This payment method enables customers to pay a small amount of the price, get the product, and then continue paying smaller amounts on a monthly basis. This payment option has proven to be successful, with a 215% increase in the usage of buy-now-pay-later services compared to last year, as reported by Retail Dive.
The Future of the Purchasing Process
After reading about the four stages of the purchasing process of modern customers, you are probably thinking about what you can do to provide a more seamless shopping experience to your consumers. Start thinking about the technology you have implemented on your website. Furniture businesses that still haven't started implementing technology on their product pages need to focus on creating a consumer-friendly online shopping experience.
Do you take these four stages of the purchasing process into consideration when designing your online customer experience? If you are interested in discussing how you can boost your online sales efforts by enhancing the online shopping journey, then we should talk.