The world of e-commerce experienced strong success in these last couple of years. Ever since the COVID-19 pandemic started, customers have turned more toward online shopping and significant online marketplaces that offer a huge variety of products.
Many companies have noticed this consumer shift and decided to start selling their products through these platforms.
The reason? Selling through online marketplaces pays off. According to Shopify, 62% of e-commerce sales were made through online marketplaces in 2020. What's more, data from Digital Commerce 360 shows that the top online marketplaces in the world sold $2.67 trillion worth of merchandise in 2020 alone.
These numbers were accelerated as a result of the COVID-19 pandemic and are expected to get an even bigger boost in the upcoming years due to the increased usage of online marketplaces. A Retail TouchPoints report stated that online marketplaces are expected to grow 20%-25% year over year, so the sales numbers are predicted to reach $5 trillion by 2025.
Furniture brands are also bullish on marketplaces. Some of the best global or more widespread online marketplaces for furniture brands are Amazon, Walmart, Wayfair, Overstock, and Houzz.
Furniture Today reported that Amazon saw its business rise by over 37% in 2020, while Wayfair had up to 55% increase in sales. When combined together, Amazon and Wayfair accounted for nearly 60% of the total online furniture and bedding sales in 2020.
All of this indicates that online marketplaces can help you increase your revenue and conversion rates. However, if you are a furniture brand that wants to start selling products through online marketplaces, you first need to understand the benefits and consider the challenges you might face.
Benefits of selling furniture through online marketplaces
Selling furniture through online marketplaces has proven to be beneficial to furniture brands from various aspects. First, online marketplaces can be an additional sales channel where furniture brands can sell their products with reduced marketing costs. Brands that decide to sell their products through these platforms can easily reach more customers, raise sales volumes, and leverage the trust these marketplaces have from customers.
Let's take a closer look at the three most essential benefits of selling furniture through online marketplaces.
1. Access to millions of customers
Online marketplaces are the go-to choice for many customers. According to Statista, 63% of online shoppers go to Amazon to start searching for products.
The power that these marketplaces have is the main reason why many furniture brands decide to sell their products through one or more platforms. Another benefit is access to new audiences.
The customer reach is by far the biggest benefit of selling through an online marketplace as the brand gets in front of a wider audience than they typically would on their own DTC site (assuming they sell on there, too). - Malina Andre, Enterprise Customer Success Manager at Cylindo

2. Built-in trust
Guaranteed return policies, customer service, and thousands of product reviews are just some of the reasons why customers trust online marketplaces. This is also true for unfamiliar brands.
In a Digital Commerce 360 survey, 49% of surveyed customers stated that they are prepared to purchase from a brand they have never seen before.
Marketplaces use advanced technology to provide buyers with timely feedback and improve their trust in many ways. For example, the ability to read impartial reviews on the marketplace can persuade new customers to purchase your products. Online marketplaces are more transparent due to the accessibility of prices and stock levels in an open environment, so customers can compare the products and prices.
3. Cross-border e-commerce
Online marketplaces can be a good opportunity to raise sales volumes. Most of the biggest marketplaces operate internationally, which is a great way to bring in new consumer traffic and test the waters in a new territory with a significantly lower cost of entry.
This is a very appealing benefit for the brands that want to see how well their products sell in international markets. Organizing the whole process through online marketplaces is far less complicated because of their network of international operations. This way, they are providing opportunities for smaller brands that can now increase their international footprint and reach a far greater audience.
3 Biggest challenges of selling furniture through online marketplaces
Every coin has two sides. Selling successfully through an online marketplace isn't exactly a piece of cake. There are some challenges you will face along the way. But knowing what you will be dealing with upfront can help you measure the pros and cons and make an informed decision about what's best for your business. Here are some of the challenges that you will face when you start selling furniture through online marketplaces.
1. Increased competition
Online marketplaces can create fierce competition, so furniture brands must put extra effort into differentiating themselves from direct competitors that sell similar products on the same platform.
Some of the sites even have private label brands in many categories. Take, for example, Amazon's furniture brands Rivet, Stone & Beam, and Ravenna Home, Wayfair's Mercury Row and Zipcode Design, Overstock's private label brands The Gray Barn, Carson Carrington Home, and Laurel Creek, or Walmart's MoDRN collection.
Even though they don't have an advantage in organic search and reviews, they do have an advantage in paid search and user experience, to a certain extent. To paint the picture, search results relevant to Amazon's private-label brands include a "Top Rated From Our Brands" widget at the bottom of the search results, which gives them more exposure.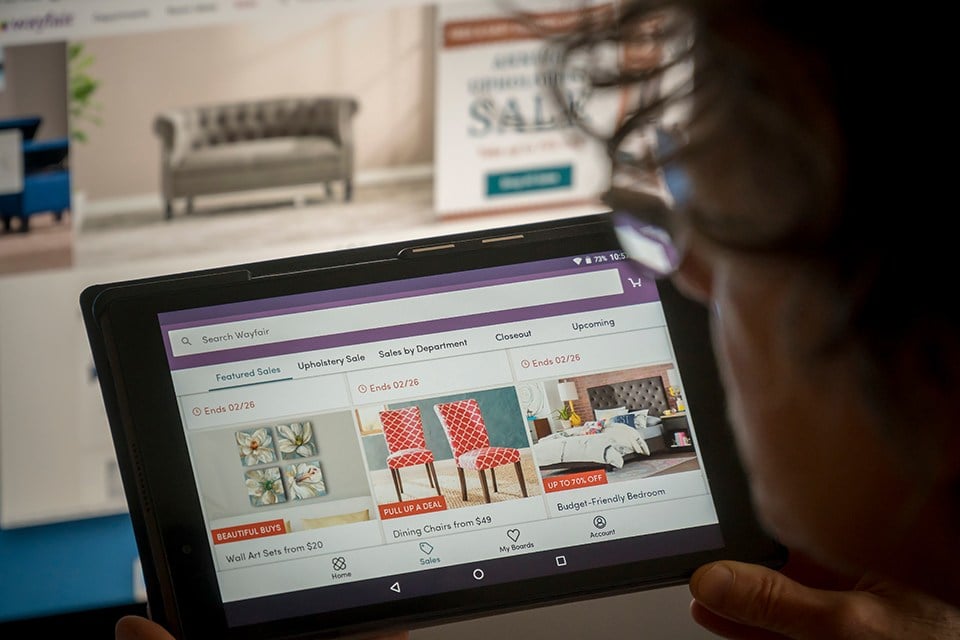 2. Brand equity
When furniture brands sell their products through online marketplaces, they need to bear in mind that these platforms focus more on the products than on the brand itself.
From the moment when brands start to sell their products through marketplaces, they will have limited brand exposure, lower brand loyalty, and even loss of their website's domain authority. However, brands that create excellent product images and headlines with the right keywords will increase their visibility on the marketplace.
3. Visualization requirements
Every online marketplace has different visualization requirements for their product pages, and if you decide to sell through their platform, you have to provide the required content following the exact instructions.
It's difficult to sell and truly inspire a customer without having the right product visuals on an online marketplace like Wayfair, Target, Amazon, etc. Online marketplaces have high expectations of brands when it comes to product data, and they continue to raise the bar as customers are expecting more from their shopping experience. - Malina Andre, Enterprise Customer Success Manager at Cylindo
Things get even more complicated if you decide to sell through more than one marketplace. In other words, selling through various platforms would mean that you need to follow several different sets of requirements.
For instance, some marketplaces require three angles, others five. Some require room scenes, material close-ups, detail shots, or dimensions of the imagery. As a result, brands need to invest considerable time, effort, and resources to follow all the guidelines to get their products approved and publicly shown on the marketplace.
When a brand has A+ merchandising, the products will reach all the marketplace customers regularly in a keyword search, filtering, and through flash sales on the site. More product views equals higher conversion equals add to carts. A+ merchandising means complete product data with no holes in what the marketplace is requesting of the brand and complete product imagery. - Malina Andre, Enterprise Customer Success Manager at Cylindo
The importance of high-quality product visualization for furniture sales
When you decide to start selling your products through online marketplaces, you need to work on content creation to get ahead of your competition.
One of the most common dilemmas when it comes to product visualization is whether to use traditional product photography or 3D. However, the image and asset flexibility that online marketplaces require makes traditional photography an expensive solution.
With product photography out of the picture, brands that plan to invest in product visualization can choose from several options, such as an internal team of artists, 3D studios, or 3D product visualization platforms.
Working with a reliable 3D product visualization platform can solve the pain points related to the ever-changing requirements that these marketplaces have for product pages. Being able to base your strategy on smart, reusable, and agile 3D assets that can easily be modified to fit those requirements and that you can later leverage across channels and platforms and different use cases will give you an edge over your competitors, and it will save you time, energy, and resources.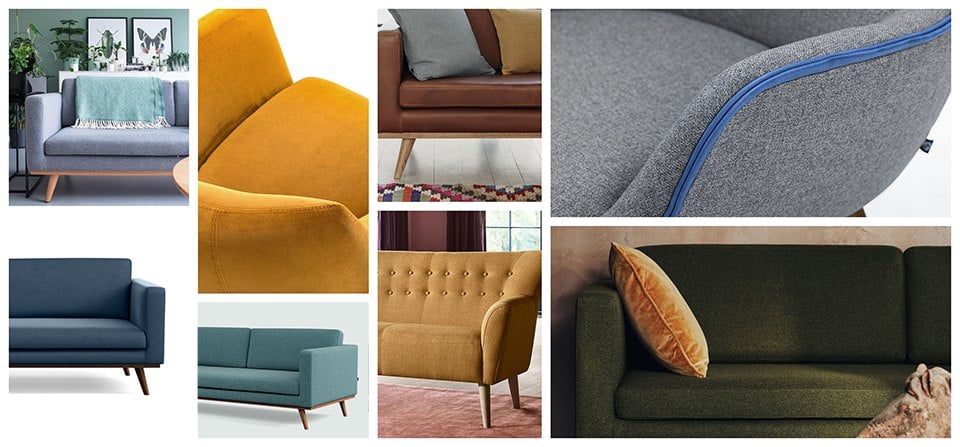 With a 3D product visualization platform, you can get engaging experiences with 360 views, unlimited variations, fast SKU turnaround time, room scenes, and the ability to reuse the assets for other 3D experiences. The more advanced 3D platforms also come with content management and content distribution tools, enabling you to convert the assets to different formats and resolutions, as requested from different marketplaces.
3D product visualization works best when the customer experience is well thought out, exciting, and makes them feel confident in their purchasing decision. My recommendation to any brand selling on an online marketplace is to get the customer experience just right on their own websites, test out which product visuals excite the customer, and then apply that enhanced product content to the online marketplaces. - Malina Andre, Enterprise Customer Success Manager from Cylindo
Online marketplaces keep raising the bar regarding visualization requirements, and each one has different criteria for its product pages. If you are looking for a 3D visualization platform that can help you create content for multiple channels and platforms, then we should talk.