2020 has brought an accelerated spread of digitalization in the furniture industry like never before. Ever since the brick-and-mortar stores closed, company owners in furniture e-commerce started moving their business in the digital world to avoid the continuous decline of their sales efforts.
However, companies started facing an increase in online competition due to the enormous number of retailers that introduced their businesses in a digital format. And other problems started rising as well. Among them, the number of product returns in the retail industry rose to 70%, according to Morning Brew. In such a situation, furniture retailers began to think about solutions they could offer that would differentiate them from the competition, and at the same time, decrease the number of product returns and unnecessary expenses.
The most crucial challenge for furniture companies and retailers today is to deal with the increased product return rate. Here are four tactics on how to deal with or prevent furniture product returns.
How to Deal with Furniture Product Returns
For customers, product returns are generally known as one of the benefits that furniture companies offer to their customers to ensure a purchase. For example, Interior Define has a 60-day return policy for any product, even the customized ones. Yardbird provides a 30-day period for the return of the product if customers are not satisfied with what they received.
Inside Weather offers a 365-day home trial of their furniture items, during which period customers can return the products for a restocking fee if they are not satisfied with their choice. Numerous furniture companies dedicate special attention to their return policies to keep their online customers satisfied.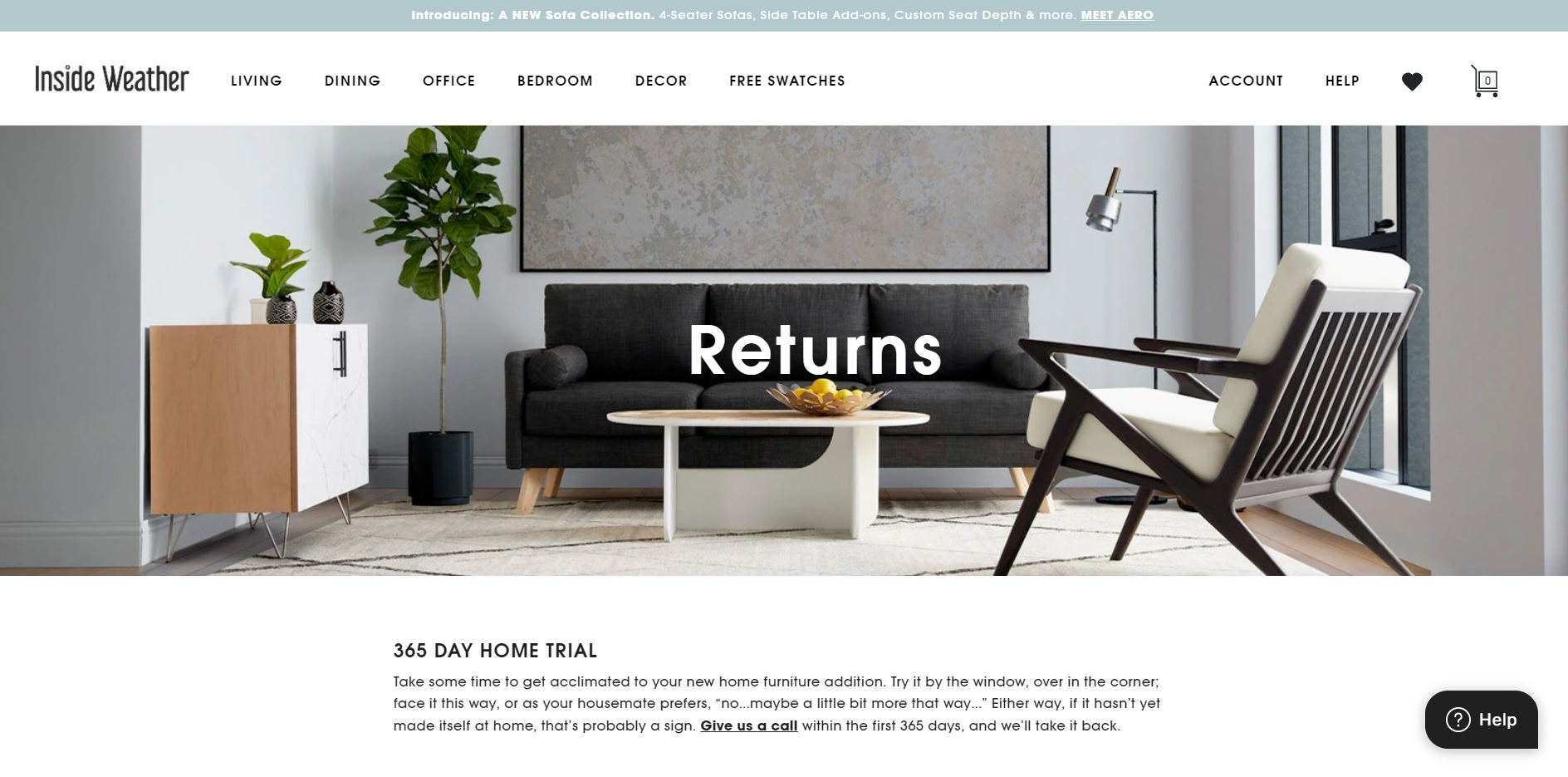 Inside Weather has a 365-days return policy
Product returns are typically the biggest and most challenging problem for furniture retailers who have an online store. They not only have to come up with a logistical solution for the return of the products, but they also lose money as a result of the process.
The following simple steps will help you manage and prevent furniture product returns:
Use product visualization
Make sure to find a prevention solution if you want to lower the number of products your customers want to return. According to a SaleCycle survey, 64% of customers stated that the main reason for online product return is due to the fact that the purchased product didn't match the description. By using high-quality 3D product visualization, customers will understand what to expect from the product they purchase. Read more below about how to prevent furniture returns with 3D product visualization.
Create a clear return policy
Customers pay close attention to the product return policy before finalizing a purchase, especially when they purchase big items online. To prevent or lower the number of product returns, you must create a separate page on your website with all the information about your return policy.
According to Return Logic: "your return policy has a substantial impact on the customer relationship, as well as your profits." So, make sure that you have an easily accessible return policy page on your website, which will have a great impact on your relationship with the purchasers.
By creating a clear return policy, you will ensure further purchases and build long-term relationships with your customers. And remember: being transparent is essential. Transparency and honesty will increase customer satisfaction, ensure repeated purchases, and boost positive word of mouth.
Be flexible
In addition to creating a clear return policy page for your website, you must think about building a long-term engagement with your customers. To do so, you must be flexible and tailor a return policy that suits both sides. You can offer free product returns, easy refunds within 60 days, or an exchange for other products. For instance, Room & Board offers a free and easy return delivery option for those customers who are not satisfied with the product they received. They also don't charge for cancellations even when they have sold custom-made items created according to their customers' needs. When damage occurs to the products, they offer product repair, parts replacement, or exchange for another product. Offering such flexibility in your return policy will only increase the number of satisfied returning customers.
Create sustainable return practices
In some situations, furniture retailers who receive product returns consider that it is more cost-effective to dispose of the returned goods instead of cleaning and repairing them. A great way to avoid returned goods ending up in landfills is to have a sustainable return policy. The Californian company for mattress and bedroom products Puffy has such a policy that its products are delivered with a 101-night sleep trial. If customers want to return the mattresses for any reason, Puffy donates them to a local charity and gives full refunds to the customers. In that way, the company manages its product returns while helping someone in need at the same time.
3D Product Visualization for Prevention of Furniture Product Returns
According to Invesp, at least 30% of the products purchased online are sent back to the companies that produced them. To prevent all the problems that may arise with the possible product return, furniture companies and retailers need to understand why that is happening and find a way to prevent it from occurring again. The best way to avoid a high product return rate is to introduce 3D product visualization in your e-commerce store.
To improve the quality of your product showcase, you have to provide high-quality images. Thanks to computer-generated imagery (CGI), products can be shown in better image quality than with traditional photography. Discover the key benefits of 3D product visualization versus traditional product photography. Using realistic 3D rendering and modeling can help you create 360-degree spins, product cutouts, and interactive room scenes. If you want to prevent product returns, start using 3D visuals on your e-commerce store now and thank us later.
The Canadian furniture retailer, EQ3 has an engaging online shopping experience with 360-degree rotation, a zoom-in option, and several room scenes. In addition, they also offer their customers the ability to scrutinize the furniture by using Augmented Reality (AR) and see the item they want in their personal space. This will not only give a better product overview to the customers but will also ensure a lower product return rate because the purchasers will have a clearer vision of what they are buying. Take a look at one of their products and see the options they offer.
Below we give you three reasons why you should implement 3D product visualization in your e-commerce store and how it will help you lower the product return rate.
Products can be shown from all angles
People have always wanted to be able to touch and analyze a product before purchasing it. And being unable to do so when purchasing products online is the main problem that may lead to customers returning the products afterward.
3D product visualization provides the opportunity to inspect a product from all angles without missing a single detail from any side. This is made possible with 360-degree view visuals. And this online experience is quite similar to the one in an actual store.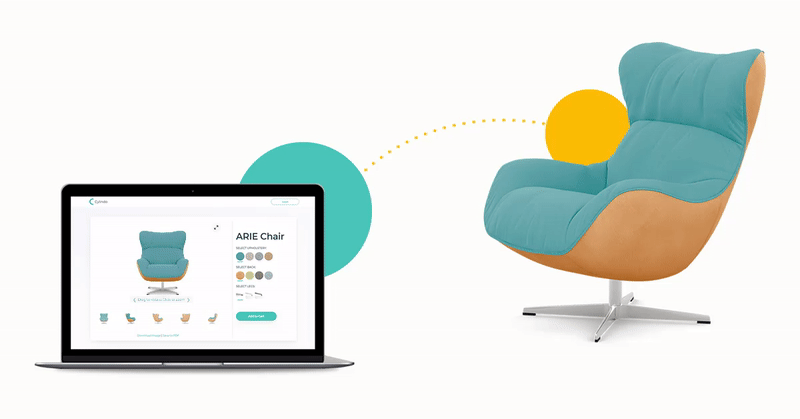 Product can be shown in close view
In addition to being able to analyze a product from all different angles as part of an online shopping experience, customers can also zoom in and take a closer look at the product's details. Thanks to developments in technology, customers can view the product and inspect the product's material textures and patterns, similar to the experience in a physical showroom. Implementing a zoom option in your e-commerce store can only increase the number of conversions and attract more customers.
Products can be shown in all colors and textures
Presenting products in various colors and with several different textures allows customers to choose from numerous options. The worst scenario for a customer is to select the product they want, followed by a description that the product is also available in different colors, without the possibility to see them before purchase. This could easily lead to a product return if customers have to guess the specific hue of the product they want to purchase.
To avoid such situations, 3D product visualization can help your company to offer numerous variants of a single product. 3D modeling allows making one single 3D model and using it to apply various colors and textures to that product model.
Augmented Reality for Reducing Product Returns in Furniture E-commerce
Another successful method for reducing the product return rate is implementing augmented reality (AR) in your e-commerce store. Presenting the product using 3D product visualization techniques may be combined with AR to give customers a better overview of the products in their personal space.
AR allows customers to place the piece of furniture they want to purchase within their room and make sure that it fits with the other furniture items.
Interior Define is the leader in setting new standards for online and in-store furniture visualization. They knew that AR would soon become an inevitable element of the customer's purchasing process in the furniture industry, so they decided to find an AR solution to create a smooth online shopping experience. Interior Define was among the first users of Cylindo's web-native AR, allowing customers to place 3D models of selected products in the real world without downloading a mobile app.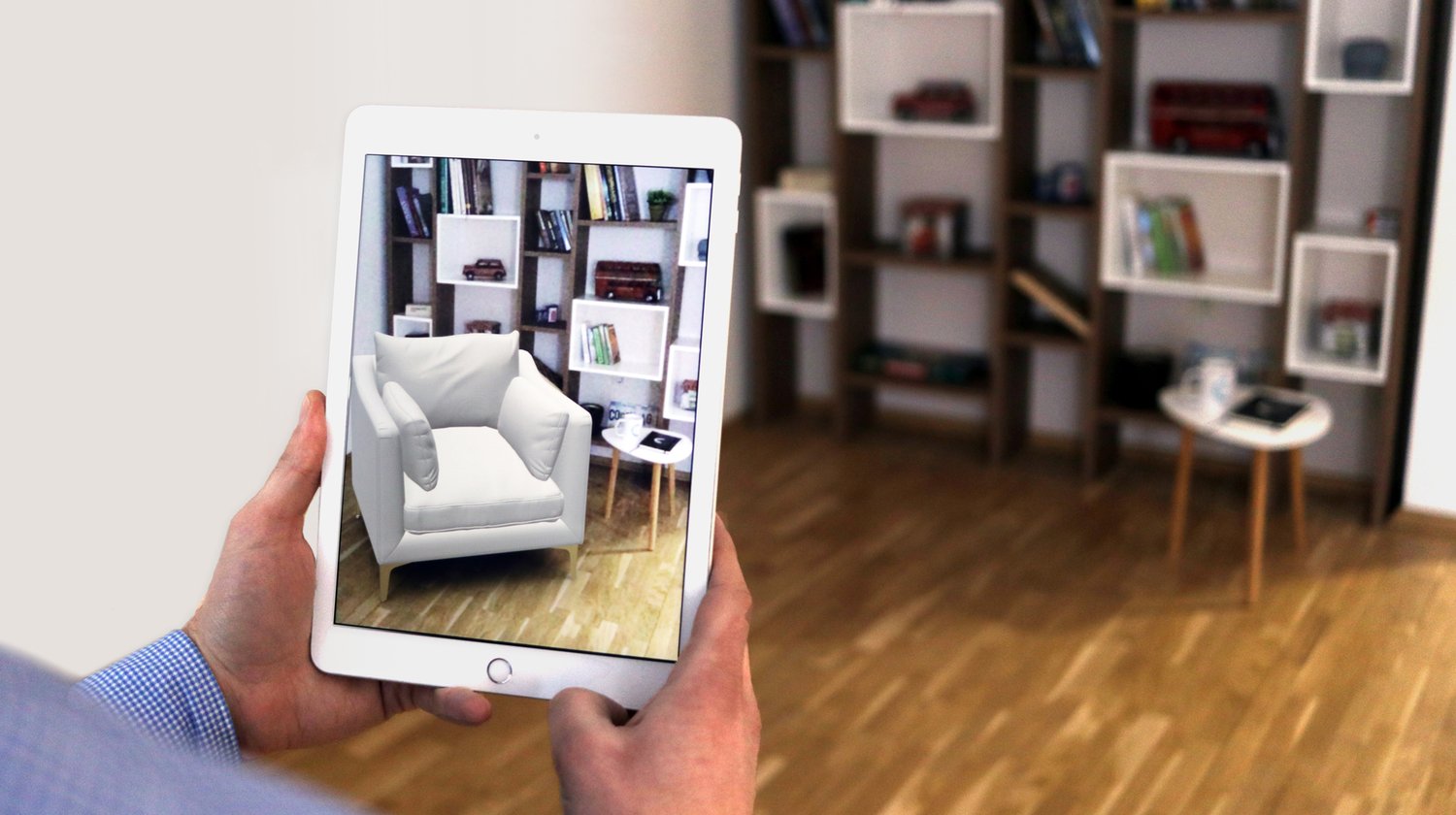 "Marrying our focus of delivering the best customer experience in the furniture category with Cylindo's innovative technology is helping us achieve our mission. Cylindo's web AR technology (which doesn't require customers to download an app) is helping us drive higher product engagement and contributing to ID's highly differentiated shopping experience. " – Rob Royer, Founder and CEO of Interior Define
In the past, companies used AR apps that enabled customers to see how the product fits in their spaces before completing an online purchase. However, thanks to the development of AR technology, customers can now use web-native AR solutions, which don't require downloading any mobile apps and allow an AR preview of the product directly from the browser.
Augmented reality lowers the possibility of product returns because customers can see how the product looks in their surroundings before making a purchase, so they will know what to expect.
The combination of 3D product visualization and AR enables a thorough inspection of the piece of furniture from every side, exploration in detail, a better understanding of the product dimensions, and virtual placement of the product in a personal space. All these things contribute to lowering the possibility for a product return because the customers get an accurate overview of the product and have a clear vision of what they are buying.
If you're betting on furniture e-commerce, you have to find ways to prevent product returns. Let's talk about 3D visualization and AR and how they can help you avoid furniture returns and boost your revenue.