The online furniture world has transformed far beyond what anyone could have expected, and in many ways, evolving consumer expectations were the driving force behind these industrywide innovations.
When we talk about engaging experiences in furniture shopping, augmented reality is one of the hottest trends in the industry. Although innovation reports have forecasted the growing power of AR in furniture since its emergence, it is astonishing to see how far this trend has continued to evolve.
What was once only hype is now slowly becoming a reality. According to Gartner, by 2020, 100 million consumers will shop using AR online and in-store. This is yet another confirmation that AR has huge potential to disrupt the way people shop and to ease the decision-making process.
The furniture industry has been slow to adapt to these new realities, but traditional brands and retailers are finally starting to catch up with digitally native brands. They've begun experimenting with new forms of engagement, both online and in-store, to deliver more compelling customer experiences.
Stop using AR as a gimmick
Gone are the days when AR was only used as a gimmick. After the first wave of buzz and hype, which is way behind us now, consumers today expect meaningful and transformative experiences powered by AR.
Although the idea of AR has been around for quite some time, the vast majority of people had only heard about this new reality after the Pokemon Go madness. Luckily, the misconception that AR can only be used in games is now behind us, and retailers are starting to explore the commercial possibilities of this technology.
Just a few years ago, AR was more rudimentary, as that was all that the technology could permit. Today, however, AR has great potential for a major impact in the following areas:
AR helps companies engage and retain customers allowing them to use their smartphones to add virtual furniture into their room
With the help of this technology companies can reduce customer hesitations in purchasing due to uncertainty
The fact that customers can make more informed purchases helps furniture brands and retailers decrease product return rate
Customers can pick different pieces of furniture, change the color and choose where they want to place the furniture - thus having a more personalized shopping experience
Millennials are on the cusp of becoming the largest living generation, which is exactly why companies are trying to speed up their digital transformation. The introduction of an AR app can help furniture retailers attract a younger target audience
Unlike VR, AR doesn't require any special hardware. Customers can access the app on smartphones that they already own, so it's easier to implement making the cost less of a consideration
The worst thing you can do is use AR for shallow, entertainment-based promotions that are interesting for five minutes, then becoming obsolete because they don't offer real value to the consumer and don't lower decision stress. Customers today have sky-high expectations, and they will use AR (and every other technology) only if it's frictionless and meaningful.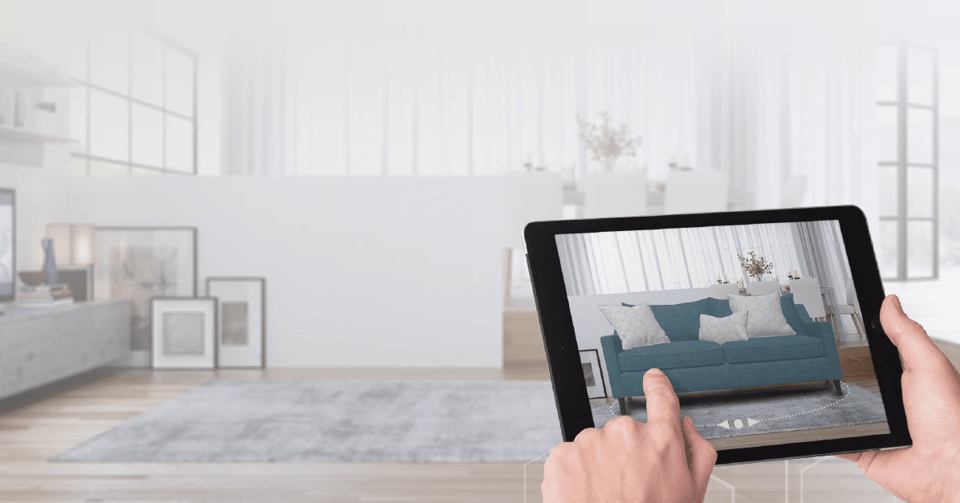 Bridging the imagination gap
Online shopping is no longer just a fad; it's a reality. However, big-ticket purchases can have an 'imagination gap,' where consumers are missing key facts about the product they are buying and can obstruct the path to purchase.
Furniture is a big-ticket item, and the decision-making process takes more time. What makes this journey so special is that people rarely buy furniture on impulse. Buying furniture is always a cognitive process in which consumers value product information, price comparison, consumer reviews, shipping information, and much more.
AR can help consumers make informed decisions, by giving them the opportunity to virtually "try-out" furniture, not worrying about bad decisions, and removing a huge weight from their shoulders before the big purchase. Now you can order swatches and feel the fabric, plus you can use AR to see if the item fits well in your home. This closes the online-offline gap and makes shopping for furniture online the new normal. Soon AR will become an inevitable part of a buyer's path-to-purchase, especially in the furniture industry.
Plus, customers seem to like AR. Research from Interactions Consumer Experience Marketing shows that 40% of respondents would be willing to pay more for a product if they could experience it through augmented reality, 61% say that augmented reality has changed where they shop, and 72% have purchased items that they weren't planning on because of augmented reality. According to the same report, furniture is the most popular item to shop for with augmented reality (60%).
But what about the AR adoption gap?
The big question is: How can AR go mainstream? We see a big gap between consumer appetite for AR and the adoption rate on current Augmented Reality solutions in the space.
In a 2018 survey, Gartner indicated that by 2020, 46% of retailers planned to deploy AR solutions to meet customer experience requirements. Additionally, the technologies behind these solutions have moved 15-30% further along the Gartner Hype Cycle over the past 12 months.
If we take a look at Gartner's Hype Cycle for Emerging Technologies from 2018 we can see that AR was in the Trough of Disillusionment phase which means that the first wave of hype is gone and that revolutionary change is required to take this technology to the next phases - the Slope of Enlightenment and the Plateau of Productivity - aka mass adoption.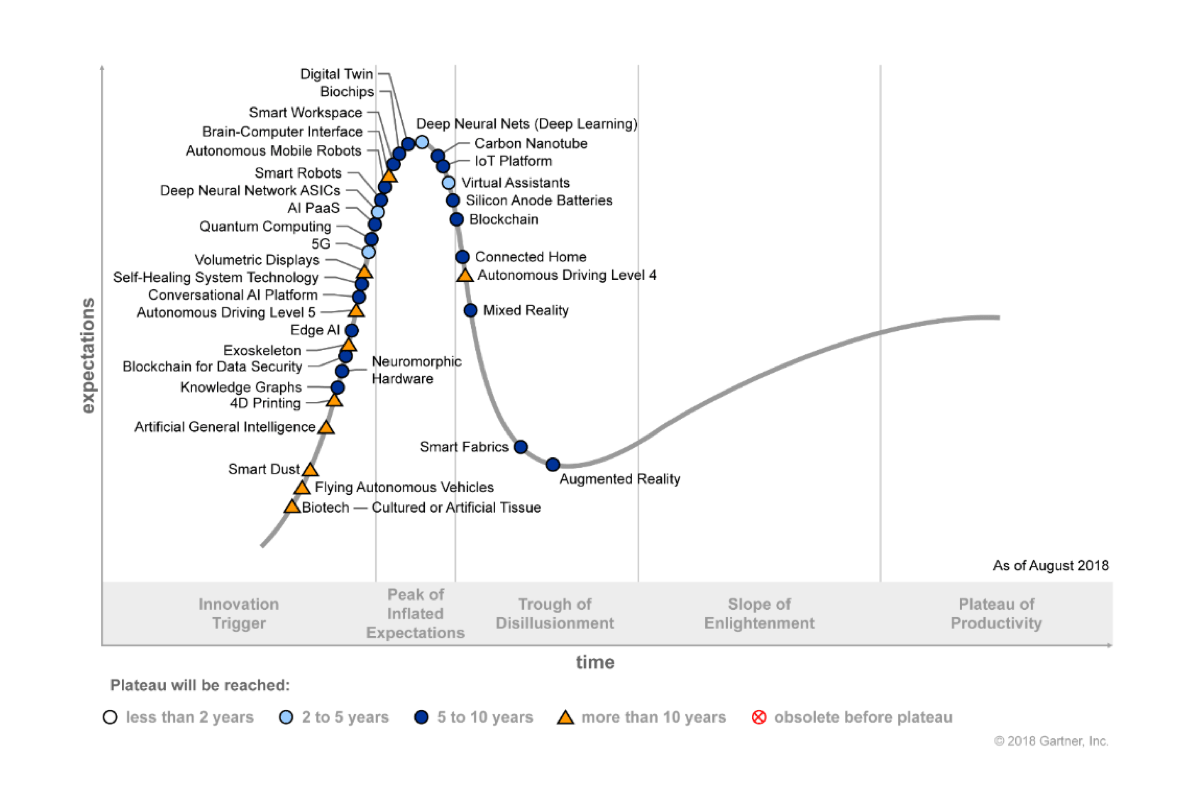 In one of our previous blog posts, we've talked about the main advantages of augmented reality and what to consider before an investment.
One of the biggest challenges is the usage of mobile apps. Research shows that nearly 85% of mobile users tend to spend their time on the top 5 apps. That means that your app is competing for 15% of people's time. Also, according to Fortune, 75% of apps are used once after being downloaded, and then never used again.
If we consider that furniture is not a frequently bought item, it becomes clear that there is a big chance that customers won't bother downloading an AR app.
Just imagine the effort needed to visualize a sofa using an AR app. Most often, the users start by opening a product page. They see a product they like, and they configure it. If they want to see it in their space, they have to leave the product page, open an app store, and download an AR app. Then, they have to load the product and configure it again. After that, they have to go back to the product page to buy the product.
It's clear that the disjointed user experience was the key reason why AR has had a low adoption rate.
So, how can AR go mainstream?
The rise of web-native AR
Web-native AR allows customers to place 3D models of selected products in the real world, without downloading a mobile app.
The general rule of thumb when choosing the right technology for your business is that you should focus on technology with tangible ROI and a high adoption rate.
App-less AR has proven to provide adoption rates that are 33 times higher than traditional Augmented Reality mobile applications, thanks to the reduced friction. In the future, as we see increased usage of AR in everyday life, the ability to access AR instantly without the need to install an app will become vital.
Some of the main advantages of web-native AR, when compared to traditional AR apps, include instant access, a high adoption rate, a broader audience, and lower development costs.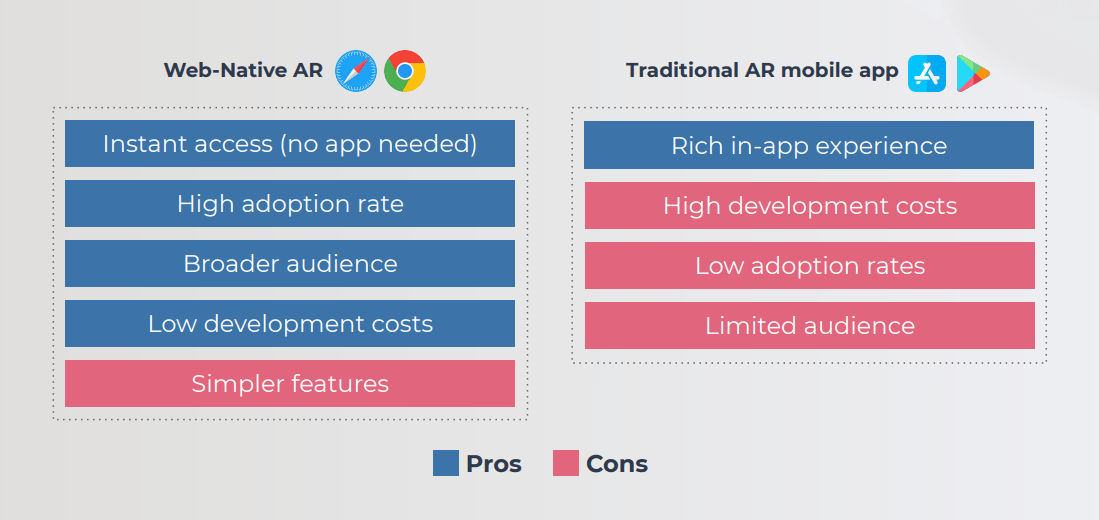 Well-known furniture retailers like Interior Define and Heal's are already using web-native augmented reality to drive higher engagement, and they are witnessing great results.
According to Interior Define, customers that engage with AR are 8 times more likely to convert than customers that didn't use AR.
"We understand that our customers are busy and do a lot of their shopping while on the go. Offering web-native AR means our customers can easily visualize our products without the barrier of leaving our site to go to the App Store and download our mobile app." - Julie Shulman, Director of Product Management, Interior Define
For Heal's, there is no hesitation that web-native AR is the way to go.
"No question for me that AR will have to be web-native. Most furniture retailers will struggle to persuade enough customers to load their specific room-planning app so they will have to rely on their web presence." - David Kohn, Customer and E-commerce Director, Heal's
Experts think that AR in branded apps might soon become obsolete. This is mostly because of the way consumers have become accustomed to using their phones and now expect everything to be simple and easy. App-less AR is a plug-and-play technology that enables them to "try before they buy," testing furniture straight from the browser on their smartphone. In other words, AR "on the go." With all this information in perspective, we can definitely say that the future of AR is quite exciting.
Want to learn more about AR and how it will redefine the furniture buyer journey?
Download our e-book to get all the answers you need!